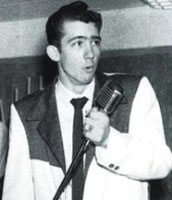 Chanteur Country US né Edwards James Bond, le 1er Juillet 1933 à Memphis (Tennessee). Eddie Bond, encore adolescent, se produit dans la région de Memphis avec son groupe les "Stompers". En 1952, il forme le "Western Swing Band" et en 1955, Eddie se présente sans succès chez Sun et Meteor Records. Il enregistre finalement un premier disque chez Ekko. Ensuite Eddie signe chez Mercury (56) avec ses "Stompers". Il a aussi enregistré pour Stomper Time, United Southern Artists, Diplomat, Memphis, Tab et Phillips International Records (62). Eddie Bond a fait un retour en 1982 chez Rockhouse. Eddie a aussi été un comédien sur la radio KWEM (Memphis, Tennessee) en 1955; Disc Jockey sur la même radio en 1956-58 et un chanteur régulier du Louisiana Hayride (KWKH, Shreveport, Louisiane).
Eddie Bond est décédé le 20 Mars 2013 à Bolivar (Tennessee).

Despite never becoming a major national figure, Eddie Bond has carved out a place as a rockabilly and country star, as well as a radio personality, for 50 years. A contemporary of Elvis Presley and a fixture in Memphis and on the Louisiana Hayride in the mid-'50s, Bond was one of the best singers of the period, and led the Stompers, one of the hottest bands, but he never broke out the way Elvis did. His records, whether rockabilly, country, or gospel, however, were among the best to come from Memphis from the mid-'50s through the 1960s, and helped Bond remain a much loved country/rockabilly performer into the new millennium.
Born Edwards James Bond in Memphis, he was originally drawn into music by the work of Ernest Tubb and Roy Acuff. By age eight, Bond had saved enough to buy his first guitar, and as a teenager he played at beer joints around Memphis. He drifted through various jobs after finishing school, including furniture factory worker and truck driver, before serving an 18-month hitch in the Navy.
After returning to civilian life, he began putting together his band, the Stompers, whose membership at various times in the years 1952-1954 included Jody Chastain and Curtis Lee Anderson. By 1955, the group's mainstays included Reggie Young on lead guitar, John Hughey on the pedal steel, and Johnny Fine at the drums. Bond led the Stompers on tours across the South and Southwest, billed alongside Roy Orbison, among other future country and rock & roll stars. They failed in auditions for Sam Phillips at Sun and the Bihari brothers' Meteor label, and in 1955 he signed with tiny Ekko Records, which resulted in a pair of singles issued late in the year, "Double Duty Lovin'"/"Talking Off the Wall" and "Love Makes a Fool (Everyday)"/"Your Eyes." These were pleasant, well-played country numbers, but they didn't include the band, only Bond as singer. With Hank Garland on lead guitar, Jerry Byrd on steel guitar, and Marvin Hughes at the ivories, they were OK records and then some, but not representative of Bond's real sound — "Talking Off the Wall" was a rocker, with a solid beat and lots of tension in the lead and rhythm guitar parts, but it was the B-side to the milder "Double Duty Lovin'." In any case, neither record attracted any notice from the public or the musical world.
Bond and his band managed to get signed to Mercury Records in 1956, and this was where they came into their own. From their first Mercury session in February of 1956, Eddie Bond & the Stompers cooked, with a lean, hard rockabilly sound that rocked with the best of them. The band in those days featured Young, Hughey, and Fine, with Bond playing rhythm. The single "I Got a Woman"/"Rockin' Daddy" from that session is testimony to the excitement they could generate. That Mercury debut sold well in the spring of 1956, and they were getting lots of gigs and broadcast exposure at the time. Bond played the Louisiana Hayride alongside Elvis Presley, Johnny Cash, and Johnny Horton, and it was around this time that he started his own radio show, an activity that was to loom ever larger in his career. His second Mercury session produced still more rockabilly gold, including "Slip, Slip, Slippin' In" and "Flip, Flop Mama," and they sold respectably, if not spectacularly.
Bond didn't stay with rockabilly music, however, and his later Mercury sessions produced country sides, although "Love Love Love" rocks pretty well. His Mercury contract ended in 1957, and for his next sessions, Bond was back doing rockabilly again, followed by more country music and even a foray into gospel in the early '60s. Bond's biggest success in the years that followed came on radio, where his show achieved huge ratings; this, in turn, helped sustain his record sales, as he recorded or licensed various songs to different labels, mostly in a country vein.
Eddie Bond was never going to be another Elvis Presley — he wasn't going to be turned into a movie star as easily, or branch into other, heavily produced sounds, and he was too successful early on as a radio personality to abandon that activity. But he made a more than fair rival to Conway Twitty (whom he played with around 1955, when the latter was still known as Harold Jenkins), with a pleasing tenor voice, understated in its sweetness and dramatic nuance, and a good sense of how to deliver a song, whether ballad, rocker, or gospel number. He continued performing through the 1990s and into the new century. His broadcasting career was especially successful and assured him of a wide country audience, while his classic rockabilly sides from the '50s helped make him a living legend among enthusiasts, especially in Europe. Five decades into performing, he remains true to his country and rockabilly roots.
Eddie Bond died March 20, 2013 in Bolivar (Tennessee).
https://en.wikipedia.org/wiki/Eddie_Bond
Talents : Vocals, Deejay
Style musical : Rockabilly, Traditional Country, Country-Gospel
Years in activity :
| | | | | | | | | | | | |
| --- | --- | --- | --- | --- | --- | --- | --- | --- | --- | --- | --- |
| 1910 | 20 | 30 | 40 | 50 | 60 | 70 | 80 | 90 | 2000 | 10 | 20 |
DISCOGRAPHY
Singles & EP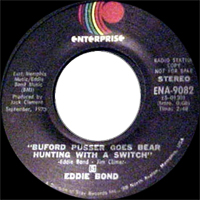 Unissued Tracks
Need Info
| | | |
| --- | --- | --- |
| 19?? | Need Info | Back Home In Indiana |
| 19?? | Need Info | The Day I Found You |
| 19?? | Need Info | Fool About You |
| 19?? | Need Info | Hallelujah Way |
| 19?? | Need Info | A Heart Full Of Heartaches |
| 19?? | Need Info | I Can't Quit |
| 19?? | Need Info | I Saw The Light |
| 19?? | Need Info | I Thought I Heard You Call My Name |
| 19?? | Need Info | I'd Just Be Fool Enough |
| 19?? | Need Info | If We Never Meet Again |
| 19?? | Need Info | In My Solitude |
| 19?? | Need Info | Just A Closer Walk With Thee |
| 19?? | Need Info | Letter To God |
| 19?? | Need Info | Long Tall Sally |
| 19?? | Need Info | Most Of All I Want To See Jesus |
| 19?? | Need Info | One More Memory |
| 19?? | Need Info | One Step Close To You |
| 19?? | Need Info | Our Secret Rendezvous |
| 19?? | Need Info | Pass Me Not, Oh Gentle Saviour |
| 19?? | Need Info | Precious Memories |
| 19?? | Need Info | Satisfied |
| 19?? | Need Info | Standing In The Window |
| 19?? | Need Info | They'll Never Take Her Love From Me |
| 19?? | Need Info | Where Could I Go But The Lord |
| 19?? | Need Info | Whey They Ring Those Golden Bells |
| 19?? | Need Info | Will I Be Lost Or Will I Be Saved |
| 19?? | Need Info | Your Conscience |
| 19?? | Need Info | Your Eyes |
Albums
1962
LP 12" PHILLIPS INTERNATIONAL PILP 1980 (US)
EDDIE BOND SING GREATEST COUNTRY GOSPEL HITS - Most Of All I Want To See Jesus / Where Could I Go But To The Lord / Satisfied / When They Ring Those Golden Bells / If We Never Meet Again / Will I Be Lost Or Will I Be Saved / Just A Closer Walk With Thee / Pass Use Not Oh Gentle Saviour / I Saw The Light / Letter To God / Precious Memories / Hallelujah Way
1967
LP 12" MILLIONAIRE MLP 1618 (US)
FAVOURITE COUNTRY HITS FROM DOWN HOME - Country Shindig (instr.) / One More Memory / My Bucket's Got A Hole In It / Secret Rendezvous / I Thought I Heard You Calling My Name / The Hand You're Holding Now / Day Dreaming / I Turned And Slowly Walked Away / You Can't Hurt Me Anymore / Cry Cry Darling / Mr. Moon / Blue Blue Day / Are You Teasing Me /

I'll Step Aside

1969
LP 12" COUNTRY CIRCLE MCCR 660S-8352 (US)
MY CHOICE IS EDDIE BOND - Big Boss Man / Your Eyes / You Nearly Lose Your Mind / The Day I Found You / Double Duty Loving / You'll Never Be A tranger To Me / I Can't Fight This Much Longer / Someday I'll Sober Up / Only One Minute More / Monkey And The Baboon / Now And Then / Here Comes The Train / Every Part Of Me / Cold Dark Waters
1973
LP 12" ENTERPRISE ENS-1038 (US)
EDDIE BOND SINGS THE LEGEND OF BUFORD PUSSER - Son Of A Sawmill Man / Buford Pusser's Walkin' Tall / Law Enforcing Man / Time / The Prettiest Dress / 200 Lbs. O' Swingin' Hound / Buford Pusser's Child / Buford Pusser Goes Bear Hunting With A Switch / Christmas In Heaven / Legend Of Buford Pusser
1974
LP 12" TAB 9001 (US)
A Night At The Eddie Bond Ranch - I'm Free (Eddie BOND) / Stompin' At The Ranch (The S

tompers

) / Black Bayou (Wilford

Ray

) / Time (Dale

Beaty

) / When Baby Gets The Blues (Bobby D

avis

) / Me (Cousin

Bo-Jack

) / If I Can Just get Over You (Eddie BOND) / Joy To The World (Dale B

eaty

) / On A Country Road (Leon

Griffin

) / Love Of My Life (Major

Pruett

) / Tonite I'll Celebrate (Sandi

Stevens

) / A Time To Live (Bobby D

avis

)
1976
LP 12" TAB 10706 (US)
CAUTION, EDDIE BOND IS CONTAGIOUS - Caution / Traitor / It's Wonderful / Another Man's Shoes / That Glass / Whatever Makes You Happy / Before The Next Teardrop Fall / Somebody That Won't Lie / Time / Free
197?
LP 12" Compass 77-1001 (US)
Walking Tall Sheriff Buford Pusser talks with W.R. Morris
1982
LP 12" RUNDELL RLP-002 (GER)
NIGHT TRAIN BACK TO MEMPHIS - I'm Satisfied / A Booger Gonna Getcha / Ride In My Little Red Wagon / Behave Be Quiet Or Be Gone / Knock Kneed Nellie / I Got A Hole In My Pirogue / Standing In The Station / Old Country Rock / Feel Like I'm Catching The Blues / Keep Playing That Music / This Cold War With You / Your Woman May Have Been Here / Have You Heard The Gossip / Don't Tear Me Up / Night Train To Memphis / Tank Town Boogie
1982
LP 12" ROCKHOUSE RHLP-8206 (NL)
ROCKIN' DADDY FROM MEMPHIS, TENNESSEE VOL. I - Your Woman May Have Been There / I've You Heard The Gossip / Little Red Wagon / This Cold War With You / Old Country Rock / I'm Satisfied / Behave Be Quiet Or Be Gone / Feel I Like Catching The Blues / Tank Town Boogie / I Got A Hole In My Pirough / Standing In The Station / Don't Tear Me Up / Knock Kneed Nellie / I Booger Gonna Betcha / Keep Playing That Music / Night Train To Memphis
1984
LP 12" ROCKHOUSE RHLP-8406 (NL)
ROCKIN' DADDY FROM MEMPHIS, TENNESSEE VOL. II - One Way Ticket / Your Conscience / N°9 Train / Tore Up / Blue Suede Shoes / Fool About You / Long Tall Sally / Monkey And The Baboon / Gambling Man / Sweet Marie / Ice Cold Baby / Boppin' Bonnie / Lonely Heart / Let's Take The Long Way Home Tonight / Juke Joint Johnnie
1984
LP 12" WHITE LABEL WLP-8876 (NL)
ORIGINAL EARLY RECORDINGS - Rockin' Daddy / I've Got A Woman / Baby Baby Baby / Love Love Love / Hershey Bar / Blacksliddin' / Double Duty Lovin' / Talkin' Off The Wall / Flip Flop Mama / Slip Slip Slipin' In / Boppin' Bonnie / You're Part Of Me / They Say We're Too Young / Lovin' You Lovin' You / Love Makes A Fool / Your Eyes
1985
LP 12" HITSOUNDS HRL-1001 (NL)
TENNESSEE LEGEND MAKER - Caution / Is My Woman Just Another Traitor / It's Wonderful / Another Man's Shoes / That Glass / Whatever Makes You Happy / Before The Next Teardrops Fall / Somebody That Won't Lie / Time Free / Devil's Is A Woman / I Can't Fight This Much Longer / We Live In Separate Worlds / Running Drunk
1986
LP 12" ROCKHOUSE RHLP-8604 (NL)
LIVE AT THE ROCKHOUSE - Dave TRAVIS / Eddie BOND / Janis MARTIN -

Hot Potatoe

(Dave TRAVIS) /

Let's Flat Get It

(Dave TRAVIS) /

Everybody's Movin'

(Dave TRAVIS) / Rock Baby Rock It (Dave TRAVIS) / I Got A Woman

(Eddie BOND) /

Flip Floppin' Mama

(Eddie BOND) /

Talking Of The Wall

(Eddie BOND) /

Monkey And The Baboon

(Eddie BOND) /

Slippin' In

(Eddie BOND) /

Rockin' Daddy (Eddie BOND) / Oobie Doobie (Janis MARTIN) / Hardrockin' Mama (Janis MARTIN) /

My Boy Elvis

(Janis MARTIN) /

Bang Bang

(Janis MARTIN) /

Great Balls Of Fire

(Janis MARTIN) /

Let's Elope Baby

(Janis MARTIN) /

Barefoot Baby

(Janis MARTIN)
1987
LP 12" SUNJAY SJLP-574 (SWE)
EARLY DAYS - The Monkey And The Baboon / Juke Joint Johnny / Cliff Finch Train / When The Jukebox Plays / Hey Joe / It's Been So Long Darling / Standing In Your Window / Blues Got Me / Here Comes That Train / Someday I'll Sober Up / Rockin' Daddy / You Don't Miss Your Water / Boo Bop Da Caa Caa / You'll Never Be A Stranger To Me / Big Boss Man / My Bucket's Got A Hole In It / I'll Step Aside / Can't Win For Losing / Doody Do Right
1988
LP 12" MAGNUM FORCE MFLP 057 (UK)
CAUTION - EDDIE BOND MUSIC IS CONTAGIOUS - Caution / Traitor / It's Wonderful / Another Man's Shoes / That Glass / Whatever Makes You Happy / Before The Next Teardrop Falls / Somebody That Won't Lie / Time / Free / Devil Is A Woman
1989
LP 12" BALSER EB-8983 (US)
EDDIE BOND SINGS CARL SMITH - This Orchid Means Goodbye / Doorstep To Heaven / Just Dropped In / I Feel Like Crying / Oh Lonesome Time / There She Goes / Me & My Broken Heart / Let's Live A Little / Mr. Moon / Are You Teasing Me
1992
CD STOMPER TIME STCD 1 (UK)
ROCKIN' DADDY - Rockin' Daddy / Big Boss Man / Can't Win For Losing / When The Jukebox Plays / Hey Joe / Monkey And The Baboon / The Blues Got Me / Standing In your Window / Look Like A Monkey / I'll Step Aside / Memphis Tennessee / My Bucket's Got A Hole In It / Winners Circle / Juke Joint Johnnie / You'll Never Be A Stranger To Me / Boo Dop Da Caa Caa / A Heart Full Of Heartaches / Here Comes The Train / Someday I'll Sober Up / Double Duty Lovin' / Let's Make The Parting Sweet / Tomorrow I'll Be Gone / One More Memory / Country Shindig / When The Jukebox Plays / Raunchy / Cold Dark Waters / Your Eyes / It's Been So Long Darling / Your Old Standby / This Old Heart Of Mine
05/1993
2 CD BEAR FAMILY BCD 15708 (GER)
ROCKIN' DADDY :

CD 1 : Double Duty Lovin' / Talking Off The Wall / Love Makes A Fool / Your Eyes / I Got A Woman / Rockin' Daddy / Slip, Slip Slippin' In / Baby, Baby, Baby / Flip Flop Mama / Boppin' Bonnie / You're Part Of Me / King On Your Throne / They Say We're Too Young / Backslidin' / Love, Love, Love / Lovin' You, Lovin' You / Hershey Bar / One Step Close To You / Show Me (without sax) / Broke My Guitar / This Old Heart Of Mine / Show Me (with sax)
CD 2 : One More Memory / I Can't Quit / My Bucket's Got A Hole In It / Back Home In Indiana (instr.) / They'll Never Take Her Love From Me / The Day I Found You / Standing In The Window / Back Street Affair / Our Secret Rendezvous / Your Eyes / Double Duty Lovin' / I'd Just Be Fool Enough / You Nearly Lose Your Mind / I Thought I Heard You Call My Name / Big Boss Man / Rockin' Daddy / In My Solitude / Most Of All I Want To See Jesus / Where Could I Go But To The Lord / Satisfied / When They Ring Those Golden Bells / If We Never Meet Again / Will I Be Lost Or Will I Be Saved / Just A Closer Walk With Thee / Pass Me Not, Oh Gentle Saviour / I Saw The Light / Letter To God / Precious Memories / Hallelujah Way

1993
CD ROCKHOUSE ROCKCD-9317 (NL)
LIVE AT THE ROCHOUSE
10/1999
CD NERVOUS STCD-001 (UK)
EDDIE BOND
2000
CD RARITY C 192609 (NL)
THE MEMPHIS BOPPER - I'm Satisfied / A Booger's Gonna Getcha / Won't You Ride In My Little Red Wagon / Behave, Be Quiet Or Be Gone / Knock Kneed Nellie / I Got A Hole In My Pirogue / Standing In The Station / Old Country Rock / Your Woman May Have Been Here, But She Said Her Last Goodbye / Have You Heard The Gossip / Feel Like I'm Catching The Blues / Keep Playing That Music / This Cold War With You / Don't Tear Me Up / Sweet Marie / Ice Cold Baby / Tank Town Boogie / Boppin' Bonnie / Gambling Man / Night Train To Memphis / Lonely Heart / Let's Take The Long Way Home Tonight
03/2007
CD STOMPER TIME STCD-23 (UK)
MEMPHIS ROCKABILLY KING - Slip, Slip Slippin' In / Boppin' Bonnie / Rockin' Daddy / Here Comes the Train / Flip Flop Mama / Big Boss Man / I've Got A Woman / Talking Off The Wall / Baby Baby Baby (What Am I Gonna Do) / The Monkey & The Baboon / Juke Joint Johnnie / Double Duty Lovin' / Can't Win For Losing / Boo Bop Da Caa Caa / Love Makes A Fool (Every Day) / Look Like A Monkey / You Nearly Lose Your Mind / This Old Heart Of Mine / Country Shindig / When The Juke Box Plays

[alternate take]

/ One Way Ticket / Blue Blue Day / Gonna Rock My Baby Tonight / Monkey Business / Hey Joe / My Bucket's Got A Hole In It / Winners Circle / Standing In Your Window / Stomping At The Ranch / Someday I'll Sober Up / Your Eyes / Memphis, Tennessee (with Cousin BO-JACK) / I'm Satisfied / Tank Town Boogie / Tore Up / Don't Tear Me Up / Candy Kisses / The Cliff Finch Train / Watch Old Cliff Finch / A Mid-South Motor
2010
CD RARITY ? (NL)
THE MEMPHIS BOPPER - VOL. 1 - I'm Satisfied / Boogers Gonna Getcha /

Won't You Ride In My Little Red Wagon / Behave, Be Quiet Or Be Gone /

Knock Kneed Nellie /

I Got A Hole In My Pirogue /

Standing In The Station / Old Country Rock /

Your Woman May Have Been Here /

Have You Heard The Gossip
2010
CD RARITY ? (NL)
THE MEMPHIS BOPPER - VOL. 2 - Ice Cold Baby / Tank Town Boogie / Boppin' Bonnie / Gambling Man / Night Train To Memphis / Lonely Heart /

Let's Take The Long Way Home Tonight /

Your Conscience / Blue Suede Shoes / One Way Ticket
05/2015
CD STOMPER TIME STCD 34 STCD 34
MEMPHIS COUNTRY MUSIC KING - Behave, Be Quiet Or Be Gone / Tank Town Boogie / Won't You Ride My Little Red Wagon / Gambli' Man / The Devil Is A Woman / Love Love Love / Fool About You / Feel Like I'm Catching The Blues / Winners Circle / I Just Found Out / This Cold War With You / Running Drunk / One More Memory / Someday I'll Sober Up / High Stepppin' Woman / I Got A Hole In My Pirogue / Caution / I'll Step Aside / Now And Then / Your Woman May Have Been Here / Time / Whatever Makes You Happy / Double Duty Lovin' (re-cut) / I Can't Fight This Much Longer / They Say We're Too Young / When The Jukebox Plays / Satisfied / Sweet Marie / That Glass / Here Comes The Train / There She Goes / I Turned And Walked Slowly Away / Another Man's Shoes / Cold Dark Waters
© Rocky Productions 30/10/2015