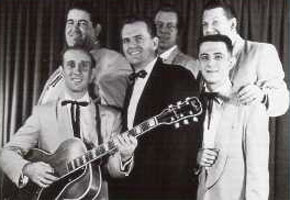 Chanteur et batteur Rockabilly US né le 7 décembre 1924 à Muscle Shoals (Alabama). Boyd Bennett passe sa jeunesse à Goodlettesville (Tennessee) où il monte son premier groupe au Collège. Disc-Jockey à Louisville (Kentucky), Boyd ne tardera pas à développer un style proche de celui de Bill Haley. Il a enregistré avec son groupe: les "Rockets", pour King (54/63) et Mercury Records (59-61). Boy, chanteur lui-même, employait différents vocalistes au sein de son groupe, le principal ayant été Big Moe. Au début des années 60, Boyd Bennett s'est retiré à Indianapolis, gérant son Night Club: le "Thunderbird".
Il est décédé le 2 Juin 2002.

Boyd Bennett's music fell into the cracks between country and the early days of rock & roll. Boyd never received much recognition from country circles while he was performing, possibly because his music sounded more like the emerging rockabilly than hardcore honky tonk.
Bennett was raised outside of Nashville, performing as a drummer and singer with a band led by Francis Craig. After a stint in the military at the end of World War II, he became a regular performer on a local radio station, assembling a band named the Southlanders. The Southlanders sounded similar to Western swing, with some additional honky tonk grit. Bennett signed with King Records in late 1952, recording his first single in December. The resulting record, "Time," became a minor country hit the following year.
Later in 1953, Bennett revamped the Southlanders, renaming them the Rockets and adding R&B and blues elements to his music with the intention of gaining a younger audience. Not coincidentally, this occurred at the same time Bill Haley was reworking his sound and renaming his backing band the Comets. Early in 1955, Bennett and the Rockets recorded the rock & roller "Seventeen." King Records was unsure of the record's commercial appeal, yet they eventually released it, which proved to be fortunate. "Seventeen" rocketed to number five on the pop charts, eventually becoming one of the best-selling records in the label's history. Not only was the original successful, but the song spawned several cover versions, making Bennett and his co-author John Young several million dollars.
The Rockets' next single, "My Boy Flat-Top," was sung by the group's Big Moe (aka James Muzey), and it also made it into the pop Top 40. In 1956, the Rockets supported Moon Mullican on the classic rockabilly single "Seven Nights to Rock." One more Rockets single — a 1956 cover of Carl Perkins' "Blue Suede Shoes" — was a minor pop success, but the Rockets couldn't replicate their success with "Seventeen" no matter how many times they tried. And throughout 1957 and 1958 they tried a lot, recording several regional hits ("Hit That Jive," "High School Hop") that never made it nationally. While all of these songs touched on rockabilly, they were significantly tamer than most of their contemporaries; consequentially, the Rockets never developed much of a cult following.
Boyd Bennett left King Records in 1959, signing with Mercury Records. Late in 1959, he had one minor hit on his new record label, "Boogie Bear." After a series of unsuccessful singles, Boyd realized that he was too old for the current rock & roll audience and decided to retire from performing. With the money he earned from "Seventeen," he had already bought three nightclubs and co-owned a television station. A decade after his retirement, he founded Hardcast Manufacturing, which primarily constructed parts for air conditioning. For most of his musical retirement, Bennett lived in Dallas. With the exception of the occasional charity concert with Ray Price, Boyd Bennett never reentered the music business.
Boyd Bennett died on June 2, 2002.
https://en.wikipedia.org/wiki/Boyd_Bennett
Talents : Drums, Vocals, Leader, songwriter
Style musical : Rockabilly, Rock 'n' Roll, Christian pop
Years in activity :
| | | | | | | | | | | | |
| --- | --- | --- | --- | --- | --- | --- | --- | --- | --- | --- | --- |
| 1910 | 20 | 30 | 40 | 50 | 60 | 70 | 80 | 90 | 2000 | 10 | 20 |
DISCOGRAPHY
78 t., Singles & EP
1953
78 t. KING 1167 (US)
.
Time / A Hopeless Case
1953
SP KING 45-1167 (US)
.
Time / A Hopeless Case
03/1953
78 t. KING 1201 (US)
.
Precious Little Sweetheart / I'm Wasting Time
03/1953
SP KING 45-1201 (US)
.
Precious Little Sweetheart / I'm Wasting Time
01/1955
78 t. KING 1413 (US)
.
Boyd BENNETT & His SOUTHLANDERS - Waterloo / I've Had Enough
01/1955
SP KING 45-1413 (US)
.
Boyd BENNETT & His SOUTHLANDERS - Waterloo / I've Had Enough
02/1955
78 t. KING 1432 (US)
.
Boyd BENNETT & His ROCKETS - You Upset Me Baby / Poison Ivy
02/1955
SP KING 45-1432 (US)
.
Boyd BENNETT & His ROCKETS - You Upset Me Baby / Poison Ivy
02/1955
78 t. KING 1443 (US)
.
Boyd BENNETT & His ROCKETS / Vocals by Big MOE - Boogie At Midnight / Everlovin'
02/1955
SP KING 45-1443 (US)
.
Boyd BENNETT & His ROCKETS / Vocals by Big MOE - Boogie At Midnight / Everlovin'
05/1955
78 t. KING 1470 (US)
.
Seventeen (Boyd BENNETT & His ROCKETS / Vocals by Big MOE) / Little Ole You-All (Boyd BENNETT & His ROCKETS / Vocals By Boyd BENNETT)
05/1955
SP KING 45-1470 (US)
.
Seventeen (Boyd BENNETT & His ROCKETS / Vocals by Big MOE) / Little Ole You-All (Boyd BENNETT & His ROCKETS / Vocals By Boyd BENNETT)
05/1955
78 t. KING 1475 (US)
.
Boyd BENNETT & His ROCKETS / Vocals by Big MOE - Tennessee Rock And Roll / Oo-Oo-Oo
05/1955
SP KING 45-1475 (US)
.
Boyd BENNETT & His ROCKETS / Vocals by Big MOE - Tennessee Rock And Roll / Oo-Oo-Oo
09/1955
78 t. KING 1494 (US)
.
Boyd BENNETT & His ROCKETS / Vocals by Big MOE - My Boy Flat-Top / Banjo Rock And Roll
09/1955
SP KING 45-1494 (US)
.
Boyd BENNETT & His ROCKETS / Vocals by Big MOE - My Boy Flat-Top / Banjo Rock And Roll
11/1955
78 t. KING 4853 (US)
.
The Most (Boyd BENNETT & His ROCKETS / Vocals by Big MOE) / Desperately (Boyd BENNETT & His ROCKETS / Vocals By Boyd BENNETT)
11/1955
SP KING 45-4853 (US)
.
The Most (Boyd BENNETT & His ROCKETS / Vocals by Big MOE) / Desperately (Boyd BENNETT & His ROCKETS / Vocals By Boyd BENNETT)
01/1956
78 t. KING 4874 (US)
.
Boyd BENNETT & His ROCKETS - Right Around The Corner / Partners For Life
01/1956
SP KING 45-4874 (US)
.
Boyd BENNETT & His ROCKETS - Right Around The Corner / Partners For Life
02/1956
78 t. KING 4894 (US)
.
Moon MULLICAN with Boyd BENNETT & His ROCKETS - Seven Nights To Rock / Honolulu Rock-A-Roll-A
02/1956
SP KING 45-4894 (US)
.
Moon MULLICAN with Boyd BENNETT & His ROCKETS - Seven Nights To Rock / Honolulu Rock-A-Roll-A
03/1956
78 t. KING 4903 (US)
.
Blue Suede Shoes (Boyd BENNETT & His ROCKETS / Vocals By Boyd BENNETT) / Mumbles Blues (Boyd BENNETT & His ROCKETS / Vocals by Big MOE)
03/1956
SP KING 45-4903 (US)
.
Blue Suede Shoes (Boyd BENNETT & His ROCKETS / Vocals By Boyd BENNETT) / Mumbles Blues (Boyd BENNETT & His ROCKETS / Vocals by Big MOE)
04/1956
78 t. KING 4915 (US)
.
Moon MULLICAN with Boyd BENNETT & His ROCKETS - Rock And Roll Mr. Bullfrog / I'm Mad With You
04/1956
SP KING 45-4915 (US)
.
Moon MULLICAN with Boyd BENNETT & His ROCKETS - Rock And Roll Mr. Bullfrog / I'm Mad With You
04/1956
78 t. KING 4925 (US)
.
The Groovy Age (Boyd BENNETT & His ROCKETS / Vocals by Big MOE) / Let Me Love You (Boyd BENNETT & His ROCKETS / Vocals By Boyd BENNETT)
04/1956
SP KING 45-4925 (US)
.
The Groovy Age (Boyd BENNETT & His ROCKETS / Vocals by Big MOE) / Let Me Love You (Boyd BENNETT & His ROCKETS / Vocals By Boyd BENNETT)
08/1956
78 t. KING 4953 (US)
.
Rabbit-Eye Pink And Charcoal Black (Boyd BENNETT & His ROCKETS / Vocals by Big MOE) / Hit That Jive Jack (Boyd BENNETT & His ROCKETS / Vocals by Big MOE & Boyd BENNETT
08/1956
SP KING 45-4953 (US)
.
Rabbit-Eye Pink And Charcoal Black (Boyd BENNETT & His ROCKETS / Vocals by Big MOE) / Hit That Jive Jack (Boyd BENNETT & His ROCKETS / Vocals by Big MOE & Boyd BENNETT
10/1956
SP KING 45-4985 (US)
.
Rockin' Up A Storm (Boyd BENNETT & His ROCKETS / Vocals By Big MOE & Chorus) / A Look Of Your Hair (Boyd BENNETT & His ROCKETS / Vocals By Boyd BENNETT & Chorus)
03/1957
SP KING 45-5021 (US)
.
I'm Moving On (Boyd BENNETT & His ROCKETS / Vocals By Boyd BENNETT) / Big Jay Shuffle (instr.) (Boyd BENNETT & His ROCKETS)
05/1957
SP KING 45-5049 (US)
.
Put The Chain On The Door (Boyd BENNETT & His ROCKETS / Vocals by Big MOE) / Big Boy (instr.) (Boyd BENNETT & His ROCKETS)
08/1957
SP KING 45-5070 (US)
.
Shindig / Hammer Head
1957
EP KING 377 (US)
Boyd BENNETT & His ROCKETS - Seventeen / Boogie At Midnight / Oo-Oo-Oo / Little Ole You-All
1957
EP KING 383 (US)
?
12/1957
SP KING 45-5097 (US)
.
Boyd BENNETT / Vocals By Boyd BENNETT & Chorus - Boy Meets Girl / Sentimental Journey
02/1958
SP KING 45-5113 (US)
.
Boyd BENNETT & His ROCKETS - Her Momma Doesn't Think It's Right / Signed, Sealed, Delivered
02/1958
SP KING 45-5115 (US)
.
Boyd BENNETT & His ROCKETS - Move / Click Clack
02/1959
SP MERCURY 71409x45 (US)
.
Tight Tights / Tear It Up (instr.)
07/1959
SP MERCURY 71479x45 (US)
.
Boogie Bear / A Boy Can Tell
11/1959
SP KING 45-5282 (US)
.
High School Hop / Cool Disc Jockey
11/1959
SP MERCURY 71537x45 (US)
.
Naughty Rock And Roll / Lover's Night (Boyd BENNETT / Alto Sax Solo by Jimmy McDANIELS)
1959
EP MERCURY 14238 (F)
Seventeen / It's Wonderful / Amo, Amas, Amat / Sarasota
04/1960
SP MERCURY 71605x45 (US)
.
Boyd BENNETT / Vocals By Boyd BENNETT with The Anita KERR SINGERS - It's Wonderful / Amo, Amas, Amat
1960
SP MERCURY 71624x45 (US)
.
Coffee Break / The Brain
06/1960
SP MERCURY 71648x45 (US)
.
Seventeen (Boyd BENNETT & His Orchestra / Vocals by Al HENDERSON with Anita KERR SINGERS) / Sarasota (Boyd BENNETT / Vocals By Boyd BENNETT with The Anita KERR SINGERS)
07/1960
SP KING 45-5374 (US)
.
Boyd BENNETT & His ROCKETS / Vocals by Big MOE - Seventeen / My Boy Flat-Top
12/1960
SP MERCURY 71724x45(US)
.
Big Junior / Hershey Bar
06/1961
SP MERCURY 71813 (US)
.
Coffee Break / The Brain
1962
SP BENJON 102 (US)
.
Bah Dah / Kiss Of Thunder
1962 ?
EP DJM 20499 (UK)
C'mon Everybody / Rave On / + 2
1962 ?
SP DJM 10191 (UK)
.
Girl Back Home / Jounty Jump
04/1963
SP KING 45-5738 (US)
.
Hear Me Talking / Teenage Years
05/1963
SP KING 45-5736 (US)
.
Al

Henderson

with Boyd

Bennett Orchestra -

She Says "Crazy" / Laughing Girl, Crying Boy
1965
SP KERNEL 2050 (US)
.
You And Me And Love / Time
1973
SP HILLBILLY CAT 73 (US)
.
Seventeen / Big Boy
1975
SP KING 9932 (US)
.
Big Boy / Put The Chain On The Door
1979
SP GUSTO GT4-2080 (US)
.

Seventeen / My Boy Flat Top
Unissued Tracks
| | | |
| --- | --- | --- |
| 1955 | KING unissued | Banjo Rock And Roll [alt. vers.] |
| 1955 | KING unissued | Cool Disc Jockey [alt. vers.] |
| 1955 | KING unissued | My Boy - Flat Top [alt. vers.] |
| 1955 | KING unissued | Switchie, Witchie, Twitchie |
| 19?? | Need info | Baby Ba Wo Wo Wo |
| 19?? | Need info | Cat Walk |
| 19?? | Need info | Darlin' Please Be Good To Me [vers. 1] |
| 19?? | Need info | Darlin' Please Be Good To Me [vers. 2] |
| 19?? | Need info | Dig Like You Never Dug |
| 19?? | Need info | Ft. Knox Boogie |
| 19?? | Need info | Harlem Nocturne |
| 19?? | Need info | I'm Glad I'm A Boy |
| 19?? | Need info | It's Our Night Tonight |
| 19?? | Need info | Rock A Nails |
| 19?? | Need info | Steamboat |
| 19?? | Need info | There's Nothing Like This |
| 19?? | Need info | Who's It Gonna Be |
| 19?? | Need info | You Upset Me Baby [alt. vers.] |
| 19?? | Need info | Your Mother Doesn't Think It's Right |
Albums
1957
LP 12" KING 594 (US)
BOYD BENNETT - Seventeen / Partners For Life / Mumbles Blues / Little Old You-All / Click Clack / Right Around The Corner / Rabbit-Eye Pink And Charcoal Black / Tennessee Rock And Roll / My Boy Flat Top / Move / Blue Suede Shoes / Boogie At Midnight / Hit The Jive Jack / Banjo Rock And Roll / Put The Chain On The Door / Boy Meets Girl
1980
LP 12" RAINBOW 2727 (US)
BOYD BENNETT - Don't You Think It Gets Sweeter / It's My Desire / How Great Thou Art / Just A Closer Walk With Thee / The Ruggled Old Cross / Rise Again / He'll Understand And Say Well Done / More Of You / Because He Lives / One Day At A Time
1981
LP 12" KING 594 (US)
COLLECTOR'S ITEM - Seventeen / Click Clack / Banjo Rock And Roll / Little Ole Yo-All / Tennessee Rock And Roll / Hit That Jive Jack / My Boy Flat Top / Move / Rabbit-Eye Pink & Charcoal Black / Right Around The Corner / Blue Suede Shoes / Boogie At Midnight
1988
LP 12" SING 1160 (DAN)
SEVENTEEN - Seventeen / Click Clack / Banjo Rock And Roll / Little Ole You - All / Tennessee Rock And Roll / Hit That Jive, Jack / Cool Disc Jockey / My Boy Flat Top / Move / Rabbit-Eye Pink And Charcoal Black / Right Around The Corner / Blue Suede Shoes / Boogie At Midnight / High School Hop
198?
LP 12" ? (US)
ROCK AND ROLL
198?
LP 12" RAINBOW SOUND R-2727 (US)
IT GETS SWEETER
1991
CD CHARLY 282 (UK)
TENNESSE ROCK 'N' ROLL - Seventeen / Mumbles Blues / Oo-Oo-Oo / The Most / Switchie, Witchie, Titchie / You Upset Me Baby / Hit That Jive, Jack! / The Groovy Age / Blue Suede Shoes / Boogie At Midnight / Little Ole You All / Partners For Life / Banjo Rock'n'roll / Cool Disc Jockey / High School Hop / Poison Ivy / Right Around The Corner / Tennessee Rock 'n' Roll / Little Ole You All / Everlovin' / The Groovy Age / Waterloo / Dig Like You Never Dug / My Boy Flat Top
199?
CD ? BB-595 (?)
MR. BOOGIE BEAR - VOL. 2 - THE OTHER TRACKS - Baby Ba Wo Wo Wo (stereo) / Big Junior / Boy Meets Girl / Coffee Break / All Star Boogie (instru.) / Crazy (stereo) / Darlin' Please Be Good To Me / Hear Me Talkin' / Hershey Bar / Cat Walk (instr.) / I'm Glad I'm A Boy / It's Our Night Tonight / Laughing Girl, Crying Boy / Lemon Twist / Harlem Nocture (instr.) / Maria / Naughty Rock & Roll / Sentimental Journey / Lovers Night (instr.) / Tight Tights / Who's It Gonna Be / Rock-O-Nails (instr.) / You And Me Love (stereo) / Your Mother Doesn't Think It's Right /

Steamboat (instr.) / Boogie Bear / A Boy Can Tell

????
3 CD ? (?)
OLD TIME - ROCK & ROLL :

CD 1 : Seventeen/ Mumble Blues / You Upset Me Baby / Partners For Life / I`m Glad I`m A Boy/ Big Boy / Little Ole You All / Everlovin` / Boy Meets Girl / Cat Walk / Rockin` Up A Storm / Poison Ivy / The Groovy Age / It `s Our Night Tonight / Oo- Oo- Oo / High School Hop / Who`s It Gonna Be / You & Me Love / Crazy / Boogie At Midnight
CD 2 : My Boy Flat Top / Big Junior / Coffee Break / Darlin` Please Be Good To Me / Streamboat / You Upset Me Baby / All Star Boy / Fort Knox Boogie / Heard Me Talkin` / Rabbitt- Eye- Pink & Charcoal Black / Put The Chain On The Door / Tight Tights / Big Jay Shuffle / Your Mother Doesn`t Think It`s Right / Lemon Twist / Naughty Rock`n`Roll / Rock-A-Nails / Laughin` Boy,Cryin` Girl / Lover `s Night
CD 3 : Click Clack / Hershey Bar / Banjo Rock & Roll / Blue Suede Shoes / Hit That Jive Jack / Right Around The Corner / Harlem Nocturne / Sentimental Journey / I'm Movin'On / The Most / Switchie, Witchie, Titchie / Cool Disc Jockey / Baby Baby Ba Wo Wo Wo / Waterloo / Dig Like You Never Dug / Tennessee Rock & Roll / Darlin' Please Be Good To Me / Maria\Jerry Cox / Boogie Bear

04/2005
CD ACE 1039 (UK)
ROCKIN' UP A STORM - THE BEST OF KING RECORDINGS - Right Around The Corner / Seventeen / You Upset Me Baby / Boogie At Midnight / My Boy Flat Top / Everlovin' / Mumbles Blues / Cool Disc Jockey / Big Jay Shuffle (instr.) / Most / Put The Chain On The Door / Blue Suede Shoes / Rabbit Eye Pink & Charcoal Black / Hit That Jive Jack / Banjo Rock 'n' Roll / Groovy Age / Tennessee Rock 'n' Roll / Big Boy (Instr.) / Rockin' Up A Storm / I'm Movin' On / Click Clack / Clock Ticking Rhythm / Nothing Like This / Move
02/2008
CD BURNING FIRE ? (?)
THE VERY BEST OF BOYD BENNETT - Right Around The Corner / You Upset Me Baby / Click Clack (with Cecil McNABB JR.) / I'm Movin' On / Rockin' Up A Storm / Boogie At Night / Clock Ticking Rhythm (with Cecil McNABB JR.) / Blue Suede Shoes / Put The Chain On The Door / Tennessee Rock 'n Roll / Big Jay Schuffle / Nothing Like This (with Cecil McNABB JR.) / Everlovin' / Rabbit Eye Pine And Charcoal Black / The Groove Age / Hit The Jive, Jack / Seventeen / Big Boy / The Most / Mumbles Blues
01/2010
CD GAMC ? (?)
BOOGIE BEAR -

Mumbles Blues / You Upset Me Baby / The Most / Seventeen / Rabbit Eye Pine And Charcoal Black / Clock Ticking Rhythm

(with Cecil McNABB JR.)

/ Rockin' Up A Storm / Right Around The Corner / Right Around The Corner / Click Clack

(with Cecil McNABB JR.)
© Rocky Productions 4/03/2011