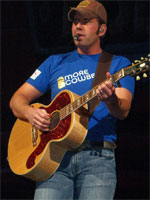 Chanteur Country US né le 28 Mars 1969 à Knoxville (Tennessee).

By fusing the driving sound of Tim McGraw with an everyday appeal, Rodney Atkins racked up a series of country chart-toppers, starting in 2006 with "If You're Going Through Hell (Before the Devil Even Knows)," a song that helped him snag Top New Male Vocalist from the Academy of Country Music. Atkins took a long time to achieve this success. He first signed with Curb in 1996, ten years before his breakthrough, but once he reached the top of the charts, he flourished. Between 2006 and 2008, he racked up five number one country hits, highlighted by the sentimental smash "Watching You." After 2008's "It's America," his stardom started to fade, but he made a comeback in 2018 when he collaborated with the Fisk Jubilee Singers for "Caught Up in the Country."
Born in Knoxville, Tennessee on March 28, 1969, Atkins was put up for adoption by his birth mother. After cycling through a couple of prospective families, he was adopted by Allan and Margaret Atkins. The family raised their son in Tennessee's Claiborne County, and while he attended high school in Speedwell's Powell Valley High, he began to play music. His interest in music deepened while he attended college-he graduated from Walters Sate Community College, then enrolled at Tennessee Technological University-and decided to pack it up and head to Nashville to pursue a career in country in the mid-'90s.
In 1996, Atkins signed to Curb Records, which put out "In a Heartbeat" in 1997. "In a Heartbeat" managed to go no further than 74 on Billboard's Hot Country Singles chart, which led Atkins back into the studio to record more material. Curb allowed the singer to part ways with producer Chuck Howard and team up with producer Ted Hewitt, who had already been co-writing original material with the singer. Moving in a mainstream country-pop direction, the pair spent the next few years working on an album, which began to see the light of day in 2002, when the singles "Sing Along" and "My Old Man" scraped the lower reaches of Billboard's Country Top 40.
"Honesty (Write Me a List)" broke the doors open for Atkins, reaching four on Billboard's Country Singles chart. Its accompanying album Honesty topped out at 50 and its fourth single, "Someone to Share It With," didn't crack the Country Top 40, but this was enough to set up a successful launch for If You're Going Through Hell in 2006.
Transitioning from a crooner to an everyday country singer, Atkins hit the big time with If You're Going Through Hell, scoring four number one hits in succession: "If You're Going Through Hell (Before the Devil Even Knows)," "Watching You," "These Are My People," and "Cleaning This Gun (Come on in Boy)," a quartet which kept him on the charts through 2007. It was enough to earn Atkins the Academy of Country Music award for Top New Vocalist in 2006.
In 2008, Atkins returned with his third album, It's America. Its title track went to number one, with its second single, "15 Minutes," peaking at 20, but it took "Farmer's Daughter"-a bonus track added to a re-release of the album in 2010-to give the singer another Top Ten hit. "Farmer's Daughter" wound up peaking at five on Billboard's Country Airplay chart in 2010. Released in 2011, Take a Back Road had a number one single in its title track, with its second single, "He's Mine," reaching 23.
Atkins career slowed down in the early 2010s, following an incident where he was arrested for domestic assault against his wife Tammy Jo McDonald. After he attended court-ordered anger management courses, the charges were cleared. The couple divorced in September 2012 and Atkins married Rose Falcon in 2013. That year, he released the non-LP single "Doin' It Right," which went no further than 53 on Billboard's Country Airplay charts. "Eat Sleep Love You Repeat"-a new cut attached to a 2014 Greatest Hits album-reached 47.
Atkins mounted a comeback in 2018 with "Caught Up in the Country," which featured vocals from the Fisk Jubilee Singers; it reached 21 on Billboard's Country Airplay chart. The song served as the title track for his fifth album, Caught Up in the Country, which appeared in May 2019.
https://en.wikipedia.org/wiki/Rodney_Atkins
Talents : Vocals, Guitar
Style musical : Contemporary Country
Years in activity :
| | | | | | | | | | | | |
| --- | --- | --- | --- | --- | --- | --- | --- | --- | --- | --- | --- |
| 1910 | 20 | 30 | 40 | 50 | 60 | 70 | 80 | 90 | 2000 | 10 | 20 |
DISCOGRAPHY
Singles
08/1997
SP CURB D7-73026 (US)
.
In A Heartbeat /

God Only Knows

1997
CD CURB

D-1356 (US) (promo)

In A Heartbeat
1997
CD CURB

D-1415 (US) (promo)

God Only Knows

09/2003
CD CURB D2-73149 (US)
Honesty (Write Me A List) / / My Old Man
2004
CD CURB

CURBD 1851 (US)

.

Someone To Share It With / Someone To Share It With (Suggested Callout Research Hook)

2011
CD CURB 510290 (US) (promo)
.

Monkey In The Middle

2011
CD CURB CURBD 2178 (US) (promo)

Take A Back Road / Callout Hook

2012
CD CURB CURBD 2198 (US) (promo)

Just Wanna Rock n Roll / Callout Hook

2013
CD CURB CURBD 2234 (US) (promo)

Doin' It Right / Callout Hook

2014
CD CURB CURBD 2247 (US) (promo)

Eat Sleep Love You Repeat
Albums
09/1997
CD CURB D2-77896 (US)
RODNEY ATKINS - In A Heartbeat / God Only Knows / Tear It Up / Nothing To Lose / Diamonds / It Never Fails / Forgetting Something / It's Been Real / All In My Heart / I Thought There Was Time
10/2003
CD CURB D2-78745 (US)
HONESTY - Honesty / What's Left Of Me / Monkey In The Middle / Someone To Share It With / The Love We Make / The Man I Am Today / Uncomplicated / Sing Along / Yeah She Does / I Will Come To You / Forgiveness And Permission / My Old Man
07/2006
CD CURB D2-78945 (US)
IF YOU'RE GOING THROUGH HELL - These Are My People / About The South / Watching You / Cleaning This Gun (Come On In Boy) / In The Middle / Man On A Tractor / Wasted Whiskey / Invisibly Shaken / Angel's Hands / If You're Going Through Hell (Before The Devil Even Knows) / Honesty (Write Me A List)
03/2009
CD CURB D2-79132 (US)
IT'S AMERICA - Tell A Country Boy / Chasin' Girls / Got It Good / Best Things / Friends With Tractors / 15 Minutes / Simple Things / It's America / Rockin' Of The Cradle / When It's My Time / The River Just Knows
2010
CD CURB D2-79132 (US) (reissue)
IT'S AMERICA - Tell A Country Boy / Chasin' Girls / Got It Good / Best Things / Friends With Tractors / 15 Minutes / Simple Things / It's America / Rockin' Of The Cradle / When It's My Time / The River Just Knows / BONUS TRACK : Farmer's Daughter
09/2010
CD CURB D2-79206 (US)

Rodney Atkins - These Are My People / About The South / Watching You / Cleaning This Gun (Come On In Boy) / In The Middle / A Man On A Tractor / Wasted Whiskey / Invisibly Shaken / Angel's Hands / If You're Going Through Hell (Before The Devil Even Knows) / Farmer's Daughter / More Like Your Memory (Always Takes Me Back)

10/2011
CD CURB 79255 (US)

Take A Back Road - Take A Back Road / He's Mine / Family / Corner / She's A Girl / She'd Rather Fight / Feet / Cabin In The Woods / Just Wanna Rock 'n Roll / Growing Up Like That / Tips / Lifelines / Farmer's Daughter

2011
CD CURB D2-79266 (US) (deluxe edition)

Take A Back Road -

Take A Back Road / He's Mine / Family / Corner / She's A Girl / She'd Rather Fight / Feet / Cabin In The Woods / Just Wanna Rock 'n Roll / Growing Up Like That / Tips / Lifelines / BONUS TRACKS : Farmer's Daughter / Watching You / If You're Going Through Hell / These Are My People / It's America
02/2015
CD CURB D2-79403 (US)

GREATEST HITS - If You're Going Through Hell (Before The Devil Even Knows) / Watching You / These Are My People / Cleaning This Gun (Come On In Boy) / Take A Back Road / Farmer's Daughter / It's America / Invisibly Shaken / Honesty (Write Me A List) / He's Mine / About The South / Eat Sleep Love You Repeat

05/2019
CD CURB D2-79519 (US)

Caught Up In The Country -

Burn Something / Caught Up In The Country / Figure Out You (Riddle) / Thank God For You / So Good / What Lonely Looks Like / My Life / Cover Me Up / All My Friends Are Drunk / Young Man / Everybody's Got / Something / Waiting On A Good Day
© Rocky Productions 25/05/2019