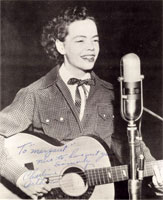 Chanteuse Country US née Charlene Highsmith, le 2 Septembre 1929 à Henrietta (Texas). Charline Arthur chanta régulièrement au Big D Jamboree (KRLD, Dallas, Texas) en 1956. Elle est décédée le 27 Novembre 1987.

Charline Arthur didn't play by the rules. During the '50s, country music wasn't particularly receptive to rowdy, racy material sung by females, much less one who refused to submit to the orders of her record company or promoters. No matter how much pressure Arthur received, she didn't change her ways. With a raging temper, she was difficult to work with, particularly angering her producer, Chet Atkins. Nevertheless, her music was frequently impressive. In some ways, Arthur was a forerunner of rockabilly, with her bluesy, raw hillbilly music and her wild stage shows. She was the first female singer in country music to perform in pants and she used the extra freedom to prowl the stage. While her career was extremely brief — she recorded for RCA for three years — her music gained a cult following over the years, as proved by the appearance of Bear Family's Welcome to the Club compilation in 1986.
The daughter of a Pentecostal preacher, Charline Arthur (born Charline Highsmith, September 2, 1929, in Henrietta, TX) began singing in church while she was in school. At the age of seven, she earned enough money collecting empty bottles to buy a guitar for six dollars. Influenced by the hardcore honky tonk of Ernest Tubb, she wrote her first song, "I've Got the Boogie Blues," when she was 12. By the time she was a teenager, she was performing on a local Texas radio show. Arthur won a spot on a traveling medicine show in the mid-'40s, yet her parents refused to let her leave home. She countered by marrying Jack Arthur, who would later play bass on her records.
In the late '40s, she began singing in honky tonks and nightclubs across Texas, which eventually led to a single with Bullet Records, "I've Got the Boogie Blues"/"Is Love a Game." After she recorded the single, she and Jack moved to Kermit, TX, where she was hired by a radio station as a DJ. Soon, Charline assembled a band. Performing in local clubs and the radio, Arthur gained a fan base. In 1950, she recorded a single for the small label Imperial. During this time, Eddy Arnold and his manager, Colonel Tom Parker, heard Arthur perform. Impressed with what they heard, they directed Julian and Gene Aberbach, owners of the Hill and Range music publishing company, toward the singer. The pair signed her to a publishing deal and landed her a contract with RCA Records in 1953.
Arthur made her first record for RCA early in 1953, recording with session musicians who included Floyd Cramer and Chet Atkins. Her contract with RCA led her to appearances with the Louisiana Hayride, the Big D Jamboree, and the Ozark Jubilee. During this time, she frequently performed on the same stage as Elvis Presley, whose mother was a big fan of Arthur. All of her performances were gaining her acclaim — in 1955, she was the runner-up to Kitty Wells in Country & Western Jamboree magazine's DJ poll.
However, things weren't going smoothly for Arthur. Although she appeared on the "Prince Albert" portion of the Grand Ole Opry, her material was frequently rejected on the grounds it was too racy. At RCA, Chet Atkins followed Steve Sholes as her record producer, and the two musicians could not get along. Furthermore, she was having no success with any of her records. After her contract expired at the end of 1956, she left RCA for Colin, but she had a similar lack of success there. Shortly after her record label switch, she parted ways with her husband, Jack.
Charline formed a trio with her sisters, Betty Sue and Dottie, but the teaming was unsuccessful. By 1960, she was broke. Arthur moved to Salt Lake City, where she met Ray Pellum, a nightclub and record label owner who landed her a regular singing job in Chubbuck, ID. During this time, she also recorded for his Eldorado label. In 1965, Arthur headed out to California. Between 1965 and 1978, she recorded for three small labels — Rustic, Wytra, and Republic — with Alice M. Michaels as her manager. Suffering from debilitating arthritis, she went back to Idaho in 1979, and stayed there until her death in 1987. Charline Arthur lived long enough to see her RCA material reissued by Germany's Bear Family Records in 1986.
https://en.wikipedia.org/wiki/Charline_Arthur
Talent : Vocals, Songwriter, Guitar, Comedy
Style musical : Honky Tonk, Country Boogie

http://www.youtube.com/watch?v=hEdjdZirNp8
Years in activity :
| | | | | | | | | | | | |
| --- | --- | --- | --- | --- | --- | --- | --- | --- | --- | --- | --- |
| 1910 | 20 | 30 | 40 | 50 | 60 | 70 | 80 | 90 | 2000 | 10 | 20 |
DISCOGRAPHY
Singles
08/1950
SP BULLET 707 (US)
Charline ARTHUR - I've Got The Boogie Blues

/ Is Love A

1951
SP IMPERIAL 8121 (US)
Charlene ARTHUR -

I Don't Need A Diary / Dreaming Of You

1953
SP RCA VICTOR 47-5207 (US)
Charline ARTHUR - I Kept It A Secret / Anything Can Happen
1953
SP RCA VICTOR 47-5313 (US)
Charline ARTHUR - I Heard About You / I Was Wrong
1953
SP RCA VICTOR 47-5485 (US)
Charline ARTHUR - Heartbreak Ahead / Looking At The Moon And Wishing On A Star
1954
SP RCA VICTOR 47-5637 (US)
Charline ARTHUR - He Fiddled While I Burned / Double-Crossed By Love
1954
SP RCA VICTOR 47-5703 (US)
Charline ARTHUR - I'm Having A Party All By Myself / Waltzing
1954
SP RCA VICTOR 47-5807 (US)
Charline ARTHUR - The Good And The Bad / Please Darlin' Please
1954
SP RCA VICTOR 47-5899 (US)
Charline ARTHUR - Leave My Man Alone / (I'm In Love With) Someone's Used To Be
01/1955
SP RCA VICTOR 47-5977 (US)
Charline ARTHUR - Too Long, Too Many Times / Flash Your Diamonds (And Show Your Gold)
05/1955
SP RCA VICTOR 47-6120 (US)
Charline ARTHUR - For Old Times Sake / Soft Hearted Gal
07/1955
SP RCA VICTOR 47-6204 (US)
Charline ARTHUR - Honey Bun / Kiss The Baby Goodnight
11/1955
SP RCA VICTOR 47-6297 (US)
Charline ARTHUR - Burn That Candle / How Many Would There Be?
02/1956
SP RCA VICTOR 47-6428 (US)
Charline ARTHUR - Just Look, Don't Touch, He's Mine / I Love Him Better Than You Do
06/1956
SP RCA VICTOR 47-6570 (US)
Charline ARTHUR - Welcome To The Club / What About Tomorrow
09/1956
SP COIN 104 (US)
Charlene ARTHUR & The KNIGHTS - Hello Baby / Cryin' Alone
04/1963
SP EL DORADO 651 (US)
CHARLINE & DOTTIE & The ROCKING SWEETHEARTS - God Planned It That Way / Golden Record
06/1963
SP EL DORADO 653 (US)
Charline ARTHUR & DOTTIE - Golden Record / I'm No Good Without You
1969
SP REPUBLIC 1406 (US)

My Heart Sings / That Was A Long Time Ago
Albums
1986
LP 12" BEAR FAMILY BFX 15234 (GER)

WELCOME TO THE CLUB

-

Burn That Candle / What About Tomorrow / Honey Bun / Kiss The Baby Goodnight / Just Look, Don´t Touch, He´s Mine / How Many Would There Be? / Later On / Heard About You / Anything Can Happen / Lookin´ At The Moon Wishing On A Star / I´m Having A Party All By Myself / Leave My Man Alone / Please Darlin´ Please / Heartbreak Ahead / I Was Wrong
11/1998
CD BEAR FAMILY BCD 16279 (GER)

WELCOME TO THE CLUB

-

Burn That Candle / Just Look, Don't Touch, He's Mine / I Love Him Better Than You Do / How Many Would There Be? / What About Tomorrow / Welcome To The Club / I'm Having A Party All By Myself / Honey Bun / Looking At The Moon And Wishing On A Star / He Fiddle While I Burned / I Heard About You / Leave My Man Alone / Flash Your Diamonds / I Was Wrong / Too Long, Too Many Times / (I'm In Love With) Someone's Used To Be / Waltzing / The Good And The Bad / Heartbreak Ahead / Soft Hearted Gal / For Old Times' Sake / Later On / Double-Crossed My Love / Kiss The Baby Goodnight / Anything Can Happen / I Kept It A Secret / Please Darlin' Please / Hello Baby / Cryin' Alone / I've Got The Boogie Blues / Is Love A Game / Dreaming Of You
10/2003
LP 12" BEAR FAMILY BAF 18003 (GER)
BURN THAT CANDLE - Burn That Candle / I Heard About You / Kiss The Baby Goodnight / I'm Having A Party All By Myself / What About Tomorrow / Honey Bun / Welcome To The Club / I've Got The Boogie Blues / Just Look, Don't Touch, He's Mine / Looking At The Moon And Wishing On A Star / Flash Your Diamonds / Hello Baby
© Rocky Productions 20/02/2005