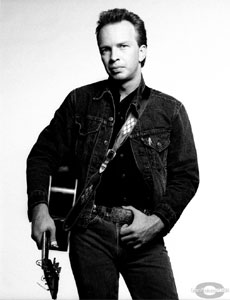 Chanteur Country US né David Albert Alvin, le 11 Novembre 1955 à Downey (Californie), est un auteur-compositeur-interprète, guitariste, producteur de musique et poète américain. Il est un ancien membre fondateur du groupe de rock roots The Blasters. Dave Alvin a enregistré et joué en tant qu'artiste solo depuis la fin des années 1980 et a été impliqué dans divers projets parallèles et collaborations. Il a fait de brefs passages dans les groupes X et The Knitters.

A singer, songwriter, and guitarist with a keen eye for the details of American life and a powerful and passionate performing style, Dave Alvin helped to kick-start the American roots rock scene in the early '80s with the band The Blasters, and has since gone on to a career as a solo performer, songwriter, producer, and sideman that's been as well respected as it is eclectic. Born and raised in Downey, California, Dave Alvin and his brother Phil Alvin were avid music fans since childhood, immersing themselves in vintage blues, country, and rockabilly sounds. Their passion led to them founding The Blasters, who played roots-inspired rock & roll with the energy and fire of punk rock, in 1979. With Dave as guitarist and principal songwriter, The Blasters became stars in Los Angeles and earned a devoted fan following internationally after the release of their self-titled 1981 album for Slash. Dave left The Blasters after their 1985 album, Hard Line, and launched his solo career with 1987's Every Night About This Time. Health problems sidelined Alvin for a spell, but after Dwight Yoakam scored a hit with Alvin's song "Long White Cadillac," he returned to action with 1991's Blue Blvd. He made a compelling acoustic effort with 1994's King of California, while he doubled down on his interest in traditional folk and rural blues with a pair of critically acclaimed releases, 1998's Blackjack David and 2000's Public Domain: Songs from the Wild Land. Through the 2000s, Alvin moved back and forth between electric and acoustic projects, and in 2014 he reunited with his brother Phil for Common Ground: Dave & Phil Alvin Play and Sing the Songs of Big Bill Broonzy. He documented another memorable collaboration with 2018's Downey to Lubbock, recorded with Jimmie Dale Gilmore.
Born in Downey, California in 1955, Alvin was raised by a family of music fans, and as teenagers Dave and his older brother Phil immersed themselves in blues, rockabilly, and vintage country sounds, collecting rare records and attending nightclub performances by the likes of T-Bone Walker, Big Joe Turner, and Lee Allen. Like many fans, the Alvin brothers wanted to play music influenced by the sounds they loved, and in 1979 they formed The Blasters with fellow Downey residents Bill Bateman and John Bazz. Combining the revved-up energy of punk rock with an enthusiastic embrace of classic American sounds, The Blasters became a sensation in Los Angeles and won an enthusiastic cult following across the United States and Europe. However, The Blasters were unable to translate their critical respect and enthusiastic fan base into mainstream success, and in 1986 Dave left the band. Phil Alvin continued to front various lineups of The Blasters, and in 2002 Dave joined forces with Phil, Bill Bateman, and John Bazz for a short series of Blasters reunion shows.
While playing with The Blasters, Alvin had already displayed a broad range of enthusiasms with two side projects, Chris D.'s literate goth-punk collective the Flesh Eaters and the Knitters, an acoustic ensemble in which Alvin performed vintage country and folk numbers with John Doe and Exene Cervenka of X. Shortly after leaving The Blasters, Alvin joined X as lead guitarist after the departure of Billy Zoom; however, Alvin amicably left the group to work on a solo project shortly after the recording sessions for their album See How We Are. Alvin's first solo album, entitled Romeo's Escape in the United States and Every Night About This Time in England, added a purer country influence along with a larger side portion of the blues; while the album was critically well received, it didn't fare well in the marketplace, and Alvin was dropped by his American record label, Columbia. Alvin suffered health problems that sidelined him for a while, except for a wild tour with friends Mojo Nixon and Country Dick Montana as the Pleasure Barons, which was described as "a Las Vegas revue from acts who aren't going to be asked to play Vegas." (A live album was released of a second Pleasure Barons tour in 1993.)
In 1989, Dwight Yoakam scored a hit on the country charts with Alvin's song "Long White Cadillac," and Alvin used the royalties to start work on his second solo set, Blue Blvd. Released by the California-based roots-music label Hightone Records, Blue Blvd received enthusiastic reviews and sold well enough to reestablish Alvin as a significant artist in the roots rock scene. After releasing Museum of Heart in 1993, Alvin began to turn his attention to acoustic music with 1994's King of California, and over the next several years Alvin moved back and forth between hard-edged roots rock and more introspective acoustic material that still honored his influences (and allowed him to display a greater range as a vocalist). In 2000, Alvin recorded a collection of traditional folk and blues classics, Public Domain: Songs from the Wild Land, which earned him a Grammy Award for Best Contemporary Folk Album. In 2004, Alvin signed with the upstart roots rock label Yep Roc Records, which released his album Ashgrove, a low-key but hard-edged set of blues and rock. It was followed in 2006 by West of the West and a year later by Live from Austin TX (a performance on Austin City Limits from 1999).
He changed his approach a bit with Dave Alvin and the Guilty Women, which was issued by Yep Roc in 2009, by recording with five women, and it seemed to revitalize him. Eleven Eleven, Alvin's first solo studio album of original material in some seven years, appeared in 2011, again on Yep Roc. Eleven Eleven included a duet with Phil Alvin on the tune "What's Up with Your Brother?," and in 2014 Dave and Phil recorded a full album together for the first time since Dave left The Blasters; Common Ground: Dave Alvin & Phil Alvin Play and Sing the Songs of Big Bill Broonzy was a celebration of one of their first and strongest musical influences that found them both in strong form. The Alvin brothers supported Common Ground with a concert tour, and in 2015 Dave and Phil returned with a lively set of electric blues, Lost Time. In 2017, Dave joined forces with another roots music favorite, Jimmie Dale Gilmore, for a concert tour. The two were pleased with the results and went into the studio to cut a duo album, 2018's Downey to Lubbock.
When not busy recording his own music, Alvin has also worked as a producer for several other roots-oriented acts, including Tom Russell, the Derailers, and Big Sandy & His Fly-Rite Boys, and he has collaborated with rockabilly legend Sonny Burgess. As a sideman, Alvin has recorded sessions with the likes of Ramblin' Jack Elliott, Little Milton, Katy Moffatt, and Syd Straw.
https://en.wikipedia.org/wiki/Dave_Alvin
Talents : Vocals, Guitar, Songwriter, Music Producer
Style musical : Contemporary Country, Rockabilly, Country-Rock, Americana, Folk, Blues

https://www.youtube.com/watch?v=Im-407BAbnA
Years in activity :
| | | | | | | | | | | | |
| --- | --- | --- | --- | --- | --- | --- | --- | --- | --- | --- | --- |
| 1910 | 20 | 30 | 40 | 50 | 60 | 70 | 80 | 90 | 2000 | 10 | 20 |
DISCOGRAPHY
Singles & EP
1987
SP 12" 33 t. EPIC EAS-2783 (US) (promo)

New Tattoo / Border Radio

1987
SP EPIC 34-07394 (US)
.

Every Night About This Time / Brother On The Line

1987
SP DEMON D 1049 (UK)

Fourth Of July / You Got Me

1998
CD Hightone

prcd

201 (US) (promo)
.

Abilene / Railroad Bill (unreleased) / How You Want It Done (unreleased)

2006
CD Yep Roc ? (US)
.

West Of The West - Exclusive Bonus Tracks - Boss Intro / Boss / Mister Moto Intro / Mister Moto

04/2014
2 SP 10" Yep Roc YEP-2383 (US)
Songs From Common Ground - Dave Alvin & Phil Alvin

:

DISC 1 : All By Myself / How You Want It Done
DISC 2 : Key To The Highway / Truckin' Little Woman

04/2017
EP 12" Yep Roc YEP-2494 (US) (limited edition, Translucent Red)

Hard Travelin' - Dave Alvin & Phil Alvin - Hard Travelin' / Mean Old Frisco / California Desert Blues / Kansas City Blues

04/2017
CD Yep Roc ? (US)
Hard Travelin' - Dave Alvin & Phil Alvin - Hard Travelin' / Mean Old Frisco / California Desert Blues / Kansas City Blues
Albums
1986
LP 12" EPIC EAS 2782 (US) (promo)

Interchords - Fourth Of July / Long White Cadillac / Romeo's Escape / Brother On The Line / Border Radio / New Tattoo / One Way Gal

1987
CD EPIC EK 40921 (US)

Romeo's Escape - Fourth Of July / Long White Cadillac / Every Night About This Time / Romeo's Escape / Brother On The Line / Jubilee Train / Border Radio / Far Away / New Tattoo / You Got Me / I Wish It Was Saturday Night

1991
CD Hightone HCD 8029 (US)

Blue Blvd - Blue Blvd / Guilty Man / Haley's Comet / Why Did She Stay With Him / Rich Man's Town / Gospel Night / Plastic Rose / Brand New Heart / Wanda And Duane / Andersonville / Dry River

1992
CD DIXIEFROG DFGCD 8424 (F)

Blue Blvd -

Blue Blvd / Guilty Man / Haley's Comet / Why Did She Stay With Him / Rich Man's Town / Gospel Night / Plastic Rose / Brand New Heart / Wanda And Duane / Andersonville / Dry River
06/1992
CD HIGHTONE HCD 8039 (US)
TENNESSEE BORDER - SONNY BURGESS WITH DAVE ALVIN - Tennessee Border / Enough Of You / My Heart Is Achin' For You / Flattop Joint / As Far As I Could Go / Old, Old Man / Automatic Woman / There's Talk In Your Sleep / Stuck Up / I Don't Dig It
1992
CD HIGHTONE HCD 8049 (US)

Museum Of Heart - Museum Of Heart / Don't Talk About Her / A Woman's Got A Right / Between The Cracks / Thirty Dollar Room / The Devil's Wind / Burning In Water Drowning In Flame / One Eye's Ballad / Longer Than I Thought / Six Nights A Week / Stranger In Town / As She Slowly Turns To Leave / Florence Avenue Lullaby

06/1994
CD HIGHTONE HCD 8054 (US)

King Of California - King Of California / Barn Burning / Fourth Of July / Goodbye Again / East Texas Blues / Every Night About This Time / Bus Station / Mother Earth / Blue Wing / Little Honey / (I Won't Be) Leaving / What Am I Worth (vocals : Syd Straw) / Border Radio

06/1994
2 LP 12" CRAFT / HIGHTONE CR00190 (US)

King Of California :

DISC 1 : King Of California / Barn Burning / Fourth Of July / Goodbye Again / East Texas Blues / Every Night About This Time / Bus Station / Mother Earth / Blue Wing
DISC 2 : Little Honey / (I Won't Be) Leaving / What Am I Worth (vocals : Syd

Straw

) / Border Radio / Riverbed Rag / The Cuckoo / Kern River

1998
CD HIGHTONE HCD 8091 (US)

Blackjack David - Blackjack David / Abilene / New Highway / California Snow / Evening Blues / The Way You Say Good-Bye / Maty Brown / Laurel Lynn / 1968 / From A Kitchen Table / Tall Trees

1998
CD HIGHTONE PCD-5365 (JAP)

Blackjack David -

Blackjack David / Abilene / New Highway / California Snow / Evening Blues / The Way You Say Good-Bye / Maty Brown / Laurel Lynn / 1968 / From A Kitchen Table / Tall Trees / Railroad Bill / How You Want It Done
1999
2 CD BUG MUSIC PRCD4 (US)

The Songs Of Dave Alvin 1979-1999 :

CD 1 : New Highway / King Of California / Blue Blvd. / Border Radio / From A Kitchen Table / Fourth Of July / Haley's Comet / Jubilee Train / Why Did She Stay With Him / A Woman's Got A Right / Long White Cadillac (new version) / The Way You Say Goodbye / Marie Marie (performed by The

Blasters

) / Burning In Water Drowning In Flame / Dry River
CD 2 : Abilene / Every Night About This Time / Guilty Man / Don't Talk About Her (new version) / Little Honey / Brand New Heart / American Music (performed by The

Blasters

) / Wanda And Duane / 1968 / Long White Cadillac (performed by Dwight

Yoakam

) / Museum Of Heart / Bus Station / Evening Blues / Romeo's Escape / So Long Baby Goodbye (performed by Last Train Home)

2001
CD HIGHTONE HCD 8122 (US)

Public Domain - Songs From The Wild Land - Shenandoah / Maggie Campbell / A Short Life Of Trouble / What Did The Deep Sea Say / Engine 143 / Delia / Dark Eyes / Walk Right In / Murder Of The Lawson Family / Don't Let Your Deal Go Down / Railroad Bill / Texas Rangers / Mama, Ain't Long For Day / East Virginia Blues / Sign Of Judgment / Saturday Night Rub

04/2003
CD Mobile Fidelity Sound UDSACD 2007 (US)

Blackjack David -

Blackjack David / Abilene / New Highway / California Snow / Evening Blues / The Way You Say Good-Bye / Maty Brown / Laurel Lynn / 1968 / From A Kitchen Table / Tall Trees
07/2004
CD Yep Roc YEP 2075 (US)

Ashgrove - Ashgrove / Rio Grande / Black Sky / Nine Volt Heart / Out Of Control / Everett Ruess / Sinful Daughter / The Man In The Bed / Black Haired Girl / Somewhere In Time

2006
CD Yep Roc YEP 2118 (US)

West Of The West - California Bloodlines / Redneck Friend / Kern River / Blind Love / Here In California / I Am Bewildered / Sonora's Death Row / Down On The Riverbed / Between The Cracks / Don't Look Now / Tramps And Hawkers / Loser / Surfer Girl

2006
CD Yep Roc YEP 2118 (US) (promo)

West Of The West -

California Bloodlines / Redneck Friend / Kern River / Blind Love / Here In California / I Am Bewildered / Sonora's Death Row / Down On The Riverbed / Between The Cracks / Don't Look Now / Tramps And Hawkers / Loser / Surfer Girl
2007
CD New West NW6113 (US)

Live From Austin TX - King Of California / Barn Burnin' / Mary Brown / Border Radio / Dry River / Out In California / Abilene / Jubilee Train / Do-Re-Me / Promised Land / Blackjack David / Fourth Of July / Marie Marie

2008
CD Shout! Factory 826663-11004 (US)

The Best Of The Hightone Years - Dry River / King Of California / Haley's Comet / Evening Blues / Fourth Of July / The Cuckoo / California Snow / Dixie Highway Blues / Thirty Dollar Room / Blue Wing / Abilene / Shenandoah / Out In California / Every Night About This Time / Wanda And Duane / Mary Brown / Why Did She Stay With Him / Museum Of Heart

11/2008
CD NOT ON LABEL ? (US)

Gene Taylor Blues Band Featuring Dave Alvin - Live!!! 605 Boogie!!! - 605 Boogie / Sugarbee / Don't You Lie To Me / Looped / Mardi Gras In New Orleans / Before You Accuse Me / Earl's Guitar Rumba / That's All Right / Down The Road Apiece / What Am I Living For? / Blue Moon Of Kentucky / Lights Out

06/2011
CD Yep Roc YEP-2246 (US)

Eleven Eleven -

Harlan County Line / Johnny Ace Is Dead / Black Rose Of Texas / Gary, Indiana 1959 / Run Conejo Run / No Worries Mija / What's Up With Your Brother? / Murrietta's Head / Manzanita / Dirty Nightgown / Two Lucky Bums (duet with Chris

Gaffney

)
05/2012
3 CD + DVD Yep Roc YEP 2273, YEP-2246, YEP-2263 (US)

eleven eleven :

CD 1 : Harlan County Line / Johnny Ace Is Dead / Black Rose Of Texas / Gary, Indiana 1959 / Run Conejo Run / No Worries Mija / What's Up With Your Brother? / Murrietta's Head / Manzanita / Dirty Nightgown / Two Lucky Bums
CD 2 : Harlan County Line (live) / Boss Of The Blues (live) / Long White Cadillac (live) / Rio Grande (live) / Johnny Ace Is Dead (live) / Out Of Control (live) / Dry River (live) / Run Conejo Run (live) / Fourth Of July (live)
CD 3 : Beautiful City 'Cross The River / Signal Hill / Never Trust A Woman
DVD : Harlan County Line / Boss Of The Blues / Long White Cadillac / Rio Grande / Johnny Ace Is Dead / Abilene / Out Of Control / Dry River / Run Conejo Run / Fourth Of July

2012
2 CD Shout! Factor FLOATM6134 (UK)

Blue Boulevard & Museum Of Heart :

CD 1 : BLUE BLVD : Blue Blvd / Guilty Man / Harley's Comet / Why Did She Stay With Him / Rich Man's Town / Gospel Night / Plastic Rose / Brand New Heart / Wanda And Duane / Andersonville / Dry River
CD 2 : MUSEUM OF HEART : Museum Of Heart / Don't Talk About Her / A Woman's Got A Right / Between The Cracks / Thirty Dollar Room / The Devils Wind / Burning In Water, Drowning In Flame / One Eye's Ballad / Longer Than I Thought / Six Night A Week / Stranger In Town / As She Slowly Turns To Leave

2012
2 CD Shout! Factor FLOATM6146 (UK)

King Of California & Interstate City :

CD 1 :

King Of California :

King Of California / Barn Burning / Fourth Of July / Goodbye Again / East Texas Blues / Every Night About This Time / Bus Station / Mother Earth / Blue Wing / Little Honey / (I Won't Be) Leaving / What Am I Worth / Border Radio
CD 2 :

Interstate City :

So Long Baby Goodbye / Out In California / Interstate City / Look Out ( It Must Be Love) - Intro To Mister Lee / Mister Lee / Thirty Dollar Room / Dry River / Museum Of Heart / Waiting For The Hard Times To Go / Jubilee Train - Do Re Mi - Promised Land / Long White Cadillac / The New Florence Avenue Lullabiy / Romeo's Escape

2012
2 CD Floating World / Retroworld / Shout! Factor FLOATM6159 (EUR)

Blackjack David & Out In California - Dave Alvin / Dave Alvin And The Guilty Men :

CD 1 :

Blackjack David :

Blackjack David / Abilene / New Highway / California Snow / Evening Blues / The Way You Say Good-Bye / Mary Brown / Laurel Lynn / 1968 / From A Kitchen Table / Tall Trees
CD 2 :

Out In California :

Out In California / Highway 99 / Abilene / 4th Of July / Don't Let Your Deal Go Down / Little Honey/Who Do You Love? / Blue Blvd. / Andersonville / Haley's Comet / Wanda And Duane / All 'Round Man / American Music /

Hidden Bonustrack :

Free Bird

2013
2 LP 12" Yep Roc YEP 2075 (US)

Ashgrove :

DISC 1 : Ashgrove / Rio Grande / Black Sky / Nine Volt Heart / Out Of Control / Everett Ruess
DISC 2 : Sinful Daughter / The Man In The Bed / Black Haired Girl / Somewhere In Time / Highway 61 Revisited

2013
2 LP 12" Yep Roc YEP 2118 (US)

West Of The West :

DISC 1 : California Bloodlines / Redneck Friend / Kern River / Blind Love / Here In California / I Am Bewildered
DISC 2 : Sonora's Death Row / Down On The Riverbed / Between The Cracks / Don't Look Now / Tramps And Hawkers / Loser / Surfer Girl / Boss

06/2014
CD Yep Roc YEP 2384 (US)

Common Ground - Dave Alvin & Phil Alvin PLAY AND SING THE SONG OF BIG BILL BROONZY - All By Myself / I Feel So Good / How You Want It Done? / Southern Flood Blues / Big Bill Blues / Key To The Highway / Tomorrow / Just A Dream / You've Changed / Stuff They Call Money / Truckin' Little Woman / Saturday Night Rub

06/2014
LP + CD Yep Roc YEP 2384 (US)
Common Ground - Dave Alvin & Phil Alvin PLAY AND SING THE SONG OF BIG BILL BROONZY :

LP :

All By Myself / I Feel So Good / How You Want It Done? / Southern Flood Blues / Big Bill Blues / Key To The Highway / Tomorrow / Just A Dream / You've Changed / Stuff They Call Money / Truckin' Little Woman / Saturday Night Rub

CD :

All By Myself / I Feel So Good / How You Want It Done? / Southern Flood Blues / Big Bill Blues / Key To The Highway / Tomorrow / Just A Dream / You've Changed / Stuff They Call Money / Truckin' Little Woman / Saturday Night Rub

02/2015
CD RockBeat ROC-CD-3285 (US)

Dave Alvin, Clarence Gatemouth Brown, Billy Boy Arnold, Joe Louis Walker - Live In Long Beach 1997 - Barn Burning / East Texas Blues / How You Want It Done / Dry River / Chains Of Love / Long White Cadillac / I Wish You Would / San Antonio Rose / Wabash Cannonball / Beer Barrel Polka / Jolie Blon / Jambalaya (On The Bayou) / Long Beach Blues / It's A Long Way Home

2015
CD Yep Roc YEP 2447 (US)

LOST TIME - Dave Alvin & Phil Alvin - Mister Kicks / World's In A Bad Condition / Cherry Red Blues / Rattlesnakin' Daddy / Hide And Seek / Papa's On The House Top / In New Orleans (Rising Sun Blues) / Please Please Please / Sit Down, Baby / Wee Baby Blues / Feeling Happy / If You See My Savior

06/2018
CD Yep Roc YEP 2587 (US)

Downey to Lubbock - Dave Alvin / Jimmie Dale Gilmore - Downey To Lubbock / Silverlake / Stealin' Stealin' / July, You're A Woman / Buddy Brown's Blues / The Gardens / Get Together / K.C. Moan / Lawdy Miss Clawdy / Billy The Kid And Geronimo / Deportee - Plane Wreck At Los Gatos / Walk On

2019
CD HIGHTONE / CRAFTCR00191 (US)

King Of California -

King Of California / Barn Burning / Fourth Of July / Goodbye Again / East Texas Blues / Every Night About This Time / Bus Station / Mother Earth / Blue Wing / Little Honey / (I Won't Be) Leaving / What Am I Worth (vocals : Syd

Straw

) / Border Radio / BONUS TRACKS : Riverbed Rag / The Cuckoo / Kern River
© Rocky Productions 16/03/2021