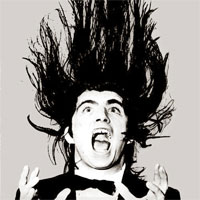 Chanteur Rock 'n' Roll et homme politique anglais, troisième comte d'Harrow né David Edward Sutch, le 10 Novembre 1940 à Hampstead, au nord-ouest de Londres. Screamin' Lord Sutch a débuté en 1958, accompagné par ses "Savages", et influencé par Screamin' Jay Hawkins, il cultivait comme lui une image démoniaque. Chanteur moyen, mais son show vaut le déplacement, son spectacle esr démentiel, baroque, loufoque, génial et frôle parfois le sublime. Screamin', fou de Rockabilly et de Rock 'n' Roll a refait surface en 1979-80 en Allemagne. Il s'est pendu à son domicile de Harrow, au nord-west de Londres, où sa compagne Yvonne Elwood, l'a trouvé le 16 Juin 1999.

Sutch was born at New End Hospital, Hampstead, northwest London. In the 1960s, inspired by Screamin' Jay Hawkins, he changed his artist name to Screaming Lord Sutch, 3rd Earl of Harrow, despite having no connection with the peerage. His legal name remained David Edward Sutch.
After his career as an early-'60s rock 'n' roll attraction, it became customary for the UK press to refer to him as Screaming Lord Sutch, or simply Lord Sutch. Early works included recordings produced by audio pioneer Joe Meek.
During the 1960s, Screaming Lord Sutch was known for his horror-themed stage show, dressing as Jack the Ripper, pre-dating the shock rock antics of Alice Cooper. Accompanied by his band, The Savages, he started by coming out of a black coffin. Other props included knives and daggers, skulls and "bodies". Sutch booked themed tours, such as 'Sutch and the Roman Empire', where Sutch and the band members would be dressed up as Roman soldiers.
Despite self-confessed lack of Vocals talent, he released horror-themed singles during the early to mid-'60s, the most popular "Jack the Ripper", covered live and on record by garage rock bands including the White Stripes, The Black Lips and The Horrors for their debut album, Strange House.
In 1963, Sutch and his manager, Reginald Calvert, took over Shivering Sands Army Fort, a Maunsell Fort off Southend and in 1964 started Radio Sutch, intending to compete with other pirate radio stations such as Radio Caroline. Broadcasts consisted of music and Mandy Rice-Davies reading Lady Chatterley's Lover. Sutch tired of the station, and sold it to Calvert, which was renamed 'Radio City', which lasted until 1967. In 1966 Calvert was shot dead by Oliver Smedley over a financial dispute. Smedley was acquitted on grounds of self-defence. About this time Ritchie Blackmore left the band to form Deep Purple. Roger Warwick left to set up an R&B big band for Freddie Mack.
In 1968, Sutch toured parts of the United States in a Rolls Royce with a Union Flag on the roof and a trailer of Marshall amplifiers to sell. He had a share interest in the Marshall company.
Sutch's album Lord Sutch and Heavy Friends was named in a 1998 BBC poll as the worst album of all time, a status it also held in Colin Larkin's book The Top 1000 Albums of All Time, despite the fact that Jimmy Page, John Bonham, Jeff Beck, Noel Redding and Nicky Hopkins performed on it and helped write it.
For his follow-up, Hands of Jack the Ripper, Sutch assembled British rock celebrities for a concert at the Carshalton Park Rock 'n' Roll Festival. The show was recorded (though only Sutch knew), and it was released to the surprise of the musicians. Musicians on the record included Ritchie Blackmore (guitar); Matthew Fisher (keyboard); Carlo Little (drums); Keith Moon (drums); Noel Redding (bass) and Nick Simper (bass).
Talents : Singer
Style musical : Rock 'n' Roll

https://youtu.be/c2ZsWENob1s
| | |
| --- | --- |
| JACK THE RIPPER | |
Years in activity :
| | | | | | | | | | | |
| --- | --- | --- | --- | --- | --- | --- | --- | --- | --- | --- |
| 1910 | 20 | 30 | 40 | 50 | 60 | 70 | 80 | 90 | 2000 | 10 |
DISCOGRAPHY
Singles, EP & Maxi
11/1961
SP HMV POP 953 (UK)
.
Screaming Lord SUTCH & The SAVAGES - 'Til The Following Night / Good Golly Miss Molly
03/1963
SP DECCA F 11598 (UK)
.
Jack The Ripper / Don't You Just Know It
10/1963
SP DECCA F 11747 (UK)
.
I'm A Hog For You / Monster In Black Tights
1963
SP DECCA F 13697 (UK)
.
Jack The Ripper / I'm A Hog For You
1963
EP DECCA 457020 (UK)

RAVING SAVAGES -

EVERYBODY SURF! WITH THE SURFIN' SAVAGES - Surfin' USA / Surfer Joe / Surf City / Surf 'n' Stomp

1964
EP DECCA 457063 (F)
Screamin' Lord SUTCH & The SAVAGES - Jack The Ripper / Don't You Just Know It / I'm Hog For You / Monster In Black Tights
1964
SP DECCA Y 7170 (UK)
.
Monster In Black Tights / Don't You Just Know It
07/1964
SP ORIOLE CB 1944 (UK)
.
She's Fallen In Love With A Monster Man / Bye Bye Baby
11/1964
SP ORIOLE CB 1962 (UK)
.
Dracula's Daughter / Come Back Baby
1965
SP CAMEO 341 (US)
.
Screamin' Lord SUTCH & The SAVAGES - She's Fallen In Love With A Monster Man / Bye Bye Baby
06/1965
SP CBS 201767 (UK)
.
Lord SUTCH & The SAVAGES - The Train Kept A Rollin' / Honey Hush
1965
EP CBS EP 6104 (F)
Screamin' Lord SUTCH & The SAVAGES - The Train Kept A-Rollin' / Come Back Baby / Honey Hush / Bye Bye Baby
05/1966
SP CBS 202080 (UK)
Screamin' Lord SUTCH & The SAVAGES - The Cheat / Black And Hairy
1966
SP HEP HOUSE HS 04 (SW)
Purple People Eater / You Don't Care
1970
SP ATLANTIC 584321 (UK)
'Cause I Love You / Thumping Beat
1970
SP ATLANTIC ATL 70439 (UK)
'Cause I Love You / Flashing Lights
1970
SP ATLANTIC 2091-017 (UK)
.
Election Fever / Rock The Election
1972
SP ATLANTIC K 10221 (UK)
.
Gotta Keep A-Rockin' / Flashing Lights / Hands Of Jack The Ripper
1972
SP COTILLON 44149 (US)
.
Gotta Keep A-Rocking / Country Club
07/1972
SP ATLANTIC K 10221 (UK)
.
Gotta Keep A-Rocking / Flashing Lights / Hands Of Jack The Ripper
1973
SP DECCA DL 25396 (UK)
.
Jack The Ripper / I'm A Hog For You
05/1976
SP SRT SRTS 76361 (UK)
.
Monster Ball / Rang-Tang-A-Lang
10/1976
SP CHARLY / BELLAPHON CYS 1016 / BF18479 (GER)
Jack The Ripper / Dance & Jive
1976
SP SRT SRTS 76375 (UK)
.
I Drink To Your Health Marie Pt.1 / I Drink To Your Health Marie Pt.2
1977
SP DECCA F 1367 (UK)
.
Jack The Ripper / I'm A Hog For You
1977
SP DECCA ? (UK)
OLDIES BUT GOLDIES - Jack The Ripper / I'm A Hog For You Baby
1981
EP ACE SW 70 (UK)
SCREAMIN' LORD SUTCH & THE SAVAGES (ALL BLACK AND HAIRY) - All Black And Hairy / Jack The Ripper / London Rocker / Oh Well
10/1981
EP RIDGEMOUNT RMR-45-010 (UK)
Screamin' Lord SUTCH & The SAVAGES - LOONABILLY - Loonabilly Rock n Roll / Rockabilly Madman / Penny Penny / Do You Remember September
1983
SP MONSTER 1 (UK)
All Black And Hairy / Monster Rock
1988
SP Fexible Disc (REFEX MAGAZINE) (?)
.
'Til The Following Night
08/1988
EP GOOFIN' GOOFY 516 (FIN)
SCREAMING LORD SUTCH & THE HELSINKI SAVAGES FEAT. WILD BOB BURGOS: LIVE IN HELSINKI - Medley: Jeannie Jeannie Jeannie-Keep On Knockin'-Long Tall Sally / Roll Over Beethoven / Great Balls Of Fire
1989
SP INVITATION Korner 001 (?)
.
Creepy Christmas Party / Rap Up Christmas
198?
SP ? (?)
Jack The Ripper / Till The Following Night
1990
SP SPIRAL CUT KOR 001/7R (?)
.
Creepy Xmas Dance Party / Creepy Xmas Dance Party (Zombie Mix)
1990
EP SPIRAL CUT KOR 001/12R (?)
Creepy Xmas Dance Party / Creepy Xmas Dance Party (7" Version) / Creepy Xmas Dance Party (Zombie Mix)
1991
CD EMI EM 208 (UK)
NUMBER 10 OR BUST - SCREAMING LORD SUTCH & THE MONSTER RAVING LOONIES - Number 10 Or Bust / Loony Rock / 'Til The Following Night
1992
EP RAZZLE DAZZLE RAZMEP 811005 (GER)
JACK THE RIPPER
1994
MAXI BAREFACE 1 (UK)
I'm Still Raving / I'm Still Raving (Radio Edit) / I'm Still Raving (Loony Mix)
1999
SP PEACE & LOVE MAG (I)
The Cheat / All Black And Hairy
2000
SP MONSTER 7139 (UK)
She Was A Cheat / Potluck
2000
CD RAUCOUS RAUCD 070 (UK)
MIDNIGHT MAN - Midnight Man / Thumpin' Drum / Scream & Run
2000
SP Munster 7139 (S)
She Was A Cheat (Screamin' Lord SUTCH) / Potluck (Screamin' Jay HAWKINS)
09/2001
EP HR ARCHIVE HRARCHIVE2 (UK)
The Train Kept A-Rollin' / Come Back Baby / Honey Hush / Bye Bye Baby
Albums
| | | | |
| --- | --- | --- | --- |
| 1970 | LP 12" COTILLON SD-9015 (US) | | LORD SUTCH AND HEAVY FRIENDS - Wailing Sounds / 'cause I Love You / Flashing Lights / Gutty Guitar / Would You Believe / Smoke And Fire / Thumping Beat / Union Jack Car / One For You, Baby / L-O-N-D-O-N / Brightest Light / Baby, Come Back |
| 1972 | LP 12" COTILLON SD-9049 (US) | | HANDS OF JACK THE RIPPER - Gotta Keep A-Rocking / Roll Over Beethoven / Country Club / Hands Of Jack The Ripper / Good Golly Miss Molly / Great Balls Of Fire / Bye Bye Johnny - Johnny B.Goode / Tutti Frutti / Medley : Long Tall Sally - Jenny Jenny - Keep A-Knockin' - Jenny Jenny - Tutti Frutti |
| 1976 ? | LP 12" MIDI MID 20061 (F) | | LORD SUTCH AND HENRY FRIENDS - Wailing Sounds / 'cause I Love You / Flashing Lights / Gutty Guitar / Would You Believe / Smoke And Fire / Thumping Beat / Union Jack Car / One For You, Baby / L-O-N-D-O-N / Brightest Light / Baby, Come Back |
| 1978 | LP 12" KONEXION KOMA 788018 (B) | | JACK THE RIPPER - Jack The Ripper / Scream And Scream / All Black And Hairy / Monster Rock / Murder In The Graveyard / London Rocker / Penny Penny / Hog For You Baby / Rock And Shock / Rockabilly Madman |
| 1980 | LP 12" BABYLON 80010 (UK) | | ALIVE AND WELL - Bonie Maronie / Only Here For The Blood / Bye Bye Johnny / Medley: Jenny Jenny - Keep A Knocking / Murder In The Peep Show / I'm A Hog For You Baby / Don't You Just Know It / Wild Thing / Rock With Me / Disco Crusher / Travers Blues |
| 1981 | LP 12" ACE MAD-1-M (UK) | | THE METEORS MEET SCREAMING LORD SUTCH - All Black And Hairy / Jack The Ripper / London Rocker / Oh Well / Voodoo Rhythm (METEOR) / Manic Rockers From Hell (METEOR) / My Daddy Is A Vampire (METEOR) / Can't Keep A Good Man Down (METEOR) |
| 1981 | LP 12" ACE ? (UK) | | LORD SITH & THE SAVAGES - 'Til The Following Night / Jack The Ripper / She's Fallen In Love With The Monster Man / Dracula's Daughter / Monster In Black Tights / Purple People Eater / All Black And Hairy / Murder In The Graveyard / Loony Rock / Good Golly Miss Molly / Don't You Just Know It / I'm A Hog For You Baby / Come Back Baby / The Train Kept A-Rollin' / Honey Hush / Bye Bye Baby / You Don't Care / London Rocker |
| 1982 | LP 12" ACE CDCHM 65 (UK) | | ROCK & HORROR - Scream & Scream / All Black & Hairy / Jack The Ripper / Monster Rock / Rock And Shock / Murder In The Graveyard / London Rocker / Penny Penny / Rock-A-Billy Man / Oh Well / Loonabilly / Go-Berry-Go |
| 1985 | LP 12" THUNDERBOLT TB 022 (UK) | | SMOKE AND FIRE - Wailing Sounds / 'Cause I Love You / Flashing Lights / Gutty Guitar / Would You Believe / Smoke & Fire / Thumping Beat / Union Jack Car / One For You Baby / L-O-N-D-O-N / Brightest Lights / Baby Come Back |
| 1985 | LP 12" AUTOGRAPH ASK 780 (UK) | | JACK THE RIPPER - Jack The Ripper / Scream And Scream / All Black And Hairy / Monster Rock / Murder In The Graveyard / London Rocker / Penny Penny / Hog For You Baby / Rock And Shock / Rockabilly Madman |
| 1991 | CD SKULL 'N' BONES 7777 ? (US) | | STORY - 'Til The Following Night / Jack The Ripper / All Black And Hairy / She's Fallen In Love With The Monster Man / Purple People Eater / Monster In Black Tights / Dracula's Daughter / Good Golly Miss Molly / Don't You Just Know It / I'm A Hog For You Baby / Come Back Baby / The Train Kept A-Rollin' / Honey Hush / Bye Bye Baby |
| 1991 | CD EMI CDEMS 1433 (UK) | | SCREAMING LORD SUTCH & THE SAVAGES - 'Til The Following Night / Jack The Ripper / She's Fallen In Love / With The Monster Man / Dracula's Daughter / Monster In Black Tights / Purple People Eater / Good Golly Miss Molly / Don't You Just Know It / I'm A Hog For You Baby / Come Back Baby / The Train Kept A-Rollin' / Honey Hush / Bye Bye Baby / You Don't Care / All Black And Hairy / Murder In The Graveyard / London Rocker / Loony Rock |
| 1992 | CD JET CD/A 1004 (UK) | | LIVE MANIFESTO - Roll Over Beethoven / Jenny Jenny / Keep A Knocking / Long Tall Sally / I'm A Hog For You Baby / Bonie Maronie / Johnny B Goode / Whole Lotta Shakin' / Good Golly Miss Molly / Jack The Ripper / All Black And Hairy / Bye Bye Johnny |
| 1992 | CD FURY FCD 3023 (UK) | | MURDER IN THE GRAVEYARD - Intro / Great Balls Of Fire / I'm A Hog For You Baby / Bonie Maronie / Jack The Ripper / All Black And Hairy / Murder In The Graveyard / Good Golly Miss Molly / Johnny B Goode / Tutti Frutti / Run For Your Life |
| 1996 | CD HALLMARK HALL303042 (UK) | | RAVING LOONY PARTY FAVOURITES - I'm A Hog For You Baby / All Black And Hairy / London Rocker / Rock And Shock / Scream And Scream / Monster Rock / Penny Penny / Medley: Jenny Jenny - Keep A Knocking - Long Tall Sally / Jack The Ripper / Rockabilly Madman / Murder In The Graveyard |
| 07/2000 | CD K-TEL 4322 (UK) | | MONSTER ROCK - Jack The Ripper / I'm A Hog For You Baby / All Black And Hairy / Scream And Scream / Monster Rock / Murder In The Graveyard / Rock And Shock / Penny Penny / Rockabilly Madman / London Rocker |
| 2000 | CD DOMINION 4322 (NL) | | MONSTER ROCK - Jack The Ripper / I'm A Hog For You Baby / All Black And Hairy / Scream And Scream / Monster Rock / Murder In The Graveyard / Rock And Shock / Penny Penny / Rockabilly Madman / London Rocker |
| 2001 | CD MUNSTER LP/CD MR 199 (GER) | | MUNSTER ROCK - I'm A Hog For You Baby / Jack The Ripper / Monster Rock / Penny Penny / Jenny Jenny / Keep A Knocking / Long Tall Sally / Rockabilly Madman / Murder In The Graveyard / All Black And Hairy / London Rocker / Rock And Shock / Scream And Scream |
| 02/2003 | CD FURY 3023 (UK) | | MURDER IN THE GRAVEYARD - Intro: Jenny, Jenny, Jenny - Keep A Knockin' - Long Tall Sally - Jenny, Jenny / Great Balls Of Fire / I'm A Hog For You Baby / Bonie Moronie / Jack The Ripper / All Black And Hairy / Murder In The Graveyard / Good Golly Miss Molly / Encore: Johnny B Goode - Whole Lotta Shakin' Goin' On - Johnny B Goode ... / Tutti Frutti / Run For Your Life |
| 2006 | CD CHARLY ? (UK) | | SCREAMING LORD SUTCH JINNY, JINNY, JINNY - Scream And Scream / Rockabilly Madman / Rock And Shock / Penny Penny / Murder In The Graveyard / Monster Rock / All Black And Hairy / London Rocker / Jinny- Jinny- Jinny / Jack The Ripper / I'm A Hog For You Baby |
| 2007 | CD COLLECTING OMP (UK) | | MONSTER ROCK - I'm A Hog For You Baby / Monster Rock / Penny Penny / Rock 'n' Roll Medley / Jack The Ripper / Rockabilly Madman / Murder In The Graveyard / All Black And Hairy / London Rocker / Rock And Shock / Scream And Scream |
© Rocky Productions 31/05/2011