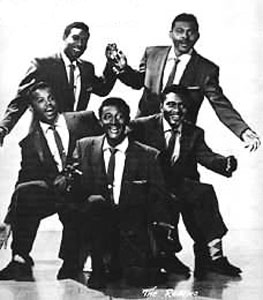 Groupe Doo Wop US fondé en 1947 à Los Angelès (Californie) et composé de Bobby Nunn (20 Septembre 1925 à Birmingham, Alabama - 5 Novemre 1986 à Los Angeles, Californie), Terrell "Ty" Leonard, Billy Richard et Roy Richard. Les Robins ont enregistré pour Score, Aladdin, Savoy, Hollywood, RCA, Spark, Whippet, Knight, Arvee, Gone, Lavender et Push Records.

Los Angeles vocal group the Robins are best remembered today as the forerunner of the Coasters, though their own record of hits was substantial in its own right. What's more, their history is a lot more complicated than most fans of the Coasters are aware, and can be divided into two key phases. The Robins' roots go back to Alameda High School in San Francisco, in 1945. That year, tenor Terrell Leonard (aka Ty Terrell) joined with baritone siblings Billy Richards and Roy Richards to form what was known originally as the A-Sharp Trio, doing repertoire that showed the distinct influence of the Golden Gate Quartet, the Nat King Cole Trio, and the Delta Rhythm Boys, among other established harmony groups of the period. They moved to Los Angeles and found lots of work in the area around Watts, but their first break came when they placed second in a competition at the Barrelhouse Club, owned by bandleader Johnny Otis, who hired them to perform on weekends. It was at the Barrelhouse Club that they crossed paths with bass/baritone Bobby Nunn, who did odd jobs around the place in between singing, waiting for his break. That moment came when Otis thought to turn the trio into a quartet, and see if they couldn't cut in on some of the audience that was coalescing around the rival group the Ravens.
Terrell, the Richards brothers, and Nunn thus initially became the Four Bluebirds (a name chosen by Otis) and cut one side under that name (backed by an Otis side), entitled "My Baby Done Told Me," for the Excelsior label early in 1949. The quartet discarded the Bluebirds name soon after, and at its second recording session -- this time for Aladdin Records -- in May of 1949, the group was known as the Robins. The first Robins single, "Around About Midnight" b/w "You Sure Look Good To Me", appeared in June of 1949. A second Aladdin single, "Don't Like The Way You're Doing" b/w "Come Back Baby," showed up just a couple of weeks later. They were next signed to the Savoy label, along with the rest of Otis' performing outfit, which resulted in a series of releases that included Johnny Otis playing with them and their appearance on the single "Double Crossin' Blues" backing his lead singer Esther Jones(aka Little Esther). The latter record went on to become one of Savoy's biggest sellers. In the meantime, the first Savoy single actually credited to the Robins, "If I Didn't Love You So" b/w "If It's So Baby," showed up in December of 1949. They cut a huge number of singles for Savoy in 1950, some credited to the group and others released as Johnny Otis, Little Esther, and Mel Walker singles (of which, on the latter, they were credited as "the Blue Notes"). Their debut Savoy single was eventually flipped, the upbeat "If It's So Baby" replacing the bluesier original A-side as the "play" side, and peaked at number ten on the R&B charts, the group's first national chart placement. To add to the promise they seemed to enjoy that year, "Double Crossin' Blues" became an even bigger hit, rising all the way to the top spot on the R&B charts.
It seemed as though the Robins were on their way. And then, suddenly, in the spring of 1950, their first string of success came to a halt. They had approached Johnny Otis about the amount of money they were getting, and Otis responded by firing the Robins from his show, on the eve of what would have been their first national tour. The Robins were gone from Otis' orbit and their recording contract, but Savoy issued several Robins singles over the ensuing months, thanks to the large stockpile of recordings that they'd left behind; additionally, Bobby Nunn, who had already cut some sides on his own, recorded some singles in the wake of the split. The summer of 1950 saw them pick up their career under a new contract with Dolphin Records, which yielded "Race of Man" b/w "Bayou Baby Blues." Then it was off to the Bihari Brothers' RPM and Modern Records imprints later in the year, where they cut some sides backing Mickey Champion. But it was in 1951, on a session that yielded four songs, that fate took a hand -- one of the numbers they cut was "That's What the Good Book Says," a fairly undistinguished composition that was notable as one of the earliest successful songwriting ventures by a pair of white teenagers, Jerry Leiber and Mike Stoller. The song was relegated to a B-side, and in order to keep the group from overtly running afoul of their Dolphin contract, it was credited to "the Robbins" -- but it did mark the first time that Leiber & Stoller would cross paths with this group professionally.
The quartet became inactive during mid-1951 thanks to the military draft, which caught up with the Richards brothers and Terrell. Bobby Nunn was the only member not in uniform for most of the next year, and he pursued a string of singles under his own name during this hiatus, as well as working with Little Esther on a few sides for Federal. The four originals reunited in late 1952, opening what was essentially the second phase of the group's history, and they did it by adding a fifth member to their ranks, Grady Chapman. His presence, with a second, higher-range tenor voice, extended their upper range considerably and gave the group what was essentially a new sound. The re-formed Robins also gained the services of a new manager, Jack Lewis, who pushed them up into the big time with an RCA Victor recording contract in early 1953. In February of that year, they made their RCA bow with "A Fool Such as I" b/w "My Heart's the Biggest Fool," the latter notable as a group original. The quintet remained with RCA through the end of the year, though their last recording session took place in the fall -- despite several impressive recordings, they never charted with the label. In October of that year, RCA released the Robins' recording of "Ten Days in Jail," a Leiber & Stoller composition that gave a jocular treatment to a subject with some serious undertones, all done to a comic fault; it stood out thanks to the comical yet gritty vocal approach of the group, and released as an RCA Victor single it did fairly well.
But Leiber & Stoller, like a lot of songwriters in that era, found themselves cut out of a big chunk of their rightful royalties, an experience that led them to protect themselves in the future by forming their own publishing company and, in tandem with the latter, their own record label, Spark Records, with veteran record company man Lester Sill as the third partner in the company. The Robins had bounced from RCA back to the Bihari Brothers, this time to the Modern label imprint Crown Records, through which they released a handful of sides in 1954. It was during this period that they added a new member, tenor Carl Gardner -- it seems that Grady Chapman had become unreliable, owing to some personal and legal situations, and wasn't always a certain bet to be available, and Gardner came aboard as insurance that they would have at least five voices at their shows (and when Chapman did make it, there were six, which was even better). Finally, in the spring of 1954, the group was once more between contracts and when Leiber & Stoller approached them -- having had a good experience working with them before, and seeing some potential for a serious future with the group -- and wanted the Robins signed to Spark, and the group was willing. And they hit the second time at bat for Spark with "Riot in Cell Block #9," a more outrageously comical and over the top treatment of the theme that had worked so well with "Ten Days in Jail," complete with machine-gun sound effects -- the two producers, however, replaced Bobby Nunn as lead singer on the track with a guest vocalist, Richard Berry, later of "Louie, Louie" fame.
The group followed this up with the similarly themed "Framed," which seemed to click with everyone who heard it. The problem for Leiber & Stoller, partner Lester Sill, and the Robins, however, was that Spark had no reliable national distribution or promotion; as a result, their releases, good as they were, simply weren't seeing the sales that they should have, or making the charts. The recording of "Smokey Joe's Cafe" in the summer of 1954 brought matters to a head, and also gave the two producers a song that they could parlay into something much bigger than Spark Records was ever going to be. Leiber & Stoller had already piled up impressive credits as songwriters with the Big Mama Thornton hit "Hound Dog," and in mid-1954 Nesuhi Ertegun, the co-founder of Atlantic Records with his brother Ahmet Ertegun, approached them about licensing "Smokey Joe's Cafe" for release on Atlantic's Atco imprint. As a result, the record appeared on both the Spark and Atco labels, peaking at number 79 nationally on the pop charts and number ten on the R&B charts. It seemed as though the Robins were finally breaking through somewhere beyond Los Angeles, and that's when matters got complicated.
Spark was already attracting attention from major labels, and at one point it seemed as though Decca Records was going to be buying out Leiber & Stoller and Sill. But the Spark owners and Decca's management were never able to nail down a final agreement, and in 1955 it was Ahmet Ertegun of Atlantic Records who came knocking on Leiber & Stoller and Sill's corporate door. Ertegun and producer Jerry Wexler (who was a partner in Atlantic) loved what they heard in the Robins' music and saw in the future of Leiber & Stoller, and offered the duo a contract with Atlantic and a buyout of Spark Records' entire existing library. Leiber & Stoller would function as independent producers, a first in the business -- they would have a legal partnership as producers and songwriters, but they would be under the Atlantic umbrella. A deal was made that would soon turn Leiber & Stoller into wunderkinds within the record industry, but the Robins weren't in quite so cooperative a mood. For starters, signing with Atlantic would mean moving to the East Coast, and none of the members -- mostly long transplanted from the South and Texas to California -- were in a hurry to make that move. Also complicating matters greatly was the fact -- according to historian Marv Goldberg -- that Terrell had taken it upon himself to register a copyright in the Robins' name himself. In the end, he and the Richards brothers refused to sign with Atlantic.
Chapman was apparently out of the picture at that moment, and so their decision left Gardner -- the newest member of the group -- and co-founder Nunn as the only members that Leiber & Stoller and Atlantic had to work with, and even Gardner wasn't with them at first. He initially stayed on with Terrell and the Richards brothers, but Leiber & Stoller were able to convince him to shift his alliance to Nunn -- so the producers had two singers without a group name that they could use legally. They ended up recruiting Leon Hughes and Billy Guy and forming the Coasters, signing with Atlantic, and going on to years of success (that were still continuing as the first decade of the new millennium drew to a close with Gardner coaching a performing version of the group that included his son, Carl Gardner, Jr.). Meanwhile, the Robins had hardly ceased to exist -- they had a record of hits that people remembered well, especially on the West Coast. Terrell and the Richards signed with Whippet Records and got one especially promising single out, entitled "Cherry Lips," which ultimately failed to chart. They continued performing on the West Coast for years, recording intermittently, with Grady Chapman handling the leads. After their Whippet contract ended in 1957, they moved on to the Imperial Records subsidiary Knight Records the following year, but late in 1958 Grady Chapman left. He was replaced by Bobby Sheen, and with him as lead singer they later recorded for Arvee Records and Lavender Records, continuing into the early '60s. They cut their last two records, "White Cliffs of Dover" b/w "How Many More Times and "Magic of a Dream" b/w "Mary Lou Loves to Hootchy Kootchy Coo," for the latter label in 1961.
http://www.angelfire.com/mn/coasters/robins.html
http://www.uncamarvy.com/Robins/robins.html
https://en.wikipedia.org/wiki/The_Robins
Talents : Bobby Nunn : Lead vocals & Bassist - Terrell "Ty" Leonard : vocals - Billy Richard : vocals - Roy Richard : vocals
Style musical : Doo Wop, Rhythm 'n' Blues
Years in activity :
| | | | | | | | | | | | |
| --- | --- | --- | --- | --- | --- | --- | --- | --- | --- | --- | --- |
| 1910 | 20 | 30 | 40 | 50 | 60 | 70 | 80 | 90 | 2000 | 10 | 20 |
DISCOGRAPHY
78 t., singles & EP
05/1949
78 t. SCORE 4010 (US)
.
Around About Midnight / You Sure Look Good To Me
09/1949
78 t. ALADDIN 3031 (US)
.
Don't Like The Way You're Doing / Come Back Baby
12/1949
78 t. SAVOY 726 (US)
.
If I Didn't Love You So / If It's So Baby
02/1950
78 t. SAVOY 731 (US)
.
Double Crossing Blues (Johnny OTIS QUINTET with The ROBINS & Little ESTHER) / Back Alley Blues (The

Beale St. Gang

)
02/1950
SP SAVOY 45-731 (US)
.
Double Crossing Blues (Johnny OTIS QUINTET with The ROBINS & Little ESTHER) / Back Alley Blues (The

Beale St. Gang

)
02/1950
78 t. SAVOY 732 (US)
.
Turkey Hop, Part 1 (Johnny OTIS ORCHESTRA with The ROBINS) / Turkey Hop, Part 2 (Johnny OTIS ORCHESTRA)
02/1950
SP SAVOY 45-732 (US)
.
Turkey Hop, Part 1 (Johnny OTIS ORCHESTRA with The ROBINS) / Turkey Hop, Part 2 (Johnny OTIS ORCHESTRA)
04/1950
78 t. SAVOY 738 (US)
.
THE ROBINS with The Johnny OTIS QUINTET - There Ain't No Use Beggin' / Our Romance Is Gone
04/1950
SP SAVOY 45-738 (US)
.
THE ROBINS with The Johnny OTIS QUINTET - There Ain't No Use Beggin' / Our Romance Is Gone
1950
78 t. SAVOY 748 (US)
.
Johnny OTIS ORCHESTRA with Mel WALKER, Esther PHILLIPS & The ROBINS - Mistrustin' Blues / Dreamin' Blues
1950
SP SAVOY 45-748 (US)
.
Johnny OTIS ORCHESTRA with Mel WALKER, Esther PHILLIPS & The ROBINS - Mistrustin' Blues / Dreamin' Blues
1950
78 t. SAVOY 750 (US)
.
Johnny OTIS ORCHESTRA with Mel WALKER, Esther PHILLIPS & The ROBINS - Deceivin' Blues / Cupid's Boogie
1950
SP SAVOY 45-750 (US)
.
Johnny OTIS ORCHESTRA with Mel WALKER, Esther PHILLIPS & The ROBINS - Deceivin' Blues / Cupid's Boogie
07/1950
78 t. SAVOY 752 (US)
.

The Robins, Johnny OTIS Quintette - I'm Living OK / There's Rain In My Eyes

07/1950
SP SAVOY 45-752 (US)
.
The

Robins

, Johnny OTIS

Quintette

I'm Living OK / There's Rain In My Eyes
09/1950
78 t. & SP Recorded In Hollywood 121 (US)
.

Maggie Hathaway with The Robins & 2 Sharps & A Natural - A Falling Star / When Gabriel Blows His Horn

10/1950
78 t. SAVOY 762 (US)
.
I'm Through / You're Fine But Not My Kind
10/1950
SP SAVOY 45-762 (US)
.
I'm Through / You're Fine But Not My Kind
08/1951
78 t. & SP MODERN 807 (US)
.

Bobby Nunn with The Robbins - Rockin' / That's What The Good Book Says

1951
78 t. & SP HOLLYWOOD 150 (US)
.
Schoolgirl Blues / Early Morning Blues
01/1953
78 t. RCA VICTOR 20-5175 (US)
.
A Fool Such As I / My Heart's The Biggest Fool
01/1953
SP RCA VICTOR 47-5175 (US)
.
A Fool Such As I / My Heart's The Biggest Fool
04/1953
78 t. RCA VICTOR 20-5271 (US)
.
Oh Why / All Night Baby
04/1953
SP RCA VICTOR 47-5271 (US)
.
Oh Why / All Night Baby
08/1953
78 t. RCA VICTOR 20-5434 (US)
.
How Would You Know / Let's Go The Dance
08/1953
SP RCA VICTOR 47-5434 (US)
.
How Would You Know / Let's Go The Dance
09/1953
78 t. RCA VICTOR 20-5486 (US)
.
My Baby Done Told Me / I'll Do It
09/1953
SP RCA VICTOR 47-5486 (US)
.
My Baby Done Told Me / I'll Do It
10/1953
78 t. RCA VICTOR 20-5489 (US)
.
Ten Days In Jail / Empty Bottles
10/1953
SP RCA VICTOR 47-5489 (US)
.
Ten Days In Jail / Empty Bottles
1953
78 t. CROWN 106 (US)
.

I Made A Vow / Double Crossin Baby

1953
SP CROWN 45X106 (US)
.
I Made A Vow / Double Crossin Baby
01/1954
78 t. RCA VICTOR 20-5564 (US)
.
Get It Off Your Mind / Don't Stop Now
01/1954
SP RCA VICTOR 47-5564 (US)
.
Get It Off Your Mind / Don't Stop Now
06/1954
78 t. SPARK 103 (US)
.
Riot In Cell Block N°9 / Wrap It Up
06/1954
SP SPARK 45X103 (US)
.
Riot In Cell Block N°9 / Wrap It Up
10/1954
78 t. & SP SPARK 107 (US)
.
Framed / Loop De Loop Mambo
10/1954
SP SPARK 45X107 (US)
.
Framed / Loop De Loop Mambo
02/1955
78 t. SPARK 110 (US)
.
If Teardrops Were Kisses / Whadaya Want
02/1955
SP SPARK 45X110 (US)
.
If Teardrops Were Kisses / Whadaya Want
04/1955
78 t. SPARK 113 (US)
.
One Kiss / I Love Paris
04/1955
SP SPARK 45X113 (US)
.
One Kiss / I Love Paris
06/1955
78 t. & SP SPARK 116 (US)
.
I Must Be Dreamin' / The Hatchet Man
06/1955
SP SPARK 45X116 (US)
.
I Must Be Dreamin' / The Hatchet Man
09/1955
78 t. SPARK 122 (US)
.
Smokey Joe's Cafe / Just Like A Fool
09/1955
SP SPARK 45X122 (US)
.
Smokey Joe's Cafe / Just Like A Fool
10/1955
78 t. ATCO 6059 (US)
.
Smokey Joe's Cafe / Just Like A Fool
10/1955
SP ATCO 45-6059 (US)
.
Smokey Joe's Cafe / Just Like A Fool
02/1956
78 t. & SP WHIPPET 200 (US)
.
Cherry Lips / Out Of The Picture
1956
78 t. & SP WHIPPET 201 (US)
.
Hurt Me / Merry Go Rock
12/1956
SP WHIPPET 203 (US)
.
Since I First Met You / That Old Black Magic
1957
SP WHIPPET 206 (US)
.

The Robins with Eddie Beal & His Orchestra - A Fool In Love / All Of A Sudden My Heart Sings

1957
SP WHIPPET 208 (US)
.
Every Night / Where's The Fire
1957
SP WHIPPET 211 (US)
.
In My Dreams / Keep Your Mind On Me
1957
SP WHIPPET 212 (US)
.
You Wanted Fun / Snowball
1958
SP KNIGHT 2001 (US)
.
A Quarter To Twelve / Pretty Little Dolly
1958
SP KNIGHT 2008 (US)
.
Little Bird Told Me / It's Never Too Late
195?
EP GNP EPL 614 DK)

Night Club - Cherry Lips / Merry-Go-Rock / Since I First Met You / Where's The Fire / Out Of The Picture / Every Night

1960
SP ARVEE 5001 (US)
.
Just Like That / Whole Lot Imagination
1960
SP ARVEE 5013 (US)
.
Oh No / Live Wire Suzie
11/1960
SP ELDO 109 (US)
.
The DING DONGS - Ding Dong (Saw Wood Mountain) / Sweet Thing
1960
EP VOGUE / GNP EPL 7484 (F)
Out Of The Picture / Hurt Me / Where's The Fire / A Fool In Love
01/1961
SP GONE 5101 (US)
.
Baby Love / We Loved
03/1961
SP LAVENDER LV-001 (US)
.
How Many More Times / White Cliffs Of Dover
03/1961
SP LAVENDER LV-002 (US)
.
Mary Lou Loves To Hoochy Koochy Koo / Magic Of A Dream
1964
SP Oldies 45 ‎OL-55 (US)
.

Leader Of The Pack (Shangri-Las) / Riot In Cell Block 9 (There's A Riot Goin On) (ROBINS)

1972
SP Last Chance LC 106 (US)
.

How Would You Know / Let's Go To The Dance

1974
SP GNP CRESCENDO GNP 200 (US)
.

Cherry Lips / Out Of The Picture

1976 ?
SP ATLANTIC OLDIES SERIES OS 13106 (US)
.

Smokey Joe's Cafe (ROBINS) / Sh-Boom (SH-BOOMS)
Albums
1958
LP 12" WHIPPET ‎WLP 703 (US)

Rock 'n' Roll with the Robins - Cherry Lips / A Fool In Love / Merry-Go-Rock / Since I First Met You / Where's The Fire / Out Of The Picture / Hurt Me / Every Night / How Long / All Of A Sudden My Heart Sings

1974
LP 12" GNP CRESCENDO GNP 9034 (US)

The Best Of The Robins - Cherry Lips / A Fool In Love / Merry-Go Rock / Since I First Met You / Blues In The Night / Where's The Fire / Out Of The Picture / Hurt Me / Every Night / All Of A Sudden My Heart Sings / Snowball / That Old Black Magic

1983
LP 12" Ace ‎CH88 (UK)
Johnny Otis ‎

Presents The

ROBINS

, Little Esther, The Nic Nacs -

Good Ole Blues (Johnny OTIS & His Orchestra) / Mean Ole Gal (Little ESTHER) / I'm Telling You Baby (NIC NACS) / Gonna Have A Merry Xmas (NIC NACS) / You Didn't Want My Love (NIC NACS) / I Found Me A Sugar Daddy (NIC NACS) / I Gotta Guy (Little ESTHER) / That's What The Good Book Says (Bobby NUNN & The ROBINS) / Rockin' (Bobby NUNN & The ROBINS) / Thursday Night Blues (Johnny OTIS & His Orchestra) / Double Crossin' Baby (ROBINS) / I Made A Vow (ROBINS) / All I Do Is Rock (ROBINS) / Key To My Heart (ROBINS)
1987
LP 12" Savoy Jazz ‎SJL 1188 (US)

The Roots Of Rock 'N Roll - The Complete Savoy Recordings -

The Robins

- Johnny Otis - You're Fine But Not My Kind / I'm Through / I'm Living OK / If I Didn't Love You So / Our Romance Is Gone / There's Rain In My Eyes / Double Crossing Blues (with Little

Esther

) / There Ain't No Use Beggin' / If It's So Baby / I Found Out My Troubles / Turkey Hop (Part one Vocals) / Turkey Hop (Part two instrumental)
1997
CD Spark SCD-6000 (US)

The Best Of The Robins - A Fool Such As I / My Heart's The Biggest Fool / I'll Do It / All Night Baby / Oh Why? / Let's Go To The Dance / How Would You Know? / My Baby Done Told Me / Ten Days In Jail / Empty Bottles / Don't Stop Now / Get It Off Your Mind / Double Crossin' Baby / I Made A Vow / Key To My Heart / All I Do Is Rock / Riot In Cell Black #9 / Wrap It Up / Loop De Loop Mambo / Framed / If Teardrops Were Kisses / Whataya Want? / I Love Paris / One Kiss / I Must Be Dreaming / The Hatchet Man / Just Like A Fool / Smokey Joe's Cafe

1997
CD TITAN 381946 (US)

Rockin' with the Robins - Rockin' / My Baby Done Told Me / You Sure Look Good To Me / Around About Midnight / If It's So Baby / If I Didn't Love You So / Double Crossin' Blues / Our Romance Is Gone / There's No Use Begging / There's Rain In My Eyes / I'm Living O.K. / I Found Out My Troubles / Turkey Hop / I'm Through / You're Fine But You're No / Come Back Baby / I'm Telling You Baby / Gonna Have A Merry Christ / That's What The Good Book / School Girl Blues / You Didn't Want My Love / Early Morning Blues / Found Me A Sugar Daddy / Don't Like The Way You're / When Gabriel Blows His Ho / A Falling Star

1999
CD GNP CRESCENDO GNPD 9034 (US)
REMEMBER Doo-Wop- THE ROBINS FEATURING "CHERRY LIPS" - Cherry Lips / A Fool In Love / Merry-Go-Rock / Since I First Met You / Blues In The Night / Where's The Fire / Out Of The Picture / Hurt Me / Every Night / (All Of A Sudden) My Heart Sings / You Wanted Fun / Keep Your Mind On Me / In My Dreams / How Long / Snowball / That Old Black Magic
19??
LP 12" Spark ‎S-1000 (US)

The Best Of The Robins - Vol. 3 - Riot In Cell Block #9 / Wrap It Up / If Teardrops Were Kisses / Whadya What? / Smokey Joe's Cafe / Just Like A Fool / Framed / Loop De Loop Mambo / I Love Paris / One Kiss / I Must Be Dreaming / The Hatchet Man

04/2004
CD Savoy Jazz 17357 (US)

Johnny OTIS Presents The Robins - If It's So, Baby / Our Romance Is Gone / If I Didn't Love You So / There's Rain in My Eyes / Double Crossing Blues / The Turkey Hop, Pt. 1 / The Turkey Hop, Pt. 2 / I Found Out My Troubles / I'm Through / I'm Living O.K. / There Ain't No Use Beggin' / You're Fine But Not My Kind

2006
CD Collectables ‎COL-CD-9974 (US)

Smokey Joe's Cafe - Smokey Joe's Cafe / Riot In Cell Block #9 / Whadaya Want / Framed / The Hatchet Man / One Kiss Led To Another / I Must Be Dreamin' / Just Like A Fool / If Teardrops Were Kisses / Loop De Loop Mambo

2007
CD El Toro Rhythm & Blues ‎El Toro R&B 111 (S)

I Must Be Dreamin' - My Heart's The Biggest Fool / A Fool Such As I / All Night Baby / Oh Why / Let's Go To The Dance / How Would You Know / My Baby Done Told Me / I'll Do It / Ten Days In Jail / Empty Bottles / Don't Stop Now / Get It Off Your Mind / Double Crossin' Baby / I Made A Vow / All I Do Is Rock / Key To My Heart / Riot In Cell Block #9 / Wrap It Up / Loop De Loop Mambo / Framed / If Teardrops Were Kisses / Whadaya Want? / I Love Paris / One Kiss / The Hatchet Man / I Must Be Dreamin' / Just Like A Fool / Smokey Joe's Cafe

02/2015
2 CD Jasmine JASCD 795 (UK)

West Coast Doo Wop 1949-1961 :

CD 1 : My Baby Done Told Me (The Four Bluebirds) / Around About Midnight / You Sure Look Good To Me / Don't Like The Way You're Doing / Come Back Baby / Found Me A Sugar Daddy (Mickey

Champion

& The

Nic Nacs

) / Gonna Have A Merry Christmas (Mickey

Champion

& The

Nic Nacs

) / You Didn't Want My Love (The

Nic Nacs

) / If I Didn't Love You So / If It's So Baby / Double Crossing Blues / The Turkey Hop - Part 2 / Our Romance Is Gone / There Ain't No Use Beggin' / I'm Living OK / There's Rain In My Eyes / I'm Through / You're Fine But Not My Kind / Rockin' / That's What The Good Book Says / A Falling Star (Maggie

Hathaway

& The

Robins

) / When Gabriel Blows His Horn / Schoolgirl Blues / Early Morning Blues / (Now And Then There's) A Fool Such As I / My Hearts The Biggest Fool / All Night Baby / Oh Why
CD 2 : Let's Go To The Dance / How Would You Know / My Baby Done Told Me / I'll Do It / Ten Days In Jail / Empty Bottles / Don't Stop Now / Get It Off Your Mind / I Made A Vow / Double Crossin' Baby / All I Do Is Rock / Key To My Heart / Framed / The Hatchet Man / Cherry Lips / Out Of The Picture / Hurt Me / Since I First Me You / A Fool In Love / All Of A Sudden My Heart Sings / Every Night / Where's The Fire / A Little Bird Told Me / Just Like That / Whole Lot Of Imagination / Live Wire Suzie / Oh No / How Many More Times / White Cliffs Of Dover / Magic Of A Dream
© Rocky Productions 16/01/2018