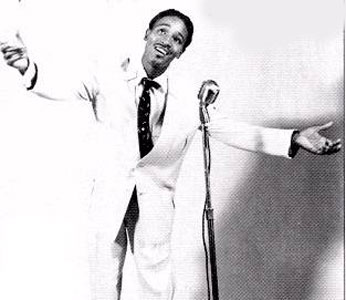 Chanteur Rhythm 'n' Blues US né le 4 Mars 1925 à East St. Louis (Illinois). Prentice Moreland a été membre de nombreux groupe vocaux dont les Dominoes, les Du Droppers, les Chanteclairs, les Cadets, les Crescendos, les Colts, les Fortunes, les Flames d'Hollywood . Il est décédé en Septembre 1988.

Moreland was a member of many Vocals groups including The Dominoes, The Du Droppers, The Chanteclairs, The Cadets, The Crescendos, The Colts, The Fortunes, The Hollywood Flames, and possibly The Sevilles (the group that had a hit with "Charlena" in 1961). Moreland replaced Ted Taylor (who had left for a solo career) on The Cadets' "Stranded In The Jungle" session and was the one who came up with the "Great Googa Mooga! Lemme outta here!" line in the song. Aaron Collins of The Cadets said of Moreland's line "I think he picked that up from Rochester (Anderson). Prentice knew Rochester pretty well." At the same session, he recorded a solo version of "Memories Of You," a song that had been done by The Ink Spots in 1939; it was released on RPM Records in 1957. He recorded along with Jackie Wilson, Milton Merle, and Cliff Givens in The Dominoes in 1955, later returning to the group a few more times. With the Crescendos, he recorded "Finders Keepers" and "Sweet Dreams" for Atlantic Records in 1956, alongside Bobby Relf of The Laurels, Young Jessie of The Flairs, and Bobby Byrd of The Hollywood Flames. He was asked by Buck Ram to join The Platters but Moreland refused because he had to take care of his seven kids.
Around the same time that Moreland recorded with The Chanteclairs on Dot Records in 1954 (as "Prentice Moore"), there was a Dot recording called "You Gave Me Heartaches" by Prentice Miller. It is possible that "Prentice Miller" is actually Prentice Moreland. Moreland's name is listed as "Prince Moreland" for the recordings he did for Johnny Otis' Dig Records in 1956. One of the songs, "My Mother's Eyes" was previously sang in the 1929 film Lucky Boy by George Jessel. Moreland also sang two Ivory Joe Hunter songs, "I Almost Lost My Mind" and "I Need You So." In the '60s, Moreland was a member of several imposter and spin-off Ink Spots groups, including those fronted by Cliff Givens, George Holmes, and Orville Brooks. He was never a member of the original Ink Spots that recorded for Decca.
According to singers Young Jessie and Bobby Nunn, The Coasters' big hit "Searchin'" from 1957 had originally been put together by Moreland, Bobby Day, Earl Nelson, and Young Jessie at Bobby Day's house about three years before it was recorded. Jerry Leiber and Mike Stoller heard their song and wrote more lyrics to the song, adding references to movie detectives.
Moreland worked in the clubs in Las Vegas, Nevada until he died in September 1988, a year after Ted Taylor (whom Moreland had replaced in The Cadets) had died in a car crash.
https://en.wikipedia.org/wiki/Prentice_Moreland
Talents : Vocals
Style musical : Doo Wop, Rhythm 'n' Blues
Years in activity :
| | | | | | | | | | | | |
| --- | --- | --- | --- | --- | --- | --- | --- | --- | --- | --- | --- |
| 1910 | 20 | 30 | 40 | 50 | 60 | 70 | 80 | 90 | 2000 | 10 | 20 |
DISCOGRAPHY
78 t. & Singles
04/1954
78 t. GROOVE G-0013 (US)
DU DROPPERS - Just Whisper / How Much Longer (MORELAND sings lead on "How Much Longer")
04/1954
SP GROOVE 4G-0013 (US)
DU DROPPERS - Just Whisper / How Much Longer (MORELAND sings lead on "How Much Longer")
1954
78 t. DOT 1927 (US)
Chanteclairs featuring Prentice MOORE

-

Baby Please / Someday Love Will Come My Way
1954
SP DOT 45-1927 (US)
Chanteclairs featuring Prentice MOORE

-

Baby Please / Someday Love Will Come My Way
1955
78 t. DOT 15404 (US)
Chanteclairs featuring Prentice MOORE

-

Believe Me, Beloved / I've Never Been There
1955
SP DOT 45-15404 (US)
Chanteclairs featuring Prentice MOORE

-

Believe Me, Beloved / I've Never Been There
02/1955
78 t. Federal 12209 (US)
DOMINOES - Can't Do Sixty No More / If I Never Get To Heaven (

Moreland

sings lead on "If I Never Get To Heaven")
02/1955
SP Federal 45-12209 (US)
DOMINOES - Can't Do Sixty No More / If I Never Get To Heaven (

Moreland

sings lead on "If I Never Get To Heaven")
08/1955
78 t. King 1502 US)
DOMINOES - Give Me You / Over The Rainbow (

Moreland

appears on "Give Me You")
08/1955
SP King 45-1502 US)
DOMINOES - Give Me You / Over The Rainbow (

Moreland

appears on "Give Me You")
04/1956
78 t. Federal 12263 (US)
DOMINOES - Bobby Sox Baby / How Long, How Long Blues (

Moreland

appears on "Bobby Sox Baby")
04/1956
SP Federal 45-12263 (US)
DOMINOES - Bobby Sox Baby / How Long, How Long Blues (

Moreland

appears on "Bobby Sox Baby")
06/1956
78 t. MODERN 994 (US)
CADETS - Stranded In The Jungle / I Want You (

Moreland

appears on "Stranded In The Jungle")
06/1956
SP MODERN 45X994 (US)
CADETS - Stranded In The Jungle / I Want You (

Moreland

appears on "Stranded In The Jungle")
09/1956
78 t. ATLANTIC 1109 (US)
CRESCENDOS - Sweet Dreams / Finders Keepers (

Moreland

sang first tenor)
09/1956
SP ATLANTIC 45-1109 (US)
CRESCENDOS - Sweet Dreams / Finders Keepers (

Moreland

sang first tenor)
1956
78 t. RPM 475 (US)
I've Never Been There / Believe Me My Beloved
1956
SP RPM 45x475 (US)
I've Never Been There / Believe Me My Beloved
01/1957
78 t. RPM 487 (US)
Marie My Love / Memories Of You
01/1957
SP RPM 45x487 (US)
Marie My Love / Memories Of You
02/1957
SP RPM 45x187 (US)
Prentice MOORELAND - Marie My Love / Memories Of You
1957
SP Antler 4003 (US)
COLTS - I've Never Been There / Shiek Of Araby
1957
SP Antler 4007 (US)
COLTS - Guiding Angel / Shiek Of Araby
1958
SP Decca 30541 US)
FORTUNES - Tarnished Angel / Who Cares
1958
SP Decca 30688 US)
FORTUNES - How Clever Of You / Trees
02/1959
SP ATLANTIC 2014 (US)
CRESCENDOS - Sweet Dreams / I'll Be Seeing You
05/1959
SP EDSEL 778 (US)
Please, Please, Please / Oh Pretty Baby
02/1960
SP DONNA 1320 (US)
Looking For Your Heart / Chinese Junk
1961
SP JC 118 (US)

Sevilles -

Louella / Salt Mine
02/1962
SP CHALLENGE 9134 (US)
Holy Mack'rel / Teacher Drives Me Crazy
1962
SP CHALLENGE 9154 (US)
Chubby Ain't Chubby No More / You Are My Sunshine
12/1962
SP CHALLENGE 9176 (US)
Lover Supreme / For Your Love
12/1962
SP CHALLENGE 9181 (US)
Come On Pretty Baby / Limbo Party
Unissued Tracks
© Rocky Productions 3/04/2016