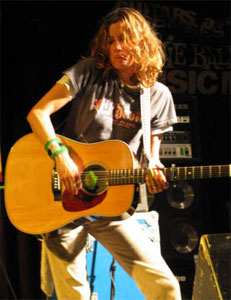 Chanteuse Folk-Rock US originaire d'Atlanta (Georgie).

A singer, songwriter, and guitarist whose music is informed by blues, country, and roadhouse rock & roll, Michelle Malone's performances can go from contemplative and coffeehouse quiet to rowdy and "Twin Reverb on 10" loud at the turn of a dime, and her passionate, uncompromising style has won her a loyal following, especially in the American South. Michelle Malone was born and raised in Atlanta, Georgia, and her mother, Karyn Malone, was a single parent who raised her daughter with help from her own mother. Both Karyn and her mother worked as singers, playing a variety of nightspots, jazz clubs, and resorts, and at an early age Michelle wanted to follow in the family tradition. At the age of 4, Michelle was singing in church, and by age ten she had taught herself to play guitar, drums, and saxophone. Michelle started her first band when she was 12, and soon began writing songs. After completing high school, Malone enrolled at Agnes Scott College in Decatur, Georgia, where she studied voice, but she soon began making herself heard on the Atlanta music scene, and in 1988 she released her first album, New Experience, issued by the independent Aluminum Jane label. Malone began playing out with her band Drag the River, and when Clive Davis happened to see Malone on-stage, she was signed to a deal with Arista Records. Released in 1990, Relentless was Malone's major-label debut, and it received enthusiastic reviews, and in 1991 Malone was part of an ad-hoc band, the Harshed Mellows (also including members of the Georgia Satellites and Tom Petty's Heartbreakers), who recorded a version of "U.S. Blues" for Deadicated, a Grateful Dead tribute album issued by Arista. But Malone soon became disenchanted with the constraints and image-making that came with life in the majors, and she and Arista parted ways.
For her next album, Malone opted to go it alone, forming her own SBS Records label (standing for Strange Bird Songs), which released For You Not Them in 1992. After releasing a jazzy holiday-themed album in 1993, A Swingin' Christmas in the Attic, Malone partnered with Daemon Records, the label launched by Amy Ray of the Indigo Girls, longtime friends and mentors for Malone since her college days, for the 1994 album Redemption Dream, in which she debuted her new band, Band de Soleil. The album included the song "The Gathering," which helped inspire the popular fantasy card game Magic: The Gathering; also in 1994, Malone appeared in a TV commercial promoting tourism in Georgia that found her performing with Elton John. For her next album, Malone struck a deal with Velvel Records, which released Beneath the Devil Moon in 1997; the same label also released a live EP, Lucky to be Live, and the two titles were reissued on a single disc in 2009. After falling ill after a busy 1998 that included playing the Lilith Fair package tour and training for a marathon, Malone reactivated SBS Records for an acoustic-oriented release, Home Grown, in 1999. Malone stayed busy in the new millennium, releasing albums in quick succession -- 2001's Hello Out There, 2003's Stompin' Ground (with Malone backed by the Low-Down Georgia Revue), 2006's Sugarfoot, 2008's live set Sunscream, and 2009's Debris (which introduced another new backing combo, the Michelle Malone Banned) -- as well as continuing a relentless tour schedule (often playing 150 dates a year) and periodically issuing new installments in her Strange Bird series of authorized bootlegs. Friend and fan Shawn Mullins joined Malone in the studio to co-produce her 2012 effort, Day 2. The low-key Acoustic Winter was released in 2014, while Malone cranked up the volume again on 2015's Stronger Than You Think. When not busy with her own music, Malone also tours as an instrumentalist with the Kristian Bush Band, the solo project of the co-founder of Sugarland.
http://www.michellemalone.com/
http://www.myspace.com/michellemalonemusic
Talents : Singer, Guitar, Harmonica, Songwriter
Style musical : Folk-Rock

http://youtu.be/SRM9rMrpCrU
Years in activity :
| | | | | | | | | | | |
| --- | --- | --- | --- | --- | --- | --- | --- | --- | --- | --- |
| 1910 | 20 | 30 | 40 | 50 | 60 | 70 | 80 | 90 | 2000 | 10 |
DISCOGRAPHY
Singles & EP
| | | | |
| --- | --- | --- | --- |
| 1990 | CD ARISTA ASCD-2043 (US) (promo) | | Big Black Bag - Michelle Malone & Drag The River - Big Black Bag / Evesdropping : A casual conversation with Michelle Malone and Lenny Kaye |
| 1991 | CD ARISTA ASCD-2155 (US) (promo) | | Building Fires Over Atlanta - Live - Michelle Malone & Drag The River - Into The Night / Big Black Bag / Long Love Century / When A Man Loves A Woman / Sure Thing |
| 1994 | CD DEAMON 190507 (US) | | Redemption Dream |
| 1997 | CD Velvel ‎VEL 7002-5 (GER) | | Grace (radio edit) / Grace (LP version) |
| 06/2000 | CD KOCH 8089 (US) | | LUCKY TO BE LIVE - Teen Lament / Green / Wild Horses / Big Black Bag / Butter Biscuit |
Albums
1988
CD SKY 7-5025-2 (US)
NEW EXPERIENCE - Circus Circus / Eastern Pleasures / All I Can Give You (Is Me) / New Experience / Into The Night / Long Live The Century / Big Black Bag / Until The Day / Under The Memphis Sky / Incident 8 / The First 24 / Counting Stars / Sure Thing / New Day / 32 Seconds / Skull - Cross - Bones - Flesh
06/1990
CD ARISTA ARCD-8630 (US)
RELENTLESS - Michelle MALONE & DRAG THE RIVER - Big Black Bag / Long Love Century / 32 Seconds / Into The Night / Chariot / Inside Out Of Here / Battle Him Republican / Sure Thing / Love Thang / Black Cloud Song / Counting Stars / Funny Face
1994
CD DEAMON 19005 (US)
REDEMPTION DREAM - BAND DE SOLEIL - Redemption Dream / Black River / California / Sitting In The Sun / Sword / The Gathering / Light Of Day / Hollow Day / Teen Lament / Sins Of All My Years / Shadow On The Wall
01/1995
CD SISTER RUBY 5 (US)

FOR YOU NOT THEM -

The Greatest Show On Earth / Worthless Bones / Has Anybody Seen My Monster? / The Edge / The Old Woodshed / Peace Frog / A'la Famille / Knee Deep / Open Window / Power Of Love / Thomas In A Circle / Got A Feelin' / Mexico A Go-Go
1996
CD ? (US)
BAND DE SOLEIL - Blue Suede / Medicated Magdalene / Green / In The Weeds / A La Famillia / Dimming Soul / Twice In A Lifetime / Fueled / Devil Moon / Feed The Glow / Hamlet Went Swimming / Butter Biscuit
07/1997
CD VELVEL 79703 (US)

BENEATH THE DEVIL MOON -

Grace / In The Weeds / My Green Thumb / Blue Suede / The Edge / All My Lifetime / Medicated Magdalene / Speaking Of Fueled... / Green / Devil Moon / Dimming Soul
1998
CD CC Entertainment / Velvel 79851 (US)

Beneath the Devil Moon / Lucky to Be Live -

Grace / In The Weeds / My Green Thumb / Blue Suede / The Edge (Michelle

Malone

feat: David Ryan

Harris

) / All My Life (Michelle

Malone

feat:

Indigo Girls

) / Medicated Magdalene / Speaking Of Fueled / Green / Devil Moon / Dimming Soul / Teen Lament / Green / Wild Horses / Big Black Bag / Butter Biscuit
12/1998
CD STRANGE BIRD SONGS 3 (US)

SINGIN' CHRISTMAS IN THE ATTIC -

Santa's Coming To Town / Santa Baby / Please Come Home For Christmas / I'll Be Home For Christmas / Twas The Night Before Christmas / Here Comes Santa Claus / The Christmas Song / Rudolph The Red Nosed Reindeer / Let It Snow / Have Yourself A Merry Little Christmas
08/1999
CD STRANGE BIRD SONGS 4 (US)
HOME GROWN - Avalon / Strength For Two / Floating Down A Dream / Suddenly / Keeping Score / Brand New Dream / Learn To Cry / Tonic / On My Way / Home Grown / Havasu Falls / Cheap One Star Hotel / Nothing More
02/2001
CD STRANGE BIRD SONGS 6006 (US)
BOOTLEG - STRANGE BIRD VOLUME 3 - THE AUTHORIZED BOOTLEG - (Michelle MALONE, Charlene OWEN & Michael LORANT) - Grace / On My Way / Green / Hollow Day / California / The Edge / My Green Thumb / In The Weeds / Butter Biscuit / Floating Down A Dream / Tanya Tucker / Feels Like Christmas / Q & A / Wild Horses
05/2001
CD STRANGE BIRD SONGS 6007 (US)
HELLO OUT THERE - Hello / Carry Me / Lifted / Let Love / Caffeine And Catharsis / Sleepy Sunday Morning / Any Day Now / Super Ball / Surrender / Hospital Song / No Destination / Twice In A Lifetime
06/2003
CD STRANGE BIRD SONGS 99023 (US)
STRANGE BIRD VOLUME 4 - THE AUTHORIZED BOOTLEG - Cry Me A River / Carry Me / Keeping Score / Britney And Brain Cells / Hamlet Went Swimming / Vein Of Gold / Lifted / Hollow Day / Brand New Dream / Nine To Five / Teen Lament / Honeysuckle Lullaby / Super Ball
09/2003
CD DEAMON / SBS 19039 (US)
STOMPIN' GROUND - Michelle MALONE & The LOW-DOWN GEORGIA REVUE - Lafayette / Horns And 2 Wings / Moanin' Coat / Flagpole / Cypress Inn / Preacher's Daughter / Cry Me A River / Snack n Shack / Samsonite / Camera / Honeysuckle Lullaby / True
03/2006
CD STRANGE BIRD SONGS ? (US)

BEST OF MICHELLE MALONE 1986-2006 -

Breathless / Until The Day / New Experience / Big Black Bag / Inside Out Of Here / Counting Stars / The Edge / Mexico A Go Go / Teen Lament / Hollow Day / Grace / My Green Thumb / Dimming Soul / Avalon / Brand New Dream / Hello / Super Ball / Flagpole / Lafayette / Beyond The Mountain
10/2006
CD SBS 15208 (US)
SUGARFOOT - Tighten Up The Springs / Where Is The Love

[acoustic]

/ Beyond The Mountain / Miss Miss'ippi / Traveling And Unraveling / Winter Muscadine / Black Motorcycle Boots / Down / Friendly Fire / Soul Chicken / Rooster 44 / Leather Bracelet / Where Is The Love

[mix]

01/2008
CD SBS ? (US)

Sunscream - Live -

Redemption Dream / Black River / Sword / Shadow On The Wall / Sins Of All My Years / Climb The Mountain / Light Of Day / Teen Lament / Woman On The Floor / Moving On Up / Cortez The Killer
02/2009
CD SBS 20093 (US)

Debris -

Feather In A Hurricane / Yesterday's Make Up / Debris / Undertow / Marked / Restraining Order Blues / Chattahoochee Boogaloo / Weed And Wine / 14th Street And Mars / Sunburn / Candle For The Lonely
10/2012
CD SBS ? (US)

Day 2 -

Other Girls / Day 2 / Immigration Game / Marlboro Man / Wasted On You / Chicken Lickin Boogie / Saint Peter / The Auditor / 100 Paths / Shine
2014
CD SBS SBS 20014 (US)

Acoustic Winter -

Home / Beyond The Mountain / Burning Star / Where Is The Love / Mirror Ball / Super Ball / Made To Fly / A Walk In The Woods / Counting Stars / Eleanor Rigby / Missing / Wild Horses
03/2018
CD SBS SBS 20016 (US)

Slings & Arrows - Just Getting Started / Love Yourself / Sugar On My Tongue / Beast's Boogie / I've Been Loving You Too Long / Fox And The Hound / Civil War / Matador / The Flame / Boxing Gloves

2021
CD SBS SBS20020 (US)

Fan Favorites Unplugged Vol. 2 - Flagpole / Grace / 32 Seconds / Lafayette / Teen Lament / In The Weeds / Wasted On You / California / Day 2 / My Green Thumb / Tanya Tucker

2021
CD SBS SBS20021 (US)
1977 - Not Who I Used To Be / Know My Name / Even The Queen / Rive Song / Bodyguard / Dust Bowl Man / Buck Knife Man / Powder Keg / Georgia Made / Daggers
© Rocky Productions 3/05/2022