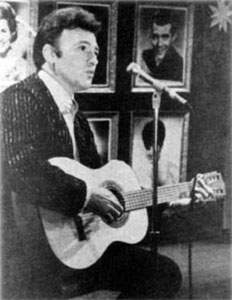 Chanteur Country US né Hubert Brad Lewis, le 25 Décembre 1930 à Yeadiss (Kentucky). Hugh X. Lewis est décédé le 29 Décembre 2020.

US Country singer born December 25, 1930 at Yeadiss (Kentucky). Always hovering on the fringe of the country music establishment, steel-mill worker turned songwriter Hugh Lewis did manage to write some chart topping singles during the mid to late '60s. Quitting his job as a laborer, Lewis moved to Nashville in 1963 at age 31 after years of performing on the side in his native Kentucky. Not long after moving, he placed "BJ the DJ" with singer Stonewall Jackson, taking the novelty song to number one in 1964. Versions by Carl Smith and Kitty Wells followed, and before long Lewis' often tongue-in-cheek songs were being recorded by the Nashville establishment with some regularity. Mac Wiseman had a hit with the down-and-out sobber "Heads You Win, Tails I Lose," and George Morgan covered "One Rose" with some success. Though a recording contract with Kapp records followed, Lewis never had much of a performing career of his own and was better suited to let others record his material.
Hugh X. Lewis passed away on December 29, 2020.
https://en.wikipedia.org/wiki/Hugh_X._Lewis
Talents : Vocals, Guitar, Bass, Piano
Style musical : Contemporary Country, Traditional Country, Rock 'n' Roll

https://youtu.be/L2Bjjv3W50o
Years in activity :
| | | | | | | | | | | | |
| --- | --- | --- | --- | --- | --- | --- | --- | --- | --- | --- | --- |
| 1910 | 20 | 30 | 40 | 50 | 60 | 70 | 80 | 90 | 2000 | 10 | 20 |
DISCOGRAPHY
Singles
| | | |
| --- | --- | --- |
| 1961 | SP FERN 802 (US) | Hugh LEWIS - Bloody Harlan / Two Of A Kind |
| 1961 | SP FERN 803 (US) | Hugh LEWIS - Daddy Frog / Rockin' Mood Men |
| 1961 | SP FERN 805 (US) | Hugh LEWIS - Bingo / Nothing But Time |
| 11/1964 | SP KAPP K-622 (US) | What I Need Most / Too Late |
| 07/1965 | SP KAPP K-673 (US) | Out Where The Ocean Meets The Sky / Talking To A Bottle |
| 11/1965 | SP KAPP K-717 (US) | I'd Better Call The Law On Me / Talk Me Out Of It |
| 06/1966 | SP KAPP K-757 (US) | Just before Dawn / I'm Losing You (I Can Tell) |
| 09/1966 | SP KAPP K-771 (US) | Wish Me A Rainbow / You Belong To My Heart |
| 02/1967 | SP KAPP K-812 (US) | Another Day Just Slipped Away / Tender Hearted Me |
| 05/1967 | SP KAPP K-830 (US) | You're So Cold (I'm Turning Blue) / No Chance For Happiness |
| 10/1967 | SP KAPP K-868 (US) | Wrong Side Of The World / Your Steppin' Stone |
| 02/1968 | SP KAPP K-895 (US) | Evolution And The Bible / Gone Gone Gone |
| 05/1968 | SP KAPP K-921 (US) | With These Hands / War Is Hell |
| 08/1968 | SP KAPP K-939 (US) | Country Music Fever / World Doesn't End Here |
| 11/1968 | SP KAPP K-955 (US) | Tonight We're Calling It A Day / Sittin' And Thinkin' |
| 02/1969 | SP KAPP K-978 (US) | All Heaven Broke Lose / Some Other Time |
| 06/1969 | SP KAPP K-2020 (US) | Restless Melissa / Our Angels Just Aren't Singing Anymore |
| 12/1969 | SP COLUMBIA 4-45047 (US) | Everything I Love / Mister Policeman |
| 05/1970 | SP COLUMBIA 4-45144 (US) | When Love Is Gone / My Baby Sitter |
| 10/1970 | SP GRT GRT-28 (US) | Blues Sells A Lot Of Booze / Help Yourself To Me |
| 02/1971 | SP GRT GRT-44 (US) | Round And Round She Goes / ? |
| 197? | SP AQUARIAN 611 (US) | Start Saving My Life / ? |
| 197? | SP BASF 15611 (US) | Nobody But Me / She Melts In My Arms |
| 1973 | SP FANTASY 707 (US) | Heaven Hell Or Houston / Katy Couldn't Bar The Door |
| 1974 | SP FANTASY 720 (US) | One Of Her Tears / Wish Me A Rainbow |
| 06/1978 | SP LITTLE DARLIN' LD-7803 (US) | Love Don't Hide From Me / Thinking Of You |
| 03/1979 | SP LITTLE DARLIN' LD-7913 (US) | What Can I Do (To Make You Love Me) / Once Before I Die |
| 1979 | SP LITTLE DARLIN' LD-7925 (US) | Beginning Tomorrow / When Love Is The Victim |
| 08/1982 | SP BLACK ROSE 8272 (US) | Don't Blame It All On Alchohol / Long Live The Honky |
| 01/1983 | SP BLACK ROSE 8276 (US) | The Texan And The Yankee / I'm Losin' My Hair |
| 1983 | SP Phonorama PR 45-560 (US) (promo) | Snap Your Fingers / Snap Your Fingers |
Albums
| | | | |
| --- | --- | --- | --- |
| 01/1966 | LP 12" KAPP KL-1462 (mono) / KS-3462 (stereo) (US) | | THE Hugh X. Lewis Album - Out Where The Ocean Meets The Sky / I'd Better Call The Law On Me / I Wish I Didn't Love You So / Talk Me Out Of It / Looking In The Future / Fourteen Karat Fool / What I Need Most / Roses Are Red My Love / This Makes Us Even / Talking To A Bottle / Too Late / Tomorrow's Just Another Day To Cry |
| 08/1966 | LP 12" KAPP KL-1494 (mono) / KS-3494 (stereo) (US) | | JUST BEFORE DAWN - Just Before Dawn / I'm Losing You / Time / I Hate Myself / Missing You / If This House Could Talk / Wish Me A Rainbow / Am I Losing You / It's A Mean Old World / You Belong To My Heart / You're Not Here To Scold Me / Have You Looked Into Your Heart |
| 06/1967 | LP 12" KAPP KL-1522 (mono) / KS-3522 (stereo) (US) | | MY KIND OF COUNTRY - No Chance For Happiness / She's Gone Gone Gone / Nothing Takes The Place Of You / I'll Be Your Stepping Stone / Walk Through This World With Me / Nobody's Darlin' But Mine / My Happiness / That Heart Belongs To Me / You're So Cold I'm Turning Blue / Wrong Side Of The World / One Broken Dream Is Not The End Of Everything / Leavin' |
| 01/1968 | LP 12" KAPP KL-1545 (mono) / KS-3545 (stereo) (US) | | JUST A PRAYER AWAY - How Great Thou Art / Take My Hand / Peace Be Still / Beyond The Sunset / Bible Tells Me So / Just A Prayer Away / May The Good Lord Bless And Keep You / It Is No Secret What God Can Do / One God / Thank You Lord / Evolution And The Bible / With These Hands |
| 06/1968 | LP 12" KAPP KL-1563 (mono) / KS-3563 (stereo) (US) | | COUNTRY FEVER - Tonight We're Calling It A Day / Thanks A Lot / Where Were You / World Doesn't End Here / Sittin' And Thinkin' / What I Need Most / I Just Wasted The Rest / Angry Words / War Is Hell / Drinking Champagne / Country Music Fever |
| 1971 | LP 12" GRT GRT-20005 (US) | | The Hugh X. Lewis Country Club - Hugh X. Lewis Country Club / Things Are Looking Up / Something New And Different / Climbing The Walls / I Don´t Care / Blues Sells A Lot Of Booze / One Hundred Songs On The Jukebox / Ship In The Bottle / Help Yourself To Me / The Tears On Lincoln´s Face / Round And Round She Goes |
| 10/1977 | LP 12" Guinness GNS 36083 (US) | | THE Best of Hugh X. Lewis - What I Need Most / Talking To A Bottle / Looking In The Future (For The Past) / Try Crossing Over Sometime / Caught In The Act / Things Look Bad / The Place That I Call Home / Save Your Teardrops / Silent Partner / Just Thought I'd Let You Know |
| 1980 | LP 12" PRESIDENT PRCV 106 (UK) | | GOODWILL AMBASSADOR - What Can I Do / Once Before I Die / Have Your Next Affair With Me / Ballad Of Baby Brother / Things That Lovers Do / My Favorite Sin / One Night Only / I'm Thinking Of You Thinking Of Him / God Is Making House Calls / When Love Is The Victim / Beginning Tomorrow / Love Don't Hide From Me / Meanest Mother In The World / If It Wasn't For The Kids |
| 1983 | LP 12" Phonorama XPR5-5644 (US) | | Just A Matter Of Time - Where Would I Be Now / Snap Your Fingers / Heaven Hell Or Houston / Am I That Easy To Forget / Ragin' Like A Cajun / Bury My Heart / It's Just A Matter Of Time / B.J. The D.J. / Angry Words / Lead Follow Or Get Out Of The Way |
| 2001 | CD Kingdom Come ? (US) | | Tennessee In Song - The Big Orange Fan (Country version) / Knoxville / The Big Orange Fan (50's version) / My Heart Is Always Home In Tennessee / Nashville (You're A Woman) / Tennessee (the recitation) / Rocky Top / Tennessee Waltz / Memphis / Chattanooga Memories / Tri-Cities Blues |
| 05/2002 | CD Kingdom Come 122530 (US) | | Inspirational Songs |
| 200? | CD Kingdom Come ? (US) | | Evolution And The Bible - Evolution And The Bible / Jesus Is Still In Control / Country Gospel Fan / What About The Lost / Someone To Care / House Of Gold / Great Speckle Bird / Just A Closer Walk With Thee / Twas The Night Before Jesus / Twelve Days Of Christmas |
| 200? | CD Kingdom Come ? (US) | | Stand Up And Be Counted - Stand Up And Be Counted / Don't That Beat The Devil / The Preacher And The Bear / You Never Mentioned Him To Me / Suppertime / If Jesus Came To Your House / God Is Making House Calls / I Found Jesus And He Wasn't Even Lost / Dear Woman Sweet Woman / I Sent You / The Talker |
© Rocky Productions 30/05/2015