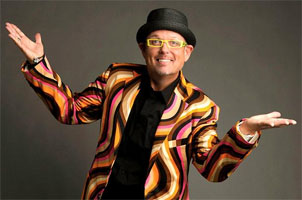 Chanteur Country US né Barry Poole, le 18 Décembre 1964 à Marietta (Georgie).

Country music's answer to Weird Al Yankovic, Cledus T. Judd had a similar approach to song parody, recording backing tracks that were as similar as possible to the original versions. Like Yankovic, he also recorded some original material, but parodies of recent country hits were his bread and butter; also like Yankovic, a Judd parody came to be regarded as a badge of honor by many of the artists he reworked. Judd made his bow in 1995 with the Razor & Tie album Cledus T. Judd (No Relation), a billing that made clear his lack of connection to Wynonna and Naomi. His breakthrough set was the follow-up, 1996's I Stoled This Record, which established his long-running preoccupation with Shania Twain -- not only did he transform her "If You're Not in It for Love (I'm Outta Here)" into "I'm Not in Here for Love (Just Yer Beer)," he also recorded the original "If Shania Was Mine" and had her guest (along with Joe Diffie) on "(She's Got a Butt) Bigger Than the Beatles." Did I Shave My Back for This?, the title cut a parody of Deana Carter, followed in 1998, also featuring redone material from Brooks & Dunn and Tracy Lawrence, among others. Released in 1999, Juddmental saw him branching out into pop with a Ricky Martin parody as well as a Garth Brooks/Chris Gaines send-up and another ode to Twain, "Shania I'm Broke."
Judd's albums weren't blockbusters, but they sold consistently enough to earn him a major-label contract with Sony's revived Monument imprint. His 2000 major-label debut, Just Another Day in Parodies, skewered material by the Dixie Chicks, Brad Paisley, Kenny Chesney, Toby Keith, and even Kid Rock. The follow-up, 2002's Cledus Envy, offered parodies of Faith Hill and Billy Gilman as well as O Brother, Where Art Thou?'s "Man of Constant Sorrow." Later that year, Judd issued his first holiday album, Cledus Navidad. He returned in 2003 with the mini-album Six Pack of Judd. In 2004 he moved to the Koch label and released Bipolar & Proud, which featured his biggest hit to date, "I Love NASCAR," a parody of Toby Keith's "I Love This Bar." Koch soon closed their Nashville division, just as Judd was about to release his tribute to novelty giant Ray Stevens. The album, Boogity Boogity, finally appeared in 2007 on the Curb label. In 2009, he moved to the E1 label for Polyrically Uncorrect, featuring the single "(If I Had) Kellie Pickler's Boobs." His 2012 effort Parodyziac!! landed on Warner Bros. with the NFL tribute "Tebow" plus "Living Single in a Double Wide."
https://en.wikipedia.org/wiki/Cledus_T._Judd
Talents : Vocals, Producer
Style musical : Contemporary Country, Country Comedy, Novelty

http://youtu.be/OF2L4oXcMBM
Years in activity :
| | | | | | | | | | | | |
| --- | --- | --- | --- | --- | --- | --- | --- | --- | --- | --- | --- |
| 1910 | 20 | 30 | 40 | 50 | 60 | 70 | 80 | 90 | 2000 | 10 | 20 |
DISCOGRAPHY
Singles & EP
| | | | |
| --- | --- | --- | --- |
| 05/1999 | CD RAZOR & TIE 80754 (US) | | CTJ - Everybody's Free (To Get Sunburned) The 'Do The Funky Chicken In Your Depends' Mix / Everybody's Free (To Get Sunburned) The 'Not Nearly As Long, Funky Chicken In Your Depends' Mix |
| 09/2000 | CD SONY 79495 (US) | | My Cellmate Thinks I'm Sexy |
| 11/2003 | CD AUDIUM 8194 (US) | | THE ORIGINAL DIXIE HICK - Martie, Emily And Natalie / Natalie / Toby Versus Natalie / The Chicks Did It |
Albums
06/1995
CD RAZOR & TIE 2819 (US)
CLEDUS "T." JUDD (NO RELATION) - Gone Funky / Indian In-Laws / Katie Bar The Door / Swingin' / Refried Beans / Motel Californie / Please Take The Girl / We Own The World / Shade Tree Mechanic / Stinkin' Problem
05/1996
CD RAZOR & TIE 2825 (US)
I STOLED THIS RECORD -

Cledus "T." JUDD (No Relation)

- Cledus Busted! / If Shania Was Mine / (She's Got A Butt) Bigger Than The Beatles / The Change / Skoal: The Grundy County Spitting Incident / Jackson (Alan That Is) / You Have No Right To Remain Violent / Cadirac Style / Quit Teasin' Me Ed / I'm Not In Here For Love (Just Yer Beer) / Cledus Went Down To Florida / 1-900-Sheila / Stoled: The Copyright Infringement Incidnent / Grandpa Got Runned Over By A John Deere
03/1998
CD RAZOR & TIE 82835 (US)

Did I Shave My Back For This ?

- Wives Do It All The Time / First Redneck On The Internet / Every Bulb In The House Is Blown / Third Rock From Her Thumb / Mindy McCready / Did I Shave My Back For This? / Hankenstein / Hip Hop & Honky Tonk / Psychic To The Stars / Cledus Don't Stop Eatin' For Nuthin'
03/1999
CD BMG 44919 (US)
CLEDUS COUNTRY -

Cledus "T." JUDD (No Relation)

- Cledus Went Down To Florida / Hip Hop & Honky Tonk / Quit Teasin' Me Ed / Refried Beans / Cadirac Style / Skoal: The Grundy County Spitting Incident / Indian In-Laws / 1-900 - Sheila / Swingin' / You Have No Right To Remain Violent
10/1999
CD RAZOR & TIE 82845 (US)
JUDDMENTAL -

Cledus "T." JUDD (No Relation)

- She's Inflatable / Coronary Life / Ricky Tidwell's Mamma Is Gonna Play Football / Christ-Mas / Cledus The Karaoke Thing / Shania I'm Broke / Where The Grass Don't Grow / Hillbilly Honeymoon / In Another Size / Livin' Like John Travolta
11/2000
CD SONY 85106 (US)
JUST ANOTHER DAY IN PARODIES - My Cellmate Thinks I'm Sexy / Goodbye Squirrel / What the *$@# Did You Say / More Beaver / Record Deal / How Do You Milk a Cow / Night I Can't Remember / Momma's Boy / Wife Naggin' / Plowboy / Merry Christmas From the Whole Fam Damily
04/2002
CD SONY 85897 (US)
CLEDUS ENVY - It's A Great Day To Be A Guy / Breath / Willie's Got A Big Deck / Let's Burn One / My Voice / Man Of Constant Borrow / Let's Shoot Dove / 1/2 / If George Strait Starts Dancin' / Just Another Day In Parodies / Leave You Laughin' / Don't Mess With America
10/2002
CD SONY 86744 (US)
CLEDUS NAVIDAD - Cledus' Christmas Ball / Stephon The Alternative Lifestyle Reindeer / Hazel's Homemade Hallelujah Punch / Grandma Got Run Over By A Reindeer / Only 364 Shopping Days 'Til Christmas / Tree's On Fire / Don't Serve Beans / Merry Christmas From The Whole Fam Damily / Santa Claus Is Watchin' You / All I Want For Christmas Is Two Gold Front Teef
04/2003
CD MONUMENT 89223 (US)
SIX PACK OF JUDD - Where's Your Mommy? / I Was Country When Country Wasn't Pop / My Crowd / 270 Somethin' / Riding With Inmate Jerome / New Car
02/2004
CD RAZOR & TIE 82902 (US)
THE ESSENSHUL CLEDUS T. JUDD - Gone Funky / Indian In-Laws / Stinkin' Problem / If Shania Was Mine / (She's Got A Butt) Bigger Than The Beatles / Jackson (All That Is) / Wives Do It All The Time / First Redneck On The Internet / Every Bulb In The House Is Blown / Did I Shave My Back For This / Coronary Life
08/2004
CD KOCH 9809 (US)
BIPOLAR AND PROUD - I Love Nascar / Hell No / One Jack Off / Paycheck Woman / Bake Me A Country Ham / I'm Going Ugly Early Tonight / -- Is Funny / Starkissed / Martie, Emily & Natalie / Funny Man
02/2006
CD KOCH 9883 (US)

CLEDUS T. JUDD PRESENTS: BOOGITY, BOOGITY - A TRIBUTE TO THE COMEDIC GENIUS OF RAY STEVENS

08/2007
CD CURB 78993 (US)

CLEDUS T. JUDD PRESENTS: BOOGITY, BOOGITY - A TRIBUTE TO THE COMEDIC GENIUS OF RAY STEVENS -

Turn Your Radio On / The Streak / Jeremiah Peabody's Polyunsaturated Quick Dissolving Fast Acting Pleasant Tasting Green And Purple Pills / It's Me Again Margaret / Gitarzan / Mississippi Squirrel Revival / Ahab The Arab / The Shriner's Convention / Misty / Harry The Hairy Ape / Would Jesus Wear A Rolex / Everything Is Beautiful
04/2009
CD E1 DISTRIBUTION KOC-CD-2019 (US)

POLYRICALLY UNCORRECT - Waitin' On Obama (Cledus T. JUDD feat. Ashton SHEPHERD) / Polyrically Uncorrect (Cledus T. JUDD feat. BROOKS & DUNN) / Garth Must Be Busy (Cledus T. JUDD feat. Terry ELDREDGE, Jamie JOHNSON) / Hard Times / Merger On Music Row / Washing Airplanes / Tailgatin' (with Colt Ford) (Cledus T. JUDD feat. Colt FORD) / I Wish I Had Kellie Pickler's / Hazard County Cooter (Cledus T. JUDD feat. Daryle SINGLETARY) / Dammit, I'm Vixen / Christmas In Rehab

11/2012
CD LOUDMOUTH ENTERTAINMENT / WARNER BROS. 532574 (US)

PARODYZIAC!! - Cledus T. / Double D Cups / Feel Like A Pawn Star / A Little More Hungry Than That / Honeymoon / Tebow / Redneck Pool / Tweetin' / Living Single In A Double Wide / The House That Broke Me / If This Is Country Music / 104 Amanda Street
© Rocky Productions 15/11/2012