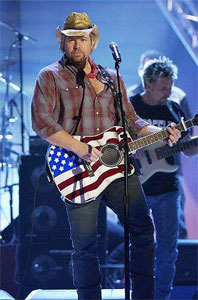 Chanteur Country US né le 8 Juillet 1961 à Clinton (Oklahoma).

Toby Keith spent the '90s as a solid, workmanlike country star who met with considerable chart success, yet never quite broke free of the neo-traditionalist pack to become a household name like Garth Brooks or Alan Jackson. That all changed in 2002 when he recorded "Courtesy of the Red, White and Blue (The Angry American)," a response to September 11 that became one of country's most highly charged political statements since Merle Haggard's "Okie from Muskogee." The media furor ensured that even people with no knowledge of country music still knew him as "the guy with the 'boot in the ass' song," and helped make Keith a genuine phenomenon. Yet he'd been recording for nearly a decade prior and already had several chart-topping country singles to his credit.
Keith was born Toby Keith Covel in Clinton, OK, in 1961 and grew up mostly on a farm in Moore, near the outskirts of Oklahoma City. He took up guitar at age eight, inspired by the country musicians who played at the supper club his grandmother ran. He listened to his father's Bob Wills records and fell in love with Haggard's music. He worked as a rodeo hand while in high school, and after graduation, he found work in the nearby oil fields. In the meantime, he formed the Easy Money Band and played Alabama-style country-rock in area honky tonks. After about three years, the oil industry hit a major downturn, and Keith turned to playing semipro football for a USFL farm team, even trying out (unsuccessfully) for the short-lived league's Oklahoma City franchise. Following two years as a football player, Keith decided to focus on music and adopted a much more rigorous touring schedule. He cut a few records for local indie labels, and his demo tape eventually found its way to onetime Alabama producer Harold Shedd, who helped Keith land a deal with Mercury.
Keith's self-titled debut album was released in 1993 and made him an out-of-the-box success with its chart-topping single "Should've Been a Cowboy." Three more songs from the record — "Wish I Didn't Know Now," "A Little Less Talk and a Lot More Action," and "He Ain't Worth Missing" — made the Top Five, and the album sold over two million copies. "Who's That Man," the lead single from his second album, Boomtown, was released in late 1994 and became his second number one; Boomtown hit stores in early 1995 and went gold on the strength of further Top Ten hits "Upstairs Downtown" and "You Ain't Much Fun." Keith followed it later that year with the holiday record Christmas to Christmas and returned with the proper album Blue Moon in 1996. Its first two singles, "A Woman's Touch" and "Does That Blue Moon Ever Shine on You," went Top Ten, and the third, "Me Too," gave Keith his third number one, also helping the album go platinum. Released in 1997, Dream Walkin' marked his first collaboration with prolific producer James Stroud, with whom he would work regularly from then on. "We Were in Love" and the title track were both Top Five hits, as was "I'm So Happy I Can't Stop Crying," a duo with Sting. However, Keith longed for an even bigger breakthrough, and he was growing dissatisfied with Mercury's promotional efforts. In 1999, he left the label and followed Stroud over to the Nashville division of DreamWorks.
Keith's label debut, How Do You Like Me Now?!, appeared in late 1999 and started to bring him the wider recognition he felt poised for. The title cut went to number one on the country charts and brought him his first Top 40 pop hit; its follow-up, "Country Comes to Town," went Top Five, and "You Shouldn't Kiss Me Like This" also hit number one. Overall, the album had a rough, brash attitude that helped give Keith a stronger identity as a performer. It was also the first to bring him those long-desired major industry awards, when in 2001 the Academy of Country Music named him Male vocalist of the Year and named How Do You Like Me Now?! its Album of the Year. In the meantime, Keith became more visible in the mainstream media, making cameos on Touched by an Angel and in a Dukes of Hazzard TV reunion movie as well as co-starring in a series of telephone commercials. Later in 2001, his follow-up album, Pull My Chain, became his first to top the country charts and also his first Top Ten pop album. It spun off three number one singles: "I'm Just Talkin' About Tonight," "I Wanna Talk About Me," and "My List."
Keith was already a burgeoning superstar when he recorded "Courtesy of the Red, White and Blue (The Angry American)" in the summer of 2002. A raging response to the September 11 terrorist attacks, the song struck a fierce chord with aggressively patriotic listeners, while others condemned it as knee-jerk jingoism. The whole controversy came to a head when ABC News anchor Peter Jennings objected to Keith's scheduled performance on a network Fourth of July schedule. Keith was axed from the guest list, and the ensuing media flap proved to be a publicity coup. Meanwhile, the song went to number one on the country charts and crossed over into the pop Top 25. All of this set the stage for Unleashed, which sold like hotcakes upon its release later in 2002, debuting at number one on both the country and pop charts. "Who's Your Daddy?" was a number one country hit, and the Willie Nelson duo "Beer for My Horses" also made the country Top Ten.
In 2003 Keith released Shock'n Y'All, which despite its title was chock-full of enough rough-and-rowdy hits to once again connect hugely with heartland America. Honkytonk University followed in May 2005, the same year that Mercury released Chronicles, a collection of three of his biggest albums: Toby Keith, Boomtown, and Blue Moon. After departing from Universal and longtime producer Stroud, Keith established his own company, Show Dog Nashville, and in 2006 released the label's first record, the number two hit White Trash with Money. A year later he released Big Dog Daddy, the first album to be produced by himself, and also a holiday album, A Classic Christmas. Keith continued his steady pace over the next few years, releasing That Don't Make Me a Bad Guy in 2008, American Ride in 2009, and Bullets in the Gun in 2010. Clancy's Tavern, which appeared in 2011, was inspired by his grandmother's club, which he visited frequently as a child. Keith was also selected as Artist of the Decade at the American Country Awards in December of 2011. Clancy's Tavern gave Keith a pair of hits in "Made in America" and "Red Solo Cup" -- the former topped Billboard's country charts; the latter reached the Billboard Top 40 -- and in the fall of 2012 he returned with another new album, Hope on the Rocks, which was preceded by the single "I Like Girls That Drink Beer." Neither "I Like Girls That Drink Beer" or the album's second single "Hope on the Rocks" went further than 17 on the charts, and Keith soon returned with his 17th album, Drinks After Work. Released almost a year to the day after Hope on the Rocks, Drinks After Work appeared in late October 2013; it was preceded by the single release of its title track, which peaked at number 28 on the country charts. The follow-up "Shut Up and Hold On" made it to number 49. Keith released "Drunk Americans," the first single from his forthcoming album, in October 2014 but it took another full year before 35 MPH Town materialized, preceded by the title track as a single in the spring of 2015. Keith toured 35 MPH Town through 2016 and returned in September 2017 with The Bus Songs, a collection of the ribald tunes he'd tucked away on his albums supplemented with two new songs. Following a 25th anniversary reissue of his eponymous 1993 debut, retitled Should've Been a Cowboy, Keith wrote the acoustic ballad, "Don't Let the Old Man In," for Clint Eastwood's film The Mule.
https://en.wikipedia.org/wiki/Toby_Keith
Talents : Vocals, Guitar, Songwriter, Actor
Style musical : Contemporary Country, Traditional Country

http://youtu.be/-Fulz4ytZ54
Years in activity :
| | | | | | | | | | | | |
| --- | --- | --- | --- | --- | --- | --- | --- | --- | --- | --- | --- |
| 1910 | 20 | 30 | 40 | 50 | 60 | 70 | 80 | 90 | 2000 | 10 | 20 |
DISCOGRAPHY
Singles
02/1993
SP MERCURY 864990-7 (US)
.
Should've Been A Cowboy / Some Kinda Good Kinda Hold On Me
06/1993
SP MERCURY 862262-7 (US)
.
He Ain't Worth Missing / Little Less Talk And A Lot More Action
11/1993
SP MERCURY 862844-7 (US)
.
Little Less Talk And A Lot More Action / Mama Come Quick
02/1994
SP MERCURY 858290-7 (US)
.
Wish I Didn't Know Now / Under The Fall
06/1994
SP MERCURY 853358-7 (US)
.
Who's That Man / You Ain't Much Fun
11/1994
SP POLYDOR 851136-7 (US)
.
Upstairs Downtown / Woman Behind The Man
03/1995
SP POLYDOR 851728-7 (US)
.
You Ain't Much Fun / Life Was A Play
07/1995
SP A & M 579974-7 (US)
.
Big Ol' Truck / In Other Words
11/1995
SP A & M 577416-7 (US)
.
Santa I'm Right There / Blame It On The Mistletoe
02/1996
SP A & M 576140-7 (US)
.
Does That Blue Moon Shine On You / She's Gonna Get It
07/1996
SP A & M 581714-7 (US)
.
Woman's Touch / She's Perfect
11/1996
SP MERCURY 578810-7 (US)
.
Me Too / Lonely
06/1997
SP MERCURY 574636-7 (US)
.
We Were In Love / Double Wide Paradise
09/1997
SP MERCURY 568114-7 (US)
.
I'm So Happy I Can't Crying / Jacky Don Tucker
01/1998
SP MERCURY 574950-7 (US)
.
Dream Walkin' / Strangers Again
05/1998
SP MERCURY 578928-7 (US)
.
Double Wide Paradise / Tired
09/1998
SP MERCURY 566432-7 (US)
.
Getcha Some / Should've Been A Cowboy
05/1998
CP MERCURY 220 (US)
Getcha Some (intro) / Getcha Some (outro)
02/1999
SP MERCURY 566912-7 (US)
.
If A Man Answers / Ain't Much Fun
2000
SP DREAMWORKS 459033-7 (US)
.
When Love Fades / Country Comes To Town
10/2000
SP DREAMWORKS 459051-7 (US)
.
How Do You Like Me Now / When Love Fades
06/2001
SP DREAMWORKS 450874-7 (US)
.
I Wanna Talk About Me / I'm Just Takin' About Tonight
2001
SP DREAMWORKS 450815-7 (US)
.
Courtesy Of The Red White And Blue (The Angry American) / Who's Your Daddy
2002
SP DREAMWORKS 450785-7 (US)
.
Beer For My Horses (with Willie NELSON) / Rock You Baby
2006
CD SHOW DOG 06006 (US)
.
A Little Too Late

[radio Edit]

/ A Little Too Late

[album version]

2006
CD SHOW DOG 06007 (US)
.
Crash Here Tonight (intro) / Crash Here Tonight / Crash Here Tonight (outro)
02/2007
CD SHOW DOG 001 (US)
High Maintenance Woman / High Maintenance Woman / High Maintenance Woman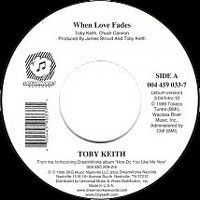 Albums
1993
CD MERCURY 514421 (US)
TOBY KEITH - Should've Been A Cowboy / He Ain't Worth Missing / Under The Fall / Some Kinda Good Kinda Hold On Me / Wish I Didn't Know Now / Ain't No Thang / Valentine / Little Less Talk And A Lot More Action / Mama Come Quick / Close But No Guitar
1994
CD MERCURY 523621 (US)
BOOMTOWN - Should've Been A Cowboy / Who's That Man / Big Ol' Truck / Victoria's Secret / No Honor Among Thieves / Upstairs Downtown / He Ain't Worth Missing / You Ain't Much Fun / In Other Words / Woman Behind The Man / Wish I Didn't Know Now / Life Was A Play / Boomtown / Little Less Talk And A Lot More Action / Little Less Talk And A Lot More Action (dance mix)
10/1995
CD MERCURY 527909 (US)
CHRISTMAS TO CHRISTMAS - Santa I'm Right Here / Bethlehem In Birmingham / Christmas Rock / Blame It On The Mistletoe / Santa's Gonna Take It All Back / Night Before Christmas / Hot Rod Sleigh / Christmas To Christmas / Jesus Gets Jealous Of Santa Claus / Mary It's Christmas / All I Want For Christmas / What Made The Baby Cry
04/1996
CD MERCURY 531192 (US)
BLUE MOON - Lonely / Every Night / Closin' Time At Home / Woman's Touch / Does That Blue Moon Ever Shine On You / Lucky Me / She's Perfect / She's Gonna Get It / Me Too / Hello
06/1997
CD MERCURY 534836 (US)
DREAM WALKIN' - We Were In Love / Dream Walkin' / You Don't Anymore / Jacky Don Tucker (Play By The Rules Miss All The Fun) / Tired / Double Wide Paradise / Yet, She Ran Away With A Rodeo Clown / Strangers Again / I'm So Happy I Can't Stop Cryin' / I Don't Understand My Girlfriend
10/1998
CD MERCURY 558962 (US)
GREATEST HITS VOLUME ONE - Getcha Some / If A Man Answers / Should've Been A Cowboy / Dream Walkin' / Little Less Talk And A Lot More Action / Does That Blue Moon Ever Shine On You / I'm So Happy I Can't Stop Crying / We Were In Love / You Ain't Much Fun / Who's That Man / Wish I Didn't Know Now / Big Ol' Truck / Me Too / He Ain't Worth Missing
11/1999
CD DREAMWORKS 50209 (US)
HOW DO YOU LIKE ME NOW - How Do You Like Me Now / When Love Fades / Blue Bedroom / New Orleans / Country Comes To Town / Heart To Heart (Stelen's Song) / She Only Gets That Way With Me / Die With Your Boots On / You Shouldn't Kiss Me Like This / Hold You Kiss You Love You / Do I Know You (Bottom Of My Heart) / I Know A Wall When I See One
08/2001
CD DREAMWORKS 50297 (US)
PULL MY CHAIN - I'm Just Talkin' About Tonight / I Wanna Talk About Me / I Can't Take You Anywhere / You Leave Me Weak / Tryin' To Matter / Pull My Chain / Sha La La Song / Pick 'em Up And Lay 'em Down / Forever Hasn't Got Here Yet / Yesterday's Rain / My List / You Didn't Have As Much To Lose / Gimme Eight Seconds
08/2002
CD DREAMWORKS 50254 (US)
UNLEASHED - Courtesy Of The Red White And Blue (The Angry American) / Who's Your Daddy / Good To Go To Mexico / It's All Good / Beer For My Horses / Losing My Touch / Huckleberry / It Works For Me / Ain't It Just Like You / Rock You Baby / Rodeo Moon / That's Not How It Is / Courtesy Of The Red White And Blue (The Angry American)
04/2003
CD UNIVERSAL 170351 (US)
THE MILLENNIUM COLLECTION - Should've Been A Cowboy / He Ain't Worth Missing / Little Less Talk And A Little More Action / Wish I Didn't Know Now / Who's That Man / You Ain't Much Fun / Does That Blue Moon Ever Shine On You / Woman's Touch / Me Too / I'm So Happy I Can't Stop Crying / We Were In Love / Dream Walkin'
11/2003
CD DREAMWORKS 50435 (US)
SHOCK'N Y'ALL - I Love This Bar / Whiskey Girl / American Soldier / If I Was Jesus / Time For Me To Ride / Sweet / Don't Leave I Think I Love You / Nights I Can't Remember Friends I'll Never Forget / Baddest Boots / Critic / Taliban Song / Weed With Willie
11/2004
CD DREAMWORKS 000232312 (US)
GREATEST HITS 2 - How Do You Like Me Now? / Country Comes To Town / You Shouldn't Kiss Me Like This / I'm Just Talkin' About Tonight / I Wanna Talk About Me / My List / Courtesy Of The Red, White And Blue (The Angry American) / Who's Your Daddy? / Beer For My Horses (with Willie NELSON) / Stays In Mexico / Mockingbird (with Krystal KEITH) / Go With Her / You Ain't Much Fun / Should've Been A Cowboy
05/2005
CD DREAMWORKS 000430002 (US)
HONKYTONK UNIVERSITY - Honkytonk University / As Good As I Once Was / She Ain't Hooked On Me No More (Toby KEITH & Merle HAGGARD) / As Good As I Once Was / She Ain't Hooked On Me No More / Big Blue Note / Just the Guy To Do It / She Left Me / Knock Yourself Out / You Ain't Leavin' (Thank God Are Ya) / I Got It Bad / Your Smile / Where You Gonna Go / You Caught Me At A Bad Time
06/2005
3 CD MERCURY 000482502 (US)
CHRONICLE :

CD 1 : Should've Been A Cowboy / He Ain't Worth Missing / Under The Fall / Some Kinda Good Kinda Hold On Me / Wish I Didn't Know Now / Ain't No Thang / Valentine / A Little Less Talk And A Lot More Action / Mama Come Quick / Close But No Guitar
CD 2 : Who's That Man / Big Ol' Truck / Victoria's Secret / No Honor Among Thieves / Upstairs Downtown / You Ain't Much Fun / In Other Words / Woman Behind The Man / Life Was A Play (The World A Stage) / Boomtown
CD 3 : The Lonely / Every Night / Closin' Time At Home / A Woman's Touch / Does That Blue Moon Ever Shine On You / Lucky Me / She's Perfect / She's Gonna Get It / Me Too / Hello

06/2006
CD SHOW DOG 000627002 (US)
WHITE TRASH WITH MONEY - Get Drunk And Be Somebody / A Little Too Late / Can't Buy You Money / Crash Here Tonight / Grain Of Salt / I Ain't Already There / Note To Self / Too Far This Time / Ain't No Right Way / Brand New Bow / Hell No / Runnin' Block
06/2007
CD SHOW DOG 5 (US)
BIG DOG DADDY - High Maintenance Woman / Love Me If You Can / White Rose / Get My Drink On / Wouldn't Wanna Be Ya / Big Dog Daddy / Burnin' Moonlight / Walk It Off / I Know She Hung The Moon / Pump Jack / Hit It
10/2007
CD SHOW DOG 15 (US)
A CLASSICS CHRISTMAS - Have Yourself A Merry Little Christmas / Let It Snow, Let It Snow, Let It Snow / Winter Wonderland / Silver Bells / I'll Be Home For Christmas / Rockin' Around The Christmas Tree / The Christmas Song / White Christmas / Frosty The Snowman / Please Come Home For Christmas / Little Drummer Boy / Go Tell It On The Mountain / The First Noel / O Come All Ye Faithful / Silent Night / Away In A Manger / We Three Kings / O Little Town Of Bethlehem / God Rest Ye Merry Gentlemen / Joy To The World /
05/2008
2 CD SHOW DOG 103340 (US)
35 BIGGEST HITS :

CD 1 : Should've Been A Cowboy / He Ain't Worth Missing / A Little Less Talk And A Lot More Action / Wish I Didn't Know Now / Who's That Man / Upstairs Downtown / You Ain't Much Fun / Big Ol' Truck / Does That Blue Moon Ever Shine On You / A Woman's Touch / Me Too / We Were In Love / I'm So Happy I Can't Stop Crying (with STING) / Dream Walkin' / Getcha Some / How Do You Like Me Now?! / Country Comes To Town / You Shouldn't Kiss Me Like This
CD 2 : I'm Just Talkin' About Tonight / I Wanna Talk About Me / My List / Courtesy Of The Red, White And Blue (The Angry American) / Who's Your Daddy? / Beer For My Horses (with Willie NELSON) / I Love This Bar / American Soldier / Whiskey Girl / Stays In Mexico / Mockingbird (with Krystal KEITH) / Honkytonk U / As Good As I Once Was / Big Blue Note / Get Drunk And Be Somebody / A Little Too Late / She's A Hottie

10/2008
CD SHOW DOG 22 (US)

THAT DON'T MAKE ME A BAD GUY -

That Don't Make Me A Bad Guy / Creole Woman / God Love Her / Lost You Anyway / Missing Me Some You / Hurt A Lot Worse When You Go / Time That It Would Take / You Already Love Me / She Never Cried In Front Of Me / Cabo San Lucas / I Got It For You Girl
10/2008
2 CD UME 111348 (US)
CHRISTMAS & HITS DUOS :

CD 1 : Santa I'm Right Here (with Ron REYNOLDS) / Bethlehem In Birmingham (with Weston HARVEY) / Christmas Rock (with Lewis ANDERSON) / Blame It On Mistletoe / Santa's Gonna Take It All Back / The Night Before Christmas (with Sam HOGIN) / Hot Rod Sleigh / Christmas To Christmas (with Ron HELLARD) / Jeasus Gets Jealous Of Santa Claus (with Vernon RUST) / Mary, It's Christmas / All I Want For Christmas (with Ronnie ROGERS) / What Made The Baby Cry? (with William GOLAY Jr.)
CD 2 : How Do You Like Me Now?! (with Chuck CANNON) / Country Comes To Town / You Shouldn't Kiss Me Like This / I'm Just Talkin' About Tonight (with Scotty EMERICK) / I Wanna Talk About Me (with Bobby BRADDOCK) / My List (with Rand BISHOP) / Courtesy Of The Red, White And Blue (The Angry American) / Who's Your Daddy? / Beer For My Horses (with Scotty EMERICK) / Stays In Mexico / Mockingbird (with Charlie FOXX) / Go With Her (with Dean DILLON) / You Ain't Much Fun (with Carl GOFF Jr.) / Should've Been A Cowboy

08/2009
CD SHOW DOG 27 (US)
AMERICAN RIDE - American Ride / Gypsy Driftin' / Are You Feelin' Me / Every Dog Has Its Day / Woke Up On My Own / If You're Tryin' You Ain't / Cryin' For Me (Wayman's Song) (with Marcus MILLER) / If I Had One / You Can't Read My Mind / Tender As I Wanna Be / Loaded / Ballad Of Balad
10/2010
CD SHOW DOG 001449202 (US)
BULLETS IN THE GUN - Bullets In The Gun / Somewhere Else / Trailerhood / In A Couple Of Days / Think About You All Of The Time / Kissin' In The Rain / Drive It On Home / Ain't Breakin' Nothin' / Is That All You Got / Get Out Of My Car
10/2011
CD SHOW DOG 15592 (US)
CLANCY'S TAVERN - Made In America / I Need To Hear A Country Song / Clancy's Tavern / Tryin' To Fall In Love / Just Another Sundown / Beers Ago / South Of You / Club Zydeco Moon / I Won't Let You Down / Red Solo Cup / Chill-Axin'
11/2012
CD SHOW DOG B 001705902 (US)
HOPE ON THE ROCKS - Hope On The Rocks / The Size I Wear / Scat Cat / I Like Girls That Drink Beer / Get Got / Haven't Had A Drink All Day / Haven't Seen The Last Of You / Cold Beer Country / Missed You Just Right / You Ain't Alone
11/2013
CD SHOW DOG B 001881602 (US)

Drinks After Work - Shut Up And Hold On / Drinks After Work / Before We Knew They Were Good / Little Miss Tear Stain / The Other Side Of Him / Last Living Cowboy / Show Me What You're Workin' With / Whole Lot More Than That / I'll Probably Be Out Fishin' / Hard Way To Make An Easy Living

11/2013
CD SHOW DOG 001922602 (US) (deluxe edition)

Drinks After Work - Shut Up And Hold On / Drinks After Work / Before We Knew They Were Good / Little Miss Tear Stain / The Other Side Of Him / Last Living Cowboy / Show Me What You're Workin' With / Whole Lot More Than That / I'll Probably Be Out Fishin' / Hard Way To Make An Easy Living / Call A Marine / Chuckie's Gone / Margaritaville / (Toby KEITH feat: Sammy HAGAR)

02/2014
2 CD SHOW DOG B 001988302 (US) (deluxe edition)

Double Shot :

CD 1 : Bullets In The Gun / Somewhere Else / Trailerhood / In A Couple Of Days / Think About You All Of The Time / Kissin' In The Rain / Drive It On Home / Ain't Breakin' Nothin' / Is That All You Got / Get Out Of My Car / 11 Months And 29 Days / I've Been A Long Time Leaving (But I'll Be A Long Time Gone) / Chug-A-Lug / Sundown
CD 2 : Made In America / I Need To Hear A Country Song / Clancy's Tavern / Tryin' To Fall In Love / Just Another Sundown / Beers Ago / South Of You / Club Zydeco Moon / I Won't Let You Down / Red Solo Cup / Chill-Axin' / High Time (You Quit Your Low Down Ways) / Truck Drivin' Man / Shambala / Memphis

06/2014
5 CD SHOW DOG B 002079502 (US)

5 Rounds :

CD 1 : That Don't Make Me A Bad Guy / Creole Woman / God Love Her / Lost You Anyway / Missing Me Some You / Hurt A Lot Worse When You Go / Time That It Would Take / You Already Love Me / She Never Cried In Front Of Me / Cabo San Lucas / I Got It For You
CD 2 : American Ride / Gypsy Driftin' / Are You Feelin' Me / Every Dog Has Its Day / Woke Up On My Own / If You're Tryin' You Ain't / Cryin' For Me (Wayman's Song) / If I Had One / You Can't Read My Mind / Tender As I Wanna Be / Loaded / Ballad Of Balad
CD 3 : Bullets In The Gun / Somewhere Else / Trailerhood / In A Couple Of Days / Think About You All Of The Time / Kissin' In The Rain / Drive It On Home / Ain't Breakin' Nothin' / Is That All You Got / Get Out Of My Car
CD 4 : Made In America / I Need To Hear A Country Song / Clancy's Tavern / Tryin' To Fall In Love / Just Another Sundown / Beers Ago / South Of You / Club Zydeco Moon / I Won't Let You Down / Red Solo Cup / Chill-Axin'
CD 5 : Hope On The Rocks / The Size I Wear / Scat Cat / I Like Girls That Drink Beer / Get Got / Haven't Had A Drink All Day / Haven't Seen The Last Of You / Cold Beer Country / Missed You Just Right / You Ain't Alone

10/2015
CD SHOW DOG 002281902 (US)

35 MPH Town -

Drunk Americans / Good Gets Here / 35 MPH Town / Rum Is The Reason / What She Left Behind / 10 Foot Pole / Haggard, Hank & Her / Sailboat For Sale / Every Time I Drink I Fall In Love / Beautiful Stranger
09/2017
CD SHOW DOG SDN 001 (US)

The Bus Songs - Shitty Golfer / Wacky Tobaccy / Runnin' Block / Brand New Bow / Call A Marine / Hell No / The Critic / The Size I Wear / Ballad Of Balad / Rum Is The Reason / Weed With Willie [live] / Get Out Of My Car [live]

2017
CD Universal 002681702 (US)
ICON - How Do You Like Me Now / I Love This Bar / As Good As I Once Was / Courtesy Of The Red, White And Blue / I Wanna Talk About Me / Beer For My Horses (featuring Willie

Nelson

) / A Little Less Talk And A Lot More Action / Whiskey Girl / American Soldier / Stays In Mexico / Honkytonk U
10/2017
CD SHOW DOG 40364CD (US)

Greatest Hits - The Show Dog Years - That's Country Bro / Made In America / Beers Ago / Red Solo Cup / American Ride / Don't Let The Old Man In / God Love Her / Hope On The Rocks / Trailerhood / Cryin' For Me [Wayman's Song] / She Never Cried In Front Of Me / High Maintenance Woman / Love Me If You Can / Lost You Anyway / Back In The 405 / American Ride [official remix]

10/2021
CD SHOW DOG 36503CD (US)

Peso in My Pocket - Oklahoma Breakdown / Peso In My Pocket / Old School / Old Me Better / Days I Shoulda Died / Growing Up Is A Bitch / She's Drinkin' Again / Thunderbird / Take A Look At My Heart / Happy Birthday America
© Rocky Productions 15/10/2021