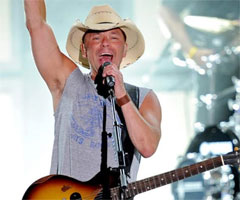 Chanteur Country US né Kenneth A. Chesney, le 26 Mars 1968 à Knoxville (Tennessee).

Contemporary country star Kenny Chesney didn't have the immediate breakout success that many of his peers enjoyed upon signing with major labels, but gradually built up a significant following via hard work, pop-friendly ballads, and a likable, average-guy persona. Chesney was born in Knoxville, TN, in 1968 and raised in the nearby small town of Luttrell, better known as the home of Chet Atkins. He grew up listening to both country and rock & roll, but didn't get serious about music until college, when he studied marketing at East Tennessee State University. He received a guitar as a Christmas present and set about practicing, and was soon performing with the college bluegrass band. He soon started writing songs as well and played for tips in local venues — most often a Mexican restaurant — every night he could; additionally, he managed to sell 1,000 copies of a self-released demo album. After graduation in 1991, he moved to Nashville and became the resident performer at the Turf, a rougher honky tonk in the city's historic district. While he gained experience, it wasn't the sort of place where he'd be discovered, and in 1992, he moved on to a publishing deal with Acuff-Rose. From there he landed a record contract with Capricorn and released his debut album, In My Wildest Dreams, in late 1993.
Unfortunately for Chesney, Capricorn wasn't much of a country label; not only was the album underpromoted, but the label's country division shut down completely not long after its release. Still, it sold 100,000 copies and caught the attention of several big-time major labels. Chesney ended up signing with RCA subsidiary BNA, which released All I Need to Know in 1995. The album gave him his first two Top Ten hits in the title track and "Fall in Love." His follow-up, 1996's Me and You, became his first album to go gold, thanks to two number two singles in the title track and "When I Close My Eyes." 1997's I Will Stand was another gold-selling effort that gave Chesney his first-ever number one hit in "She's Got It All," plus another number two with "That's Why I'm Here." His big-time breakthrough, however, came with 1999's Everywhere We Go, which sold over two million copies and spawned two number one hits with "You Had Me from Hello" and "How Forever Feels"; it also featured another Top Ten single in "What I Need to Do," and another, "She Thinks My Tractor's Sexy," that just missed. In 2000, Chesney issued his first Greatest Hits compilation, and two newly recorded songs — "I Lost It" and "Don't Happen Twice" — went to number three and number one, respectively.
Greatest Hits became Chesney's second straight double-platinum release and topped the country LP charts. He followed it with the all-new No Shirt, No Shoes, No Problem in early 2002, which gave him his strongest commercial performance yet. It, too, hit number one on the country album charts and spun off four Top Ten singles in "Young," the number one "The Good Stuff," the Bill Anderson co-write "A Lot of Things Different," and "Big Star." A Christmas album plugged the gap for 2003, and he returned strongly with 2004's When the Sun Goes Down, which won in the Album of the Year category at the Country Music Awards. He repeated the win, this time as Entertainer of the Year, with Be as You Are (Songs from an Old Blue Chair). Chesney found himself the subject of much tabloid fodder in 2005 with his surprise marriage to actress Renée Zellweger (he had composed 1999's "You Had Me from Hello" after watching Zellweger in the 1996 film Jerry Maguire). The pair split that same year, citing irreconcilable differences, and Chesney released the chart-topping The Road and the Radio in November. In the years that followed, Chesney kept busy, releasing Live: Live Those Songs Again in 2006 and Just Who I Am: Poets & Pirates in 2007. In April 2010, Chesney and director Joe Thomas released the 3D concert film Kenny Chesney: Summer in 3D. Taken from his 2009 Sun City Carnival Tour, the film included 23 songs from six stadium shows, shot in 3D, interspersed with interviews and home movies. A completely new studio album, Hemingway's Whiskey, named after a Guy Clark song, also appeared in 2010. 13th studio album, Welcome to the Fishbowl, arrived in 2012.
Welcome to the Fishbowl performed respectably, debuting at number two on the Billboard 200 and generating the number one country single "Come Over," along with the Top 20 hits "Feel Like a Rock Star" and "El Cerrito Place." Following its release, Chesney's label BNA shuttered and he jumped over to Columbia Nashville, which released Life on a Rock in April 2013. The album hit number one, and the single "Pirate Flag" reached the country Top Ten. Chesney quickly followed Life on a Rock with The Big Revival. A conscious shift toward a brighter sound, The Big Revival was Chesney's liveliest work of the decade, as evidenced by its first single, "American Kids," a singalong that peaked at number two on the country chart.
Upon its September 2014 release, The Big Revival debuted at number two on Billboard's Top 200 and number one on the country chart, and it spawned three additional country Top Ten singles: "Til It's Gone," the Grace Potter duet "Wild Child," and "Save It for a Rainy Day." In the spring of 2016, Chesney returned with "Noise," the first single from Cosmic Hallelujah, the full-length album that was originally called Some Town Somewhere and scheduled for July release, but was retitled and rescheduled for October that same year. Chesney followed Cosmic Hallelujah in October 2017 with the double-disc Live in No Shoes Nation, his first live album in a decade.
Ending his contract with Sony Music Nashville, Chesney announced a move to Warner Bros. in early 2018 and in the spring of that year, issued the optimistic single "Get Along." It was the first single from Songs for the Saints, an album written as a tribute to the victims of Hurricane Irma. The album landed at number two on the Billboard 200 and topped the country chart. In July 2019, Chesney released the song "Tip of My Tongue," which he co-wrote with Ross Copperman and Ed Sheeran. The track served as the first single off his 2020 studio album Here and Now.
https://en.wikipedia.org/wiki/Kenny_Chesney
Talents : Vocals, Songwriter, Guitar
Style musical : Contemporary Country, Traditional Country

https://youtu.be/ucqpEnwgN2M
Years in activity :
| | | | | | | | | | | | |
| --- | --- | --- | --- | --- | --- | --- | --- | --- | --- | --- | --- |
| 1910 | 20 | 30 | 40 | 50 | 60 | 70 | 80 | 90 | 2000 | 10 | 20 |
DISCOGRAPHY
Singles
10/1993
SP CAPRICORN 7-18323 (US)
.
Whatever It Takes / I'd Love To Change Your Name
07/1994
SP CAPRICORN 7-49323 (US)
.
High And Dry / Somebody's Callin'
03/1995
SP BNA 64278-7 (US)
.
Fall In Love / Something About You And A Dirt Road
07/1995
SP BNA 64347-7 (US)
.
All I Need To Know / Someone Else's Hog
11/1995
SP BNA 64352-7 (US)
.
Grandpa Tell Me So / Whatever It Takes
03/1996
CD BNA 64435-2 (US)
.
Back In My Arms Again
04/1996
SP BNA 64523-7 (US)
.
Back In My Arms Again / Honey Would You Stand By Me
07/1996
SP BNA 64589-7 (US)
.
Me And You / I Finally Found Somebody
11/1996
SP BNA 64726-7 (US)
.
When I Close My Eyes / My Poor Old Heart
05/1997
SP BNA 64894-7 (US)
She's Got It All / Lonely Needin' Lovin'
09/1997
SP BNA 64987-7 (US)
.
Chance / When I Close My Eyes
02/1998
SP BNA 65399-7 (US)
.
That's Why I'm Here / Chance
08/1998
SP BNA 65570-7 (US)
.
I Will Stand / She Always Says It First
12/1998
SP BNA 65666-7 (US)
.
How Forever Feels / You Win I Win We Lose
02/1999
CD BNA 65704-2 (US)
.
Team Of Destiny
04/1999
CD BNA 65745-2 (US)
.
You Had Me From Hello
12/1999
SP BNA 65964-7 (US)
.
What I Need To Do / She Thinks My Tractor's Sexy
07/2000
SP BNA 69007-7 (US)
.
I Lost It / Tin Man
01/2001
SP BNA 69035-7 (US)
.
Don't Happen Twice / I Lost It
2001
SP BNA 69131-7 (US)
.
Young / For The First Time
07/2002
SP BNA 69172-7 (US)
.
Lot Of Things Different / ?
10/2007
CD RCA 717556 (US)
Never Wanted Nothing More / It Ain't Cool To Be Crazy About You / Never Wanted Nothing More

[Ringle]
Albums
05/1994
CD CAPRICORN 42023 (US)
IN MY WILDEST DREAMS - Whatever It Takes / Somebody's Callin' / Tin Man / High And Dry / I Finally Found Somebody / When She Calls Me Baby / In My Wildest Dreams / I Want My Rib Back / Angel Loved The Devil / I'd Love To Change Your Name
06/1995
CD BNA 66562 (US)
ALL I NEED TO KNOW - Fall In Love / Grandpa Told Me So / Bigger The Fool (The Harder The Fall) / All I Need To Know / Honey Would You Stand By Me / Someone Else's Hog / Me And You / Between Midnight And Daylight / Paris Tennessee / Tin Man
06/1996
CD BNA 66908 (US)
ME AND YOU - Back In My Arms Again / Ain't That Love / When I Close My Eyes / Back Where I Come From / Turn For The Worse / Me And You / (Turn Out The Lights And) Love Me Tonight / Another Friday Night / No Small Miracle / My Poor Old Heart / It's Never Easy To Say Goodbye
07/1997
CD BNA 67498 (US)
I WILL STAND - She's Got It All / You Win I Win We Lose / She Gets That Way / I Will Stand / That's Why I'm Here / Steamy Windows / From Hillbilly Heaven To Honky Tonk Hell / She Always Says It First / Lonely Needin' Lovin' / Chance / When I Close My Eyes
03/1999
CD BNA 67655 (US)
EVERYWHERE WE GO - What I Need To Do / How Forever Feels / You Had Me From Hello / Kiss Me Kiss Me Kiss Me / Life Is Good / Everywhere We Go / She Thinks My Tractor's Sexy / California / Baptism / Woman Knows / I Might Get Over You
09/2000
CD BNA 67976 (US)
GREATEST HITS - I Lost It / Don't Happen Twice / Tin Man / Fall In Love / All I Need To Know / For The First Time / Me And You / Back Where I Come From / When I Close My Eyes / She's Got It All / That's Why I'm Here / How Forever Feels / You Had Me From Hello / She Thinks My Tractors's Sexy / What I Need To Do / Baptism / Because Of Your Love
04/2002
CD BNA 67038 (US)
NO SHOES NO SHIRT NO PROBLEMS - Young / Remember / Lot Of Things Different / Good Stuff / Big Star / On The Coast Of Somewhere Beautiful / Never Gonna Feel Like That Again / Dreams / No Shoes No Shirt No Problems / Live Those Songs / One Step Up / I Can't Go There
10/2003
CD BNA 51808 (US)
ALL I WANT FOR CHRISTMAS IS A REAL GOOD TAN - All I Want For Christmas Is A Real Good Tan / Jingle Bells / I'll Be Home For Christmas / Christmas In Dixie / Thank God For Kids / Silver Bells / Just A Kid / Angel At The Top Of My Tree / Pretty Paper / Silent Night / O Little Town Of Bethlehem
02/2004
CD BNA 56609 (US)
WHEN THE SUN GOES DOWN - There Goes My Life / I Go Back / When The Sun Goes Down / Woman With You / Some People Change / Anything But Mine / Keg In The Closet / When I Think About Leaving / Being Drunk's A Lot Like Loving You / Outta Here / Old Blue Chair / Live Those Songs / What I Need Do To / Please Come To Boston
01/2005
CD BNA 61530 (US)
BE AS YOU ARE - Old Blue Chair / Be as You Are / Guitars And Tiki Bars / Island Boy / Somewhere In The Sun / Boston / Something Sexy About The Rain / French Kissing Life / Key Lime Pie / Sherry's Living In Paradise / Magic / Soul Of A Sailor / Old Blue Chair
08/2005
CD BNA 72960 (US)
THE ROAD AND THE RADIO - The Road And The Radio / Living In Fast Forward / Who You'd Be Today / You Save Me / Summertime / In A Small Town / Beer In Mexico / Freedom / Tequila Loves Me / Somebody Take Me Home / Like Me
09/2006
CD BNA 86578 (US)
LIVE - THOSE SONGS AGAIN - Live Those Songs / Young / Never Gonna Feel Like That Again / Beer In Mexico / Keg In The Closet / What I Need To Do / I Go Back / When The Sun Goes Down / On The Coast Of Somewhere Beautiful / Anything But Mine / Back Where I Come From / Don't Happen Twice / How Forever Feels / She Thinks My Tractor's Sexy
09/2007
CD RCA 711457 (US)
JUST WHO I AM : POETS & PIRATES - Never Wanted Nothing More / Don't Blink / Shiftwork (with George STRAIT) / Just Not Today / Wife And Kids / Got A Little Crazy / Better As A Memory / Dancin' For The Groceries / Wild Ride (with Joe WALSH) / Scare Me / Demons
02/2008
CD LEGACY 8869722101 (US)
I WILL STAND / ME AND YOU - She's Got It All / You Win I Win We Lose / She Gets That Way / I Will Stand / That's Why I'm Here / Steamy Windows / From Hillbilly Heaven To Honky Tonk Hell / She Always Says It First / Lonely Needin' Lovin' / Chance / When I Close My Eyes / Back In My Arms Again / Ain't That Love / When I Close My Eyes / Back Where I Come From / Turn For The Worse / Me And You / (Turn Out The Lights And) Love Me Tonight / Another Friday Night / No Small Miracle / My Poor Old Heart / It's Never Easy To Say Goodbye
09/2008
CD BNA 736843 (US)
EVERYWHERE WE GO / BE AS YOU ARE - Old Blue Chair / Be as You Are / Guitars And Tiki Bars / Island Boy / Somewhere In The Sun / Boston / Something Sexy About The Rain / French Kissing Life / Key Lime Pie / Sherry's Living In Paradise / Magic / Soul Of A Sailor / Old Blue Chair
10/2008
CD BLUE CHAIR / BNA / SONY 8869736726 (US)
LUCKY OLD SUN - I'm Alive (with Dave MATTHEWS) / Way Down Here / Boats / Everybody Wants To Go To Heaven (with The WAILERS) / Down The Road (with Mac McANALLY) / Spirit Of A Storm / Ten With A Two / The Life / Key's In The Conch Shell / Nowhere To Go, Nowhere To Be / That Lucky Old Sun (with Willie NELSON) / Boston

[live]

/ Got A Little Crazy

[live]

/ Soul Of A Sailor

[live]

/ Guitars And Tiki Bars

[live]

05/2009
CD BNA 749530 (US)
GREATEST HITS II - Out Last Night

/

Living In Fast Forward / Young / Summertime / Down The Road (with Mac McANALLY) / Béer In Mexico / There Goes My Life / When The Sun Goes Down (with Uncle KRACKER) / Anything But Mine / Be As You Are / I Go Back / No Shoes, No Shirt, No Problems / The Good Stuff / Never Wanted Nothing More / I'm Alive
02/2010
3 CD SONY 7645752 (UK)
KENNY CHESNEY - 3 ORIGINAL ALBUM CLASSICS :

CD 1 : Whatever It Takes / Somebody's Callin' / The Tin Man / High & Dry / I Finally Found Somebody / When She Calls Me Baby / In My Wildest Dreams / I Want My Rib Back / Angel Loved The Devil / I'd Love To Change Your Name
CD 2 : Fall In Love / Grandpa Told Me So / The Bigger The Fool (The Harder The Fall) / All I Need To Know / Honey Would You Stand By Me / Someone Else's Hog / Me And You / Between Midnight And Daylight / Paris, Tennessee / The Tin Man
CD 3 : Back In My Arms Again / Ain't That Love / When I Close My Eyes / Back Where I Come From / Turn For The Worse / Me And You / (Turn Out The Light And) Love Me Tonight / Another Friday Night / No Small Miracle / My Poor Old Heart / It's Never Easy To Say Goodbye

09/2010
CD BNA 57445 (US)
HEMINGWAY'S WHISKEY - The Boys Of Fall / Live A Little / Coastal / You And Tequila / Seven Days / Small Y'all (with George JONES) / Where I Grew Up / Reality / Round And Round / Somewhere With You / Hemingway's Whiskey
06/2012
CD SONY 88697948662 (US)

WELCOME TO THE FISHBOWL - Come Over / Feel Like A Rock Star (feat. Tim McGRAW) / Sing 'Em Good My Friend / Welcome To The Fishbowl / I'm A Small Town / El Cerrito Place / Makes Me Wonder / While He Still Knows Who I Am / Time Flies / To Get To You (55th And 3rd) / Always Gonna Be You

04/2013
CD BLUE CHAIR / BNA 88765454792 (US)
LIFE ON A ROCK -

Pirate Flag / When I See This Bar / Spread The Love (Kenny CHESNEY

feat. ELAN, The W

AILERS) /

Lindy

/

Coconut Tree (Kenny CHESNEY

feat. Willie NELSON) /

It's That Time Of Day / Life On A Rock / Marley / Must Be Something I Missed / Happy On The Hey Now (A Song For Kristi)

09/2014
CD BLUE CHAIR / BNA 88843062742 (US)

The Big Revival -

The Big Revival / Drink It Up / Til It's Gone / American Kids / Wild Child (Kenny

Chesney

feat: Grace P

otter

) / Beer Can Chicken / Rock Bottom / Don't It / Save It For A Rainy Day / Flora-Bama / If This Bus Could Talk
10/2016
CD BLUE CHAIR / Columbia 88875180372 (US)

Cosmic Hallelujah -

Trip Around The Sun / All The Pretty Girls / Setting The World On Fire (Kenny C

hesney

feat:

P!nk

) / Noise / Bucket / Bar At The End Of The World / Some Town Somewhere / Rich And Miserable / Jesus And Elvis / Winnebago / Coach / I Want To Know What Love Is
10/2017
2 CD BLUE CHAIR / Columbia 88875134972 (US)

Live in No Shoes Nation :

CD 1 : Flora-Bama / Summertime / Big Star / Boston / When I See This Bar / No Shoes, No Shirt, No Problems / Anything But Mine / Down The Road / Guitars And Tiki Bars / Hemingway's Whiskey / Everybody Wants To Go To Heaven / I'm Alive / Save It For A Rainy Day / Pirate Flag
CD 2 : Somewhere With You / I Go Back / One Step Up / American Kids / You And Tequila / Young / There Goes My Life / Out Last Night / Dust On The Bottle / Coastal / The Boys Of Fall / Noise / Old Blue Chair / Medley :The Joker - Three Little Birds / Happy On The Hey Now (A Song For Kristi)

07/2018
CD BLUE CHAIR / Parlophone / Warner Bros. 9362490592 (US)

Songs for the Saints - Song For The Saints / Every Heart / Get Along / Pirate Song / Love for Love City (Kenny Chesney feat: Ziggy Marley) / Ends Of The Earth / Gulf Moon / Island Rain / Trying To Reason With Hurricane Season (Kenny Chesney feat: Jimmy Buffett) / We're All Here / Better Boat

05/2020
CD Warner Music 631374 (US)

Here and Now - We Do / Here And Now / Everyone She Knows / Wasted / Knowing You / Heartbreakers / Someone To Fix / Happy Does / Tip Of My Tongue / You Don't Get To / Beautiful World / Guys Named Captain
© Rocky Productions 2/05/2020