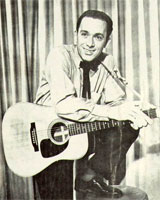 Chanteur Rockabilly US né le 6 Décembre 1930 à Dyersburg (Tennessee). Connie Dycus est décédé le 2 Janvier 1978.

US Rockabilly singer, Connie Dycus was born Dec. 6, 1930 in Dyersburg Tennessee. He served in the Armed Forces and in the Korean War from 1952-54. In July 1955 he moved to Flint, Michigan and began working at General Motors. Connie was a Mason.
Connie was best known for his weekly live Country Music Show aired on WJRT-TV Channel 12 out of Flint called The Connie Dycus Show and The Country Cut-ups in the early 1960s.
Connie played many live engagements, clubs private parties etc. He recorded 20 different songs..and wrote 14 of those 20! He released one LP entitled "Let Ole Lonesome In". Connie was always available for charitable benefits and well liked by all!
Connie F. Dycus died January 2, 1978 in Flint, Michigan. He was inducted into the Michigan Country Music Hall of Fame in 1997 at Prairieville, Michigan.
Talents : Vocals, Guitar
Style musical : Rockabilly, Traditional Country
Years in activity :
| | | | | | | | | | | | |
| --- | --- | --- | --- | --- | --- | --- | --- | --- | --- | --- | --- |
| 1910 | 20 | 30 | 40 | 50 | 60 | 70 | 80 | 90 | 2000 | 10 | 20 |
DISCOGRAPHY
Singles
| | | |
| --- | --- | --- |
| 11/1958 | SP MERCURY 71376X45 (US) | Rock-A-Bye Baby Rock / Mind If I Cry |
| 04/1959 | SP COLT 45 EM 1005 (US) | I Know / Please Mister |
| 01/1960 | SP POOR BOY 45-108 (US) | Handful Of Ashes / Same Old Thing |
| 1960 | SP PROPHONIC 5020 (US) | Would You Believe / (If You Ain't Tried It) Don't Knock It |
| 11/1960 | SP DIXIE 45-886 (US) | I Could Shoot Myself (If I Wasn't Afraid Of A Gun) / Lying All The Time |
| 1963 | SP GREENLEY 1006 (US) | Mr. Connie DYCUS - I'll Be Untrue (To Be With You) / Love Commandments |
| 1964 | SP KING 45-5958 (US) | Mr. Connie DYCUS - I'll Be Untrue / You Can't Stop Me |
| 1964 | SP H & K K-100 (US) | Mr. Connie DYCUS - This Boots Are Made For Walkin'/ I Can't Forgive Myself |
| 1967 | SP RIMROCK RS-235 (US) | Let Ole Lonesome In / Who |
| 1968 | SP CATHAY 1201 (US) | (Mr) Connie DYCUS - If That's The Way You Want It / Wrap It Up |
| 1968 | SP CATHAY 1203 (US) | (Mr) Connie DYCUS -Jake Legged Preacher / You've Got Nothing To Hide (But Your Face) |
| 1968 | SP CATHAY 1205 (US) | (Mr) Connie DYCUS -Borrowed Time / It's a Damned Good Way |
| 1970 | SP RIMROCK RS-324 (US) | Mr. Connie DYCUS - Dark As A Dungeon / Love's Commandments |
Album
1972
LP 12" RIMROCK CLP-233 (US)

LET OLE LONESOME IN -

Let Ole Lonesome In / Who / Darn Good Way / You Can't Stop Me / Dark As A Dungeon / Love's Commandments / If You Ain't Tried It Don't Knock It / Please Mister / Borrowed Time / If That's The Way You Want It / Would You Believe / Wrap It Up
© Rocky Productions 12/06/2013