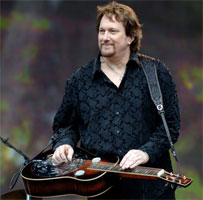 Dobroiste Bluegrass US né le 28 Mai 1956 à Warren (Ohio).

Jerry Douglas is widely renowned as perhaps the finest dobro player in contemporary acoustic music. His main foundation is bluegrass, but Douglas is an eclectic whose tastes run toward jazz, blues, folk, and straight-ahead country as well, and he's equally capable of appealing to bluegrass aficionados or new agers with a taste for instrumental roots music. What's more, his progressive sensibility as a composer has earned him comparisons to like-minded virtuosos Béla Fleck and David Grisman. Douglas was born in Warren, OH, in 1955, and began playing the dobro at age eight with encouragement from his father, who was also a bluegrass musician. By his teen years, Douglas was already a member of his father's band, and his playing was especially influenced by Josh Graves of Flatt & Scruggs' Foggy Mountain Boys. Douglas was discovered at a festival by the Country Gentlemen, who took him on tour with them for the rest of the summer and later brought him into the recording studio. From there, Douglas established himself as a hugely in-demand session musician; during the latter half of the '70s, he worked with the likes of J.D. Crowe & the New South, David Grisman, Ricky Skaggs, Doyle Lawson, and Tony Rice. Additionally, Douglas released his debut album, Fluxology, on Rounder in 1979; he followed it three years later with Fluxedo, which like its predecessor stuck relatively close to traditional (albeit sometimes jazzy) bluegrass.
During the early '80s, Douglas continued his session career with even greater success, adding Emmylou Harris, Béla Fleck, the Whites, and Peter Rowan to his list of credits. He returned to his solo career with 1986's Under the Wire on Sugar Hill, which reflected his interest in the progressive new-acoustic (or "newgrass") movement. He subsequently signed with MCA, where he issued Changing Channels (1987) and the smoother, strongly jazz-influenced Plant Early (1989). More session work for increasingly prominent artists brought him into the '90s, with names like Alison Krauss, Del McCoury, Garth Brooks, Trisha Yearwood, Randy Travis, Clint Black, Patty Loveless, Suzy Bogguss, Reba McEntire, Kathy Mattea, and Dolly Parton on his resumé. In 1992, he returned to Sugar Hill for the more traditional bluegrass outing Slide Rule, which many critics ranked among his finest recordings. The following year brought the all-instrumental Skip, Hop & Wobble, a trio recording with Russ Barenberg and Edgar Meyer. In 1994, Douglas contributed to the Grammy-winning compilation Great Dobro Sessions, and cut a duo album with Peter Rowan, Yonder, in 1996. 1998's Restless on the Farm, true to its title, was a return to Douglas' freewheeling eclecticism, which continued on 2002's Lookout for Hope. Best Kept Secret arrived in September of 2005. In 2008 he recorded the musically adventurous Glide, and followed it with a Christmas album entitled Jerry Christmas in 2009. In 2010 he contributed to Southern Filibuster: The Songs of Tut Taylor, a various-artists compilation acknowledging the far-reaching influence of Taylor on the modern Dobro sound.
In 2010, Douglas recorded the first of several collaborative albums with celebrated Celtic fiddler Aly Bain as part of the latter's Transatlantic Sessions series. Douglas collaborated with composer Jan A.P. Kaczmarek on the soundtrack to the 2012 film Get Low, with Rounder Records releasing the soundtrack; the same year, Douglas released the ambitious solo album Traveler, recorded in Nashville, New Orleans, New York, and in the Southern British town of Banbury, with guest artists including Paul Simon, Eric Clapton, Alison Krauss, Dr. John, and Mumford & Sons. The year 2014 saw the first release from the Earls of Leicester, a group assembled by Douglas to pay homage to the music of his greatest influences, Lester Flatt, Earl Scruggs, and the Foggy Mountain Boys. In addition to Douglas, The Earls of Leicester featured Shawn Camp, Charlie Cushman, Tim O'Brien, Johnny Warren, and Barry Bales. The Jerry Douglas Band made its recording debut in 2017 with What If, a meld of bluegrass and post-bop. This version of the band came together when bassist Daniel Kimbro introduced Douglas, drummer Doug Belote, and violinist Christian Sedelmyer to guitarist Mike Seal, trumpeter Vance Thompson, and saxophonist Jamel Mitchell -- nephew of producer Willie Mitchell and son of James, one of the original Memphis Horns. Radically reworking tunes he'd cut earlier in his career -- "Caveman Bop," "Hey Joe," and "Unfolding" --along with new originals and covers, including Tom Waits' "2:19" -- the album's pre-release single and video. What If was released by Rounder in August 2017 in the midst of the band's national tour.
https://en.wikipedia.org/wiki/Jerry_Douglas
http://www.myspace.com/jerrydouglasband
Talents : Dobro, Slide Guitar
Style musical : Bluegrass, New Acoustic

http://youtu.be/gukFvG8VbK4
Years in activity :
| | | | | | | | | | | | |
| --- | --- | --- | --- | --- | --- | --- | --- | --- | --- | --- | --- |
| 1910 | 20 | 30 | 40 | 50 | 60 | 70 | 80 | 90 | 2000 | 10 | 20 |
DISCOGRAPHY
Albums
1975
LP 12" REBEL SLP-1549 (US)

California Autumn - Tony Rice with The Seldom Scene, J.D. Crowe, Ricky Scaggs & Jerry Douglas - California Autumn / Bullet Man / Mr. Poverty / Billy In The Low Ground / Red Haired Boy / Good Woman's Love / You Don't Know My Mind / Alone And Forsaken / Bugle Call Rag / Georgia On My Mind / Scarborough Fair / Beaumont Rag

08/1979
LP 12" ROUNDER 0093 (US)
FLUXOLOGY - Fluxology / Bill Cheatham / Say A Little Prayer For You / C-Biscuit / Randy Lynn Rag / Wheel Hoss / Red Bud Rag / Alabam / Dixie Hoedown / Blues For Vickie
06/1982
LP 12" ROUNDER 0112 (US)
FLUXEDO - Tennessee Fluxedo / Sunny Skies / Intro / Tell Her Lies (And Feed Her Candy) / Birth Of The Blues / Nite Crawler / Cincinnati Rag / Panhandle Rag / I Think It's Gonna Work Out Fine / Ben Dewberry's Final Run
1983
LP 12" ROUNDER 0180 (US)

THE Bluegrass Album - VOLUME THREE -

California Connection -

Bluegrass Album Band

-

Bobby Hicks /

Todd

Phillips

/

J.D.

Crowe

/

J

erry

Douglas /

T

ony

Rice

/

Doyle

Lawson

-

Devil In Disguise / Letter From My Darling / A Hundred Years From Now / Unfaithful One / Down The Road / I'd Rather Be Alone / Big Spike Hammer / Please Search For Heart / Hey Lonesome / I'm Waiting To Hear You Call Me Darlin / Wall Around Your Heart / Come Back Darlin
1985
LP 12" ROUNDER 210 (US)

THE Bluegrass Album - VOLUME FOUR -

Bluegrass Album Band -

J.D.

Crowe

/

T

ony

Rice

/

Doyle

Lawson

/

J

erry

Douglas

/

Bobby

Hicks /

Todd

Phillips

- Age / Cheyenne / Cora Is Gone / Old Home Town / Talk It All Over With Him / Head Over Heels / Nobody Loves Me / When You Are Lonely / I Might Take You Back Again / Lonesome Wind Blues / Somehow Tonight
1986
LP 12" MCA 5675 (US)
UNDER THE WIRE - T.O.B. / Dhaka Rok / Time Gone By / Monroe's Hornpipe / Before The Blues / The Trip To Kilkerrin / Grant's Corner / Redhill / Two Friends / A New Day
1986
CD ROUNDER CD 0210 (US)
THE BLUEGRASS COMPACT DISC -

J.D.

Crowe

/

T

ony

Rice

/

Doyle

Lawson

/

J

erry

Douglas

/

Bobby

Hicks /

Todd

Phillips

-

Blue Ridge Cabin Home / I Believe In You Darling / A Hundred Years From Now / On My Way Back To The Old Home / Cora Is Gone / The Old Home Town / Take Me In The Lifeboat / Sitting Alone In The Moonlight / Head Over Heels / Ocean Of Diamonds / I'll Never Shed Ahother Tear / Unfaithful One / Is It Too Late Now / Chalk Up Another One / One Tear / Cheyenne / Devill In Disguise / Age / Talk It All Over With Him / Model Church
1987
LP 12" MCA MCA-5965 (US)

CHANGING CHANNELS -

From Ankara To Izmir / Distance - Winter's Edge / Emphysenia Two Step / Waltzing On Thin Ice / Changing Channels / Freemantle / St. Anne's Reel / (Write It On) The Tablet Of Your Heart
1987
CD ROUNDER CD-11535 (US)

EVERYTHING IS GONNA WORK OUT FINE -

Fluxology / Randy Lynn Rag / Bill Cheatham / C-Biscuit / Wheel Hoss / Alabam / Dixie Hoedown / Red Bud Rag / Blues For Vickie / Nite Crawler / Tennessee Fluxedo / Sunny Skies / Intro / Tell Her Lies (And Feed Her Candy) / Birth Of The Blues / Cincinnati Rag / Panhandle Rag / Ben Dewberry's Final Run / I Think It's Gonna Work Out Fine
1989
CD MCA MCAD-6305 (US)
PLANT EARLY - Pushed Too Far / La Conversacion / A Peaceful Return / So On And So Forth / Mexican Rag / Make A Wish / The Swinging Bridge If You've Got The Money (Honey, I've Got The Time)
04/1992
CD SUGAR HILL SH-CD-3797 (US)
SLIDE RULE - Ride The Wild Turkey / Pearlie Mae (with The BROTHER BOYS) / When Papa Played The Dobro (with Alan O'BRYANT) / We Hide & Seek (with Alison KRAUSS) / I Don't Believe You've Met My Baby / Shoulder To Shoulder

[International Bluegrass Music Association Awards Theme]

/ Uncle Sam / It's A Beautiful Life (with Maura O'CONNEL) / Rain On Oliviatown / Hey Joe / A New Day Medley / Shenandoah Breakdown
10/1993
CD SUGAR HILL SH-CD-3817 (US)
SKIP, HOP & WOBBLE - JERRY DOUGLAS, RUSS BARENBERG & EDGAR MEYER - Big Bug Shuffle / Why Don't You Go Back To The Woods / The Hymn Of Ordinary Motion / From Ankara To Izmir / The Travels Of Mr. Hulot / Big Sciota / Squeezy Pig / Monkey Bay / The Years Between / The Earl Of Hyndford - Open The Present / Here On Earth
10/1995
CD WATER LILY ACOUSTICS 47 (US)

BOURBON AND ROSEWATER -

VISHWA MOHAN BHATT - JERRY DOUGLAS - Bourbon And Rosewater / Gypsies From Rajasthan / Overtones And Stained Glass / Bent Notes Of The Bauls / Many Miles From Home / Resurrection / Desert Winds / Mississippi Mud
04/1996
CD SUGAR HILL SHCD-3847 (US)
YONDER - JERRY DOUGLAS & PETER ROWAN - Wayside Tavern / Cannon Ball Blues / Lullaby Of The Leaves / Tuck Away My Lonesome Blues / Texas Rangers / Can't Get There From Here / Tribulations / When You And I Were Young, Maggie / Girl In The Blue Velvet Band / Chicka-Li-Lee-O / You Taught Me How To Lose / Where Angels Weep
05/1998
CD SUGAR HILL SHCD-3875 (US)
RESTLESS ON THE FARM - Things In Life / Turkish Taffee / Passing The Bar / Don't Take Your Guns To Town / A Tribute To Peader O'Donnell / Takarasaka / Follow On / Like It Is / The Ride / TV Doctor / For Those Who've Gone Clear
05/2002
CD SUGAR HILL SHCD-3938 (US)

LOOKOUT FOR HOPE -

Little Martha / Patrick Meets The Brickbats / Footsteps Fall / Monkey Let The Hogs Out / Lookout For Hope / Cave Bop / Senia's Lament / The Wild Rumpus / The Sinking Ship / In The Sweet By And By / The Suit
09/2005
CD KOCH KOC-CD-9847 (US)

THE BEST KEPT SECRET -

She Makes Me Want To Sing (with Derek TRUCKS) / Who's Your Uncle? (with Sam BUSH et Béla FLECK) / Back In Love Again (with Alison KRAUSS) / A Remark You Made / The Best Kept Secret / Lil' Roro (with Bill FRISELL) / Swing Blues No. 1 (with John FOGERTY) / Snow's First Fall / Ya Ya etc. / U R My Flower / Sir Aly B
03/2007
CD SUGAR HILL SHCD-4026 (US)

BEST OF THE SUGAR HILL YEARS -

The Wild Rumpus / Takaraska / Senia's Lament / We Hide And Seek / Lullaby Of The Leaves / A New Day Medley / Cave Bop / Hey Joe / Birdland / Monkey Let The Hogs Out / Ride The Wild Turkey / A Tribute To Peador O'Donnell / Things In Life / Like It Is / In The Sweet By And By
11/2007
CD Whirlie WHIRLIECD 12 (UK)

Transatlantic Sessions 3 WITH JERRY DOUGLAS & Aly BAIN - Volume one - Sophie's Dancing Feet - Andy Brown's Reel (Aly BAIN) / Saint Teresa (Joan OSBORNE) / Shove The Pig's Foot A Little Further Into The Fire (Bruce Molsky) / The Streets Of Derry (Cara Dillon & Sam Lakeman) / Sir Aly B (Jerry DOUGLAS) / The Open Door (Darrell Scott) / Biodh An Deoch Seo 'n Làimh Mo Rùin (Julie Fowlis) / The Crossing (Tim O'BRIEN) / Crucan Na Bpaiste (Karen Matheson) / The Drummers Of England (Russ Barenberg) / Brother Wind (Tim O'BRIEN) / There's A Whole Lot Of Heaven (Iris DeMent) / Lil' Ro Ro - Little Martha - A Monkey Let The Hogs Out (Jerry DOUGLAS) / The Blackest Crow (Bruce Molsky) / The Lakes Of Pontchartrain (Paul Brady) / Frank McConnell's Three Step (Phil Cunningham) / Back To Earth (Eddi READER) / Shattered Cross (Darrell Scott) / Farewell To Uist - The Lochaber Badger - Rip The Calico (Fred Morrison)

01/2008
CD Whirlie WHIRLIECD 13 (UK)

Transatlantic Sessions 3 WITH JERRY DOUGLAS & Aly BAIN - Volume Two - Woo'd An' Marrit A' - Up Da Stroods Da Sailor Goes (Aly BAIN) / Holy Waters (Joan OSBORNE) / Swan Lk 243 (Caltriona MACKAY) / Look Down That Lonesome Road (Tim O'BRIEN) / Eleanor Of Usen (Phil CUNNINGHAM) / He Reached Down (Iris DeMent) / Hector The Hero (Jenna REID) / Bothan Airigh Am Braigh Raithneach (Julie FOWLIS) / Through The Gates (Russ Barenberg) / Aye Wauken-O (Eddi READER) / Sail Away Ladies / Walking In The Parlour (Michael McGOLDRICK / Don't Try To Please Me (Paul BRADY) / Half Past Four (Bruce MOLSKY) / Oganaich Uir A Rinn M'Fhagail (Julie FOWLIS) / Sophie's Lullaby (Aly BAIN) / Please Don't Tell Me How The Story Ends (Joan OSBORNE) / The Neck Belly Reels (Sharon SHANNON) / P Stands For Paddy (Cara DILLON) / You'll Never Leave Harlan Alive (Darrell Scott) / Rainbow (Paul BRADY)

08/2008
CD KOCH KOC-CD-4553 (US)
GLIDE - Bounce (with Sam BUSH & Edgar MEYER) / Glide / Marriage Made In Hollywood (with Travis TRITT) / Route Irish / Sway Sur La Rue Royale / Unfolding / Long Hard Road (The Sharecropper's Dream) (with Rodney CROWELL) / Home Sweet Home (with Earl SCRUGGS & Tony RICE) / Two Small Cars In Rome (with Lloyd GREEN) / Trouble On Alum / Pushed Too Far
10/2009
CD KOCH KOC-CD-2021 (US)

JERRY CHRISTMAS -

The First Noel / God Rest Ye Merry Gentlemen / All Through The Night / New Year's Eve / Do You Hear What I Hear? / Santa Claus Is Coming To Town / In The Bleak Midwinter / Christmas Time Is Here / O Holy Night / Mary Did You Know / Maui Christmas / Beautiful Star Of Bethlehem
04/2010
CD Whirlie WHIRLIECD 19 (UK)

Transatlantic Sessions 4 with JERRY DOUGLAS & Aly BAIN - Volume two - Copperline (James Taylor) / The Boy Who Wouldn't Hoe Corn (Dan Tyminski) / The Silver Tassie (Emily Smith) / Paddy In The Smoke - Sporting Days Of Easter - The Crosses of Annagh - Sporting Nell (Mike McGoldrick & Dezi Donnelly) / Tower Song (Martha Wainwright) / Bethany's Waltz (Jenna Reid) / Gleánntain Ghlas' Ghaoth Dobhair (Mairéad Ni Mhaonaigh / Dónal Lunny) / 500 Miles (Away From Home) (Rosanne Cash) / Mocking Bird (Allison Moorer) / Kid On The Mountain - Sleep Sound In The Morning - The Reconciliation (Aly Bain / Dónal Lunny) / Och Oin Mo Chaileag (James Graham) / Black Is The Colour (Of My True Love's Hair) (Karan Casey / Niall Vallely) / Lee Highway Blues (Stuart Duncan) / Worry Not (Liam Ó Maonlai) / Pandemonium Of Pipers : Fhir A Chinn Duibh - Úna Bhán - Market Place Of Inverness - Humour Of Tulla - Foxhunter (Allan MacDonald & Ronan Browne)

09/2010
CD Whirlie WHIRLIECD

21 (UK)

Transatlantic Sessions 4

with JERRY DOUGLAS & Aly BAIN -

VOLUME THREE -

1. Unionhouse Branch (Jerry

Douglas

) / Belfast To Boston (James

Taylor

) / Work Song (Liam Ó

Maonlai

) / O Nach Eisdeadh Tu 'N Sgeul Le Aire (Karen

Matheson

) / Lily Dale (Aly

Bain

) / Down In The Willow Garden (Dan

Tyminski

) / Carrickfergus (Allison M

oorer

) / The Pleasant Beggar (Russ

Barenberg

) / Erin s Lovely Home (Karan

Casey

) / Mo Ghruagach Dhonn (Julie

Fowlis

) / Muireann s Jig (Niall

Vallely

, Desi

Donnelly

& Michael Mc

goldrick

) / Secret Life Of Roses (Rosanne

Cash

) / Mary Rogers / Siún N Dhuibhir (Dónal

Lunny

) / Caledonia (Emily

Smith

) / Black, Black, Black (Ronan

Browne

)
12/2011
CD Whirlie WHIRLIECD 25 (UK)

Transatlantic Sessions 5

with JERRY DOUGLAS & Aly BAIN -

V

OLUME ONE -

The Boys Of 25 - The Glass Of Beer (Aly BAIN) / Goin' Down The Road Feelin' Bad (Eric BIBB) / Oran Na Cloiche (Song Of 'The' Stone) (Kathleen M

acInnes

) / Falani (Béla

Fleck

) / Leezie Lindsay (Eddi READER) / Boats Up The River (Dirk P

owell

) / Lay My Burden Down (Alison

Krauss

) / Helvic Head - Kiss The Maid (Michael McG

oldrick

) / Fire In My Hands (Iain M

orrison

) / Annabel Lee (Sarah

Jarosz

) / Same Ol' River (Sam

Bush

) / Dreamcatcher - Off The Hook (Sharon

Shannon

) / Time Machine (Declan O'

Rourke)

/ Pé In Éirinn Í (Whoever

she may b

e) (Muireann Nic

Amhlaoibh

) / The Lake Charles Waltz (Phil

Cunningham

) / Jesus (Amos LEE)
2012
CD Whirlie WHIRLIECD 26 (UK)

Transatlantic Sessions 5 with JERRY DOUGLAS & Aly BAIN - Volume Two - Big Country (Béla Fleck) / Don't Ever Let Nobody Drag Your Spirit Down (Eric BIBB) / Western Highway (Muireann Nic Amhlaoibh) / Clear Blue Eyes (Amos LEE) / 'A New Day Medley' A New Day / North (Jerry DOUGLAS) / The Ballad Of Stringbean And Estelle (Sam Bush) / Lonesome Moonlight Waltz (Alison Krauss) / Run Away (Sarah JAROSZ) / Lios Na Banriona - The Cross Reel (Nollaig CASEY) / Reul Àlainn A' Chuain (Star Of The Sea) ((bonus track) / Flying Circus / Windchime Dance (Sharon SHANNON) / Waterbound (Dirk POWELL) / A Lewis Summer (Ian MORRISON) / When At Last (bonus track / Galileo (Someone Like You) (Declan O'Rourke) / Dimming Of The Day (Alison Krauss)

06/2012
CD ENTERTAINMENT ON DISC 2128 (US)

TRAVELER -

On A Monday / Something You Got / So Here We Are / Boxer / Duke And Cookie / High Blood Pressure / Gone To Fortingall / Right On Time / American Tune - Spain / Frozen Fields / King Silkie
09/2012
CD Whirlie WHI 27 (UK)

Transatlantic Sessions 5 with JERRY DOUGLAS & Aly BAIN - Volume three - I Believe In You (Alison Krauss) / Route Irish (Jerry Douglas) / Dragonflies (Eddi READER) / The Hut Set (Phil Cunningham) / Cúnla (Dónal Lunny) / Leaving Limerick (Muireann Nic Amhlaoibh) / Gur Milis Mòrag (Morag Is Sweet) (Kathleen MacInnes) / The Breton Set (John Mccusker) / Windows Are Rolled Down (Amos Lee) / Ring Them Bells (Sarah Jarosz) / Broken Off Car Door (Iain Morrison) / T'aimse Im' Chodhladh (I Am Asleep, Don't Wake Me) (Aly BAIN) / A Stór Mo Chroi (Treasure Of My Heart) (Nollaig Casey) / Some Sweet Day (Dirk Powell) / Little Girl Of Mine In Tennessee (Sam Bush)

01/2013
CD Whirlie WHR 33 (UK)

Transatlantic Sessions 2 with Aly Bain & Jerry Douglas - Volume three - Down By The Sally Gardens (Maura O'Connell) / Waiting For The Federals (Aly BAIN) / September When It Comes (Rosanne Cash/ God Knows When (Radney Foster) / Jolie Blonde (Michael Doucet) / Who Knows Where The Time Goes (Nancy Griffith) / Nach Truagh (Fiona Kennedy) / Bachelor's Walk (Breda Smyth) / There's Always Sunday (Karen Matheson) / He Got All The Whiskey (John Martyn) / Marriage Made In Hollywood (Paul Brady) / A Simple Life (Ricky Skaggs & Aly Bain) / Evangeline (James Grant) / Road To Aberdeen (Nancy Griffith) / Puirt A Beul Set (
Iain MacDonald)

11/2013
CD Whirlie WHIRLIECD 35 (UK)

Transatlantic Sessions 6 with Aly Bain & Jerry Douglas - Volume one - Shetland Set : The Lament For The Sailor Who Fell From The Masthead - The Scalloway (Aly Bain & Jerry Douglas) / Lasses - The Watle O'it (Aly BAIN) / My Girl's Waiting For Me (Tim O'BRIEN) / I Have A Need For Solitude (Mary Chapin Carpenter) / Don't Know What I Was Thinking (Teddy Thompson) / Aragon Mill (Karen Matheson) / Halloween Rehearsal (Russ Barenberg) / Shotgun Down The Avalanche (Cara Dillon & Sam Lakeman) / Smeorach Chlann Domhnaill (The Mavis Of Clan Donald) (Julie Fowlis) / Whistling The Esperanza (Ewan Mclennan) / Bright Sunny South (Aofie O'donovan) / Isle Of Malachy (Maura O connell) / Wee Michael 'S March - D Jig - Boys Of The Puddle (John Mccusker) / Never Tire Of The Road (Andy Irvine)

09/2014
CD Rounder 7235773 (US)

Three Bells - Mike Auldridge / Jerry Douglas / Rob Ickes - Silver Threads Among The Gold / North / Till There Was You - Moon River / Dobro Heaven / Sunrise Serenade / The Perils Of Private Mulvaney / The Three Bells / For Buddy / The Message / Panhandle Rag / I'm Using My Bible For A Roadmap

08/2017
CD Rounder 1166100259 (US)

What If - THE JERRY DOUGLAS BAND - Cavebop / Unfolding / 2:19 / What If / Hey Joe / Battle Stick / Go Ahead And Leave / Butcher Boy / Freemantle / The Last Wild Moor / Hot Country 84.5
© Rocky Productions 19/08/2017