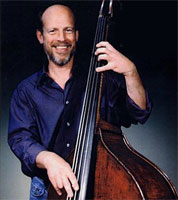 Bassiste Bluegrass US né le 21 Avril 1953 à San Jose (Californie).

Todd Phillips has revolutionized the role of the bass in bluegrass music. A founding member, along with Tony Rice, Darol Anger and Joe Carroll, of the innovative David Grisman Quintet, Phillips has gone on to play with such progressive bands as J.D. Crowe & The New South, Psychograss, Montreaux, The Bluegrass Album Band and Kathy Kallick's Little Big Band. A five time winner of the readers' poll conducted by Frets magazine and a two-time Grammy winner, Phillips has been as effective a jazz bassist as he is playing bluegrass. Phillips' three solo albums In The Pines, Released and Time Frame — have blended influences ranging from Bill Monroe to Miles Davis and John Coltrane.
Phillips' first instrument was the electric bass, which he began playing at the age of eleven. By the age of fifteen, Phillips was proficient enough on the instrument to make his recording debut. During his senior year of high school, Phillips became enchanted by bluegrass and jazz and switched to the acoustic, stand-up, bass.
Soon after meeting mandolinist David Grisman, Phillips began taking lessons on the mandolin. Jam sessions on Grisman's back porch soon evolved into the Grisman Quintet. Phillips remained with the group for five years.
Together with Tony Rice, Bobby Hicks, Doyle Lawson and J.D. Crowe, Phillips launched The Bluegrass Album Band in 1980. Phillips was also a founding member of Montreaux and Psychograss. In addition to playing bass on more than fifty recordings, Phillips produced two albums by Kathy Kallick. Since 1995, Phillips has worked, along with guitarist John Reissman, in Kathy Kallick's Little Big Band; in 1999, he teamed with guitarist David Grier and mandolininst Matt Flinner for Phillips, Grier & Flinner.
http://www.toddphillipsmusic.com/
https://en.wikipedia.org/wiki/Todd_Phillips_(musician)
Talents : Double Bass, Mandolin
Style musical : Progressive Bluegrass, Bluegrass, Contemporary Bluegrass

https://youtu.be/Npjmp7ph0rk
Years in activity :
| | | | | | | | | | | | |
| --- | --- | --- | --- | --- | --- | --- | --- | --- | --- | --- | --- |
| 1910 | 20 | 30 | 40 | 50 | 60 | 70 | 80 | 90 | 2000 | 10 | 20 |
DISCOGRAPHY
Albums
1981
LP 12" ROUNDER 0140 (US)

The Bluegrass Album -

Bluegrass Album Band

- J.D.

Crowe

,

T

ony

Rice

, Doyle

Lawson

, Bobby

Hicks

, Todd

Phillips -

Blue Ridge Cabin Home / We Can't Be Darlings Anymore / Molly And Tenbrooks / I Believe In You Darling / Model Church / On My Way Back To The Old Home / Gonna Settle Down / Toy Heart / Pain In My Heart / Chalk Up Another One / River Of Death

1982
LP 12" ROUNDER 0164 (US)

THE Bluegrass Album - VOLUME TWO - Bluegrass Album Band - J.D. Crowe, Tony Rice, Doyle Lawson, Bobby Hicks, Todd Phillips - Your Love Is Like A Flower / We May Meet Again Someday / Take Me In The Life Boat / Sittin' Alone In The Moonlight / Back To The Cross / Just When I Needed You / One Tear / Ocean In Diamonds / Is It Too Late Now / So Happy I'll Be / Don't This Road Be Rough And Rocky / I'll Never Shed Another Tear

1983
LP 12" ROUNDER 0180 (US)

THE Bluegrass Album - VOLUME THREE -

California Connection -

Bluegrass Album Band

-

Bobby Hicks /

Todd

Phillips

/

J.D.

Crowe

/

J

erry

Douglas /

T

ony

Rice

/

Doyle

Lawson

-

Devil In Disguise / Letter From My Darling / A Hundred Years From Now / Unfaithful One / Down The Road / I'd Rather Be Alone / Big Spike Hammer / Please Search For Heart / Hey Lonesome / I'm Waiting To Hear You Call Me Darlin / Wall Around Your Heart / Come Back Darlin
1983
LP 12" VARRICK 011 (US)
RELEASED -

Fat Kid

/

Nardis

/

Daniel's Dream

/

Redhill

/

Ants (On The Moon)

/

Alone

/

Released

/

T's Please

1985
LP 12" ROUNDER 210 (US)

THE Bluegrass Album - VOLUME FOUR -

Bluegrass Album Band -

J.D.

Crowe

/

T

ony

Rice

/

Doyle

Lawson

/

J

erry

Douglas

/

Bobby

Hicks / Todd

Phillips

- Age / Cheyenne / Cora Is Gone / Old Home Town / Talk It All Over With Him / Head Over Heels / Nobody Loves Me / When You Are Lonely / I Might Take You Back Again / Lonesome Wind Blues / Somehow Tonight
1985
2 LP 12" Guimbarda ‎DD2207374 (S)

The Bluegrass Album -

Bluegrass Album Band

- J.D.

Crowe

,

T

ony

Rice

,

Doyle

Lawson

,

Bobby

Hicks

, Todd

Phillips

:

DISC 1 : Blue Ridge Cabin Home / We Can't Be Darlings Anymore / Molly And Tenbrooks / I Believe In You Darling / Model Church / On My Way Back To The Old Home / Gonna Settle Down / Toy Heart / Pain In My Heart / Chalk Up Another One / River Of Death
DISC 2 : Your Love Is Like A Flower / We May Meet Again Someday / Take Me In The Lifeboat / Sittin' Alone In The Moonlight / Back To The Cross / Just When I Needed You / One Tear / Ocean Of Diamonds / Is It Too Late Now / So Happy I'll Be / Don't This Road Look Rough And Rocky / I'll Never Shed Another Tear

1986
CD ROUNDER CD 0210 (US)
THE BLUEGRASS COMPACT DISC - J.D.

Crowe

/

T

ony

Rice

/

Doyle

Lawson

/

J

erry

Douglas

/

Bobby

Hicks / Todd

Phillips -

Blue Ridge Cabin Home / I Believe In You Darling / A Hundred Years From Now / On My Way Back To The Old Home / Cora Is Gone / The Old Home Town / Take Me In The Lifeboat / Sitting Alone In The Moonlight / Head Over Heels / Ocean Of Diamonds / I'll Never Shed Ahother Tear / Unfaithful One / Is It Too Late Now / Chalk Up Another One / One Tear / Cheyenne / Devill In Disguise / Age / Talk It All Over With Him / Model Church
10/1995
CD COMPAS 74230 (US)
TIMEFRAME - Shuffled / Paths / Looking Back / It's Too Early / Roun' Trip Ticket / Now It's Raining / When Again / Timeframe / I Live In A New Place
10/1995
CD GOURD 122 (US)
IN THE PINES - Rye Straw / Train On The Island / Bury Me Not On The Lone Prairie / Liza Jane / Midnight On The Stormy Deep / Sugar In The Gourd (PHILLIPS, GRIER & FLINNER) / Down In The Valley To Pray / In The Pines / Spotted Pony / I Truly Understand / Whistlin's Rufus / In The Willow Garden / Sally Ann
08/1999
CD Compass 42792 (US)

Phillips, Grier & Flinner -

Todd

PHILLIPS -

David

GRIER -

Matt

FLINNER -

Paint It Shut / Getting There / A Long Time Ago / Gilberton Road / Said And Done / Car On Fire / Meridian / Dozing In The Sun Through The Window / Told Ya
09/1999
CD Compass 7-4280-2 (US)

New Grange - Philip Aaberg, Darol Anger, Alison Brown, Mike Marshall, Tim O'Brien, Todd Phillips - Handsome Molly / Sally Ann / Under The Hood / Rock In A Weary Land / Cabin Waltz / Goin' To Boston / Weetabix / Round Trip / Stone Coal West Virginia / Shoot The Moon / Land's End / Music Tree

07/2002
CD Compass COM 43422 (US)

Looking Back -

Phillips, Grier & Flinner -

Todd

PHILLIPS -

David

GRIER -

Matt

FLINNER -

Tennessee Blues / Monroe's Hornpipe / I Am A Pilgrim / Afro Blue / Search For Peace / Dixie Hoedown / Old Dangerfield / Little Wing / I Want You (She's So Heavy) / [Untitled Hidden Track]
© Rocky Productions 6/02/2017