| | |
| --- | --- |
| | |
| | |

Groupe Bluegrass US formé en 1962 dans le Missouri et composé de Doug Dillard, Rodney Dillard (né le 18 mai 1942 à East St. Louis (Illinois)), Mitch Jayne (né le 5 juillet 1930 à Hammond (Indiana), Dean Webb (né le 28 mars 1937 à Independence (Missouri), puis: Byron Berline, Herb Pedersen, Paul York, Billy R. Lathum, Irv Dugan, Jeff Gilkinson, Doug Bounsall, Ray Parks, Eddie Ponder, Joe Villegas et Peter Grant

One of the leading lights of progressive bluegrass in the '60s, the Dillards played a major part in modernizing and popularizing the sound of bluegrass, and were also an underappreciated influence on country-rock. The group was founded by brothers Doug (banjo) and Rodney Dillard (guitar), who grew up in Salem, Missouri, playing music together. During the late '50s, they appeared often on local radio and performed with several different area bands, including the Hawthorn Brothers, the Lewis Brothers, and the Dixie Ramblers; they also recorded a couple of singles for the St. Louis-based K-Ark label as the Dillard Brothers in 1958. In 1960, they decided to form their own group, recruiting DJ pal Mitch Jayne on bass, as well as mandolin player Dean Webb. Christening themselves the Dillards, the quartet decided to move to Los Angeles in 1962, and were quickly signed to Elektra after being discovered at a gig with the Greenbriar Boys. Not long after, the group landed a recurring role on The Andy Griffith Show, appearing in several episodes over the next few years as a musically inclined hillbilly family called the Darlings.
Meanwhile, the Dillards released their debut album, Back Porch Bluegrass, in 1963, and also teamed up with Glen Campbell and Tut Taylor for the side project the Folkswingers, who went on to release two albums. the Dillards' second album, 1964's concert set Live! Almost!, captured their controversial move into amplified electric instruments, which was considered heresy by many bluegrass purists; they also began to tour with rock groups, most notably the Byrds. In response to purist criticism, the group followed Live! Almost! in 1965 with the more traditional Pickin' & Fiddlin', which featured co-billing for fiddler Byron Berline. Dissatisfied with the way Elektra was marketing them, the Dillards switched labels to Capitol, but found a similar lack of kindred spirits in the producers they worked with there, and wound up returning to Elektra without releasing an album. Meanwhile, Doug and Rodney were increasingly at odds over the group's creative direction, with Rodney pursuing a more radical break with tradition than Doug. Doug moonlighted in the backing band for ex-Byrd Gene Clark's groundbreaking collaboration with the Gosdin Brothers, and after he and Rodney recorded some material for the Bonnie & Clyde film soundtrack in 1967, he decided to leave the Dillards and strike out on his own.
Doug soon teamed up with Gene Clark as Dillard & Clark and recorded some highly regarded material before starting a solo career that remained productive through the '70s. Rodney, meanwhile, replaced his brother with banjoist Herb Pedersen, and the Dillards recorded what many critics regard as their masterwork, Wheatstraw Suite. Released in 1968, the album displayed Rodney's progressive eclecticism in full cry, featuring fuller instrumentation and covers of the Beatles' "I've Just Seen a Face" and Tim Hardin's "Reason to Believe." Though it wasn't a hit, critics and musicians praised its unpredictable mix of bluegrass, country, folk, rock, and pop. Released in 1970, Copperfields took a similarly adventurous approach, and drummer Paul York became an official member of the group. Unfortunately, Elektra was still somewhat mystified by their music, and they parted ways again. Pedersen departed in 1972 to join Byron Berline's band, Country Gazette, and was replaced by Billy Ray Latham; by this time, the Dillards had signed with the smaller Anthem label, where they landed their only charting pop hit, "It's About Time," in 1971. An opening slot on tour with Elton John in 1972 helped Roots & Branches become their biggest-selling album to date, but the group subsequently switched over to the Poppy label for their follow-up, 1973's country-rock effort Tribute to the American Duck.
Mitch Jayne left the group in 1974, partly due to hearing loss, and was replaced by new bassist Jeff Gilkinson. It took several years to reconvene for their next album, 1977's The Dillards vs. the Incredible L.A. Time Machine, which was released on Flying Fish. Latham subsequently departed and was replaced by Doug Bounsall, and Herb Pedersen also returned for the group's next two albums, 1978's Mountain Rock (after which Paul York retired) and 1979's Decade Waltz. Also in 1979, the group reunited with Doug Dillard and other past members (and relatives) for the Salem, Missouri, concert celebration Homecoming and Family Reunion. Following that performance, most of the Dillards left the group. Rodney Dillard and Dean Webb briefly organized a new lineup that featured Joe Villegas, Eddie Ponder, and Peter Grant, but it proved short-lived; Rodney subsequently formed the Rodney Dillard Band and settled in Branson, Missouri.
In 1988, the original Dillards lineup reunited for a series of performances, and interest in the group was rekindled thanks to the publicity surrounding The Andy Griffith Show's 30th anniversary. With new member Steve Cooley later taking Doug Dillard's place, the group cut two new albums for Vanguard, 1990's Let It Fly and 1992's Take Me Along for the Ride. The group reunited several times throughout the '90s for concert performances, and both Doug and Rodney continued to pursue their own ventures. Doug Dillard died in Nashville on May 16, 2012 at the age of 75.
Talents : Doug Dillard : Banjo, Guitar, Vocals - Rodney Dillard : Guitar, Dobro, Vocals - Mitch Jayne : Bass, Vocals - Dean Webb : Mandolin, Vocals - autres membres : Byron Berline : Fiddle - Herb Pedersen : Banjo, Vocals - Paul York : Drums - Billy R. Lathum : Guitar - Irv Dugan : Bass - Jeff Gilkinson : Bass, Banjo, Cello, Bass Harmonica, Vocals - Doug Bounsall : Guitar, Mandolin, Fiddle, Vocals - Ray Parks : Fiddle - Eddie Ponder : Drums - Joe Villegas : Bass - Peter Grant : Steel, Banjo
Style musical : Bluegrass

http://www.youtube.com/watch?v=PfUpQsGCInE
Years in activity :
| | | | | | | | | | |
| --- | --- | --- | --- | --- | --- | --- | --- | --- | --- |
| 1910 | 20 | 30 | 40 | 50 | 60 | 70 | 80 | 90 | 2000 |
DISCOGRAPHY
Singles & EP
01/1961

SP

HOME RECORDINGS 615 (US)
.
DILLARD BROTHERS with Joe NOEL - Banjo In The Hollow / You're On My Mind
05/1961

SP

HOME RECORDINGS 619 (US)
.
DILLARD BROTHERS - Doug's Breakdown / My Only True Love
11/1961

SP

HOME RECORDINGS 225 (US)
.
DILLARD BROTHERS - Mama Don't Allow / Highway Of Sorrow
1961
EP HOME RECORDINGS ? (US)
DILLARD BROTHERS - I Saw The Light / Build Me A Cabin In The Corner Of Glory Land / JesusIs Standing At My Right Hand
1963
SP ELEKTRA EKSN-45003 (US)
.
Dooley / Doug's Tune
1963
SP ELEKTRA EKSN-45006 (US)
.
Hootin' Banjo / Polly Vaughn
09/1965
SP CAPITOL 5494 (US)
.
Nobody Knows / Ebo Walker
11/1965
SP CAPITOL 5524 (US)
.
Lemon Chimes / The Last Thing On My Mind
10/1968
SP ELEKTRA EK-45641 (US)
.
Nobody Knows / Reason To Believe
05/1969
SP ELEKTRA EK-45661 (US)
.
Listen To The Sound / The Biggest Whatever
09/1969
SP ELEKTRA EKM/EKS-45679 (US)
.
Rainmaker / West Montana Hanna
01/1970
SP ELEKTRA EKM/EKS-45681 (US)
.
Close The Door Lightly (When You Go) / Touch Her If You Can
1970
SP WHITE WHALE 351 (US)

.

One Too Many Mornings / Turn It Around
1970
SP WHITE WHALE 359 (US)

.

Comin' Home Again / Fields Have Turned Brown
1971
SP ANTHEM 101 (US)

.

It's About Time / One A.M.
1971
EP HOME RECORDINGS EP 102 (US)
Banjo In The Hollow; My Own True Love; Doug's Tune (Doug's Breakdown) / + Bill BOHANNON
1972
SP ANTHEM 51010

(US)

.
Redbone Hound / One A.M.
1972
SP ANTHEM 51014

(US)

.
America (The Lady Of The Harbor) / Billy Jack
02/1974
SP POPPY PP-XW382-X

(US)

.
Hot Rod Radio / Love Has Gone Away
1974
SP UNITED ARTISTS

XW 382 (US)

.

Hot Rod Banjo / Love Has Gone Away

1975
SP UNITED ARTISTS

XW 588 (US)

.

In My Life / Stone's Throw Away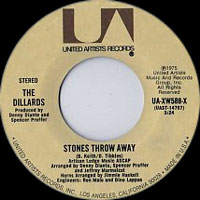 Albums
05/1963
LP 12" ELEKTRA

EKL-232 (mono) / EKS 7232 (stereo) (US)

BACK PORCH BLUEGRASS -

Old Joseph / Somebody Touched Me / Polly Vaughn / Banjo In The Hollow / Dooley / Lonesome Indian / Ground Hog / Old Home Place / Hickory Hollow / Old Man At The Mill / Doug's Tune / Rainin' Here This Mornin' / Cold Trailin' / Reuben's Train / Duelin' Banjo
11/1963
LP 12" ELEKTRA

EKL-265 (mono) / EKS 7265 (stereo) (US)

LIVE!!! ALMOST!!! -

Black-Eyed Susie / Never See My Home Again / There Is A Time / Old Blue / Sinkin' Creek / The Whole World Round / Liberty! / Dixie Breakdown / Walkin' Down The Line / Jody's Tune / Pretty Polly / Taters In Sandy Land - Gimme Chaw T'Baccer / Buckin' Mule
1963
LP 12" World Pacific WP-1812 (mono) / ST 1812 (stereo) (US)

String Guitar! / Folk Blues and Blue Grass - Glen CAMPBELL / Rod DILLARD / Doug DILLARD / Dean WEBB - If I Had A Hammer / Black Mountain Rag / Walk Right In / Wildwood Flower / Blowin' In The Wind / Midnight Special / In Them Old Cottonfields Back Home / Columbus Stockade Blues / Rye Whiskey / Bull Durham / Wabash Cannonball / Dark As A Dungeon / This Train

1964
LP 12" MODE

MDEKL 9309

(F)

FOKLORE DES MONTAGNES DES ETATS UNIS : Old Joseph / Somebody Touched Me / Polly Vaughn / Banjo In The Hollow / Dooley / Lonesome Indian / Ground Hog / Old Home Place / Hickory Hollow / Old Man At The Mill / Doug's Tune / Rainin' Here This Mornin' / Cold Trailin' / Reuben's Train / Deulin' Banjo
1965
LP 12" ELEKTRA

EKL-285 (mono) / EKS 7285 (stereo) (US)

PICKIN' AND FIDDLIN' - DILLARDS with Byron BERLINE

-

Hamilton County / Fisher's Hornpipe / Daddy On The Turnpike / Jazz Bow Rag / Apple Blossom / Tom And Jerry / Cotton Patch / Dwrang's Hornpipe / Wagoner / Sally Johnson / Crazy Creek / Drunken Billy Goat / Black Mountain Rag / Twinkle Twinkle / Wild John / Soppin' The Gravy
1968
LP 12" ELEKTRA

EKL4035 (mono) / EKS-74035 (stereo) (US)

WHEATSHEAF SUITE -

I'll Fly Away / Nobody Knows / Hey Boys / Biggest Whatever / Listen To The Sound / Little Pete / Reason To Believe / Single Saddle / I've Just Seen A Face / Lemon Chimes / Don't You Cry / Durding The Strings / She Sang Hymns Out Of Tune
1968
LP 12" ELEKTRA SWG-7111 (JAP)

Golden Bluegrass - The DILLARDS & Byron BERLINE, Eric Weissberg & Marshall Brickman, Dian & The Greenbriar Boys - The DILLARDS & Byron BERLINE : Somebody Touched Me / Dooley / Lonesome Indian / Rainnin' Here This Morning / Reuben's Train / Dixie Breakdown / Pretty Polly / Black Mountain Rag / DIAN & The GREENBRIAR BOYS : Sally Let Your Gangs Hang Down / Cannon Ball Blues / Brown's Ferry Blues / Master's Bouquet / Eric Weissberg & Marshall BRICKMAN : Rawhide / Mountain Dew / Eigth Of January / Earl's Breakdown

1970
LP 12" ELEKTRA

EKS-74054 (US)

COPPERFIELDS -

Rainmaker / In Our Time / Old Man / Touch Her / Woman Turn Around / Yesterday / Brother John / Copperfields / West Montana Hanna / Close The Door Lightly / Pictures / Ebo Walker / Sundown
04/1972
LP 12" ANTHEM ANS-5901 (US)

ROOTS AND BRANCHES -

Redbone Hound / Forget Me Not / One A.M. / Last Morning / Get Out On The Road / Big Bayou / I've Been Hurt / Billy Jack / Sunny Day / Man Of Constant Sorrow
01/1974
LP 12" POPPY PP-LA175-F

(US)

TRIBUTE TO THE AMERICAN DUCK - Music Is Music / Caney Creek / Dooley / Love Has Gone Away / You've Gotta Be Strong / Carry Me Off / Smile For Me / Hot Rod Banjo / Daddy Was A Mover / What's Time To A Hog?
1976
LP 12" ELEKTRA

52035

(UK)

COUNTRY TRACKS - THE BEST OF THE DILLARDS - Copperfields / Little Pete / Duelin' Banjo / Old Home Place / Close The Door Lightly / Doug's Tune / Yesterday / Woman Turn Around / Banjo In The Hollow / Brother John / She Sang Hymns Out Of Tune / I'll Fly Away / Reason To Believe / Lonesome Indian / Hey Boys / Nobody Knows / Binding The Strings / Single Saddle / Dooley / Hickory Hollow / I've Just Seen A Face / Ebo Walker / Sundown / Rainmaker
1977
LP 12" FLYING FISH

FF-036 (US)

GLITTER GRASS FROM NASHWOOD HOLLYVILLE STRINGS - DILLARD - HARTFORD - DILLARD - Don't Come Rollin' / Cross The Border Line / Two Hits And The Joint Turned Brown / Don't Lead Me On / Bear Creek Hop / No End Of Love / Biggest Whatever / Lost In A World / High Dad In The Morning / California Is Nicer Than You / Artificial Limitations / Get No Better
1977
LP 12" FLYING FISH

FF-040 (US)

THE DILLARDS VS. THE INCREDIBLE L.A. TIME MACHINE -

Gunman's Code / The Poet / Do, Magnolia, Do / Annabel Lee / Softly / Ding Dong Howdy / Jayne / In One Ear / Old Cane Press / Let The Music Flow
09/1979
LP 12" FLYING FISH

FF-082 (US)

DECADE WALTZ - Ten Years Waltz / Greenback Dollar / Easy Ride / Headed For The Country / Gruelin' Banjo / Turn It Around / 10 Years Waltz / Hymn To The Road / Lights Of Magdella / Happy I'll Be / Mason Dixon / We Can Work It Out
01/1980
LP 12" CRYSTAL CLEAR CCS-5007

(US)

MOUNTAIN ROCK -

Caney Creek / Don't You Cry / Reason To Believe / Big Bayou / Walkin' In Jerusalem / I've Just Seen A Face / High Sierra / Never See My Home Again / Somebody Touched Me / Fields Have Turned To Brown
1980
LP 12" FLYING FISH

FF-215 (US)

THE DILLARDS HOMECOMING & FAMILY REUNION -

Introduction - Old Bald Eagle / Hop High, Ladies / Cripple Creek / Whole World Round / Ground Hog / High Dad In The Mountain / Douglas And I Used To Sit Around And Play / Old Joe Clark / Tennessee Greakdown / Ebo Walker / Old Man At The Mill / Listen To The Sound / Daddy Was A Mover - Banjo Signal / Interview Fragment
1981
LP 12" FLYING FISH FF 235 (US)
PERMANENT WAVE - DILLARD - HARTFORD - DILLARD - Break It To Me Gently / That'll Be The Day / Blue Morning / The Same Thing (Makes You Laugh, Makes You Cry) / Yakety Yak / Something's Wrong / Boogie On Reggae Woman / Country Boy Rock And Roll / No Beer In Heaven
1984

LP 12"

SILVER DOLLAR CITY SDC-100LP (US)

SILVER DOLLAR JUBILEE -

Silver Dollar Jubilee / Sittin' On Top Of The World / Across The Borderline / Walking In The Parlor / Hickory Wind / Milk Cow Blues / Walking In Jerusalem / Dooley / Miss The Mississippi And You / Suzananna Gal / Nine Pound Hammer / Lights Of Magdella / You've Gotta Be Strong
1985
LP 12" FLYING FISH

FF-369 (US)

AT SILVER DOLLAR CITY - Rodney DILLARD - Six White Horses / Sally Let Your Bangs Hang Down / Ain't Nobody Here But Us Chickens / Orange Blossom Special / Head Over Heels / Caney Creek / Run River Run / Clay Pipe / Daniel Prayed / Will The Circle Unbroken
1988
CD EDSEL 246 (UK)
I'LL FLY AWAY - I'll Fly Away / Nobody Knows / Hey Boys / Biggest Whatever / Single Saddle / I've Just Seen A Face / Bending The Strings / Pictures / Ebo Walker / She Sang Hymns Out Of Tune / Rainmaker / Old Man At The Mill / Touch Her If You Can / Woman Turn Around / Yesterday / Copperfields / West Montana Hanna / Close The Door Lightly When You Go
10/1990
CD VANGUARD VHD-79460 (US)
LET IT FLY - Darlin' Boys / Close The Door Lightly / Old Train / Big Ship / Missing You / Out On A Limb / Ozark Nights / Tears Won't Dry In The Rain / Livin' In The House / One Too Many Mornings / Let It Fly / Wizard Of Song
11/1991
CD VANGUARD VSD-131/2 (US)
THERE IS A TIME - 1963-70 - Introduction / Banjo In The Hollow / Dooley / Polly Vaughn / The Old Home Place / Somebody Touched Me / Hamilton County Breakdown / Walkin' Down The Line / Never See My Home Again / Paddy On The Turnpike / Old Blue / Liberty / There Is A Time / Whole World 'Round / Sally Johnson / Yesterday / Ebo Walker / Rainmaker / Copperfields / Old Man At The Mill / Lemon Chimes / I'll Fly Away / Nobody Knows / Listen To The Sound / Reason To Believe / Hey Boys / I've Just Seen A Face / Don't You Cry / She Sang Hymns Out Of Tune
12/1991
CD FLYING FISH

FF-0537 (US)

LET THE ROUGH SIDE DRAG - Rodney DILLARD -

Radio Boogie / It's Raining / Dixeland / Last Thing On My Mind / Let The Rough Side Drag / Sawin' On The Strings / Daddy Was A Mover / California Blues / Roustabout /

Heartbreak Mountain
08/1992
CD VANGUARD VCD-79464 (US)
TAKE ME ALONG FOR THE RIDE - Someone's Throwing Stones / In My Life / Like A Hurricane / Take Me Along For The Ride / Against The Grain / Hearts Overflowing / Bed Of Clover / Banks Of The Rouge Bayou / Move On / Food On The Table / Wide Wide Dixie Highway / Great Connection
02/1996
CD BEAT GOES ON BGOCD 306 (UK)

ROOTS AND BRANCHES / TRIBUTE TO THE AMERICAN DUCK - Redbone Hound / Forget Me Not / One A.M. / Last Morning / Get Out On The Road / Big Bayou / I've Been Hurt / Billy Jack / Sunny Day / Man Of Constant Sorrow / Music Is Music / Caney Creek / Dooley / Love Has Gone Away / You've Got To Be Strong / Carry Me Off / Smile For Me / Hot Rod Banjo / Daddy Was A Mover / What's Time To A Hog

09/1997
CD VANGUARD 506 (US)
BEST OF THE DARLIN' BOYS - Darlin' Boys / Old Train / Let It Fly / Big Ship / Take Me Along For The Ride / Move On (Life Of The Common Man) / Against The Grain / Banks Of The Rouge Bayou / Food On The Table
11/1999
CD VARESE VSD-6057 (US)
A LONG TIME AGO - THE FIRST TIME LIVE! - John Hardy / Old Man At The Hill / Green Corn / Katie Cline / Banjo In The Hollow / Old Blue / Buckin Mule / Hard, Ain't It Hard / Travelin' Dobro Blues / Groundhog / Cripple Creek / Little Maggie / Cannonball Blues / Watermelon On The Vine / Whitehouse Blues / Cumberland Gap
10/2001
CD ELEKTRA

8122 73562-2 (EUR)

BACK PORCH BLUEGRASS & LIVE!!! ALMOST!! -

BACK PORCH BLUEGRASS :

Old Joseph / Somebody Touched Me / Polly Vaughn / Banjo In The Hollow / Dooley / Lonesome Indian / Ground Hog / Old Home Place / Hickory Hollow / Old Man At The Mill / Doug's Tune / Rainin' Here This Mornin' / Cold Trailin' / Reuben's Train / Duelin' Banjo /

LIVE!!! ALMOST!!! :

Black-Eyed Susie / Never See My Home Again / There Is A Time / Old Blue / Sinkin' Creek / The Whole World Round / Liberty! / Dixie Breakdown / Walkin' Down The Line / Jody's Tune / Pretty Polly / Taters In Sandy Land - Gimme Chaw T'Baccer / Buckin' Mule
10/2004

2 CD

RHINO 8122765082 (US)
PICKIN' AND FIDDLIN' / WHEATSTRAW SUITE / COPPERFIELDS :

CD 1 :

Hamilton County / Fisher's Hornpipe / Paddy On The Turnpike / Jazz Bow Rag / Apple Blossom / Tom & Jerry / Cotton Patch / Durang's Hornpipe / Wagoner / Sally Johnson / Crazy Creek / Drunken Billy Goat / Black Mountain Rag / Twinkle, Twinkle / Wild John / Soppin' The Gravy / Nobody Knows / Ebo Walker / The Last Thing On My Mind /

Lemon Chimes
CD 2 :

I'll Fly Away / Nobody Knows / Hey Boys / The Biggest Whatever / Listen To The Sound / Little Pete / Reason To Believe / Single Saddle / I've Just Seen A Face / Lemon Chimes / Don't You Cry / Bending The Strings / She Sang Hymns Out Of Tune / Rainmaker / In Our Time / Old Man At The Mill / Touch Her If You Can / Woman Turn Around / Yesterday / Brother John / Copperfields / West Montana Hanna / Close The Door Lightly / Pictures / Ebo Walker /

Sundown

2004
CD COTTEN-DILLARD ? (US)

I WISH LIFE WAS LIKE MAYBERRY - Rodney DILLARD - The Darlin' Boys / There Is A time / Dooley / Doug's Tune / Wicker Rocking Chair / Ebo Walker / There Goes The Neighborhood / The Andy Griffith Show / Mayberry moment

07/2005

CD

RAVEN RVCD 197 (AUS)

LET THE MUSIC FLOW - THE BEST OF 1963-1979 - Old Home Place / There Is A Time / Last Thing On My Mind / Nobody Knows / Hey Boys / I've Just Seen A Face / Reason To Believe / Listen To The Sound / She Sang Hymns Out Of Tune / Single Saddle / Copperfields / Close The Door Lightly / Brother John / Old Man At The Mill / Ebo Walker / West Montana Hanna / One Too Many Mornings / Comin' Home Again / Big Bayou / Redbone Hound / Dooley / Caney Creek / Hot Rod Banjo / Stones Throw Away / Ding Dong Howdy / Let The Music Flow / Easy Ride / Happy I'll Be / Whole World Round

04/2006
CD VARESE 302 0 66716-2 (US)

EARLY RECORDINGS - 1959 - RODNEY & DOUGLAS DILLARD -

Banjo In The Hollow / Old Blue / Rainbow / Katy Kline / East Virginia Blues / John Hardy / Rainin' Here This Morning / Watermelon On The Vine / Old Man At The Mill / Cannonball Blues
10/2006
CD COLLECTOR'S CHOICE CCM 07322 (US)
BACK PORCH BLUEGRASS / PICKIN' AND FIDDLIN' - Hamilton County / Fisher's Hornpipe / Daddy On The Turnpike / Jazz Bow Rag / Apple Blossom / Tom And Jerry / Cotton Patch / Dwrang's Hornpipe / Wagoner / Sally Johnson / Crazy Creek / Drunken Billy Goat / Black Mountain Rag / Twinkle Twinkle / Wild John / Soppin' The Gravy / Old Joseph / Somebody Touched Me / Polly Vaughn / Banjo In The Hollow / Dooley / Lonesome Indian / Ground Hog / Old Home Place / Hickory Hollow / Old Man At The Mill / Doug's Tune / Rainin' Here This Mornin' / Cold Trailin' / Reuben's Train / Duelin' Banjo
12/2006
CD COLLECTABLES 0909 (US)

TRADITIONAL BANJO MUSIC OF THE OZARKS - Holston Valley Breakdown / There's A Meeting Here Tonight / Cripple Creek / Miller's Cave / Hindu Stomp / Goodman Coonhound / Banjo Workout / Red Apple Juice / Hooka Tooka / Old Joe Clark / Movin' Down The Line / The Johnson Boys / Whistle While You Work / Banjo Cantata / Clinch Mountain Backstep / Rumblin' On / Feuding Banjos

09/2010
CD RURAL RHYTHM RUR-1068 (US)
I WISH LIFE WAS LIKE MAYBERRY - Rodney DILLARD - THE DILLARD BAND

Mayberry Moment / Darlin' Boys / There Goes The Neighborhood / There Is A Time / Wicker Rocking Chair / Dooley / Doug's Tune / Salty Dog Blues / Ebo Walker / The Mayberry Hat / Banjo In The Hollow / Leaning On The Everlasting Arms / Andy Griffith Show Song / Wet Shoes In The Sunset / Leaky Boat / G-Man Barney / Pictures / Goober And Roy /

Parenting
© Rocky Productions 5/03/2013