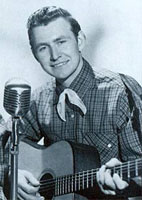 Chanteur et compositeur Country US né Garland Perry Cochran, le 2 Août 1935 à Isola (Mississippi). Hank Cochran a débuté en 1955 dans les "Cochran Brothers" avec Eddie Cochran. Séparé en 1956, il devint un compositeur réputé dans la Country Music. Hank a enregistré pour Monument, RCA, Dot et Elektra Records. Aujourd'hui semi-légendaire, Hank Cochran est devenu un excellent chanteur Country. Il est décédé le 15 Juillet 2010.

Nashville songwriter Hank Cochran penned dozens of country hits during the 1960s, '70s, and '80s, including "I Fall to Pieces" (Patsy Cline), "The Chair" (George Strait), "Don't Touch Me" (Jeannie Seely), "Don't You Ever Get Tired of Hurtin' Me?" (Ray Price and Ronnie Milsap), "It's Not Love (But It's Not Bad)" (Merle Haggard), "Make the World Go Away" (Eddy Arnold), and "She's Got You" (Cline again). Cochran balanced music and lyric chores evenly when writing co-compositions with Nashville legends like Harlan Howard, Vern Gosdin, and Dean Dillon.
Hank Cochran died on July 15, 2010.
https://en.wikipedia.org/wiki/Hank_Cochran
Talents : Vocals, Songwriter, Guitar
Style musical : Traditional Country, Honky Tonk, Country-Pop

http://youtu.be/smmemAK-Bts
GOOFIN' AROUND (1958)

I WANT TO GO WITH YOU (1964)
Years in activity :
| | | | | | | | | | | | |
| --- | --- | --- | --- | --- | --- | --- | --- | --- | --- | --- | --- |
| 1910 | 20 | 30 | 40 | 50 | 60 | 70 | 80 | 90 | 2000 | 10 | 20 |
DISCOGRAPHY
Singles
| | | |
| --- | --- | --- |
| 06/1955 | SP EKKO 1003 (US) | COCHRAN BROTHERS - Two Blue Singin' Stars / Mr. Fiddle |
| 07/1955 | SP EKKO 1005 (US) | COCHRAN BROTHERS - Guilty Conscience / Your Tomorrows Never Come |
| 01/1956 | SP CASH 1021 (US) | Jerry CAPEHART sings... Featuring The COCHRAN BROTHERS - Walkin' Stick Boogie / Rollin' |
| 06/1956 | SP EKKO 3001 (US) | COCHRAN BROTHERS - Tired And Sleepy / Fool's Paradise |
| 10/1958 | SP DORE 508 (US) | Goofin' Around / Don't Apologize |
| 12/1961 | SP LIBERTY F-55402 (US) | Lonely Little Mansion / Has Anybody Seen Me Lately |
| 06/1962 | SP LIBERTY 55461 (US) | Sally Was A Good Old Girl / The Picture Behind The Picture |
| 09/1962 | SP LIBERTY 55498 (US) | I'd Fight The World / Lucy Let Our Lovelight Shine |
| 12/1962 | SP LIBERTY F-55520 (US) | Private John Q / I Remember |
| 12/1963 | SP LIBERTY F-55644 (US) | Go On Home / Tootsie's Orchid Lounge |
| 1963 | SP GAYLORD 45-6426 (US) | When You Gotta Go You Gotta Go / Yesterday's Memories |
| 09/1963 | SP GAYLORD 45-6431 (US) | A Good Country Song / Same Old Hurt |
| 1963 | SP GAYLORD 45-6432 (US) | If She Could Seen Me Now / Just For The Record |
| 03/1964 | SP RCA VICTOR 47-8329 (US) | What Kind Of Bird Is That / My Baby's His Baby Now |
| 06/1964 | SP RCA VICTOR 47-8375 (US) | Your Country Boy / She Always Comes Back To Me |
| 10/1964 | SP RCA VICTOR 47-8457 (US) | I Want To Go With You / Sad Songs And Waltzes |
| 03/1965 | SP RCA VICTOR 47-8528 (US) | Going In Training / Somewhere In My Dreams |
| 07/1965 | SP RCA VICTOR 47-8616 (US) | Who's Gonna / Let's Be Different |
| 11/1965 | SP RCA VICTOR 47-8694 (US) | I'm Alone / Hank Today And Him Tomorrow |
| 04/1966 | SP RCA VICTOR 47-8827 (US) | Crying Section / Only You Can Make Me Well |
| 09/1966 | SP RCA VICTOR 47-8955 (US) | That's What I'll Say / I Lie A Lot |
| 03/1967 | SP MONUMENT 45-994 (US) | All Of Me Belongs To You / I Just Burned A Dream |
| 06/1967 | SP MONUMENT 45-1012 (US) | It Couldn't Happen To A Nicer Guy / Tootsie's Orchard Lounge |
| 09/1967 | SP MONUMENT 45-1033 (US) | Speak Well Of Me To The Kids / Happy Goodbye |
| 01/1968 | SP MONUMENT 45-1051 (US) | Has Anybody Seen Me Lately / I Woke Up |
| 11/1970 | SP DOT DOA-17361 (US) | One Night For Willie / Back To His |
| 04/1978 | SP CAPITOL 4585 (US) | Uphill All The Way / Willie |
| 09/1978 | SP CAPITOL 4635 (US) | Hank COCHRAN & Willie NELSON - Ain't Life Hell / I'm Going With You All The Time |
| 03/1980 | SP ELEKTRA E 46596 (US) | Make The World Go Away / I Don't Do Windows |
| 10/1980 | SP ELEKTRA E 47062 (US) | Little Bitty Tear / He's Got You |
| 1983 | SP EMH EMH-0021 (US) | Hank COCHRAN & Mel TILLIS - I Wish It Was That Easy Going Home / I Fell Apart |
Unissued Track
| | | |
| --- | --- | --- |
| 1956 | Unissued track - (Castle Music CD 1452 (#23)) | I'm Ready |
Albums
01/1965
LP 12" RCA VICTOR LPM 3303 (mono) / LSP 3303 (stereo) (US)
HITS FROM THE HEART - I'd Fight The World / Little Bitty Tear / You Comb Her Hair / Go On Home / Same Old Hurt / I Fall To Pieces / Just For The Record / Funny Way Of Laughin' / Make The World Go Away / Why Can't She Be You / Tears Broke Out On Me / He's Got You
10/1965
LP 12" RCA VICTOR LPM 3431 (mono) / LSP 3431 (stereo) (US)
GOING ON TRAINING - Sally Was A Good Ole Girl / I Want To Go With You / What Did I Do Wrong / You Kept Me Awake Last Night / I Ever Saw / What Any Fool Would Do / Who's Gonna / Little Folks / I'm Worried About Me / Jeannie's Waiting / Going In Training / Not That I Care
01/1968
LP 12" MONUMENT SLP 18089 (US)
THE HEART OF HANK - Has Anybody Seen Me Lately / Happy Goodbye / I Woke Up / Just For The Record / Tootsie's Orchard Lounge / I Just Burned A Dream / Yesterday's Memories / All Of Me Belongs To You / When You Gotta Go / It Couldn't Happen To A Nicer Guy / Speak Well Of Me To The Kids / Somewhere In My Dreams
08/1978
LP 12" CAPITOL ST 11807 (US)
WITH A LITTLE HELP FROM MY FRIENDS - Hank COCHRAN with FRIENDS - Willie / Heaven Is A Drink Of Wine / Whatcha Think About That / I'm Behind The Bottle / Am I Gonna Have To Burn Atlanta Down / Ain't Life Hell / Uphill All The Way / He Ain't Country / I'm Going With You This Time / Too Late
11/1980
LP 12" ELEKTRA 6E 277 (US)
MAKE THE WORLD GO AWAY - I Don't Do Windows / Make The World Go Away / He's Got You / You Comb Her Hair / Angel Flying Too Close To The Ground / Little Bitty Tear / A-11 / Sally Was A Good Ole Girl / Love Makes A Fool Of Us All / I Fall To Pieces
06/1991
LP 12" ROCKSTAR RSR LP 1022 (UK)
EDDIE & HANK - THE COCHRAN BROTHERS - Mr. Fiddle / Two Blue Singin' Stars / Guilty Conscience / Your Tomorrows Never Come / Closer, Closer, Closer / A Healer Like Time / Walkin' Stick Boogie / Rollin' / Livin' This Life (Jerry CAPEHART) / Too Often (Jerry CAPEHART) / I'm Ready / Slow Down / Latch On [vers. 1] / Fool's Paradise / Heart Of A Fool / Tired And Sleepy / Latch On [vers. 2] / Open The Door / Patent Pending / Pedal-Pushin' Baby
02/1997
CD SMALL DOG A-BARKIN' 796 (US)
DESPERATE MEN - THE LEGEND AND THE OUTLAW - HANK COCHRAN & BILLY DON BURNS -

Desperate Men / I Wish It Was That Easy Going Home / Patsy / Memories Cost A Lot / That Old Friend Of Mine / Dead Or Alive / Outlaws At The Cross / Way To Mexico / Diablo's Highway / No Shortage Of The Blues / Woman Be Careful / Outskirts Of Desperate / I'd Better Write It Down / Brothers Of The Music

2002
CD GIFTED FEW ? (UK)

LIVIN' FOR A SONG -

Honky Tonk Angels / Something Unseen / I Fell Apart / He Little Thinged Her / Nobody's Fool / You Wouldn't Know Love / You Let Me Down / Magic In The Band / When Cotton Was King / Sometimes Mississippi / The Pen / I'm Goin' Home / What A Beautiful Woman / Livin' For A Song
06/2005
CD KOCH KOCCD 9846 (US)
THE HEART OF HANK - THE MONUMENT SESSIONS -

Has Anybody Seen Me Lately / Happy Goodbye / I Woke Up / Just For The Record / Tootsie's Orchid Lounge / I Just Burned A Dream / Yesterday's Memories / All Of Me Belongs To You / When You Gotta Go 'You Gotta Go' / It Couldn't Happen To A Nicer Guy / Speak Well Of Me To The Kids / Somewhere In My Dreams / A Good Country Song / Same Old Hurt / If She Could See Me Now
© Rocky Productions 14/07/2012