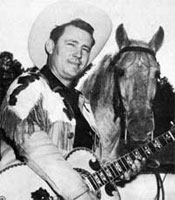 Chanteur Country US né le 9 Novembre 1925 à Chapman (Alabama). Jack Cardwell fut disc jockey sur la radio WAIP de Prichard (Alabama) en 1956 et un chanteur régulier sur WALA-TV de Mobile (Alabama) cette même année. Il est décédé le 22 Octobre 1993.

Jack was a native of the farm from Chapman, Alabama. He was a self-taught musician as he came from a family of non-musicians. From there he went to Mobile where he sold newspapers and then took advantage of every chance he could to perform professionally. Before Jack finished school at the Barton Academy in Mobile, he took a job as an electrician's helper, wanting to earn some money. He became rather proficient at it and would sail out of the Port of Mobile as chief electrician on many ships, but a back injury forced him into work that was less strenuous.
Because of that, he began to turn to music as a career. During World War II, he served with the Navy. Around 1953 or so, he was being heard on a radio show called the "Tom 'n' Jack Show" on WKAB out of Mobile, Alabama. Back then, he was recording on the King record label.
One of Jack Cardwell's first releases on the King label was a tribute to Hank Williams that reportedly sold over a half a million records!
Jack met his wife while he and his band were playing a dance date in Mobile. And had a couple of boys, Jackie Carrol and James Robert. Jackie played the piano back then and James wanted to be a singer 'just like dad'. Interestingly, in about the only time we've ever seen it, the February 1955 Cowboy Songs article actually listed the street address where Jack lived in his 8-room house. And more so, they said the house was completely furnished by a furniture store that had been his sponsor on the radio for seven years.
Jack originated a bit of a tradition in Mobile with the "Hillbilly Christmas Party". It was a benefit for the poor children of Mobile at christmas time. Jack would get together some of the biggest names in country music and they would put on a show at the Ladd Stadium. The artists would contribute not only their talents, but also paid their own transportation and expenses. Admission was simple: just bring a toy. Even the artists had to pay 'admission'. The show was held about two weeks before the Christmas holiday so that the 'forgotten' children of Mobile would have something for the holidays.
Along about 1955, Jack had a show called "Mr. Friendly" that was on WALA-TV every Thursday evening at 6:00pm.
https://en.wikipedia.org/wiki/Jack_Cardwell
Talents : Vocals, Guitar, Songwriter, Disc Jockey
Style musical : Traditional Country, Honky Tonk
Years in activity :
| | | | | | | | | | | | |
| --- | --- | --- | --- | --- | --- | --- | --- | --- | --- | --- | --- |
| 1910 | 20 | 30 | 40 | 50 | 60 | 70 | 80 | 90 | 2000 | 10 | 20 |
DISCOGRAPHY
78 t. & Singles
01/1953
78 t. KING 1163 (US)
You Hid Your Cheating Heart / My Love For You Would Fill Ten Pots
01/1953
SP KING 45-1163 (US)
You Hid Your Cheating Heart / My Love For You Would Fill Ten Pots
02/1953
78 t. KING 1172 (US)
The Death Of Hank Williams / Two Arms
02/1953
SP KING 45-1172 (US)
The Death Of Hank Williams / Two Arms
04/1953
78 t. KING 1203 (US)
Can I / Lonesome Midnight
04/1953
SP KING 45-1203 (US)
Can I / Lonesome Midnight
06/1953
78 t. KING 1241 (US)
I'm Not Lazy, I'm Just Tired / (Tell Your Friends To) Stop Laughing At Me
06/1953
SP KING 45-1241 (US)
I'm Not Lazy, I'm Just Tired / (Tell Your Friends To) Stop Laughing At Me
09/1953
78 t. KING 1262 (US)
A Vitamin Called Love / I'm Gonna Write A Song About You
09/1953
SP KING 45-1262 (US)
A Vitamin Called Love / I'm Gonna Write A Song About You
09/1953
78 t. KING 1269 (US)
You're Looking For Something / Dear Joan
09/1953
SP KING 45-1269 (US)
You're Looking For Something / Dear Joan
01/1954
78 t. KING 1292 (US)
I Can't Make Up My Mind / Walking Away My Blues
01/1954
SP KING 45-1292 (US)
I Can't Make Up My Mind / Walking Away My Blues
04/1954
78 t. KING 1339 (US)
Diddle Diddle Dumpling / Blue Love
04/1954
SP KING 45-1339 (US)
Diddle Diddle Dumpling / Blue Love
06/1954
78 t. KING 1357 (US)
Whiskey, Women And Loaded Dice / Slap-Ka-Dab
06/1954
SP KING 45-1357 (US)
Whiskey, Women And Loaded Dice / Slap-Ka-Dab
09/1954
78 t. KING 1381 (US)
Will Our Love Fade And Die / There's A Train Leaving (Ev'ry Fifteen Minutes)
09/1954
SP KING 45-1381 (US)
Will Our Love Fade And Die / There's A Train Leaving (Ev'ry Fifteen Minutes)
11/1954
78 t. KING 1396 (US)
No More / I Discovered You
11/1954
SP KING 45-1396 (US)
No More / I Discovered You
03/1955
78 t. KING 1442 (US)
Ko Ko Mo (I Love You So) / Are You Mine (Jackie HALL & Jack CARDWELL)
03/1955
SP KING 45-1442 (US)
Ko Ko Mo (I Love You So) / Are You Mine (Jackie HALL & Jack CARDWELL)
1955
78 t. KING 1454 (US)
Day Done Broke Too Soon This Morning / Whadaya Want
1955
SP KING 45-1454 (US)
Day Done Broke Too Soon This Morning / Whadaya Want
08/1957
SP STARDAY 45-310 (US)
Hey, Hey, Baby / Once Every Day
1959
SP SANDY 1023-45 (US)

Jack Cardwell & The Three D's - Blue Lifetime / All Alone

1962
SP LE NOIR 45-25 (US)

Big Jim Folsom / ?

1962
SP CINEMA JR-33-104C (US)
Y'All Come (Roland

Johnson

) / The Ballad Of Big Jim Folsom (Jack

Cardwell

)
1969
SP ASTRO JR-39-110 (US)

Christmas In Vietnam / Christmas Wedding

1973
SP STARDAY JUKE BOX OLDIES 45-8034 (US)
The Life Of Hank Williams (Hawkshaw HAWKINS) / The Death Of Hank Williams (Jack CARDWELL)
1975
SP KING KG-516 (US)

The Death Of Hank Williams / Dear John

1979
SP GUSTO GT4-2067 (US)

The Death Of Hank Williams / Dear Joa
Albums
2002
CD Hillbilly Researcher HBR # 51 (UK)

Jack Cardwell - Two Arms / You Hid Your Cheating Heart / My Love For You Would Fill Ten Pots / You're Looking For Something / The Death Of Hank Williams / (Tell Your Friend To) Stop Laughing At Me / I'm Not Lazy I'm Just Tired / Can I / Lonesome Midnight / A Vitamin Called Love / I Can't Make Up My Mind / Walking Away With My Blues / I'm Gonna Write A Song About You / Dear Joan / Whiskey, Women And Loaded Dice / Diddle Diddle Dumpling / Slap-Ka-Dab / Blue Love / Will Our Love Fade And Die / No More / There's A Train Leaving (Ev'ry Fifteen Minutes) / I Discovered You / Ko Ko Mo (I Love You So) / Are You Mine / Day Done Broke Too Soon This Morning / Whadaya Want / Hey Hey Baby / Once Every Day

2009
CD CACTUS ? (?)
STARS OF KING HILLBILLY - Whiskey, Women And Loaded Dice / Slap-Ka-Dab / My Love For You Would Fill Ten Pots / You Hid Your Cheating Heart / The Death Of Hank Williams / Two Arms / A Vitamin Called Love / I'm Gonna Write A Song About You / Walking Away My Blues / I Can't Make Up My Mind / Diddle Diddle Dumpling / Blue Love / There's A Train Leaving (Ev'ry Fifteen Minutes) / Will Our Love Fade & Die / I'm Not Lazy, I'm Just Tired / (Tell Your Friends To) Stop Laughing At Me / I Discovered You / No More / Lonesome Midnight / Can I / Day Done Broke To Soon This Morning / Whadaya Want / Ko Ko Mo (I Love You So) / Are You Mine / You're Looking For Something / Dear Joan / Somebody Done Goofed / Strumming My Old Guitar / You Better Listen While I'm Talking / Footloose & Fancy Free / For Sale (My Second-Hand Heart))
2011
CD ? (?)
HILLBILLY CLASSICS -

No More / (Tell Your Friends To) Stop Laughing At Me / Ko Ko Mo (I Love You So) / You're Looking For Something / Footloose & Fancy Free / Walking Away My Blues / Two Arms / A Vitamin Called Love / Whadaya Want / There's A Train Leaving (Ev'ry Fifteen Minutes) / I Discovered You / Day Done Broke Too Soon This Morning / I'm Not Lazy, I'm Just Tired / Are You Mine / You Better Listen While I'm Talking / Can I / Blue Love / Walking Away My Blues / The Death Of Hank Williams / Slap-Ka-Bob / Diddle Diddle Dumpling / Strumming My Old Guitar / Whiskey, Women And Loaded Dice / Lonesome Midnight / Will Our Love Fade & Die / Dear Joan / For Sale (My Second Hand Heart) / You Hid Your Cheating Heart / I Can't Make Up My Mind / My Love For You Would Fill Ten Pots / I'm Gonna Write A Song About You / Somebody Done Goofed
© Rocky Productions 2/11/2022