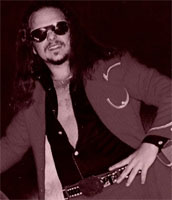 Chanteur Rockabilly US, né le 12 Juin 1953 à Memphis (Tennessee). Rocky Burnette est le fils de Johnny Burnette.

The son of legendary rock & roll pioneer Johnny Burnette, Rocky Burnette followed in his father's musical footsteps, playing rowdy, high-energy rockabilly that dovetailed nicely with the early-'80s revival of the style. Born in Memphis in 1953, Burnette debuted in 1979 with the EMI America album Son of Rock'n'Roll (around the same time his cousin Billy began recording straight country for Columbia). The following summer, his single "Tired of Toein' the Line" became a Top Ten smash, predating success stories by the likes of the Stray Cats and the Cramps; the song was also quite popular internationally, establishing an overseas fan base for Burnette that would endure for quite some time. However, EMI America's financial difficulties scuttled promotion efforts for the follow-up singles (several of which became hits in other countries), and Burnette's second album, Heart Stopper, got lost in the shuffle. In 1981, Burnette toured Europe with the final version of his late father's Rock & Roll Trio; Burnette also used the band on his next album, Get Hot or Go Home!, which was issued on Enigma. Unfortunately, it met with little commercial response and Enigma chose to drop Burnette and the Trio rather than release their more country flavored follow-up. Burnette began to resurface in the mid-'90s, working with Rosie Flores and Dwight Twilley, and also contributing Vocalss and the original "Trouble Is I'm in Love With You" to ex-Trio guitarist Paul Burlison's 1997 solo album Train Kept A-Rollin'. In 1996, Burnette finally issued another album, Tear It Up; unfortunately, the label, Core, went bankrupt almost immediately after its release. Undaunted, Burnette kept up his international tours, and supplied soulster Percy Sledge with a European hit with "You Got Away With Love" in 1997.
http://www.burnette-rock.com/RockyBurnette.htm
Talents : Singer, Guitar
Style musical : Contemporary Country, Rockabily

http://youtu.be/8UWmAOvSlXw
Years in activity :
| | | | | | | | | | |
| --- | --- | --- | --- | --- | --- | --- | --- | --- | --- |
| 1910 | 20 | 30 | 40 | 50 | 60 | 70 | 80 | 90 | 2000 |
DISCOGRAPHY
Singles
1979
SP EMI-AMERICA P-8043 (US)
.
Tired Of Toein' The Line / Tired Of Toein' The Line
1979
SP EMI EMI 2992 (UK)
Tired Of Toein' The Line /

Clowns From Outer Space

1979
SP EMI-AMERICA P-8050 (US)
.
Baby Tonight / Because Of You
1979
SP EMI-AMERICA 8060 (US)
.
Fallin' In Love (Bein' Friends) / Fallin' In Love (Bein' Friends)
1980
SP EMI 5037 (UK) (demo)
Baby Tonight / Boogie Down In Mobile Alabama
1980
SP EMI 5060 (UK)

Fallin' In Love / Because Of You

1980
SP EMI 1 C 006-63 854 (GER)

Fallin' In Love (Bein' Friends) / Because Of You

1982
SP EMI EMI 5339 (UK)

Fingerprints / Bertha Lou

1982
SP GOODS TGR-93007 (US)
.
Heartstopper / ?
Albums
1979
LP 12" EMI-AMERICA 17033 (US)
THE SON OF ROCK AND ROLL - Tired Of Toein' The Line / Anywhere Your Body Goes / Fallin' In Love (Bein' Friends) / Angel In Chambray / Bertha Lou / Because Of You / Boogie Man / Baby Tonight / You're So Easy To Love / A Woman In Love / Clowns Front Outer Space / Roll Like A Wheel
1979
LP 12" EMI / ELECTROLA EMC 3323 (UK)
THE SON OF ROCK AND ROLL - Tired Of Toein' The Line / Anywhere Your Body Goes / Fallin' In Love (Bein' Friends) / Angel In Chambray / Bertha Lou / Because Of You / Boogie Man / Baby Tonight / You're So Easy To Love / A Woman In Love / Clowns Front Outer Space / Roll Like A Wheel
1982
LP 12" GOODS TGR-9302 (US)
HEARTSTOPPER - Heartstopper / Fingerprints / Makin Love / Crosswinds / Blue Haven Cafe / Tennessee / Let Me Know / When You Were Mine / In The Middle Of The Night / Hey Little One
1982
LP 12" EMI 3421 (US)
ROCKY BURNETTE - Heartstopper / Makin' Love / Crosswinds / Blue Haven Cafe / Tennessee / Hey Little One / Tired Of Toein' The Line / Fingerprints / Let Me Know / When You Were Mine / In The Middle Of The Night / Alberta / It's All In Your Eyes
1983
LP 12" KYD E1016 (US)
GET HOT OR GO HOME - ROCKY BURNETTE AND THE ROCK 'N' ROLL TRIO - Tear It Up / You're 16 / Get Along / Since My Baby's Gone / Release Me / Rockin' With Red / Get Hot Or Go Home / Got Me Itchin' / Oh Baby Babe / You're Undecided / Footprints In The Snow / Drinkin' Wine Spodee Odee
1983
LP 12" STAR-CLUB ? (SW)

GET HOT OR GO HOME - ROCKY BURNETTE AND THE ROCK 'N' ROLL TRIO - Tear It Up / You're 16 / Get Along / Since My Baby's Gone / Release Me / Rockin' With Red / Get Hot Or Go Home / Got Me Itchin' / Oh Baby Babe / You're Undecided / Footprints In The Snow / Drinkin' Wine Spodee Ode

09/1996
CD CORE 9645 (US)
TEAR IT UP - Frieght Train / Get on Board / One Love Is Enough / Overtime / County Line / So Close / Back Road Boogie / Tear It Up / My Baby / Vaya con Dios
06/2002
CD ROCK STAR 21 (UK)
HIP SHAKIN' BABY - A TRIBUTE JOHNNY & DORSEY BURNETTE - Rocky BURNETTE, Darrel HIGHAM & The ENFORCERS - Hip Shakin' Baby / Believe What You Say / Kiss Me Sweet / Hey Pretty Baby / Here Comes That Feelin' / Gypsy Woman / Bertha Lou / My Heart / Whenever You're Ready / Don't Leave Me This Way / It's Late / Pure Love / My One Desire / Just a Little Too Much / Waitin' In School / One Of Those Mornings / Tear It Up

[live]

/ Lonesome Tears In My Eyes

[live]

/ Please Don't Leave Me

[live]

06/2007
CD EL TORO 2034 (SP)
WAMPUS CAT - Wampus Cat / Streamliner / Please Don't Leave Me / Riding On A Rocket / Why Go Home? / Why U Been Gone So Long / Crazy Legs / Que Lastima / I Love You So / Next Train / Dinchu / Lonesome Tears In My Eyes / You Never Know / Rock Therapy
© Rocky Productions 26/11/2011