| | |
| --- | --- |
| | |
| | |

Chanteur Rock 'n' Roll US né Jules Merrill Blattner le 8 Février 1941 à Saint-Louis (Missouri). Jules Blattner est décédé le 7 Juin 2019.

Jules Blattner is a rock & roll original, from a town that spawned one of the great founding rock & roll originals, Chuck Berry. Born in St. Louis, MO, in 1941, he was a young teenager when the music caught on, and was already making plans to do something with it when the music began roaring up the chart in 1955. At age 15, in 1956, he organized his first group, Jules Blattner & the Teen Tones. Evidently, they were the first rock & roll band (or, at least, the first white rock & roll band) ever seen in the area, made of kids from around there (and so young that Blattner's mother drove them to their gigs in the early days), and they had the field to themselves. And for quite a while, on that lower end of the rock & roll business, they cleaned up, playing hundreds of local shows over the next few years. In 1959, they also got noticed by Bob Lyons, who owned a small local label, Bobbin Records, and decided to record them. The resulting single, "Rock & Roll Blues" b/w "Gambling Man," cut at Lyons' garage studio, is regarded as a classic of late-era rockabilly, and even got good reviews in Billboard and Cashbox. It hit number eight locally in St. Louis, which was enough to generate a second single, "Teen Town" b/w "Green Stuff." And thanks to their local standing, they got to share stages with such national luminaries as Jesse Belvin, Brenda Lee, the Isley Brothers, and Little Richard when they played St. Louis.
For all of their success on-stage, Blattner's records never reached a national audience, and not even a switch to the larger K-Ark label, based in Nashville, in 1960, solved the problem. He shifted a bit with the times, rechristening the Teen Tones as the Twist Tones in the early '60s, and later switching to the more all-purpose Jules Blattner Group. He also cut his first LP, A Musical Tour of Gaslight Square, named for the center of the St. Louis music scene and issued on the Norman label in 1964. The latter company was owned by Norman Weinstrorer, a producer and businessman who'd been involved with Buddy Holly early in the latter's career on Coral Records. By late 1964, he was on Coral himself and made his debut for the label with a searing cover of Chuck Berry's "No Money Down," which got a great review but did little business. And Blattner made much closer contact with the St. Louis-born legend the following year when he and his band ended up backing him (without credit) on an album titled — incongruously enough — In London, which included Blattner's "Butterscotch Twist," rewritten as "Butterscotch."
Blattner's brand of rock & roll was out of favor nationally during the second half of the 1960s, but he was always able to make something of a living on-stage. Recording success continued to elude him, though he had a couple of close brushes with serious chart action in the early '70s, while signed to Buddah Records (where one of his three LPs was a somewhat spacy, psychedelic/conceptual release, conceived and recorded very long after its appropriate era, credited to Seluj Renttalb, which was "Jules Blattner" spelled in reverse). He only ever really slowed down during the disco era in the second half of the 1970s, when the work dried up. He was forced to work a regular day job for a time, but by the 1980s he was back playing regularly again, and has never stopped since — even in his sixties, he works at least two nights a week, and is regarded as a musical institution in the St. Louis era. What's more, at the end of the 1990s, the German-based Buffalo Bop label re-released his Bobbin Records sides on two of their CD compilations of classic rockabilly. His version of Berry's "No Money Down" also appeared on Bear Family's That'll Flat Git It!, Vol. 9 rockabilly anthology. And in 2004 the German Hydra Bck label issued an entire Jules Blattner CD compilation covering his early rock & roll and rockabilly sides going into the mid-'60s.
Jules Blattner passed away on June 7, 2019.
https://en.wikipedia.org/wiki/Jules_Blattner
Talents : Vocals, Guitar, Songwriter
Style musical : Rock 'n' Roll
Years in activity :
| | | | | | | | | | | | |
| --- | --- | --- | --- | --- | --- | --- | --- | --- | --- | --- | --- |
| 1910 | 20 | 30 | 40 | 50 | 60 | 70 | 80 | 90 | 2000 | 10 | 20 |
DISCOGRAPHY
Singles
| | | |
| --- | --- | --- |
| 03/1959 | SP BOBBIN 105 (US) | Jules BLATTNER & His TEEN TONES - Rock And Roll Blues / Gamblin' Man |
| 07/1959 | SP BOBBIN 113 (US) | Jules BLATTNER & His TEEN TONES - Green Stuff / Teen Town |
| 08/1960 | SP K-ARK 609 (US) | Jules BLATTNER & His TEEN TONES - Till I'm With You (Once Again) / Lonesome |
| 11/1960 | SP K-ARK 612 (US) | Jules BLATTNER & His TEEN TONES - One More Time / Lover Doll |
| 08/1961 | SP NORMAN N-509 (US) | Jules BLATTNER & The BAND - Slip 'n Slide / Heartbeat |
| 12/1961 | SP NORMAN NR-512 (US) | Jules BLATTNER & The BAND - St. James Infirmary / Do You Love Me |
| 02/1962 | SP GASLIGHT G-400 (US) | Butterscotch Twist / Liszt Twist |
| 06/1962 | SP GASLIGHT G-403 (US) | Red Top / Looking For My Baby |
| 03/1963 | SP NORMAN N-533 (US) | 500 Pound Canary (Jules BLATTNER with "Birdman" Danny DARK) / I'm So Blue |
| 05/1963 | SP NORMAN N-538 (US) | One More Time [instr.] / Ooh That's Corny |
| 1964 | SP NORMAN N-550 (US) | No Money Down / The Thing [instr.] |
| 01/1965 | SP CORAL 62437 (US) | No Money Down / The Thing [instr.] |
| 1965 | SP NORMAN N-557 (US) | JULES & The JBG - Crazy Stockings / Goodbye Baby |
| 1965 | SP NORMAN N-560 (US) | 27 Tickets / Shinding [instr.] |
| 1965 | SP NORMAN N-573 (US) | Childhood Sweetheart / Down Bound Train |
| 1967 | SP TEE PEE 834T-4519 (US) | Pledging My Love / Sumemrtime Blues |
| 1969 | SP DMA 101 (US) | That Ain't Love, That's Emotion / Tell Me About Hard Times |
| 1969 | SP CINE VISTA CV-5 (US) | Jules BLATTNER GROUP - Unreal People / 2001: A Soul Odyssey |
| 1971 | SP TARGET 2000 (US) | Fannie Mae / School Days |
| 08/1971 | SP BUDDAH 245 (US) | Down Bound Train / What You Gonna Do When I'm Gone |
| 06/1972 | SP MGM K 14396 (US) | Back On The Road Again / Backwater Blue |
| 1973 | SP METROMEDIA 68-0105 (US) | Goin' Back On The Road Again / Backwater Blue |
| 1976 | SP BLUE RIBBON 102 (US) | Jules BLATTNER & The Warren GROOVEY ALL-STAR BAND - I Love You Mary Hartman / Jump In, Get Some |
| 1989 | SP NORMAN 1020 (US) | New Orleans / Island Song |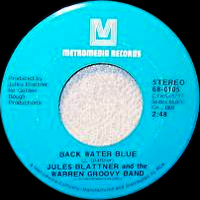 Albums
| | | | |
| --- | --- | --- | --- |
| 1971 | LP 12" BUDDAH LP 5080 (US) | | CALL ME MAN ! - The Jules BLATTNER GROUP - Gonna Have A Good Time / My Babe / All Strung Out / Fannie Mae / Rockya Racoon / School Days / Bullshit / Man / Birth / Downbound Train / Bye Bye Baby |
| 1972 | LP 12" STASH 3601 (US) | | BACK ON THE ROAD AGAIN - Lucy Mae / Sweet Child Pickup / Back On The Road Again / I Don't Think They Know / Are We Blind / Charlie's Lament / Backwater Blues / It Ain't No Big Deal / Unreal People / I-94 |
| 1972 | LP 12" MGM SE 4808 (US) | | SELUJ RENTTALB - MISTABULA MAINE MARCHING BAND & SOIL SALVATION SOCIETY - (Seluj RENTTALB = Jules BLATTNER) - Our Captain Speaks / Save The Ground / Things Ain't The Way They Used To Be / Get Happy / Happiness Is A Carnival / The Carnival's Coming / I Think There's Something Funny / Right Now / Is Anybody Listening |
| 1974 | LP 12" MOUNTAIN 5624 (US) | | LIVE - Jules BLATTNER & The Warren GROOVEY ALL-STAR BAND - Jesus Christ Medley / Song For You / ... |
| 1979 | LP 12" DESMOND A210 (US) | | BACK TO THE BASICS - Back To The Basics / Don't Mess With The Rock 'n' Roll / Long Way To Go / Dew Drop Inn / I-94 / Devil's Prescription / Ladies Of The Night / Goin' Home / Roll On |
| 1992 | CD BON AIR 2004 (US) | | JUMP ON THIS - Jump On This / Loves You Baby / Lonely Man / Hot Damn "That's All She Wrote" / Gypsy / The Big Game / It Ain't No Big Deal / It Must Have Been Something I Said Last Night / Monologue / Blind Date Blues |
| 2004 | CD HYDRA BCK 27124 (GER) | | TEEN TOWN - Jules BLATTNER & The TEEN TONES - Rock And Roll Blues / Gamblin' Man / Green Stuff / Teen Town / Lonesome / Till I'm With You / Lover Doll / One More Time (version 1, 1960) (instr.) / Heartbeat / Slip'n Slide / Do You Love Me / St. James Infirmary / Ooh That's Corny / The Thing (instr.) / No Money Down / I'm So Blue / 500 Pound Canary / Crazy Stockings / Goodbye Baby / 27 Tickets / Shinding (instr.) / Buttersctoch Twist / Red Top (instr.) / Looking For My Baby / Liszt Twist / Pledging My Love / Summertime Blues / One More Time (version 2, 1963) (instr.) / New Orleans |
© Rocky Productions 27/04/2022