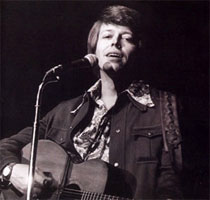 Chanteur Country US né le 7 Février 1943 à Tampa (Floride).

Country singer/songwriter/guitarist Tony Booth grew up in Tampa, but launched his musical career in the Southwest. He made his professional debut with the Mel Savage Band and soon toured with Jimmy Snyder. In 1968, after founding the band Modern Country, Booth began working in Las Vegas and from there moved to clubs in California. He renamed the group the Tony Booth Band and became the house band at the Palomino in California. He cut his first single, "Big Lonely World," with K-Ark and signed to MGM in 1970, where he had his first hit with a cover of Merle Haggard's "Irma Thompson."
Booth's career really took off in 1972 when he scored three Top 20 hits, including "The Key's in the Mailbox." The next year he had five more hits, including a cover of the Doris Day hit "Secret Love" and "When a Man Loves a Woman (The Way I Love You)." However, his career waned and he only had three minor hits in 1974. After releasing two unsuccessful singles, Booth was dropped from Capitol in 1975. Two years later, he recorded the single "Letting Go" with United Artists and did not appear on the charts again. During the 1990s, Booth played with Gene Watson's band.
https://en.wikipedia.org/wiki/Tony_Booth_(musician)
Talents : Vocals, Songwriter, Guitar, Bass Guitar
Style musical : Traditional Country, Bakersfield Sound

http://youtu.be/fT6f8hAiHP0
Years in activity :
| | | | | | | | | | | | |
| --- | --- | --- | --- | --- | --- | --- | --- | --- | --- | --- | --- |
| 1910 | 20 | 30 | 40 | 50 | 60 | 70 | 80 | 90 | 2000 | 10 | 20 |
DISCOGRAPHY
Singles
| | | |
| --- | --- | --- |
| 196? | SP KARK 668 (US) | Big Lonely World / ? |
| 1970 | SP MGM 14112 (US) | Irma Jackson / One Too Many Times |
| 1970 | SP MGM 14156 (US) | Give Me One Last Kiss And Go / Las Virgenes Road |
| 1971 | SP CAPITOL 3214 (US) | Cinderella / Somebody Called L. A. |
| 1972 | SP CAPITOL 3269 (US) | The Key's In The Mailbox / Devil Me Do That |
| 1972 | SP CAPITOL 3356 (US) | Nobody's Fool But Yours / A Whole Lot Of Somethin' |
| 1972 | SP CAPITOL 3441 (US) | Lonesome 7-7203 / Congratulations, You're Absolutely Right |
| 1973 | SP CAPITOL 3515 (US) | When A Man Loves A Woman (The Way That I Love You) / Just A Man |
| 1973 | SP CAPITOL 3582 (US) | Loving You / What A Liar I Am |
| 1973 | SP CAPITOL 3639 (US) | Old Faithful / Don't Let True Love Slip Away |
| 1973 | SP CAPITOL 3723 (US) | Secret Love / Someday I'm Gonna Go To Mexico |
| 1973 | SP CAPITOL 3795 (US) | Happy Hour / Midnight Race |
| 1974 | SP CAPITOL 3853 (US) | Lonely Street / It Never Will Be Over For Me |
| 1974 | SP CAPITOL 3899 (US) | There Ain't Enough Of Love To Go Around / Someone Who Really Does |
| 1974 | SP CAPITOL 3943 (US) | Workin' At The Car Wash Blues / That Loving Feeling |
| 1974 | SP CAPITOL 3994 (US) | Watch Out For Lucy / Good As Gone |
| 1975 | SP CAPITOL 4058 (US) | Down At The Corner Bar / Someone Who Really Does |
| 1975 | SP CAPITOL 4123 (US) | Fanny Lee (The Burlesque Queen) / How's Everything |
| 1976 | SP UNITED ARTISTS XW 906 (US) | Lady Alone / Somethin' 'Bout You Baby I Like |
| 1977 | SP UNITED ARTISTS XW 962 (US) | Letting Go / Nothing Seems To Work Anymore |
| 1977 | SP UNITED ARTISTS XW 1028 (US) | All Night Long / Fading Tail Lights |
Albums
1967
LP 12" UNI ? (US)
COUNTRY '67 - Johnny BOOTH - Wishful Thinking / I'm On Your Side / Burning Bridges / It's Such A Pretty World Today / Apartment No 9 / I Think I Can, When My Blue Moon Turns To Gold Again / My Lonely Came Early Today / Lover's Question / There Goes My Everything / Walk Through This World With Me / Heart We Did All That We Could
1970
LP 12" MGM

SE-4704 (US)

ON THE RIGHT TRACK - Las Virgenes Road / Give Me One Last Kiss And Go / Under Your Spell Again / Don't Ever Tell Me Goodbye / Thanks For Nothing / Lorelei / After Being Your Lover / One Too Many Times / Heaven Is A Place Called Love / Without You
1972
LP 12" CAPITOL

ST-11076 (US)

THE KEY'S IN THE MAILBOX - Key's In The Mailbox / Down At The Corner Bar / Under Your Spell Again / Another Guitar Picker / Something's Wrong / Cinderella / Devil Made Me Do That / Nobody's Fool But Yours / Somebody Called L.A. / Whole Lot Of Somethin'
1972
LP 12" CAPITOL

ST-11126 (US)

LONESOME

7-7203 -

Lonesome 7-7203 / Second Fiddle / Maybe If I Close My Eyes (It'll Go Away) / Close Up The Honky Tonks / Congratulations / You're Absolutely Right / What A Liar I Am / You Left Her Lonely Too Long / Bad Bad Dream / I've Carried This Torch Much Too Long / Just A Man
1973
LP 12" CAPITOL

ST-11160 (US)

WHEN A MAN LOVES A WOMAN (THE WAY THAT I LOVE YOU) -

When A Man Loves A Woman (The Way That I Love You) / How Long Will My Baby Be Gone / He Don't Deserve You Anymore / Colors I'm Gonna Paint The Town / Love's Gonna Live Here / Sweethearts In Heaven / Mirror Mirror On The Wall / You'll Never Miss The Water (Till The Well Runs Dry) / Would You Settle For Roses / Courage To Go Home
1973
LP 12" CAPITOL

ST-11210 (US)

THIS IS TONY BOOTH - Old Faithful / Someday I'm Gonna Go To Mexico / Out Of Ways To Try / If I Had You Back Again / High As The Mountain / Loving You / I Won't Be Needing You / Don't Let True Love Slip Away / Full Time Daddy / Hurry Come Running Back To Me
1974
LP 12" CAPITOL

ST-11270 (US)

HAPPY HOUR - Happy Hour / Bring Back My Peace Of Mind / Across This Town And Gone / Fishin' On The Mississippi / Good Old Days (Are Here Again) / Secret Love / It Never Will Be Over For Me / Easy Lovin' / That Loving Feeling / Midnight Race
1974
LP 12" CAPITOL

ST-11352 (US)

WORKIN' AT THE CAR WASH BLUES -

Workin' At The Car Wash Blues / It's Just A Matter Of Time / Someone Who Really Does / There Ain't Enough Of Love To Go Around / Good As Gone / Lonely Street / Different Kind Of Sad / Midnight Race / How's Everything / Love Don't Make The Bars
03/2008
CD HEART OF TEXAS 130 (US)
IS THIS ALL THERE IS TO A HONKY TONK? - Is This All There Is To A Honky Tonk? / Play Me The Truth / You Look Like Someone That Used To Love Me / My Memories Of You / I've Been Around Love Long Enough / Cold Brown Bottle / Losing You Just Dawned On Me Today / Another Chance At Love / Sweethearts In Heaven / The Keys In The Mailbox / Cinderella / Lonesome 7-7203
10/2009
CD ? (US)
THE ESSENTIAL -

Cinderella / Out Of Ways To Try / Happy Hour / Lonesome 7-7203 / Close Up The Honky Tonks / Congratulations, You're Absolutely Right / What A Liar I Am / Under Your Spell Again / Old Faithful / Down At The Corner Bar / Colors I'm Gonna Paint The Town / The Devil Made Me Do That / The Keys In The Mailbox / Would You Settle For Roses?

01/2010
CD ? (US)
THE SURVIVORS - CURTIS POTTER / TONY BOOTH / DARRELL MCCALL - Wasted Words / Your Memory Is Killing Me / Case Of Sorrow / You Can't Take It With You / My Confession / Forever Yours / Down At Ginny's / There She Goes / I'll See You In My Dreams Tonight / Whiskey Man / Love Don't Care / It Is No Secret
05/2010
CD ? (US)
THE KEY'S IN THE MAILBOX / LONESOME

7-7203 -

They Key's In The Mailbox / Down At The Corner Bar / Under Your Spell Again / Another Guitar Picker / Something's Wrong / Cinderella / Devil Made Me Do That / Nobody's Fool But Yours / Somebody Called L.A. / Whole Lot Of Somethin' / Lonesome 7-7203 / Second Fiddle / Maybe If I Close My Eyes (It'll Go Away) / Close Up The Honky Tonks / Congratulations / You're Absolutely Right / What A Liar I Am / You Left Her Lonely Too Long / Bad Bad Dream / I've Carried This Torch Much Too Long / Just A Man
09/2010
CD ? (US)
THE OTHER SIDE OF LOVE - Don't Call Me From A Honky Tonk (with Amber DIGBY) / All That She Could Take / An Eye For An Eye / Perfect Place / Twice The Speed Of Love / I Don't Know How To Tell Her / It's All Your Fault / I'm Not The One / Sometimes I Talk In My Sleep / Heartache Remover / Kickin In / Blue Spanish Eyes
05/2011
CD Heart Of Texas HOTR-4149 (US)

The Survivors - Curtis Potter - Tony Booth - Darrell McCALL - Wasted Words / Your Memory Is Killing Me / Case Of Sorrow / You Can't Take It With You / My Confession / Forever Yours / Down At Ginny's / There She Goes / I'll See You In My Dreams Tonight / Whiskey Man / Love Don't Care / It Is No Secret

2012
CD Heart Of Texas HOTR-6632 (US)

The Survivors II -

Tony

Booth

- Darrell McCALL - Curtis

Potter

- KissingYour Picture / Love Don't See That Side Of You / I Thought I Heard You Calling My Name / Darling Are You Ever Coming Home / She'll Keep Bringing All Her Love To Me / Lucky Me / I Saw My Castles Fall Today / May Time My Lady / Touch My Heart / I'll Keep On Loving You / If This Was Texas / Who Am I
© Rocky Productions 13/12/2015