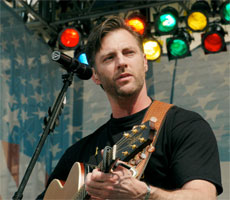 Chanteur Country US né le 31 Octobre 1964 à Pyburn (Tennessee).

A country singer and songwriter steeped in vintage sounds and traditional values, Darryl Worley was a hitmaker in the 2000s who stepped away from stardom only to return to the stage in the late 2010s. Influenced by George Jones and Merle Haggard, Worley's music put a touch of modern sheen on songs rooted in the traditionalist movement that swept through Nashville in the '90s. His songs dealt with the stuff of ordinary lives, such as love, family, and heartache, and he enjoyed a major hit in 2003 with the patriotic anthem "Have You Forgotten." Worley put his career on the back burner at the end of the 2000s, but in 2019 he cut a new album that merged his trademark sound with more soulful grooves.
Darryl Worley was born on October 31, 1964 in Memphis, Tennessee. He was raised in Pyburn, Tennessee; his father was a Methodist minister, his mother sang in the choir at church, and his grandfather was a banjo player well-schooled in country and bluegrass. Worley had a keen interest in music, but was planning to go to college on a basketball scholarship until a back injury ended his career in sports. Worley attended the University of North Alabama, where he studied biology and chemistry, while playing off-campus honky tonks in his spare time. After graduating, he juggled jobs in chemistry and education with occasional gigs in his off hours, but on the advice of his father, Worley decided to take a chance on a career in music. He landed a job as a contract songwriter with Fame Publishing in Muscle Shoals, Alabama, and fared well enough that in 1994 he moved up to a deal with EMI Publishing, which took him to Nashville. Between his strong songwriting and his growing talent as a performer, Worley began making a name for himself in Music City, and in 1999 he landed a contract with DreamWorks Records.
In 2000, he released his first album, Hard Rain Don't Last, and the disc spawned three Top 20 Country singles, "When You Need My Love, "A Good Day to Run," and "Second Wind." That same year, Worley also saw one of his heroes, George Jones, record one of his songs with the release of "Sinners and Saints." Worley dropped his second album in 2002, I Miss My Friend, and the title track went all the way to number one on the Country Singles chart, while the album went on to top the Country Albums survey. In late 2002, Worley took part in a USO tour to entertain American troops in Kuwait and Afghanistan, and he was inspired to write a song in support of American involvement in the Middle East, "Have You Forgotten." The single was issued in March 2003, and it spent seven weeks at the number one spot on the Country Singles chart, and also hit the pop chart, peaking at 22. An album titled Have You Forgotten followed in April 2003, which included the title tune, three other fresh recordings, and 12 songs from Worley's first two LPs.
Worley followed the success of "Have You Forgotten" with 2004's Darryl Worley, which spawned three Top Ten country singles, including "Awful, Beautiful Life," which became his third single to go to Number One. However, in mid-2005 DreamWorks Records went out of business, and soon Worley was a free agent. Country star Neal McCoy had founded his own label, 903 Music, and Worley joined their roster, releasing Here and Now in November 2006. The song "Nothin' But a Love Thang" became a hit, reaching 35 on the Country Singles chart, but in mid-2007, 903 Music went under, once again leaving Worley stranded. James Stroud, who had produced much of Worley's work for DreamWorks, had founded a label in 2008, Stroudavarious Records, and he signed Worley for his fifth original album, 2009's Sounds Like Life. The tune "Sounds Like Life to Me" became a Top 20 country hit, but Worley's luck with labels hadn't improved much, and his next album, God & Country, went unreleased when Stroudavarious went out of business, with most of the artists moving over to R&J Records. In 2012, a fledgling label, Tenacity Records, brought out a new Worley single, "He's Still Got It," which made its way into the Country Top 40, but the album he recorded for the company, One Time Around, was never released.
In 2008, Worley and his wife welcomed their first child, a daughter named Savannah, and as he dealt with his record company troubles, he came to believe that family should be his priority, not career. Worley cut back on touring, and after One Time Around was shelved, he limited recording to a few stray singles. In 2018, Worley decided to reintroduce himself to his fans, and he and his band began work on a new album, half original material which showed a faint influence of Worley's fondness for classic soul, and half re-recorded versions of some of his most popular tunes. The result, Second Wind: Latest and Greatest, was released by BFD Records in April 2019.
https://en.wikipedia.org/wiki/Darryl_Worley
Talents : Vocals, Songwriter
Style musical : Contemporary Country, Country-Pop

https://www.youtube.com/watch?v=p6yLQRF-cEU
Years in activity :
| | | | | | | | | | | | |
| --- | --- | --- | --- | --- | --- | --- | --- | --- | --- | --- | --- |
| 1910 | 20 | 30 | 40 | 50 | 60 | 70 | 80 | 90 | 2000 | 10 | 20 |
DISCOGRAPHY
Singles & EP
04/2000
SP DREAMWORKS 004 459 043-7 (US)
.

When You Need My Love / Who's Gonna Get Me Over You?

2000
CD DREAMWORKS 0044-59043-2 (US)

When You Need My Love / Who's Gonna Get Me Over You?

2000
CD DREAMWORKS DRMR-13612-2 (US) (promo)

A Good Day To Run - A Good Day To Run / A Good Day To Run / A Good Day To Run

2002
SP DREAMWORKS 0044-50378-7 (US)
.

I Miss My Friend / Sideways

2002
CD DREAMWORKS DRMR-13902-2 (US) (promo)

I Miss My Friend -

I Miss My Friend (single edit) / I Miss My Friend (single edit) / I Miss My Friend (single edit)
10/2002
SP DREAMWORKS 0044-50814-7 (US)
.

Family Tree / Back Where I Belong

2002
CD DREAMWORKS DRMR-13990-2 (US) (promo)
FAMILY TREE - Family Tree / Family Tree / Family Tree
03/2003
SP DREAMWORKS B0000063-21 (US)
.
Have You Forgotten? / I Miss My Friend (acoustic version)
2003
CD DREAMWORKS DRMR-14111-2 (US) (promo)

Have You Forgotten? -

Have You Forgotten? / Have You Forgotten? / Have You Forgotten?
2004
CD DREAMWORKS DWNR-02549-2 (US) (promo)
.

Awful Beautiful Life

2006
SP 903 MUSIC 4-59846 (US)
.

Nothin' But A Love Thang / Jumping Off The Wagon

09/2006
SP 903 MUSIC ? (US)
.

I Just Came Back (From A War) / Livin' In The Here And Now

2010
CD NOT ON LABEL (US)

Country Christmas - Just Around The Corner / The Christmas Song / Jingle Bells / O Come All Ye Faithful / Let It Snow / Silent Night
| | |
| --- | --- |
| | |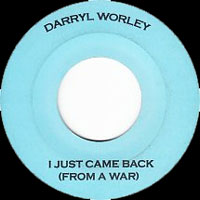 Albums
07/2000
CD DREAMWORKS 0044-50042-2 (US)
HARD RAIN DON'T LAST - A Good Day To Run / Who's Gonna Get Me Over You / Second Wind / Hard Rain Don't Last / Too Many Pockets / Those Less Fortunate Then I / When You Need My Love / Sideways / Way Things Are Goin' / Feels Like Work / Is It Just Us / If I Could Just Be Me
07/2002
CD DREAMWORKS 0044-50351-2 (US)
I MISS MY FRIEND - Tennessee River Run / I Wouldn't Mind The Shackles / I Miss My Friend / Callin' Caroline / Family Tree / Back Where I Belong / Least That You Can Do / I Built This Wall / Opportunity Of A Lifetime / Spread A Little Love Around / Pow 369 / Where You Think You're Goin'?
2002
CD DREAMWORKS DRMF-13953-2 (US) (promo)
I MISS MY FRIEND - Tennessee River Run / I Wouldn't Mind The Shackles / I Miss My Friend / Callin' Caroline / Family Tree / Back Where I Belong / Least That You Can Do / I Built This Wall / Opportunity Of A Lifetime / Spread A Little Love Around / Pow 369 / Where You Think You're Goin'?
04/2003
CD DREAMWORKS B0000064-02 (US)
HAVE YOU FORGOTTEN? - Have You Forgotten / I Will Hold My Ground / Pow 369 / I Need A Breather, Back Where I Belong / Those Less Fortunate Than I / Shiloh / Tennessee River Run / Least That You Can Do / I Miss My Friend / Family Tree / Good Day To Run / Second Wind / When You Need My Love / Too Many Pockets / Way Things Are Goin'
11/2004
CD DREAMWORKS 2578 (US)
DARRYL WORLEY - Awful Beautiful Life / If I Could Tell The Truth / I Love Her She Hates Me / If Something Should Happen / Work And Worry / If It Hadn't Been For Love / Was It Good For You / Find Me / Wake Up America / What Makes A Man Do That / Better Than I Deserve / Whistle Dixie
11/2006
CD 903 JNE 10003 (US)
HERE AND NOW - Jumpin' Off The Wagon / Nothin' But A Love Thang / Free / It's The Way You Love Me / Party Song / Living In The Here And Now / Do You Know What That Is / Thing I'll Never Do Again / Slow Dancing With A Memory / Whiskey Makes The World Go Round / Lowdown Woman / Nothin' To Lose / I Just Came Back From A War
06/2009
CD STROUDAVARIOUS STRV-01002 (US)

SOUNDS LIKE LIFE -

Honkytonk Life / Best Of Both Worlds / Slow Dancin' With A Memory / Sounds Like Life To Me / Doin' What's Right / Tequila Dance / Everyday Love / Nothing But Money / Don't Show Up (If You Can't Get Down) / Messed Up In Memphis / You Never Know
2019
CD BFD BFD153 (US)

Second Wind - Latest & Greatest - When You Need My Love / Good Day To Run / Second Wind / Family Tree / Tennessee River Run / I Miss My Friend / Awful Beautiful Life / Have You Forgotten / Lonely Alone / Whiskey Makes Me Think About You / The Night Sure Looks Good On You / It's Good To Be Me / Do Something Good / Running / Working On A Love Song
© Rocky Productions 1/10/2020