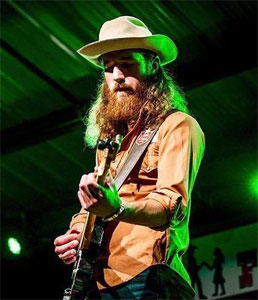 Chanteur Country US né en 1991 à Pendleton (Indiana).

Alex Williams is a part of a neo-traditionalist country music that surfaced in the wake of Jamey Johnson's success in the early 2010s. Like Chris Stapleton and Sturgill Simpson, Williams uses the outlaw country of the '70s as a primary text, finding his own voice within the music of Nashville renegades like Waylon Jennings and Texas mavericks like Jerry Jeff Walker -- a skill that's apparent on his 2017 debut Better Than Myself.
A native of Pendleton, Indiana, Williams grew up listening to '80s metal, eventually gravitating toward classic country when he was in his late teens. He enrolled in Nashville's Belmont University after graduating from high school, but he soon dropped out of college and began gigging in the Music City, sometimes drifting back to his home state of Indiana, sometimes getting down to Texas. Williams wound up leading his own band and their constant gigging brought them to the attention of Julian Raymond, a producer who also worked A&R at Big Machine Records. He signed Williams separately from the band, taking him into the studio with a star-studded backing band that included J.T. Corenflos, Matt Rollings, and Victor Indrizzo to record his debut album. The resulting Better Than Myself was released in August 2017.
http://alexwilliamsofficial.com/
Talents : Vocals, Guitar, Songwriter
Style musical : Contemporary Country, Country-Rock, Outlaw Country
Years in activity :
| | | | | | | | | | | |
| --- | --- | --- | --- | --- | --- | --- | --- | --- | --- | --- |
| 1910 | 20 | 30 | 40 | 50 | 60 | 70 | 80 | 90 | 2000 | 10 |
DISCOGRAPHY
Album
| | | | |
| --- | --- | --- | --- |
| 08/2017 | CD Big Machine 0100 (US) | | Better Than Myself - Better Than Myself / Hellbent Hallelujah / More Than Survival / Freak Flag / Week Without A Drink / A Little Too Stoned / Old Tattoo / Strange Days / Pay No Mind / Can't Get Enough Of You / Few Short Miles (Bobby's Song) / Last Cross |
© Rocky Productions 5/08/2018