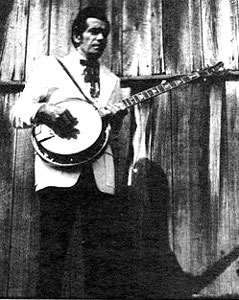 Banjoiste Bluegrass US né le 12 Décembre 1921 à Lenoir (Caroline du Nord).

For a guy who grew up being called "half pint," winding up underrated and under-recorded might have seemed predictable. They were still calling Johnnie Whisnant that nickname when he went on the road professionally at the age of 11 as a member of J.E. Clark and the Lonesome Mountaineers, and he no doubt looked the part. But one thing should be clear -- there was nothing half-grown or dinky about this man's banjo sound. It seems like Whisnant lived, slept, and probably ate banjos, and he could build them as well. He was known as a superb craftsman and instrumental builder, and also invented the most practical version of a quick-change banjo tuning peg, called a cheater. Why the man wound up with such a small recorded catalog is certainly a mystery, attributed to some by his unwillingness to compromise and his perfectionist nature.
Whisnant began playing banjo during a childhood illness, when he was handed the mighty five-banger as a proposed distraction. He was entering amateur contests by the age of seven, heavily inspired by his collection of Charlie Poole records. In 1930, his father, Old John Whisnant, was working at a furniture factory and thought his son might enjoy meeting one of the other employees, a young fiddler by the name of Carl Story, who later went on to become a major bluegrass figure. After gigging together at parties and local square dances, they formed a group together with a local promoter, J.E. Clark. It was 1932 and the beginning of Whisnant's professional career. The band began appearing over WSPA radio in Spartanburg, SC. Like many bands of the day, they picked up a commercial sponsor, Vim Herb, the patent makers of Scalf's Indian River Medicine. During this period, the band did their first studio recordings, a series of sides cut for Vocalion. In 1936, they moved on to WHKY in Hickory, NC. And so it went until World War II broke out, the band shifting their allegiance from one radio station to another. Whisnant was drafted in 1942. He shifted his locale to Tennessee after getting out of the armed services, working with the Lane Brothers, Willie Brewster, and brothers Hack and Clyde Johnson. But something dissatisfied Whisnant and he wound up ditching the Tennessee bluegrass scene for a job as an auto mechanic back in Lenoir. As the years went on, he kept bouncing back and forth between the latter form of work and bluegrass playing around the South, all the time changing and developing his banjo work. In 1953 he developed a one-man act, billing himself as Cousin Johnnie and His Banjo. In the late '50s, he relocated to Florida, working with the Cherokee Ramblers and finally deciding to hang up his lug wrenches once and for all and concentrate on the banjo. Actually, he didn't hang up the tools, he just quit using them to work on cars. He invented his own set of banjo cheaters, a device that instantly switches the tuning a banjo player is in, allowing them to play in several tunings in the course of a song. Banjo giant Earl Scruggs created several famous tunes around one such device. But most banjo players are more aware of the Keith peg, invented by banjoist Bill Keith, that does the same trick. Being the underdog in such a competition was a familiar role for Whisnant, and there are fans of his who insist that some of Scruggs' trademark devices were actually learned from Whisnant.
In the early '60s, he headed up north a bit, beginning a stint of gigs in the Washington and Baltimore area that are remembered with enthusiasm by local bluegrass fans. A box set of his recordings entitled The Rebel Set was said to have existed at this time, but seems to have vanished off the face of the earth. After fronting a band called the Countrymen for several years, Whisnant finally got an opportunity to release an album of his own on the well-distributed Rounder label. Although banjo players and bluegrass fans were thrilled with this album and the Whisnant version of "Maple Leaf Rag" on a Rounder banjo anthology, there was never a second album released.
In the style of Screamin' Jay Hawkins' kin, Whisnant's daughter, Judy, has written on the Internet in search of a half sister from her father's first marriage. She also reminisces about a banjo her father had made: "...with an Eagle perched on top carved and a colored eagle with spread wings on back of the resonator...beautiful...I'd like to know if it ended up in a good home."
Talents : Banjo
Style musical : Bluegrass
Years in activity :
| | | | | | | | | | | |
| --- | --- | --- | --- | --- | --- | --- | --- | --- | --- | --- |
| 1910 | 20 | 30 | 40 | 50 | 60 | 70 | 80 | 90 | 2000 | 10 |
DISCOGRAPHY
Album
| | | | |
| --- | --- | --- | --- |
| 12/1974 | LP 12" ROUNDER 0038 (US) | | JOHNNIE WHISNANT - Claim Jumper / Daisies / Home Sweet Home / This Is The Girl I Love / Somebody Stole My Gal / Over The Waves / White Washed Chimney / Durang's Hornpipe / Maple Leaf Rag / Beautiful Picture / Bill Bailey / My Own Home Town / Never See My Home Again / Black Mountain Rag / Lorena / Yes Sir That's My Baby |
© Rocky Productions 18/07/2011