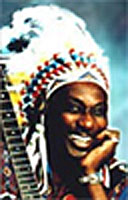 Chanteur Rhythm 'n' Blues né Eddy Harrington le 10 Janvier 1935 à Macon (Mississippi). Il est plus connu comme chanteur de Blues sous le nom d'Eddy Clearwater. Il est décédé le 1er Juin 2018.

Once dismissed by purists as a Chuck Berry imitator (and an accurate one at that), tall, lean, and lanky Chicago southpaw Eddy Clearwater is now recognized as a prime progenitor of West Side-style blues guitar. That's not to say he won't liven up a gig with a little duck-walking or a frat party rendition of "Shout"; after all, Clearwater brings a wide array of influences to the party. Gospel, country, '50s rock, and deep-down blues are all incorporated into his slashing guitar attack. But when he puts his mind to it, "The Chief" (a nickname accrued from his penchant for donning Native American headdresses on-stage) is one of the Windy City's finest bluesmen.
Eddy Harrington split Birmingham, AL, for Chicago in 1950, initially billing himself on the city's South and West sides as Guitar Eddy. His uncle, Rev. Houston H. Harrington, handed his nephew his initial recording opportunity; the good reverend operated a small label, Atomic-H. Eddy made the most of it, laying down a shimmering minor-key instrumental, "A-Minor Cha Cha," and the Berry-derived "Hillbilly Blues" (both on Delmark's Chicago Ain't Nothin' but a Blues Band anthology).
Drummer Jump Jackson invented Eddy's stage moniker as a takeoff on the name of Muddy Waters. As Clear Waters, he waxed another terrific Berry knock-off, "Cool Water," for Jackson's LaSalle logo. By the time he journeyed to Cincinnati in 1961 to cut the glorious auto rocker "I Was Gone," a joyous "A Real Good Time," and the timely "Twist Like This" for Federal Records producer Sonny Thompson, he was officially Eddy Clearwater. Things were sparse for quite a while after that; Clearwater occasionally secured a live gig dishing out rock and country ditties when blues jobs dried up.
But Rooster Blues' 1980 release of The Chief, an extraordinarily strong album by any standards, announced to the world that Eddy Clearwater's ascendancy to Chicago blues stardom was officially underway. The '90s found Clearwater waxing two encores for Rooster Blues, a set for Blind Pig (1992's Help Yourself), Mean Case of the Blues, in 1996 on his reactivated Cleartone Records, followed by Cool Blues Walk in 1998, Chicago Daily Blues in 1999, and Reservation Blues in mid-2000. With consistently exciting live performances, Clearwater cemented his reputation as a masterful showman whose principal goal is to provide his fans with a real good time. Keeping in that tradition, Clearwater teamed up with like minded showmen Los Straitjackets, releasing Rock n Roll City in 2003 on Rounder, followed five years later by his first session for the Alligator label, West Side Strut.
Eddy Clearwater passed away on June 1, 2018.
http://www.eddyclearwater.com/
https://en.wikipedia.org/wiki/Eddy_Clearwater
Talents : Vocals, Guitar
Style musical : Rhythm 'n' Blues, Rock 'n' Roll, Modern Electric Blues, Chicago Blues, Electric Chicago Blues, Regional Blues, Swamp Blues, Soul-Blues, Pop/Rock, Early R&B
Years in activity :
| | | | | | | | | | | | |
| --- | --- | --- | --- | --- | --- | --- | --- | --- | --- | --- | --- |
| 1910 | 20 | 30 | 40 | 50 | 60 | 70 | 80 | 90 | 2000 | 10 | 20 |
DISCOGRAPHY
Singles
| | | |
| --- | --- | --- |
| 1958 | SP ATOMIC-H 203 (US) | Clear WATERS & His Band - Boogie Woogie Baby / Hill Billy Blues |
| 1960 | SP ATOMIC-H 905 (US) | Clear WATERS & His Orchestra - I Don't Know Why / A Minor Cha Cha |
© Rocky Productions 6/02/2020