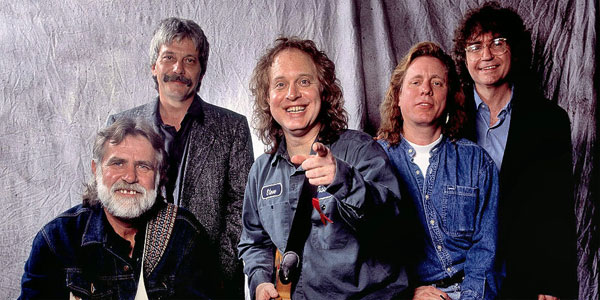 Groupe Country US formé en 1989 à Tulsa (Oklahoma) par Steve Ripley, Walt Richmond, Ron Getman, Casey Van Beek et Jamie Oldaker.

The Tractors were one of the country-rock bands to benefit from the modern country boom of the early '90s. With their good-time boogie and rootsy country-rock, the Tractors were able to send their eponymous debut to platinum status. Although based in Tulsa, all of the members of the Tractors — guitarist Steve Ripley, bassist Ron Getman, vocalist Casey Van Beek, keyboardist Walt Richmond, and drummer Jamie Oldaker — were well-known Nashville session musicians before they came to prominence in the early '90s. The group landed a contract with Arista Records and released their self-titled debut album in the summer of 1994. Supported by the hit single "Baby Likes to Rock It," the record became a Top Ten country hit, eventually selling over two million copies.
Instead of following the debut with a standard second record, the band released a holiday album, Have Yourself a Tractors Christmas, in the fall of 1995. Like its predecessor, the Christmas record was a hit, although it didn't come close to replicating the chart status of The Tractors. The bandmembers took most of 1996 off, spending time with their families and working on side projects, as lead songwriter Steve Ripley prepared material for the Tractors' third album, Farmers in a Changing World, which was finally released in the autumn of 1998. Fast Girl followed in 2001, but then there was an eight-year wait before Trade Union appeared in 2009. Ripley died on January 3, 2019 after struggling with cancer.
https://en.wikipedia.org/wiki/The_Tractors
Talents : Steve Ripley : Lead Vocals, Guitar, Drums - Walt Richmond : Keyboards, Accordion, Drums, Horns, Bass Vocals - Ron Getman : Lead Guitar, Steel Guitar, Dobro, Mandolin, High Harmony Vocals - Casey Van Beek : Bass Guitar, Low Harmony Vocals - Jamie Oldaker : Drums, Percussion
Style musical : Contemporary Country, Country Rock

https://youtu.be/FKTG96-DeYw
Years in activity :
| | | | | | | | | | | | |
| --- | --- | --- | --- | --- | --- | --- | --- | --- | --- | --- | --- |
| 1910 | 20 | 30 | 40 | 50 | 60 | 70 | 80 | 90 | 2000 | 10 | 20 |
DISCOGRAPHY
Singles
08/1994
SP ARISTA 07822-12717-7 (US)
.

Baby Likes To Rock It /

Tulsa Shuffle
1994
CD ARISTA ASCD-2717 (US)
Baby Likes To Rock It
1994
CD ARISTA 74321 25812 2 (EUR)

Baby Likes To Rock It / Badly Bent / I've Had Enough

11/1994
SP ARISTA 07822-12771-7 (US)
.

The Santa Claus Boogie /

Swingin' Home For Christmas
11/1994
CD ARISTA 07822-12771-2 (US)

The Santa Claus Boogie /

Swingin' Home For Christmas
12/1994
SP ARISTA 07822-12784-7 (US)
.

Tryin' To Get To New Orleans / Doreen

1995
SP ARISTA 07822-12818-7 (US)
.

Badly Bent / Thirty Days

1995
SP ARISTA 07822-12923-7 (US)
.

Santa Claus Is Comin' (In A Boogie Woogie Choo Choo Train) /

Santa Looked A Lot Like Daddy
1998
SP ARISTA

07822-13147-7

(US)
.

Shortenin' Bread / How Long Will It Take

1999
CD ARISTA 74321 64705 2 (EUR)

Shortenin' Bread

1999
SP ARISTA 13163-7 (US)
.

I Wouldn't Tell You No Lie / Hale Bop Boogie
Albums
04/1994
CD ARISTA 07822-18728-2 (US)
THE TRACTORS - Tulsa Shuffle / Fallin' Apart / Badly Bent / Blue Collar Rock / Little Man / Baby Likes To Rock It / Doreen, Settin' The Woods On Fire / Thirty Days / I've Had Enough / Tryin' To Get To New Orleans / Tulsa Shuffle (revisited)
10/1995
CD ARISTA 07822-18805-2 (US)
HAVE YOURSELF A TRACTORS CHRISTMAS - Santa Claus Is Coming To Town / Jingle My Bell / Shelter / Rockin' This Christmas / Santa Looked A Lot Like Daddy / Christmas Is Commin' / Santa Claus Is Comin' (In A Boogie Woogie Choo Choo Train) / Baby Wanna Be With You / Swingin' Home For Christmas / White Christmas / Santa Claus Boogie / Silent Night Christmas Blue
11/1998
CD ARISTA 07822-18878-2 (US)
FARMERS IN A CHANGING WORLD - I Wouldn't Tell You No Lie / Linda Lou / How Long Will It Take / Shortenin' Bread / World's Biggest Fool / Poor Boy Shuffle / With A Girl Like You / Elvis Thing - Mystery Train / Way Too Late / Foot Stomp Stompin'
04/2001
CD AUDIUM 8118-2 (US)
FAST GIRL - Babalou / Can't Get Nowhere / Ready To Cry / Nine Eleven / It's A Beautiful Thing / Computer Controlled / Fast Girl / Don't Ever Take My Picture Down / Higher Ground / Little Place Of Our Own - On The Road Again
10/2002
CD AUDIUM AUD-CD 8149 (US)
THE BIG NIGHT - Boogie Woogie Santa Claus / Big Night / I Was A Bad Boy This Year / Pretty Paper / Run Run Rudolph / Bells Are Ringing / Santa Claus Is Back In Town / Christmas Time's A Comin' / Bo Diddley Santa Claus / Little Drummer Boy / Mary's Baby
2002
CD AUDIUM AUD-CD 8155 (US)
RIPLEY - Steve RIPLEY - Gone Away / Night Time Lover / Too Many Borderlines / Mr. Jingle Jangle / Sweetheart Town / Oklahoma Blues / Down, Down (I Don't Believe You) / The Round And Round / No Depression (In Heaven) / Crossing Over
2002
CD BMG

Gravity

74321 932002 (UK)

Rockin' It - The Best Of The Tractors - The Tulsa Shuffle / Baby Likes To Rock It / Badly Bent / The Blue Collar Rock / Doreen / I've Had Enough / Tryin' To Get To New Orleans / Shottenin' Bread / Linda Lou / With A Girl Like You / The Elvis Thing / Foot Stomp Stompin'

10/2003
CD BMG 75517482182 (US)
ALL AMERICAN COUNTRY - Baby Likes To Rock It / I Wouldn't Tell You No Lie / Thirty Days / Settin' The Woods On Fire / Tryin' To Get To New Orleans / Shortenin' Bread / I've Had Enough / Tulsa Shuffle / Elvis Thing - Mystery Train / Linda Lou
05/2009
CD KOCH KOC-CD-5071 (US)
TRADE UNION - Up Jumped The Boogie / Pick Me Up On Your Way Down / Rhythm Bone / Good Old Days / There's Gonna Be Some Changes Made / My Blue Heart / What Makes Love Go Bad / That's Where It Hurts / Midnight Train / It's Only Love
08/2013
2 CD SPV / Yellow Label SPV 265922 (GER)

The Tractors / Farmers In A Changing World :

CD 1 : The Tulsa Shuffle / Fallin' Apart / Thirty Days / I've Had Enough / The Little Man / Baby Likes To Rock It / Badly Bent / The Blue Collar Rock / Doreen / Settin' The Woods On Fire / Tryin' To Get To New Orleans / The Tulsa Shuffle (revisited)
CD 2 : I Wouldn't Tell You No Lie / Linda Lou / How Long Will It Take / Shortenin' Bread / The World's Biggest Fool / Poor Boy Shuffle / With A Girl Like You / Medley: The Elvis Thing - Mystery Train / Way Too Late / Foot Stomp Stompin' / Hale-Bopp Boogie
© Rocky Productions 5/08/2019