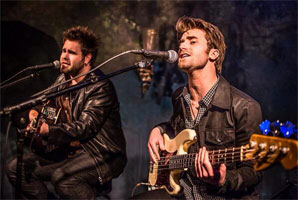 Duo Country US originaire de Muskogee (Oklahoma) composé de Zach Swon (né le 21 Février 1985) et Colton Swon (né le 17 Août 1988).

Playing contemporary country with a classic rock edge and a dash of sibling harmonies, the Swon Brothers are a duo from Oklahoma who went from playing in the family band to stardom in country music circles. Zach Swon was born in Muskogee, Oklahoma (where a young Carrie Underwood was a neighbor) on February 21, 1985, and his brother Colton Swon arrived three years later on August 17, 1988. Their parents led a gospel group called Exodus (not to be confused with the noted thrash metal band), and as youngsters Zach and Colton acquired a taste for the touring musician's life, joining their folks for weekend runs playing church events. Zach had natural skills as a drummer, and by the time he was ten, he was part of the group's rhythm section, while Colton excelled as a vocalist.
In 1995, Exodus were put on hold while Zach and Colton's parents put together a family-style variety show called The Westwood Music Show, and the brothers were both part of the show, with Colton performing tributes to Frank Sinatra and Michael Jackson, while Zach would step out from behind the drums to impersonate Elvis Presley. Zach and Colton's experience led them to strike out on their own as a country duo in 2000, and in 2007 they auditioned for the music competition series American Idol. In 2009, the Swon Brothers released their first album, an independent effort titled Another Day; another indie release, Set List, followed in 2012. In 2013, a friend who was auditioning for the music competition show The Voice suggested Zach and Colton tag along, and they ended up being invited to compete on the show's fourth season. After introducing themselves with a performance of Tom Petty's "American Girl," Usher, Shakira, and Blake Shelton all turned chairs for the act, and with Shelton as their coach, they completed the season in third place.
The attention from their appearance on The Voice led to the Swon Brothers signing with Arista Records, which released the duo's self-titled album in October 2014. The album featured the single "Later On," which received a warm reception on country radio and rose to number 21 on the Country Singles chart. However, the album underperformed in the marketplace, and the Swon Brothers were at odds with their label about what to do next. In 2015, Arista and the Swon Brothers parted ways, and the duo took back control of their recording career. In 2016, the Swon Brothers returned with a self-released six-song EP, Timeless, and set out on tour, including playing a handful of shows opening for their old friend Carrie Underwood.
https://www.swonbrothers.com/home
Style musical : Contemporary Pop, Country Rock

http://youtu.be/6JCAJixYoas
Years in activity :
| | | | | | | | | | | | |
| --- | --- | --- | --- | --- | --- | --- | --- | --- | --- | --- | --- |
| 1910 | 20 | 30 | 40 | 50 | 60 | 70 | 80 | 90 | 2000 | 10 | 20 |
DISCOGRAPHY
EP
| | | | |
| --- | --- | --- | --- |
| 2017 | CD TSB ? (US) | | Pretty Cool Scars - Dwight Trashed / Don't Call Me / Pretty Cool Scars / Take Off / About Last Night / Gold |
Albums
03/2009
CD THE SWON BROTHERS ? (US)

Another Day -

Southern Bell / Another Day / Who Would It Hurt To Try / Leavin' Love / Small Town / Home / I'm Gone / Better Man / Tennessee / Playback / Watch Out For That Lady
2010
CD THE SWON BROTHERS ? (US)
THE SWON BROTHERS - Get Down Kinda Thing / Even If I Knew / Oklahoma Lovin' / This Close To Gone / From This Side / The Greatest Love / Don't Stop Now / Other Than You / Lay It All On Me / What You Tell Your Friends / Your Hope
08/2012
CD THE SWON BROTHERS ? (US)

Set List -

American Girl / Get Down Kind Of Thing / Another Day / The Greatest Love / This Close To Gone / Southern Bell / Small Town / Better Man / Home / Who Would It Hurt To Try / Playback / Tennessee / Other Than You / Lay It All On Me / Leavin Love / I'm Gone / Oklahoma Louin / Your Hope
10/2014
CD Arista / Sony 88843 03801-2 (US)

The Swon Brothers -

What I'm Thinking About / Later On / Chasing You Around / Songs That Said It All / Pray For You / Breaking / 95 / Pretty Beautiful / Colder / Same Old Highway / This Side Of Heaven
© Rocky Productions 10/05/2019