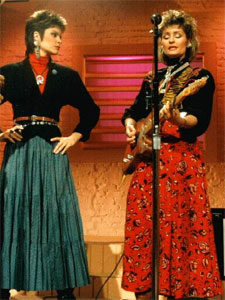 Duo féminin Country US formé en 1973 en Californie. Les Sweethearts Of The Rodeo se composent de: Janis Gill Oliver (née le 28 Novembre 1959) et Kristine Arnold (née Oliver, le 1er Mars 1957).

Sister duo the Sweethearts of the Rodeo scored a series of Top Ten country hits during the late '80s with a blend of contemporary country-rock and traditional bluegrass. Janis (born November 28, 1959) and Kristine Oliver (born March 1, 1957) grew up in the Los Angeles suburb of Manhattan Beach and started singing harmony together while still in elementary school. As teenagers, they performed together in garage bands and, later, acoustic bluegrass groups and also played by themselves in coffeehouses as the Oliver Sisters. In addition to bluegrass, they also took a strong liking to country-rock groups like Poco and the Byrds and eventually renamed themselves the Sweethearts of the Rodeo after the latter group's classic country-rock album. Their music took a similar turn, and after high school they performed at clubs and festivals around Southern California. Emmylou Harris took a liking to them, and soon the Sweethearts were opening for prominent country acts and occasionally singing backup session vocals; after a while on the scene, they found husbands in Pure Prairie League lead singer Vince Gill (Janis) and Blue Steel guitarist Leonard Arnold (Kristine). In 1983, the Gills moved to Nashville for the sake of Vince's budding solo career, and the Arnolds followed suit several months later.
While supporting their husbands and raising their families, Gill and Arnold started singing again, and in 1985 they won a high-profile talent competition that resulted in a deal with Columbia. Their self-titled debut album was released the following year, and their first single, "Hey Doll Baby," just missed making the country Top 20. The follow-up, "Since I Found You," turned out to be the first of seven consecutive Top Ten hits as well as the first songwriting success for Foster & Lloyd, who would land a record deal of their own in the wake of the song's breakthrough. Both Sweethearts of the Rodeo and its 1988 follow-up, One Time, One Night, sold well on the strength of singles like "Chains of Gold," "Gotta Get Away," "Midnight Girl/Sunset Town," "Blue to the Bone," "Satisfy You," and a bluegrass reworking of the Beatles' "I Feel Fine." 1990's Buffalo Zone wasn't as commercially successful, and although the sisters wanted to experiment with their sound, the label pushed for more of what had made their initial singles hits; additionally, Columbia was frustrated with their reluctance to tour extensively, owing to their family commitments.
After the disappointing sales of 1992's Sisters, Columbia dropped them, and they signed on with the roots label Sugar Hill, which allowed them much greater creative control. Their first effort was 1993's Rodeo Waltz, and it marked a return to their roots in acoustic bluegrass, folk, and classic country. Gill and Arnold subsequently opened their own clothing store in their Tennessee hometown of Franklin. They returned to recording with 1996' Beautiful Lies, an even rootsier offering that blended rock covers with bluegrass classics and old-time country tunes. The Sweethearts also continued to tour, both alone and with a backing band.
https://en.wikipedia.org/wiki/Sweethearts_of_the_Rodeo
Talents : Janis Gill : Vocals, Guitar - Kristine Arnold : Vocals
Style musical : Contemporary Country, Traditional Country

https://www.youtube.com/watch?v=jEpP9vDDfAE
Years in activity :
| | | | | | | | | | | | |
| --- | --- | --- | --- | --- | --- | --- | --- | --- | --- | --- | --- |
| 1910 | 20 | 30 | 40 | 50 | 60 | 70 | 80 | 90 | 2000 | 10 | 20 |
DISCOGRAPHY
Singles
| | | | |
| --- | --- | --- | --- |
| 03/1986 | SP COLUMBIA 38-05824 (US) | | Hey Doll Baby / Everywhere I Turn |
| 07/1986 | SP COLUMBIA 38-06166 (US) | . | Since I Found You / Chosen Few |
| 11/1986 | SP COLUMBIA 38-06525 (US) | . | Midnight Girl - Sunset Town / I Can't Resist |
| 03/1987 | SP COLUMBIA 38-07023 (US) | . | Chains Of Gold / Gotta Get Away |
| 08/1987 | SP COLUMBIA 38-07314 (US) | . | Gotta Get Away / Since I Found You |
| 03/1988 | SP COLUMBIA 38-07757 (US) | . | Satisfy You / One Time, One Night |
| 1988 | SP CBS 651505 7 (UK) | | Satisfy You / One Time, One Night |
| 07/1988 | SP COLUMBIA 38-07985 (US) | . | Blue To The Bone / You Never Talk Sweet |
| 11/1988 | SP COLUMBIA 38-08504 (US) | . | I Feel Fine / Until I Stop Dancing |
| 03/1989 | SP COLUMBIA 38-68684 (US) | . | If I Never See Midnight Again / Gone Again |
| 12/1989 | SP COLUMBIA 38-73213 (US) | . | This Heart / So Sad (To Watch Good Love Go Bad) |
| 05/1990 | SP COLUMBIA 38-73360 (US) | . | I Don't Want You To Know / Como Se Dice |
| 08/1990 | SP COLUMBIA 38-73475 (US) | . | What It Does To Me / Hard Road To Go |
| 11/1990 | SP COLUMBIA 38-73608 (US) | . | You Look At Love That Way / I Don't Want You To Know |
| 07/1991 | SP COLUMBIA 38-73907 (US) | . | Hard-Headed Man / Sisters |
| 11/1991 | SP COLUMBIA 38-74064 (US) | . | Devil And Your Deep Blue Eyes / Be Good To Me |
| | |
| --- | --- |
| | |
Albums
| | | | |
| --- | --- | --- | --- |
| 06/1986 | CD COLUMBIA CK-40406 (US) | | SWEETHEART OF THE RODEO - Midnight Girl / Sunset Town / Hey Doll Baby / Since I Found You / Gotta Get Away / Chains Of Gold / Chosen Few / Everywhere I Turn / I Can't Resist |
| 04/1988 | CD COLUMBIA CK-40614 (US) | | ONE TIME - ONE NIGHT - Satisfy You / Blue To The Bone / We Won't Let That River Come Between Us / So Sad / Don't Look Down / One Time, One Night / You Never Talk Sweet / I Feel Fine / If I Never See Midnight Again / Until I Stop Dancing |
| 01/1990 | CD COLUMBIA CK-45373 (US) | | BUFFALO ZONE - Uphill All The Way / He Doesn't Tell Me Anything / You Look At Love That Way / This Heart / Hard Road To Go / What It Does To Me / Blue Sky / I Don't Want You To Know / Don't Wake Me Up / Como Se Dice (I Love You) |
| 07/1992 | CD COLUMBIA CK 47358 (US) | | SISTERS - Why Should I Stay Blue / Hard-Headed Man / Don't Stay Down For Long / Man Of My Dreams / A Woman Can Tell (Every Time) / Have I Done Enough / Devil And Your Deep Blue Eyes / Silver And Gold / Be Good To Me / Watch Me Run / Sisters (Best Of Friends) |
| 10/1993 | CD SUGAR HILL SH-CD-3819 (US) | | RODEO WALTZ - Get Rhythm / Long Time Gone / Things Will Grow / Hoping That You're Hoping / Jenny Dreamed Of Trains / Brand New Tennessee Waltz / Bluegrass Boy / Please Help Me I'm Falling / Deep River Blues / There One Morning / Steel Rail Blues / Broken Arrow |
| 1993 | CD Versailles ‎VER 473675 2 (F) | | Midnight Girl Sunset Town - Midnight Girl - Sunset Town / Gotta Get Away / Chains Of Gold / Uphill All The Way / Hard Road To Go / Don't Wake Me Up / Como Se Dice "I Love You" / Satisfy You / So Sad "To Watch Good Love Go Bad" / You Never Talk Sweet / I Feel Fine / Man Of My Dreams / Be Good To Me / Watch Me Run / Sisters "Best Of Friends" |
| 08/1996 | CD SUGAR HILL SH-CD-3857 (US) | | BEAUTIFUL LIES - When Love Comes Around The Bend / Beautiful Lies / When The Morning Comes / Catch The Wind / I'll Pass Over Thee / I Won't Cry / Inn At Innisfree / I Know Who You Are / Pretty Words / One More Night / Mule Skinner Blues |
| 04/2000 | CD RENAISSANCE RMED-0230 (US) | | ANTHOLOGY - Hey Doll Baby / Since I Found You / Midnight Girl - Sunset Town / Chains Of Gold / Gotta Get Away / Satisfy You / Blue To The Bone / I Feel Fine / If I Never See Midnight Again / This Heart / Hard-Headed Man / Devil And Your Deep Blue Eyes / One Time One Night / You Never Talk Sweet / Chosen Few / So Sad / Sisters / Woman Can Tell / Silver And Gold / Why Should I Stay Blue |
| 04/2002 | CD SONY 54636 (US) | | BATTLE OF THE BANDS - SWEETHEARTS OF THE RODEO - The O' KANES - Chains Of Gold (SWEETHEARTS OF THE RODEO) / I Can't Stop My Heart From Loving You (O' KANES) / Midnight Girl - Sunset Town (SWEETHEARTS OF THE RODEO) / One True Love (O' KANES) / Satisfy You (SWEETHEARTS OF THE RODEO) / Just Lovin' You (O' KANES) / Blue To The Bone (SWEETHEARTS OF THE RODEO) / Daddies Need To Grow Up Too (O' KANES) / I Feel Fine (SWEETHEARTS OF THE RODEO) / Oh Darlin' (Why Don't You Care For Me No More) (O' KANES) |
| 10/2012 | CD GOOD TRADE GTR-CD-0301 (US) | | RESTLESS - You Can't Hold Me Back / Restless / What Does Love Mean To You / Maybe Tonight / Too Little Too Late / Running Out Of Road / Hopeless Rose / Love It Away / Sinful Thoughts / Gone To Kentucky / Heart Out In The Rain / Get Together |
© Rocky Productions 7/05/2019