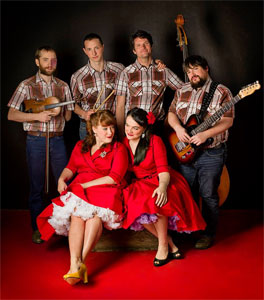 Duo Country originaire de Brooklyn (New York) et composť de Zara Bode et Emily Miller.

Although formed in Brooklyn during the early 21st century, the Sweetback Sisters model their songs after the vintage country music of 1950s-era Nashville. Central to the groupís sound are vocalists Zara Bode and Emily Miller, who first sang together as part of a traveling choir in 2005. Discovering a mutual love for Hank Williams, the girls began singing country songs after their nightly choir performances. When the tour ended, Bode and Miller both moved to Brooklyn and formed the Sweetback Sisters, whose reputation swelled after a performance on A Prairie Home Companion in 2007.
Bode and Millerís harmonies quickly became the backbone of the Sweetback Sistersí sound, although the groupís lineup also included four talented instrumentalists: guitarist Ross Bellenoit, guitarist/fiddler Jesse Milnes, drummer Stefan Amidon, and upright bassist Peter Bitenc. Together, the group mined a wealth of twangy influences -- Roger Miller, the Davis Sisters, Nashville country, Western swing -- and made their studio debut by releasing the Bang! EP in 2007. A full-length album, Chicken Ain't Chicken, followed in 2009, and the band reprised their retro honky-tonk style on 2011ís Looking for a Fight.
https://www.thesweetbacksisters.com/
https://www.facebook.com/thesweetbacksisters/
Style musical : Honky Tonk, Traditional Country, Western Swing, Rockabilly

https://youtu.be/D8iMbisNjZ0
Years in activity :
| | | | | | | | | | | |
| --- | --- | --- | --- | --- | --- | --- | --- | --- | --- | --- |
| 1910 | 20 | 30 | 40 | 50 | 60 | 70 | 80 | 90 | 2000 | 10 |
DISCOGRAPHY
Single & EP
| | | | |
| --- | --- | --- | --- |
| 2007 | CD NOT ON LABEL ? (US) | | Bang! - Everlovin' / I've Forgotten More / Silver Tongue & Gold Plated Lies / The Box / Kansas City Star / Arkansas Sheik |
| 11/2010 | SP Signature Sounds ‎SIG 7002 (US) | | Be Back Home Tonight / Just That Kind Of Guy |
| 07/2013 | CD Signature Sounds ‎? (US) | | Bulldog - I Got Got A Bulldo / Moonshiner / Walking In My Sleep / Otto Wood / Darling Don't You Know That's Wrong / Boozefighters / Glory Hallelujah |
Albums
| | | | |
| --- | --- | --- | --- |
| 06/2009 | CD Signature Sounds ‎SIG-2022 (US) | | Chicken Ain't Chicken - I Want To Be A Real Cowboy Girl / The Say Virginia Is For Lovers / My Uncle Used To Love Me But She Died / It Don't Show On Me / Cannonball / Don't Cry To Me / Feeling Bad / Deputy Blues No. 2 / Red Shoes Blues / You Done Me Wrong / Have You Seen My Chicken? / The Sweetest Gift, A Mother's Smile / You're Gone (Again) |
| 05/2011 | CD Signature Sounds ‎SIG 2038 (US) | | Looking For A Fight - Love Me, Honey, Do / Texas Bluebonnets / It Won't Hurt When I Fall Down From This Barstool / Looking For A Fight / Run Home And Cry / The Mystery Of You / Don't Put Her Down, You Helped Put Her There / Thank You / The Heart Of My Mind / Rattled / Home / Too Many Experts / Cowboy Ham And Eggs |
| 11/2012 | CD Signature Sounds SIG 2052 (US) | | Country Christmas Singalong Spectacular - The Christmas Boogie / Santa Claus Is Coming To Town / Walking In A Winter Wonderland / Nine Days Of Christmas / Beautiful Star Of Bethlehem / Silver Bells / Rocking Around The Christmas Tree / Hark! The Herald Angels Sing / It's Beginning To Look A Lot Like Christmas / The Twelve Days Of Christmas / Christmas Island / Happy Birthday, Merry Christmas And Happy New Year / Have Yourself A Merry Little Christmas / Must Be Santa / Santa Claus Got Stuck In My Chimney |
| 08/2017 | CD Signature Sounds SIG 2088 (US) | | King of Killing Time - Gotta Get A-Goin' / I Got Lucky With You / Trouble / King Of Killing Time / I'm Gonna Cry / It's All Your Fault / One Day At A Time / That's All It Took / Don't Worry About Me / If Drinking Don't Kill Me (Her Memory Will) |
© Rocky Productions 7/05/2019