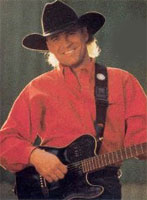 Chanteur Country US né Douglas Anderson Supernaw, le 26 Septembre 1960 à Bryan (Texas). Doug Supernaw est décédé le 13 Novembre 2020.

Doug Supernaw was a singer/songwriter from Houston, TX, influenced mainly by Gene Watson, Keith Whitley, and George Jones. He briefly attended college on a golf scholarship but soon gave in favor of swinging on-stage in clubs throughout Texas. His freewheeling style incorporated as much of Willie Nelson's solemnity as it did Jimmy Buffet's energy, and fans loved it. Supernaw arrived in Nashville in the mid-'80s and soon secured work writing songs for a publishing house. But it was a bad situation, and soon Supernaw was back on-stage in Texas, perfecting his take on new traditionalist country.
Supernaw's first appearance on wax was 1993's Red and Rio Grande, which appeared on the indie BNA. It spawned three charting hits, including "Reno" and the smash "I Don't Call Him Daddy." But an impossibly long string of bad luck stalled his rise. Supernaw broke his neck while surfing; shortly after his neck brace was removed, he was in a head-on auto collision. To compound matters, all of his band's gear was stolen in Ohio, and then Supernaw nearly died from a case of food poisoning. Despite all of the catastrophes, he survived and in 1994 issued his delayed BNA follow-up, Deep Thoughts From a Shallow Mind. It was followed a year later by You Still Got Me. Fadin' Renegade appeared in early 2003.
Doug Supernaw passed away on November 13, 2020.
https://en.wikipedia.org/wiki/Doug_Supernaw
Talents : Vocals, Songwriter, Guitar
Style musical : Traditional Country

https://youtu.be/-aDrKiGyd8w
Years in activity :
| | | | | | | | | | | | |
| --- | --- | --- | --- | --- | --- | --- | --- | --- | --- | --- | --- |
| 1910 | 20 | 30 | 40 | 50 | 60 | 70 | 80 | 90 | 2000 | 10 | 20 |
DISCOGRAPHY
Singles
03/1993
SP BNA 62432-7 (US)
.

Honky Tonkin' Fool /

You're Gonna Bring Back Cheatin' Songs
06/1993
SP BNA 62537-7 (US)
.

Reno /

Daddy's Girl
10/1993
SP BNA 62638-7 (US)
.

I Don't Call Him Daddy /

I Would Have Loved You All Night
02/1994
SP BNA 97863 62757-7 (US)
.
Five Generations Of Rock County Wilsons /

Red And Rio Grande

05/1994
SP BNA

07863-62851-7

(US)
.

State Fair /

He Went To Paris
07/1994
SP BNA 07863-62938-7 (US)
.
State Fair /

You Never Even Call Me By My Name

11/1994
SP BNA 07863 64214-7 (US)
.

What'll You Do About Me / Wishin' Her Well

10/1995
SP GIANT 7-17764 (US)
.

Not Enough Hours In The Night /

We're All Here
1995
CD GIANT PRO-CD-7790 (US) (promo)

Not Enough Hours In The Night

02/1996
SP GIANT 7-17687 (US)
.

She Never Looks Back /

What In The World
1996
CD GIANT PRO-CD-9219 (US) (promo)

You Still Got Me (album version)

1999
CD TACK TKC-PROM 1 (US) (promo)

Fadin' Renegade (short version) / Fadin' Renegade
Albums
04/1993
CD BNA 07863 66133-2 (US)
RED AND RIO GRANDE - Honky Tonkin' Fool / I Don't Call Him Daddy / Reno / Perfect Picture To Fit My Frame Of Mind / Five Generations Of Rock County Wilsons / Red And Rio Grande / You're Gonna Bring Back Cheatin' Songs / I Would Have Loved You All Night / Daddy's Girl / Carousel
09/1994
CD BNA 07863-66396-2 (US)
DEEP THOUGHTS FROM A SHALLOW MIND - What'll You Do About Me / Here's To Lying / You Never Even Call Me By My Name / State Fair / Twisting Tops / Mesquite Cowboy Mind / He Went To Paris / Shut Her Down / After The Storm / Wishing Her Well
10/1995
CD GIANT 9 24639-2 (US)
YOU STILL GOT ME - Not Enough Hours In The Night / She Never Looks Back / You Still Got Me / Country Conscience / Daddy Made The Dollars (Mama Made The Sense) / Roots And Wings / We're All Here / Fire In The Rain / Time Off From Good Behavior / Note / What In The World
11/1997
CD BMG

07863-44518-2

(US)
ENCORECOLLECTION - Honky Tonkin' Fool / You Never Even Call Me By My Name / Reno / You're Gonna Bring Back Cheatin' Songs / Red And Rio Grande / What'll You Do About Me / I Don't Call Him Daddy / I Would Have Loved You All Night / After The Storm / Here's To Lying
08/1999
CD TACK ALC-9001 (US)
FADIN' RENEGADE - Fadin' Renegade / Wilting Rose / One Of Those Days / Took Her To The Moon / Drove Me To Drinkin' / Gave Away The Bride / 21-17 / So In Love With You / Nothing Sure Looked Good On You / Jaded Lover / Me And The Drummer / Whatever Happend To Eddy
05/2014
CD Up Country UPRC 012CD (UK)

Red and Rio Grande & Deep Thoughts from a Shallow Mind - Honky Tonkin' Fool / I Don't Call Him Daddy / Reno / The Perfect Picture (To Fit My Frame Of Mind) / Five Generations Of Rock County Wilsons / Red And Rio Grande / You're Gonna Bring Back Cheatin' Songs / I Would Have Loved You All Night Long / Daddy's Girl / Carousel / What'll You Do About Me / Here's To Lyin' / You Never Even Called Me By My Name / State Fair / Twistin' Tops / Mesquite Cowboy Mind / He Went To Paris / Shut 'er Down / After The Storm / Wishin' Her Well

04/2017
CD B+G 7330 (US)

Greatest Hits - The Company I Keep / I Don't Call Him Daddy / Long Tall Texan / Red And Rio Grande / Reno / What'll You Do About Me / Here's My Heart / State Fair / Not Enough Hours In The Night / Fadin' Renegade / She Never Looks Back
© Rocky Productions 28/04/2019