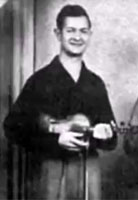 Fiddler et guitariste Country et Bluegrass US né le 28 Mars 1920 en Floride et élévé à Vicco (Kentucky). Marion Sumner a accompagné Cousin Emmy, Molly O'Day, Lynn Davis, Eddie Hill, Johnny Wright et beaucoup d'autres. Il fut connu comme "the Fiddle King of the South". Il a aussi enregistré en duo avec Jesse McReynolds de Jim & Jesse. Marion Sumner est décédé le 17 Août 1997.

US Fiddler Country and Bluegrass, born 28 March 1920, Florida, USA, dead 17 August 1997, USA. Raised in Vicco, Kentucky, which is where his family moved when he was a baby, Sumner learned to play the violin as a child. He played with the Payroll Boys and became especially active in the 30s and 40s. In the late 30s he was with Cousin Emmy and during World War II worked with Molly O'Day, Lynn Davis, Eddie Hill, Johnny Wright and others. Sumner became known as the 'Fiddle King of the South'. Playing with flair and enthusiasm, Sumner lived up to his title and developed a following among fans of traditional country music. Among his recording sessions with other artists are those with country singers Preston Ward and Don Gibson and with banjo player Lee Sexton (b. 1927, Linefork, Kentucky, USA). On the latter date he was joined by banjo player Freddie Campbell, guitarist and vocalist Sonny Houston, and bass player Phil Sexton. He also recorded duo fiddle sets with Jesse McReynolds (of Jim & Jesse). Of the songs in Sumner's repertoire, perhaps the best known is 'Lost Indian', which appears on a number of compilations of recordings by kindred artists. Records by Sumner are hard to find, but he can be heard on single tracks on compilations released by the American Folk Life Center and by Smithsonian Folkways.
In addition to his following among fans for his kind of music, Sumner also attracted academic attention. In 1996, Ronald Pen, an associate professor of musicology at the University of Kentucky School of Music, delivered a paper entitled Marion Sumner: Fiddle King Of The South at the International Country Music Conference, Meridian, Mississippi.
Talents : Fiddle, Guitar
Style musical : Bluegrass, Traditional Country

http://youtu.be/W7j_SYX-K_4
Years in activity :
| | | | | | | | | | | | |
| --- | --- | --- | --- | --- | --- | --- | --- | --- | --- | --- | --- |
| 1910 | 20 | 30 | 40 | 50 | 60 | 70 | 80 | 90 | 2000 | 10 | 20 |
DISCOGRAPHY
Albums
1979
LP 12" June Appal JA 030 (US)

Road to home - Dragging the bow / Who's sorry now / Steel guitar rag / Waltz you saved for me / Sweet Georgia Brown / Darling Nellie Gray / There'll be some changes made / Beaumont rag / Blackey rag / Bill Cheatum / Gold rush / Little Rock getaway / Whispering / Lady be good / Dreaming of the Georgiana moon / Up the lazy river / Texahoma boogie / Hollow poplar / Sally Goodin

1979
LP 12" MAG UPSI 3901 (US)
Old friends - Marion Sumner & Jesse M

c

Reynolds

-

Blue Mountain Waltz / Going

to town /

Faded Love / Back

up and push /

Golden Slippers / Freight Moan / Lady Be Good / Lost Indian / Please Don't Leave Me Darling / Smith's Reel / Fisher's Hornpipe / Sumner's Breakdown
1986
LP 12" Old Homestead OHS-80078 (US)

I'll Always Care - The Wrights With Marion Sumner - I Still Love You / Think It Over / Beaver Creek Special (inst.) / Prisoners Child / Lay Me To Rest / I Gave A Message To The Wind / What Makes You Treat Me Like You Do / Wrights Swing (inst.) / I'll Always Care / Beautiful Mountain Farm / Will The Angels Play Their Harps / Please Forgive Me Darling / I Still Have Your Picture Darling / I'll Do Most Anything You Say / That Means The World To Me / Wrights Waltz (inst.) / Beautiful Home

1986
LP 12" Old Homestead OHS 90174 (US)
Fiddle fantastic - Marion Sumner & Jesse M

c

Reynolds

-

Black Berry Blossom / Cheatum County Breakdown / Hollow Poplar / Katy Hill / North Carolina Breakdown / Pretty Little Darling / Sally Johnson / Single Footin' Horse / Smith Rag / Straw Breakdown / Tennessee Breakdown / Widow Haley
© Rocky Productions 25/04/2019