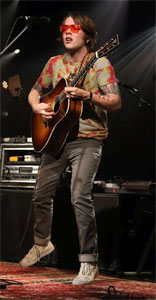 Chanteur et multi instrumentiste US né William Apostol, le 3 Octobre 1992 à Lansing (Michigan).

A master of the guitar, banjo, and mandolin, Billy Strings is a singer and instrumentalist whose music starts with the sound and speed of bluegrass and folds in elements of rock, jazz, and psychedelia. Billy Strings was born William Apostol in Lansing, Michigan in 1992; his family relocated to Morehead, Kentucky for a spell before later settling in Muir, a small town in Michigan. Billy's father and uncle were both accomplished musicians, and the youngster was surrounded by acoustic music practically from birth. At the age of four, Billy asked his father for a guitar, and he was soon learning to play a second-hand instrument that cost twenty-five dollars. By the time he was was six, Billy was good enough to join his dad for bluegrass picking parties, and his aunt nicknamed him Billy Strings. By the time he was in middle school, Strings had picked up an electric guitar and was playing in a heavy metal band. However, it led him into a circle of friends who were abusing drugs, and Strings believed it was leading him into a dark place.
Determined to find a better path, Strings returned to playing bluegrass, and after completing high school, he moved to Traverse City, a city in Northern Michigan with a lively music and art scene. When Strings performed at an open-mike night at a club called the Hayloft, local pickers were impressed with his skills, and he soon found a mentor and picking partner in mandolinist Don Julian, who recorded a duo album with Strings titled Rock of Ages. (Strings also independently released a home-brewed solo album in 2014, Fiddle Tune X.) Strings also played with a bluegrass combo called M-23 Strings, and earned a reputation as one of the most promising talents in the Mitten State. In early 2016, Strings left Traverse City for Nashville, where the talented newcomer did not go unnoticed. In September 2017, Strings released Turmoil & Tinfoil, an effort that found him adding a wider variety of sounds and influences to his music; the album was produced by Glenn Brown, who had previously worked with Greensky Bluegrass and Luke Winslow-King.
Talents : Vocals, Guitar, Banjo, Mandolin
Style musical : Bluegrass, Jam Bands

https://youtu.be/fJmzS_Redh8
Years in activity :
| | | | | | | | | | | | |
| --- | --- | --- | --- | --- | --- | --- | --- | --- | --- | --- | --- |
| 1910 | 20 | 30 | 40 | 50 | 60 | 70 | 80 | 90 | 2000 | 10 | 20 |
DISCOGRAPHY
EP
| | | | |
| --- | --- | --- | --- |
| 006/2016 | CD SELF-RELASED (US) | | Billy Strings EP - Slow Train / Thirst Mutilator / Dos Banjos / Black Mountain Rag / Red Rocking Chair / Dust In A Baggie |
Albums
12/2013
CD SELF-RELASED (US)

Rock Of Ages - Billy Strings / Don Julin - Dust In A Baggie / Soldier's Joy / Cocaine Blues / Watson Blues / Wild Bill Jones / Red Haired Boy / I've Just Seen The Rock Of Ages / Kickin' Mule / Summertime / Beaumont Rag / The Cuckoo / Long Journey Home / Cluck Old Hen

10/2014
CD SELF-RELASED (US)

Fiddle Tune X - Billy Strings & Don Julin - Beaumont Rag / Walk On Boy / Open Up Them Pearly Gates / That Home Far Away / Miss The Mississippi And You / The String Changing Tune / Salt Creek/Old Joe Clark / Sharecropper's Son / Lonesome Moonlight Waltz / I Am A Pilgrim / Poor Ellen Smith / Fiddle Tune X / Dos Banjos / I Ain't Gonna Work Tomorrow / Shady Grove / Little Maggie / How Mountain Girls Can Love

09/2017
CD Apostol ARC 0001 04 (US)

Turmoil & Tinfoil - On The Line / Meet Me At The Creek / All Of Tomorrow / While I'm Waiting Here / Living Like An Animal / Turmoil & Tinfoil / Salty Sheep / Spinning / Dealing Despair / Pyramid Country / Doin' Things Right / These Memories Of You

09/2017
LP 12" Apostol ARC-0001 (US) (limited edition) (pink vinyl)

Turmoil & Tinfoil -

On The Line / Meet Me At The Creek / All Of Tomorrow / These Memories Of You / While I'm Waiting Here / Living Like An Animal / Salty Sheep / Turmoil & Tinfoil
09/2019
CD ROUNDER 610063 (US)
HOME - Taking Water / Must Be Seven / Running / Away From The Mire / Home / Watch It Fall / Long Forgotten Dream / Highway Hypnosis / Enough To Leave / Hollow Heart / Love Like Me / Everything's The Same / Guitar Peace / Freedom
2019
2 CD MunckMix ? (US)

Recorded Live At The Peach Music Festival July 25-28 2019 Scranton, Pennsylvania :

CD 1 : Dust In A Baggie > So Many Miles / Rundown / While I'm Waiting Here / Train, Train / Stage Banter / Nobody's Love Is Like Mine / Today / All Fall Down / On The Line / Watch It Fall
CD 2 : Blue Mule / Taking Water / She Makes Me Love / Meet Me At The Creek

09/2021
CD ROUNDER 1166101423 (US)

Renewal - Know It All / Secrets / Love And Regret / Heartbeat Of America / In The Morning Light / This Old World / Show Me The Door / Hellbender / Red Daisy / The Fire On My Tongue / Nothing's Working / Hide And Seek / Ice Bridges / Fire Line / Running The Route / Leaders

11/2022
CD ROUNDER 7244851 (US)

Me/and/Dad - Long Journey Home / Life To Go / Way Downtown / Little Blossom / Peartree / Stone Walls And Steel Bars / Little White Church / Dig A Little Deeper (In The Well) / Wandering Boy / John Deere Tractor / Frosty Morn / I Haven't Seen Mary In Years / Little Cabin Home On The Hill / I Heard My Mother Weeping
© Rocky Productions 18/11/2022