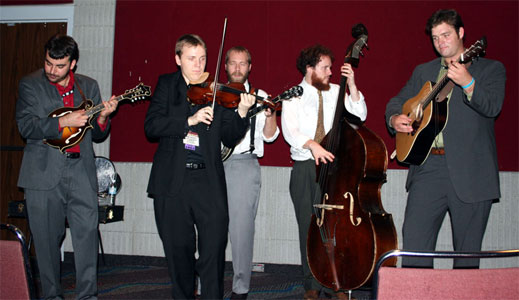 Groupe Bluegrass US formé en 1999 à Chapel Hill (Caroline du Nord), composé de Mike Guggino, Charles Humphrey III, Woody Platt, Nicky Sanders et Graham Sharp.



Although they received a boost in popularity when actor/banjo player Steve Martin joined their ranks in 2009, the Steep Canyon Rangers had already earned an audience with their progressive bluegrass sound. Graham Sharp (banjo, harmony Vocals) met future bandmates Woody Platt (guitar, lead Vocals) and Charles R. Humphrey III (bass, harmony Vocals) in 1999, while all three were attending the University of North Carolina in Chapel Hill. Drawn together by their love of acoustic music, they began playing impromptu jam sessions. As things progressed, they were drawn more and more to bluegrass and started learning the genre's classic tunes. The main impetus to "go bluegrass" was the input of mandolin player Mike Guggino, an old friend of Platt's. He also owned a cabin in the mountains near the school, and the quartet used that as its rehearsal space.
At first, there was no thought of being in a band. The members were all busy with school and were planning professional careers. None of them had ever been in a band before, but as they created a style all their own -- equal parts traditional and progressive bluegrass, with a bit of country and rock throw into the mix -- they began to realize they were no longer just a bunch of friends jamming. By the time they graduated, fiddler Nicky Sanders had also joined the band's ranks, and the Steep Canyon Rangers were getting enough gigs to quit their day jobs and become full-time musicians.
Although they threw the occasional bluegrass cover into their sets, the main strength of the Rangers quickly became their songwriting. Sharp, Humphrey, and Guggino all contributed to the band's canon with original compositions that appealed to bluegrass, country, folk, blues, and jam band fans. Upon graduation, the Rangers hit the road, playing folk and rock clubs as well as traditional bluegrass venues. Their first album, Old Dreams and New Dreams, was released in 2001 of the band's own label. Mr. Taylor's New Home appeared in 2002 courtesy of the small indie label Bonfire, and the self-titled Steep Canyon Rangers marked the band's first release for Rebel in 2004. Its follow-up, One Dime at a Time, was recorded mostly live in the studio and won the IBMA's Emerging Artist Award in 2006, with the title tune going to number one on the Bluegrass Unlimited chart.
Although no stranger to the jam band crowd, the Steep Canyon Rangers further endearIIIed themselves to that audience with a ragtime cover of the Grateful Dead's "Don't Ease Me In." The song appeared on Lovin' Pretty Women, which was nominated for IBMA's Album of the Year, and 2009's Deep in the Shade showed off their continuing love of gospel music. Meanwhile, the bandmates kept themselves busy collaborating with other artists. In 2008, they played with Flatt & Scruggs vocalist Curly Seckler, and in 2009 comedian/banjo player Steve Martin asked the Rangers to serve as his backing band on a tour in support of his own banjo album, The Crow: New Songs for the Five-String Banjo. Their 2009 gig at San Francisco's Hardly Strictly Bluegrass Festival introduced the group to a whole new audience of former hippies and boomers, and Martin remained on board for 2011's Rare Bird Alert, which featured guest appearances by Paul McCartney and the Dixie Chicks. Nobody Knows You, the group's debut album for Rounder Records, appeared in 2012. Tell the Ones I Love from 2013, also on Rounder Records, was produced by Larry Campbell and recorded mostly live at the late Levon Helm's studio in Woodstock, New York.
With their popularity growing, the Steep Canyon Rangerstoured steadily, both on their own and accompanying Martin. In 2013, Martin collaborated with singer and songwriter Edie Brickell on an album called Love Has Come for You; when Martin and Brickell played a handful of concert dates in support, the Steep Canyon Rangers joined them, and one performance was released in both audio and video under the title Steve Martin and the Steep Canyon Rangers featuring Edie Brickell Live. In 2015, the Steep Canyon Rangersreleased their ninth album, Radio; produced by bluegrass legend Jerry Douglas, it was the Rangers' first set to feature their new sixth member, percussionist Mike Ashworth. Martin's second studio collaboration with the Steep Canyon Rangers, titled Long-Awaited Album, arrived in September 2017, followed in 2018 by the Joe Henry-produced Out in the Open, the group's tenth studio long player. Recorded live at Merlefest 2019, North Carolina Songbook saw the group tackle an eclectic set of songs by famous Carolinians like Ola Belle Reed and Thelonious Monk, while 2020's Be Still Moses merged bluegrass and soul with help from the Asheville Symphony and New Jack Swing heroes Boyz II Men.
https://en.wikipedia.org/wiki/Steep_Canyon_Rangers
Talents : Mike Guggino : Mandolin - Charles Humphrey : Bass, Harmony Vocals - Woody Platt : Guitar, Lead Vocals - Nicky Sanders : Fiddle - Graham Sharp : Banjo, Harmony Vocals.
Style musical : Bluegrass, Contemporary Bluegrass

http://www.youtube.com/watch?v=XBAEizn24SI
Years in activity :
| | | | | | | | | | | | |
| --- | --- | --- | --- | --- | --- | --- | --- | --- | --- | --- | --- |
| 1910 | 20 | 30 | 40 | 50 | 60 | 70 | 80 | 90 | 2000 | 10 | 20 |
DISCOGRAPHY
Single
| | | | |
| --- | --- | --- | --- |
| 2015 | CD ROUNDER ? (US) | | Steep Canyon Rangers & Edie Brickell - Test Of Time |
Albums
08/2001
CD STEEP CANYON MUSIC 2125 (US)
OLD DREAMS AND NEW DREAMS - Big Jet Airplane / Breakfast Bomb / Summer's Gone / Little Cabin Home On The Hill / Jeff's Song / Old Dreams And New Dreams / Coffee On The Dashboard / Like The Wind / T'Ain't True / Where I Belong / Uptown Breakdown / Bass Mountain
07/2002
CD BONFIRE 8001 (US)
MR. TAYLOR'S NEW HOME - Carolina Home / Hibriten Mountain / Five More Days / Knob Creek / Mr. Taylor's New Home / Money Out Of Sand / Norma Jean / Road To Knoxville / Black River / Don't Let My Heart Be Lonesome / Good Old Country Baptizing / Traveling Kind
06/2004
CD REBEL 1808 (US)
STEEP CANYON RANGERS - Living In The Pane / Goodbye Bottle Of Whiskey / Bluegrass Blues / 454 / Kicked Out Of Town / I'll Drink No More Wine / Feelin' Just A Little Like Dale / Lonesome Moon / Going On / The Last Thing My World Needs / Southwind / Are You Happy Now / Lucky Streak
09/2005
CD REBEL 1816 (US)
ONE DIME AT A TIME - Waiting To Hear You Call My Name / One Dime At A Time / The Ghost Of Norma Jean / Evangeline / Slow Burn / I'll Be Long Gone / I Can't Sit Down / Hold On / Big Cypoophus / Green Eyed Lady / Yesterday's Blues / Restless Nights
08/2007
CD REBEL 1824 (US)
LOVIN' PRETTY WOMEN - A Ramblin' Man Is A Ramblin' Man / Lovin' Pretty Women / Ain't No Way Of Knowin' / Call The Captain / Pick Up The Blues / Be Still Moses / Cumberland Moon / Don't Ease Me In / Desperate And Blue / Kuykendall / New Sleepy-Eyed John / Pickin' On Josh
10/2009
CD REBEL 1834 (US)
DEEP IN THE SHADE - Have Mercy / I Thought That She Loved Me / The Mountain's Gonna Sing / Turn Up The Bottle / Nowhere To Lay Low / Sylvie / There Ain't No Easy Street / Mourning Dove / I Must Be Somebody Else You've Known / Shades Of Gray / Heartbreak Is Real / Hollerin' House
03/2011
CD ROUNDER 0660 (US)
RARE BIRD ALERT - Steve MARTIN & The STEEP CANYON RANGERS - Rare Bird Alert / Yellow-Backed Fly / Best Love / Northern Island / Go Away, Stop, Turn Around, Come Back / Jubilation Day / More Bad Weather On The Way / You / The Great Remember (For Nancy) / Women Like To Slow Dance / Hide Behind A Rock / Atheists Don't Have No Songs / King Tut
04/2012
CD ROUNDER 106482 (US)

Nobody Knows You - Nobody Knows You / Rescue Me / Easy To Love / Between Midnight And The Dawn / As I Go / Natural Disaster / Ungrateful One / Summer Winds / Open Country / Knob Creek / Reputation / Long Shot

09/2013
CD ROUNDER 619168 (US)

Tell the Ones I Love - Tell The Ones I Love / Stand And Deliver / Bluer Words Were Never Spoken / Come Dance / Camellia / Graveyard Fields / Boomtown / Mendocino County Blue / Hunger / Lay Myself Down / Take The Wheel / Las Vegas

08/2015
CD ROUNDER 116613673302 (US)

Radio -

Radio / Diamonds In The Dust / Simple Is Me / Blow Me Away / Blue Velvet Rain / Looking Glass / Down That Road Again / Break / Wasted / Long Summer / When The Well Runs Dry / Monumental Fool
09/2017
CD ROUNDER 7203308 (US)

The Long-Awaited Album - Steve MARTIN & The STEEP CANYON RANGERS - Santa Fe / Caroline / All Night Long / Canadian Girl / Office Supplies / Bad Night / Strangest Christmas Yet / Always Will / So Familiar / Nights In The Lab / Angeline The Barista / On The Water / Girl From River Run / Promontory Point

01/2018
CD Ramseur 212587 (US)

Out in the Open - Farmers And Pharaohs / Let Me Out Of This Town / Out In The Open / Can't Get Home / Going Midwest / When She Was Mine / Love Harder / Shenandoah Valley / Best Of Me / Roadside Anthems / Let Me Die In My Footsteps / The Speed We're Traveling

11/2019
CD Yep Roc YEP-2667CD (limited edition)

North Carolina Songbook - Stand By Me / Don't Let Your Deal Go Down / Blue Monk / Drunkard's Hiccups / Shake Sugaree / Sweet Baby James / I've Endured / Your Lone Journey

04/2000
CD Yep Roc YEP-2694CD

Be Still Moses - Easy To Love / Radio / Be Still Moses / Call The Captain / Let Me Out Of This Town / Blow Me Away / Between Midnight And The Dawn / Las Vegas / Farmers And Pharoahs / The Mountain's Gonna Sing

10/2020
CD Yep Roc YEP-2698CD

Arm In Arm - One Drop Of Rain / Sunny Days / Everything You Know / Every River / Honey On My Tongue / In The Next Life / Bullet In The Fire / Take My Mind / A Body Like Yours / Afterglow / Crystal Ship
© Rocky Productions 9/01/2021