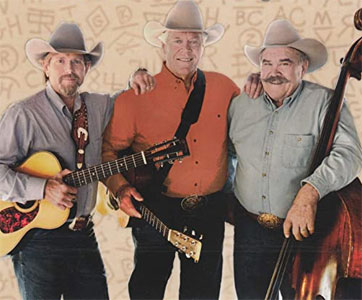 Trio Country US composé des frères Jack et Joe Hannah et de Lon Hannah, fils de Joe.

Among the most celebrated champions of Western music in the '90s and onward, the Sons of the San Joaquin fused stellar harmonies with a genuine love of the legends of the Old West and the classic cowboy sounds of the '30s and '40s.
Joe and Jack Hannah grew up in the Great Central Valley of California, in the shadow of the Sierra Nevada Mountains. They were raised surrounded by cowboy lore and the Sons of the Pioneers songs that their father would sing around the family ranch. It was these early experiences that would later shape the Sons of the San Joaquin.
In 1987, Joe's son Lon Hannah -- himself an amateur singer -- united with his father and uncle for an impromptu performance at his grandfather's birthday celebration. With that, the Sons were born. A chance appearance at the 1989 Poetry Gathering in Elko, Nevada sparked the interest of cowboy singer Michael Martin Murphey, who invited the trio to perform on his Cowboy Songs LP. The Sons signed with Warner Western (an imprint specializing in Western-themed music and poetry), and Murphey produced their 1992 debut, A Cowboy Has to Sing. The album was lauded for its effortless re-creation of the harmonies and storytelling that typified the Sons of the Pioneers' material. Songs of the Silver Screen appeared a year later; the album revived B movie Western soundtrack material that had originally been recorded by the Pioneers'. Released in 1995, From Whence Came the Cowboy was the first Sons of the San Joaquin album to feature original material, the majority of which was written by Jack Hannah.
For 1997's Gospel Trails, the Sons switched to the Western Jubilee Recording Company. The LP was a collection of favorite hymns, performed in the trio's distinctive three-part harmony. Horses, Cattle & Coyotes followed in 1999, and Sing One for the Cowboy was issued a year later. The early 2000s saw a career retrospective from the Sons, followed by a Christmas album, the For the Young, and the Young at Heart LP, and 2005's Way Out Yonder. Jack Hannah also released the children's book and CD The Value Mountain Trail. In 2011, the trio brought out A Cowboy's Song. In 2017, with Joe and Jack both over 80 years of age and Lon entering his sixties, the Sons of the San Joaquin announced the release of their final full-length album, One More Ride.
https://en.wikipedia.org/wiki/Sons_of_the_San_Joaquin
Style musical : Singing Cowboy, Traditional Country

https://youtu.be/Gb9R1uXnN_0
Years in activity :
| | | | | | | | | | | | |
| --- | --- | --- | --- | --- | --- | --- | --- | --- | --- | --- | --- |
| 1910 | 20 | 30 | 40 | 50 | 60 | 70 | 80 | 90 | 2000 | 10 | 20 |
DISCOGRAPHY
Albums
1990
CD SONS OF THE SAN JOAQUIN MS11990 (US)

Great American Cowboy - When The Prairie Sun Climbs Out The Hay / The Timber Trail / Hello Way Up Yonder / The Gift / The Everlasting Hills Of Oklahoma / Along The Santa Fe Trail / Silver Spurs / A Cowboy Has To Sing / Somethin' That A Cowboy Knows / Moonlight On The Trail / Yippi-Yi, Yippi-Yo / Song Of The Rover / Cool Water / Great American Cowboy

05/1992
CD Warner Western 9 26935-2 (US)

A Cowboy Has To Sing - Timber Trail / The Boss Is Hangin' Out A Rainbow / Blue Prairie / Cool Water / Way Out There / A Cowboy Has To Sing / Wind / Song Of The Rover / Moonlight On The Trail / So Long To The Red River Valley

1993
CD NOT ON LABEL ? (US)

Bound For The Rio Grande - Bound For The Rio Grande / The Boss Is Hangin' Out A Rainbow / Wind / Red River Valley / Bunkhouse Bugle Boy / Tumblin' Tumbleweeds / Happy Cowboy / So Long To The Red River Valley / Blue Prarie / When Pay Day Rolls Around / Empty Saddles / Way Out There

08/1993
CD Warner Western 9 45326-2 (US)

Songs Of The Silver Screen - Cowboy Jubilee / Song Of The Bandit / Ridin' The Range With You / Cherokee Strip / Empty Saddles / Yippi-Yi Your Troubles Away / Round Up Time Is Over / Down Where The Rio Flows / Headin' For The Home Corral / He's Ridin' Home

10/1995
CD Warner Western 9 46110-2 (US)

From Whence Came The Cowboy - Ridin' For The Roundup In The Springtime / Wyoming On My Mind / That's Why I'll Never Want To Be Anything But A Cowboy / Cowboy Rough / Prairie Girl / In My Colorado Home / Night Herding Song / Whoopie Ti-Yi-Yo / From Whence Came The Cowboy / Out Where The Cowboys Rope And Ride / Is It Because / Great American Cowboy

07/1997
CD Shanachie SHCD 6022 (US)

Gospel Trails - Read The Bible / God Leads His Dear Children Along / The Lily Of The Valley / Lead Me Gently Home / The Unclouded Day / Beyond The Sunset / There's Power In The Blood / Precious Lord, Take My Hand / In The Sweet By And By / Medley : Sweet Hour Of Prayer - Amazing Grace - Great Is Thy Faithfulness / It Is No Secret / I'll Fly Away

11/1998
CD SONS OF THE SAN JOAQUIN ? (US)
CHRISTMAS -

Away In A Manger / Deck The Halls / Silent Night / Do You Hear What I Hear / It Came Upon A Midnight Clear / I Heard The Beells On Christmas Day / Little Drummer Boy / O Little Town Of Bethlehem / I'll Be Home For Christmas / O Holy Night / Rudolph The Red-Nosed Reindeer

01/1999
CD Warner Western 80302-01166-2 (US)

Horses, Cattle And Coyotes - Ridin' Easy With The Sun / Livin' The Life Of The Trail / Land Of Enchantment / Abilene Town / When The Coyotes Come Near / Trail Drive / Trilogy For Roy / He's Runnin' Out Of Roundups / I Ride Along And Dream / Border Affair / Horses, Cattle And Coyotes / Pale Moon (Over The Bed Ground) / He Just Can't Be Seen From The Road

10/2000
CD Shanachie 6050 (US)

Sing One For The Cowboy - Trail So San Antone / Still Water Pool / Charlie An The Boys / Sierra Nevada / Sing One For The Cowboy / Rough String Rider / California / Unbroke Hoss / God Gave The Cowboy Montana / Watch Him (Demon Desert) / Texas Plains / The West

10/2002
CD Shanachie 6059 (US)

15 Years - A Retrospective - Happy Cowboy / Timber Trail / The Gift / Great American Cowboy / Along The Santa Fe Trail / Song Of The Rover / Wyoming On My Mind / Is It Because / Anything But A Cowboy / From Whence Came The Cowboy / I Ride Along And Dream / Charlie And The Boys / Texas Plains / Utah (With One Eye) / Ghost Riders In The Sky / The Legend Of Jake Kincaid

01/2006
CD Dualtone 80302-01213-2 (US)

Way Out Yonder - There's A Rainbow Over The Range / Ridin' Up The Glory Trail / Song From Nara Visa / The Famous Long X Brand / Santa Fe Lights / The Ballad Of Joaquin Murrieta / Little Cowboy / It's The Open Range For Me / A Cowboy's Heart Is In The Saddle / Mexicali Rose / The Lord Of The Rollin' Hills / Way Out Yonder / Where The Very Same Cottonwoods Grow

02/2009
CD Western Jubilee WJRC-36 (US)

Live At Western Jubilee Warehouse - Trail Drive / Whoopi Ti Yi Yo / Tumbling Tumbleweeds / Cool Water / So Long To The Red River Valley / Happy Roving Cowboy / Way Out Yonder / Is It Because / Wyoming On My Mind / Silver Spurs / Santa Rosa Serenade / Where The Very Sam Cottonwoods Grow / There's A Rainbow Over The Range / Trilogy For Roy / Shenandoah / Red River Valley / Home On The Range

03/2011
CD Western Jubilee WJRC-36 (US)

A Cowboy's Song - Howdy Do / Chants Of The Plains / He's A Rover / The Girl With The Broken Heart / Heaven's Right Here / Lord, I'm Just An Ol' Cowboy / Have I Told You Lately That I Love You / Timberline Camp / Slow Movin' Cattle / Down Along The Sleepy Rio Grande / Lie Down Little Dogie, Lie Down / He Don't Want To Cuss The Rough String Anymore / A Cowboy's Song / Ol' Jim Bridger

01/2017
CD Western Jubilee WJRC-051 (US)
ONE MORE RIDE - One More Ride / The Reason Why / Don't Fiddle With A Cowboy Hat / I'll Take You Home Again Kathleen / I'll Leave The Light On / How Big Is God / Don't Ride Away / All Hail To The Pioneer / How Great Thou Art / Down Where The Saguaro Grow / The Searchers / It Is Well

© Rocky Productions 11/05/2021