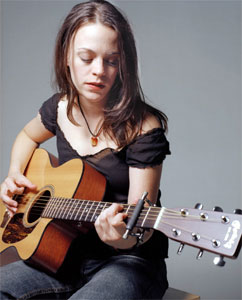 Chanteuse Country US née le 1er Juin 1972 à Long Island (New York).

Blending big-city intelligence and sophistication with the clear and honest passion of classic country and folk performers, Mindy Smith is a singer who combines the best of both worlds, and her talents have earned the young performer a growing reputation as an artist to watch, as well as some well-known admirers. Smith was born in Long Island, NY, and with the encouragement of her parents developed a passionate interest in music at an early age, taking up singing as a hobby. In 1994, Smith's mother lost a long battle with cancer, and after her passing Smith and her father moved to Knoxville, TN. Once they settled in their new home, Smith began exploring the musical heritage of the South and became enamored with folk, bluegrass, and the blues, developing a special enthusiasm for Alison Krauss, Shawn Colvin, and the Cox Family.
Before long, Smith was writing songs and playing local shows, and in 1998 she decided to move to Nashville in hopes of making music her career. With a mere $300 in her pocket, Smith wasted little time in making a name for herself in Music City, and after winning the Tin Pan South Open Mike Competition in 2000 and becoming a finalist in the prestigious Kerrville Folk Festival's New Folk Competition, Smith earned a publishing deal with Big Yellow Dog Music. Smith's big break came in 2003, when she was tapped to appear on Just Because I'm a Woman: The Songs of Dolly Parton, a high-profile tribute album to the long-reigning country superstar that found her performing alongside Emmylou Harris, Norah Jones, Alison Krauss, and Parton herself, who was by all accounts quite impressed with the young performer's interpretation of "Jolene." That same year, Smith was signed to a deal with Vanguard Records, and her debut album, One Moment More, was released in early 2004. In 2006 she returned with her second full-length, Long Island Shores. The holiday collection My Holiday followed shortly thereafter in October. A fourth release, Stupid Love, was issued by Vanguard at the end of the summer in 2009. She released several albums in the 2010s, including a self-titled full-length in 2012.
Talents : Singer, Guitar
Style musical : Country-Pop, Folk, Pop Rock

https://youtu.be/sIU_p7EEO-w
Years in activity :
| | | | | | | | | | | |
| --- | --- | --- | --- | --- | --- | --- | --- | --- | --- | --- |
| 1910 | 20 | 30 | 40 | 50 | 60 | 70 | 80 | 90 | 2000 | 10 |
DISCOGRAPHY
Single & EP
| | | | |
| --- | --- | --- | --- |
| 2004 | CD VANGUARD 838-2 (US) (promo) | | Come To Jesus |
| 10/2013 | CD Giant Leap ? (US) | | Tomorrow Is Christmas Day / What Child Is This / Snowed In / Silent Night / Auld Lang Syne |
Albums
| | | | |
| --- | --- | --- | --- |
| 01/2004 | CD VANGUARD VCD 79736 (US) | | ONE MOMENT MORE - Come To Jesus / Falling / Raggedy Ann / Fighting For It All / Train Song / It's Amazing / Angel Doves / Down In Flames / Hurricane / Hard To Know / One Moment More |
| 10/2006 | CD VANGUARD VCD 79797 (US) | | LONG ISLAND SHORES - Out Loud / Little Devil / Edge Of Love / Please Stay / Tennessee / I'm Not The Only One Asking / What If The World Stops Turning / You Just Forgot / You Know I Love You Baby / Out Of Control / Long Island Shores / Peace Of Mind |
| 10/2007 | CD VANGUARD VCD 79838 (US) | | My Holiday - My Holiday / The Christmas Song / Santa Will Find You / Follow The Shepherd Home / What Are You Doing New Year's Eve? / Away In A Manger / I Know The Reason (Mindy Smith feat: Thad Cockrell) / Silver Bells / I'll Be Home For Christmas / It Really Is (A Wonderful Life) / Come Around / [untitled] |
| 08/2009 | CD VANGUARD 0798532 (US) | | Stupid Love - What Went Wrong / Highs And Lows / If I Didn't Know Any Better / Love Lost / Telescope / What Love Can Do / Couldn't Stand The Rain / Bad Guy / Surface / Disappointed / True Love Of Mine / Love Chases After Me / Take A Holiday |
| 06/2012 | CD Giant Leap / TVX 1001 (US) | | Mindy Smith - Closer / Take Me Back / Pretending The Stars / Don't Mind Me / Tin Can / Everything Here Will Be Fine / Sober / Devils Inside / Cure For Love / Where You're Walking On My Grave / If I |
| 10/2012 | CD VANGUARD / Welk 78263-2 (US) | | The Essential - Come To Jesus / Out Loud / It's Amazing / Highs And Lows / Please Stay / Jolene / Hard To Know / Tennessee / Love Lost / Little Lies / Fighting For It All / Peace Of Mind / One Moment More |
© Rocky Productions 25/09/2018