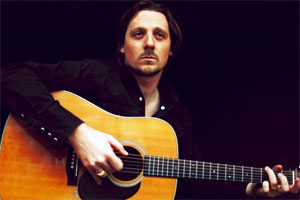 Chanteur Country US né le 8 Juin 1978 à Jackson (Kentucky), Sturgill Simpson a grandi près de Lexington. En 2004, Il a formé le groupe Sunday Valley avant de se lancer en solo.

Formerly the leader of Sunday Valley, an energetic roots outfit that made some waves in the early years of the new millennium, Sturgill Simpson gained greater renown as a solo artist, thanks in large part to his muscular 2013 solo debut High Top Mountain. An outlaw country record in form and feel -- its debt to Waylon Jennings clear and unashamed -- High Top Mountain became a word-of-mouth hit in 2013, thereby establishing Simpson's country credentials and opening the door to a wider future.
A native of Jackson, Kentucky raised near Lexington, Simpson has deep southern roots, but he moved out west once he reached his late teens. In 2004, he formed Sunday Valley, receiving a big break when they played Portland, Oregon's Pickathon Festival in 2011. Sturgill went solo in 2012, beginning work on the album that became High Top Mountain, which appeared the following year. After extensive touring, Simpson settled down in studio to concentrate on his next recording. He experimented with stretching the boundaries of his chosen genre, digging deep into topics like physics and evolution as evidenced by his pre-release single, "Turtles (All The Way Down)." The Dave Cobb-produced album, Metamodern Sounds in Country Music, appeared in May of 2014 and peaked in the top ten on all of the country charts.The album was nominated for a Grammy Award for best country album. Simpson won Best Emerging Artist at that year's Americana Music Awards, and in 2015 was named Artist Of The Year by the same foundation.
In March of 2016, he dropped "Brace For Impact (Live A Little)," as the first single from the full length A Sailor's Guide To Earth. The self-produced album was released on April 15 and featured a guest appearance from The Dap-Kings. It earned rave reviews plus a surprise nomination for Grammy's Album of the Year. Although it lost the big award, A Sailor's Guide to Earth did win Best Country Album at the 2017 Grammys.
During 2017, Simpson kept a relatively low profile, touring some on his own and as an opener for Guns N' Roses. He also produced Purgatory, the debut album by Tyler Childers. In 2018, Simpson dabbled in acting, and film was an essential component of his 2019 project, Sound & Fury. A noisy excursion into sci-fi rock & roll, Sound & Fury was accompanied by an anime film upon its September 2019 release.
https://en.wikipedia.org/wiki/Sturgill_Simpson
Talents : Vocals, Guitar, Songwriter, Actor
Style musical : Americana, Contemporary Country, Neo-Traditionalist Country, Outlaw Country

https://www.youtube.com/watch?v=QU_vOPmUiWg
Years in activity :
| | | | | | | | | | | | |
| --- | --- | --- | --- | --- | --- | --- | --- | --- | --- | --- | --- |
| 1910 | 20 | 30 | 40 | 50 | 60 | 70 | 80 | 90 | 2000 | 10 | 20 |
DISCOGRAPHY
Single
| | | | |
| --- | --- | --- | --- |
| 2014 | CD Loose VJS39 (US) (promo) | | The Promise |
| 08/2019 | SP Atlantic 7-599507 (US) | | The Dead Don't Die / The Dead Don't Die (instr.) |
Albums
06/2013
CD Loose Music VJCD 214 (US)

High Top Mountain -

Life Ain't Fair And The World Is Mean / Railroad Of Sin / Water In A Well / Sitting Here Without You / The Storm / You Can Have The Crown / Time After All / Hero / Some Days / Old King Coal / Poor Rambler / I'd Have To Be Crazy
05/2014
CD Loose Music VJCD 216 (US)

Metamodern Sounds in Country Music - Turtles (All the Way Down) / Life Of Sin / Living The Dream / Voices / Long White Line / The Promise / A Little Light / Just Let Go / It Ain't All Flowers / Pan Bowl [bonus track]

04/2016
CD Atlantic 551380 (US)

A Sailor's Guide to Earth -

Welcome To Earth (Pollywog) / Breakers Roar / Keep It Between The Lines / Sea Stories / In Bloom / Brace For Impact (Live A Little) / All Around You / Oh Sarah / Call To Arms
09/2019
CD Atlantic / Elektra 865179 (US)

Sound & Fury - Ronin / Remember To Breathe / Sing Along / A Good Look / Make Art Not Friends / Best Clockmaker On Mars / All Said And Done / Last Man Standing / Mercury In Retrograde / Fastest Horse In Town

12/2020
CD High Top Mountain 58784CD

Cuttin' Grass - Vol​.​1 - The Butcher Shoppe Sessions - All Around You / All The Pretty Colors / Breakers Roar / I Don't Mind / I Wonder / Just Let Go / Life Ain't Fair And The World Is Mean / A Little Light / Life Of Sin / Long White Line / Living The Dream / Old King Coal / Railroad Of Sin / Sitting Here Without You / Sometimes Wine / The Storm / Time After All / Turtles All The Way Down / Voices / Water In A Well

12/2020
CD High Top Mountain 44155 (US)

Cuttin' Grass - Vol. 2 - The Cowboy Arms Sessions -

Call To Arms / Brace For Impact (Live A Little) / Oh Sarah / Sea Stories / Hero / Welcome To Earth (Pollywog) / Jesus Boogie / Keep It Between The Lines / You Can Have The Crown / Tennessee / Some Days / Hobo Cartoon
08/2021
CD High Top Mountain 36800C (US)

The Ballad Of Dood & Juanita - Prologue / Ol' Dood (Part I) / One In The Saddle, One On The Ground / Shamrock / Played Out / Sam / Juanita (featuring - Willie Nelson) / Go In Peace / Epilogue / Ol' Dood (Part II)
© Rocky Productions 22/08/2021