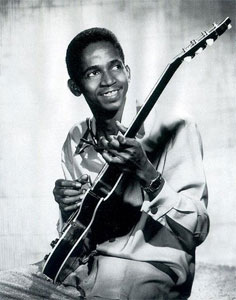 Chanteur Rhythm 'n' Blues US né Edgar Ray Sharpe, le 8 Février 1938 à Fort Worth (Texas).

Fie on these large-scale music industry conferences: many essential research assistants get lost at them. At least the heretofore faithful Igor had the sense of mind to leave the following dispatch on an office answering machine prior to blowing off like a geyser: "Heard what sounds like the new Jimi Hendrix here at 'South By,'" his rant started, revealing his natural ability to quickly pick up on the native jargon. "He has a cute face, has a great personality, but one song that could be a hit seems to unfortunately be about drugs." Igor proceeded to sign off, not with his own signature but with the name of the artist he had seen performing, Ray Sharpe. As is unfortunately the case with research, faulty assumptions had been made with much less than all the facts in evidence. This artist's youthful appearance makes him seem like a newcomer circa 2007 but he is not. The previously mentioned song had already been a hit in 1959. Way back then, a "fatty" was an obese person, not a drug reference, in this case part of a lyric about a gal named "Linda Lu."
This big "hootchie mama," as she might have also been called, has a connection with other illustrious females of song, including the mysterious Phaedra as well as the b-word who wants to walk all over you with her boots. The link is the producer of all these sides, Lee Hazlewood, who before linking with Nancy Sinatra took a liking to Sharpe. The end of the '50s was a time of popularity for similarly twangy rock guitarists such as Duane Eddy, who along with studio pro Al Casey also picked on the original "Linda Lu." Name-dropping in the Sharpe saga also includes the actual Jimi Hendrix, involved in a Sharpe session in which guitar duties were wisely turned his way, as well as saxophonist King Curtis, producer of said sides. Sharpe's own abilities have led to others comparing him to Hendrix, that is others besides the missing research assistant whose last such duly noted "sounds like Hendrix" comment was in reference to the initial stirrings of a freshly revived ghoul.
The search for such a sound in Sharpe's discography could be frustrating. The 1995 Bear Family collection entitled Linda Lu instead favors twang, tinny at that, which in terms of meat content parallels the relationship between an untouched roast and a marrow socket sucked dry. The difference between Sharpe's recorded and live guitar sound has nothing to do with his amazing versatility, however, a fact that is evident on recordings where his range of material even includes a more than competent reading of one of the songs from the Broadway show My Fair Lady. Sharpe hails from Fort Worth, growing up in an environment where country & western became as important to him as blues. He has actually been praised for sounding "white," a reverse of normal racial relations involving R&B vocal performances. Perhaps this was not an asset after all, since none of his follow-ups to the song about the chubby gal enjoyed anything near as appetizing a meal on the hit parade, not even the 1966 sides with Hendrix involved.
"Oh My Baby's Gone" is another of this artist's original songs, the title expressing a not so surprising development when someone is singing about their paramour's weight problem, even on a hit. He has remained busy on the Texas music scene, where reliance on the network of gigs within one's home state is still no way to avoid long drives. Sharpe pitches in guitar duties on recordings by younger artists such as Dave Millsap and is sometimes promoted as the leading, even the only, "black rockabilly artist." Which may explain this latest dispatch from the missing assistant: "Am on my way to Black Rock. To find black rockabilly."
https://en.wikipedia.org/wiki/Ray_Sharpe
Talents : Vocals, Guitar, Songwriter
Style musical : Rockabilly, Rhythm 'n' Blues, Texas Blues
Years in activity :
| | | | | | | | | | | | |
| --- | --- | --- | --- | --- | --- | --- | --- | --- | --- | --- | --- |
| 1910 | 20 | 30 | 40 | 50 | 60 | 70 | 80 | 90 | 2000 | 10 | 20 |
DISCOGRAPHY
Singles
| | | | |
| --- | --- | --- | --- |
| 09/1958 | SP HAMILTON 45-50002 (US) | . | Ray SHARPE & The BLUES WHALERS - Oh, My Baby's Gone / That's The Way I Feel |
| 06/1959 | SP JAMIE 1128 (US) | . | Linda Lu / Monkey's Uncle |
| 06/1959 | SP JAMIE 1128 (US) | . | |
| 10/1959 | SP JAMIE 1138 (US) | . | T. A. Blues / Long John |
| 01/1960 | SP JAMIE 1149 (US) | . | Gonna Let It Go This Time / Bermuda |
| 05/1960 | SP JAMIE 1155 (US) | . | For You My Love / Red Sails In The Sunset |
| 08/1960 | SP JAMIE 1164 (US) | . | Give'n Up / Kewpie Doll |
| 11/1960 | SP TREY 3011 (US) | . | Justine / The Street Where You Live |
| 01/1963 | SP GREGMARK 14 (US) | . | (The New) Linda Lu / The Bus Song |
| 1963 | SP GAREX G-203 (US) | . | Hey, Little Girl! / The Day You Left Me |
| 07/1963 | SP GAREX 104 (US) | . | I'm In Misery / The Day You Left Me |
| 02/1965 | SP MONUMENT 45-874 (US) | . | It's Too Cold / Let's Go, Let's Go, Let's Go |
| 01/1966 | SP ATCO 45-6402 (US) | . | Help Me (Get The Feeling) (part 1) / Help Me (Get The Feeling) (part 2) |
| 09/1966 | SP ATCO 45-6437 (US) | . | I Can't Take It / Mary Jane |
| 1966 | SP ATCO ATCO-26 (F) | | Linda Lu / I Can't Take It |
| 08/1968 | SP LHI 1215 (US) | . | Linda Lu / Monkey's Uncle |
| 09/1971 | SP A&M 1297 (US) | . | Another Piece Of The Puzzle (Just Fell In Place) / Dream On, Donna |
| 1977 ? | SP Hi-Oldies 487 (US) | . | Heavenly Angel (SATELLITES) / Linda Lu (Ray SHARPE) |
| 1982 ? | SP It Will Stand M-4607 (US) | . | Mama, Talk To Your Daughter / Boat Dock |
| 1983 | SP Jamie Golden Hits J-908 (US) | . | Goodnight My Love (Pleasant Dreams) (Jesse BELVIN) / Linda Lu (Ray SHARPE) |
| 19?? | SP The Wax Museum WAX-4607 (US) | . | Mama, Talk To Your Daughter / Boat Dock |
| 19?? | SP The Wax Museum WAX-4612 (US) | . | Boat Dock / My Baby's Gone |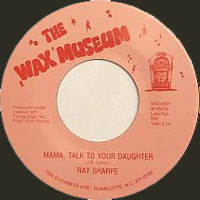 Albums
| | | | |
| --- | --- | --- | --- |
| 1965 | LP 12" Award LMP-711 (US) | | Welcome Back / Linda Lou - It's Too Cold / Bottoms Up! / Baby Face / Together (We Will Always Be) / Good Night, Irene / No Money Down / Baby, Baby, Baby / Cuttin' In / Haunted House / Cold, Cold Heart / Big Boy Pete / Welcome Back, Linda Lou |
| 1980 | LP 12" Flying High FH 6502 (US) | | Texas Boogie Blues - Boat Dock / In The Wee Wee Hours / Snap Your Fingers / Alva / Don't Start Me To Talkin' / Linda Lu / You're Not The Only One / Talk To Your Daughter / Man Watch Your Woman / Alva's Baby's Blues |
| 1982 | LP 12" Flying High FH 6507 (US) | | Live At The Bluebird - Vol. 1 - Dust My Blues / Caress Me Baby / Every Day / Wee Wee Baby / Chile Con Como / Promised Land / Gotta See My Baby / Going Home Tomorrow / Worried Life Blues / Miss Lavern / Lonely, Lonely Nights / Hideaway |
| 10/1995 | CD Bear Family BCD 15888 (GER) | | LINDA LU - Linda Lu / Monkey's Uncle / Oh My Baby's Gone / That's The Way I Feel / Kewpie Doll / Red Sails In The Sunset / Silly Dilly Milly / The Bus Song / T.A. Blues [without overdubs] / Long John [without overdubs] / Gonna Let It Go This Time / Bermuda / Give'n Up / For You My Love / Justine / On The Street Where You Live [master] / There'll Come A Day / Dallas (For You My Love) / So Sorry / Hey Little Girl / Thank You So Much / The New Linda Lu / T.A. Blues [master] / Long John [master] / Kewpie Doll [take 20] / On The Street Where You Live [full length version] / Red Sails In The Sunset [overdub, take 1] |
| 02/2011 | CD HOODOO 263381 (EUR) | | Gonna Let It Go This Time - Long John / Monkey's Uncle / Gonna Let It Go This Time / That's The Way I Feel / Kewpie Doll / Justine / There'll Come A Day / Linda Lu / Red Sails In The Sunset / Silly Dilly Millie / T.A. Blues / Given'up / For You My Love / Oh My Babe's Gone / Bernuda / Kwepie Doll [alternate take] / Dallas / Long John [alternate take] / T.A. Blues [alternate take] / On The Street Where You Live |
| 03/2018 | LP 10" Minigroove LP 105 (F) | | Monkey's Uncle - Monkey's Uncle / Oh My Baby's Gone / The Bus Song / Silly Dilly Millie / Gonna Let It Go This Time / Kewpie Doll / Linda Lu / That's The Way I Feel / Give 'n Up / Long John / T.A. Blues / Justine |
| ???? | LP 12" Jumble JLP 331959 (US) | | RAY SHARPE - Linda Lou / Kewpie Doll / That's The Way I Feel / Long John / Help Me / Mary Jane / Have Love Will Travel / T.A. Blues / Give'n Up / Oh My Baby's Gone / Red Sails In The Sunset / Monkey's Uncle / I Can't Take It / Look At Me |
© Rocky Productions 6/10/2019