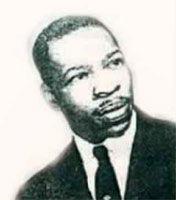 Chanteur Rhythm 'n' Blues US né le 30 Octobre 1923 à Baton Rouge (Louisiane).

Clarence Samuels was born October 30, 1923 in Baton Rouge, LA where he first sang with his father's group.
By the mid 40s he worked with Roy Brown and made his first recordings for Aristocrat (Chicago, Il) in 1947 and 1948. While performing all around the country he made records everywhere : Swingtime/Downbeat (Los Angeles), Freedom (Houston) and DeLuxe (New Orleans) by the fall of th 40s, Bay'ou Records, Lamp (New York City) Excello (Nashville) and Apt in the 50s. Sharon (New York, 1963) He recorded for small Texan labels, like the Nopal label in 1966, while he was living in Houston. He then stopped recording when he moved to Orlando, Florida where he got involved with booking bands and by 1973 was producing records for Jimmy Liggins' Duplex label. After leaving the music business he moved to Los Angeles again and didn't record new material until 2000.
Talents : Vocals
Style musical : Rhythm 'n' Blues, Blues
Years in activity :
| | | | | | | | | | | | |
| --- | --- | --- | --- | --- | --- | --- | --- | --- | --- | --- | --- |
| 1910 | 20 | 30 | 40 | 50 | 60 | 70 | 80 | 90 | 2000 | 10 | 20 |
DISCOGRAPHY
78 t. & Singles
| | | |
| --- | --- | --- |
| 12/1947 | 78 t. ARISTOCRAT 1001 (US) | |
| 02/1948 | 78 t. ARISTOCRAT 1003 (US) | Coming Home Baby / Baseball Blues |
| 1948 | 78 t. DOWNBEAT 131 (US) | Household Troubles / C.S. Jam |
| 1948 | 78 t. DOWNBEAT 149 (US) | Deep Sea Diver / A C Boogie Blues |
| 03/1949 | 78 t. ARISTOCRAT 403 (US) | Choo Choo Blues (Benny Kelly) / I Don't Love You Mamie (Clarence SAMUELS) |
| 1949 | 78 t. DELUXE 3219 (US) | Gimme! / Jumping At The Jubilee |
| 05/1950 | 78 t. FREEDOM F 1533 (US) | Low Top Inn / Lost My Head |
| 1950 | 78 t. FREEDOM F 1541 (US) | She Walk, She Walk, She Walk Pt. 1 / She Walk, She Walk, She Walk Pt. 2 |
| 1950 | 78 t. FREEDOM F 1543 (US) | I'm Gonna Leave You Baby / Got The Craziest Feelin' |
| 1950 | 78 t. FREEDOM F 1544 (US) | Somebody Gotta' Go / Hey Joe! |
| 1953 | 78 t. & SP BAY'OU 010 (US) | Low Top Inn (Clarence SAMUELS) / Drunk Or Sober (Goree CARTER) |
| 1954 | 78 t. LAMP 8004 (US) | Life Don't Mean A Thing / Crazy With The Beat |
| 1954 | SP LAMP 45-8004 (US) | Life Don't Mean A Thing / Crazy With The Beat |
| 1954 | 78 t. LAMP 8005 (US) | Cryin' 'Cause I'm Troubled / Lightnin' Struck Me |
| 1954 | SP LAMP 45-8005 (US) | Cryin' 'Cause I'm Troubled / Lightnin' Struck Me |
| 10/1956 | SP EXCELLO 45-2093 (US) | Got No Place To Call My Own / Chicken Hearted Woman |
| 01/1959 | SP APT 45-25028 (US) | Without You (with Ann COLE) / We're Goin' To The Hop |
| 196? | SP SHARON 111 (US) | Clarence Samuels / The Blazers - Putt-Putt-Putt / Slippity |
| 1963 | SP SHARON 112 (US) | Clarence Samuels & His Blazers - Crying Cause I'm Troubled / Charlie Loan Me 50c |
| 1966 | SP NOPAL NOP-913 (US) | Clarence Samuels & His Blazers - Meet Me / Crying Cause I'm Troubled |
| 1993 | SP Shag Archive AR-108 (US) | Without You (Clarence SAMUELS) / Maybe This Time (Norma LEWIS) |
© Rocky Productions 10/04/2018