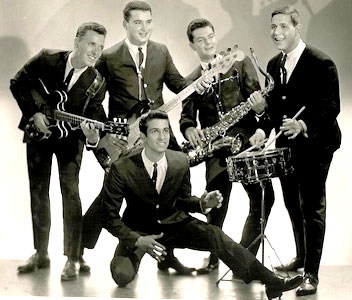 Groupe Rock 'n' Roll US formé en 1957 à Fort Lee (New Jersey), d'abord sous le nom de "Royal Tones" et était composés de Bill Crandle, Bill Dalton, Tom Austin, Bob Gaudio et Joe Francovilla (Aka Joe Villa). Ils changent alors leur nom en "Royal Teens" et connaîtront le succès avec "Short Shorts". En 1958, Larry Qualiano a remplacé Bill Crandle au sax.. Ils se sont séparés en 1965.

The Royal Teens are, by one definition, a hard-luck band. They could play hard and loud, but they also sang well and knew how to harmonize. They were one of the better rock & roll bands of their period, nicely self-contained and with a great beat and hard attack on their instruments, which included sax, electric guitar, and piano. But for all of that, they're virtually a one-hit group, and that one hit, "Short Shorts," isn't too representative of their sound. And, yet, without it, it's unlikely that a version of the Royal Teens would still get gigs in the Northeast in the summer of 1999, 40 years after the group's last decent chart placement.
Bill Crandle, Bill Dalton, Tom Austin, and Bob Gaudio formed the original band, then known as the Royal Tones, in Fort Lee, NJ in 1957. Crandall left the band and was replaced on sax by Larry Qualiano, and in 1958, Joe Francovilla (aka Joey Villa) joined the lineup as singer. A name change followed to the Royal Teens, when they got a shot at recording on the tiny Power Records label. Their first two singles, "Sitting with My Baby" and "Mad Gas," didn't chart, and they were in the process of cutting a couple of new singles in 1958 when their producer, against the wishes of the band, decided to use some leftover studio time to cut an instrumental jam that they'd done on-stage, to which they'd improvised some words. So the story goes, a couple of girls hanging around the studio were brought in and told to repeat the same line at the designated spots in the song, as the band sang and played.
Out of that session, "Short Shorts" was born, which, after initial success in New York City, Power quickly sold to the ABC-Paramount label. With help from American Bandstand and lots of radio stations that jumped on the song, "Short Shorts" spread quickly over the airwaves, and the band suddenly had a number three national hit. The record, often perceived as one of the dumbest of novelty tunes, is actually better than most people remember it, and has everything a great rock & roll song needs to transcend its simplicity -- the sax part is thick with places for the soloist to have fun, there's a hot guitar break, and the beat is relentless and intoxicating, especially as punctuated by the honking sax, a song you can laugh at, dance to, and play variations on for five minutes or more. (If Lenny & the Squigtones had really wanted to generate a hit in the late '70s, they'd have cut "Short Shorts" with Penny Marshall and Cindy Williams, or their soundalikes, backing Michael McKean and David Lander).
Unfortunately, the Royal Teens were never able to follow it up with anything remotely as popular. "Harvey's Got a Girl Friend" charted very low, and "My Kind of Dream" stiffed, after which the group left ABC-Paramount. A short stay on the Mighty Records label, and a similar lack of success, brought them to Capitol, where they made the Top 30 in 1959 with the romantic, doo wop style number "Believe Me." That was their last chart record, however, and also the last record on which Bob Gaudio played -- he exited the Royal Teens and soon hooked up with a singer named Frankie Valli, together forming the Four Lovers, soon to become the Four Seasons.
The Royal Teens spent the next few years bouncing between labels, including Jubilee, Blue Jay, and Swan, and still appeared on shows like American Bandstand occasionally, even as their membership slowly shifted. Al Kooper spent much of 1959 playing guitar with the Royal Teens before moving on to much bigger things. They still cut good sides, and they were even adaptable to the doo wop Vocals sound; in fact, as "Believe Me" (which sounds more like Dion & the Belmonts than Dion & the Belmonts did) proves, they were better at it than a lot of bands, and they still came up with great riffs and bracing solos (check out the guitar break on "All Right Baby"). But not even follow-ups like "Little Trixie," patterned after "Short Shorts," or pure exploitation like "Short Shorts Twist," could crack the charts for them again.
The group has continued in some form into the '90s, however, partly with help from the use of "Short Shorts" in a commercial for Nair, and the original record's continued popularity on oldies radio and in compilations. Those who've heard their other records, however, also know that this band had a lot more to offer, and may still.
Style musical : Rock 'n' Roll, Doo Wop

https://youtu.be/MOfFB5QF4iQ
Years in activity :
| | | | | | | | | | |
| --- | --- | --- | --- | --- | --- | --- | --- | --- | --- |
| 1910 | 20 | 30 | 40 | 50 | 60 | 70 | 80 | 90 | 2000 |
DISCOGRAPHY
Singles & EP
11/1957
SP POWER 215 (US)
.
Short Shorts / Planet Rock (instr.)
01/1958
SP ABC-PARAMOUNT 45-9882 (US)
.
Short Shorts / Planet Rock (instr.)
04/1958
SP ABC-PARAMOUNT 45-9918 (US)
.
Sham Rock / Big Name Button
07/1958
SP ABC-PARAMOUNT 45-9945 (US)
.
Harvey's Got A Girl Friend/ Hangin' Around
09/1958
SP ABC-PARAMOUNT 45-9955 (US)
.
Open The Door (Forgot The Key) / My Kind Of Dream
1958
EP VEGA / ABC 45.90338 (F)

Tequila (Eddie Platt & His ORCHESTRA) / Popcorn (Eddie Platt & His ORCHESTRA) / Short Shorts (ROYAL TEENS) / Planet Rock (ROYAL TEENS)
02/1959
SP MIGHTY 111 (US)
.

Leotards / Royal Blue (instr.)

1959
SP POWER P-113 (US)
.
Sittin' With My Baby / Mad Gass (instr.)
1959
SP MIGHTY 112 (US)
.

Cave Man / Wounded Heart

08/1959
SP CAPITOL 4261 (US)
.
Believe Me / Little Cricket
01/1960
SP CAPITOL 4335 (US)
.
The Moon's Not Meant For Lovers / Was It A Dream
07/1960
SP CAPITOL 4402 (US)
.

Royal Teens with Joey Villa - With You / It's The Talk Of The Town

08/1961
SP MIGHTY 200 (US)
.

My Memories Of You / Little Trixie

02/1962
SP ALLNEW 1415 (US)
.

Short Short Twist (Royal Teens with Ritchie Paris) / Royal Twist (Instr)

04/1964
SP CAPITOL STARLINE 6050 (US)
.
Believe Me / Little Cricket
02/1965
SP SWAN 4200 (US)
.
I Love You Till The End Of Time (voc.) / I Love You Till The End Of Time (instr.)
1965
SP ASTRA A-1012 (US)
.
Mad Gass / Sittin' With My Baby
1969 ?
SP ABC Oldies Treasure Chest

45-1228 (US)
.
Black Slacks (Joe

Bennett

& The

Sparkletones

) / Short Shorts (ROYAL TEENS)
1973
SP GOLDIES 45 D-2402 (US)
.
Short Shorts (ROYAL TEENS) / Black Slacks (Joe

Bennett

& The

Sparkletones

)
1973
SP Roulette Golden Goodies Hits Series GG-126 (US)
.
Black Slacks (Joe

Bennett

& The

Sparkletones

) / Short Shorts (ROYAL TEENS)
197?
SP MCA D-2402 (US)
.
Black Slacks (Joe

Bennett

& The

Sparkletones

) / Short Shorts (ROYAL TEENS)
1985
SP COLLECTABLES COL 3097 (US)
.
Short Shorts / Believe Me
Unissued Tracks
| | | |
| --- | --- | --- |
| 1958 | Unissued | Dottie Ann |
| 1958 | Unissued | Why |
| 19?? | Unissued | Carole |
| 19?? | Unissued | All Right Baby |
| 19?? | Unissued | Day Dream |
| 1962 | Unissued | My Mother's Eyes (Joe Villa) |
| 1962 | CHEVRON unissued | Blanche (Joey Of The Original 3 Friends) |
| 1968 | DE-LITE unissued | Chloe (Joe Villa) |
| 196? | Unissued | Dance Ballerina (Joe Villa) |
Albums
1974
LP 12" Tru-Gems ‎T-G 1001 (US)

Original Short Shorts & Others -

Short Shorts / Royal Blue / Little Trixie / Why / All Right Baby / Believe Me / My Memories Of You / Sham Rock / Dottie Ann / Wounded Heart
1989
CD COLLECTABLES COL-5094 (US)
SHORT SHORTS - GOLDEN CLASSICS - Short Shorts / Royal Blue / Little Trixie / Why / All Right Baby / Believe Me / My Memories Of You / Shame Rock / Dottie Ann / Wounded Heart / My Kind Of Dream / Open The Door
1997
CD MIGHTY POWER 300 (UK)
LET'S ROCK - ALL ORIGINAL HIT RECORDINGS - The Moon's Not Means For Lovers - Was It A Dream / My Memories Of You / Little Cricket / Believe Me / Harvey's Got A Girl Friend / Big Name Button / Hangin' Around / With You / Short Shorts / Little Trixie / Open The Door (Forget The Key) / Dottie Ann / All Right Baby / Leotards / Sittin' With My Baby / Blanche (JOEY (VILLA) / My Mother's Eyes (Joe VILLA) / Short Short Twist / Why / It's The Talk Of The Town / I'll Love You (Til The End Of Time) / My Kind Of Dream / Wounded Heart / Sham Rock / Planet Rock / Royal Blue / Mad Gass / Royal Twist / I'll Love You (Til The End Of Time) (instr.) / Dance Ballerina (Joe VILLA) / Chloe (Joe VILLA)
© Rocky Productions 2/06/2016