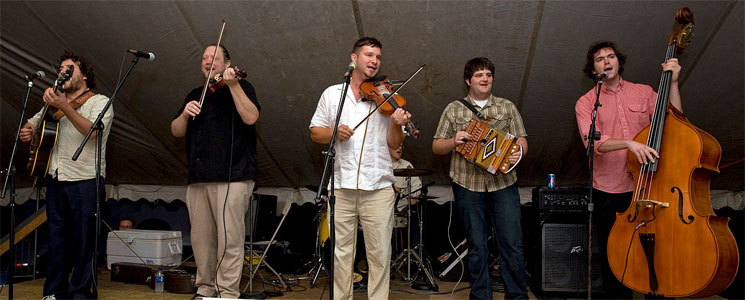 Groupe Country US fondé en 1999 à Baton Rouge (Louisiane). Les Red Stick Ramblers sont composés de Chas Justus, Eric Frey, Linzay Young, Kevin Wimmer et Glenn Fields.

The Red Stick Ramblers are a diverse group of six men who can play the haunting and heart-tugging traditional Cajun music of generations past and make it just as enjoyable and memorable for today's youth as it is for their grandparents. They intersperse the traditional tunes with fare they call "Cajun gypsy swing." Lead vocalist and fiddler Linzay Young, a Louisiana native who hails from Eunice, is a Louisiana State University anthropology major. Fiddler Joel Savoy attends the same school and is a math and French major. His parents are noted Cajun musicians Ann Savoy and Marc Savoy. Mother and son worked together with Tom Waits, recording the Cajun music featured on the soundtrack of The Divine Secrets of the Ya-Ya Sisterhood, a movie released by Warner Bros. in 2002. Bass player Ricky "Railroad" Rees is a college English teacher who hails from Lafayette. He has performed with such artists as the Bluerunners, Rockin' Dopsie, and Buck Senegal. Drummer Glen Fields, who spends his days behind the counter of a music store, has been a member of a variety of different groups, playing everything from jazz to punk. Mandolinist and guitarist Josh Caffery, who grew up near Franklin, LA, writes for a Lafayette-based newspaper, The Times of Acadiana. The only Rambler whose full-time job is as a musician is guitarist Chaz Justus.
Several of the band's members met for the first time while playing in Baton Rouge in a group called Brother Teresa. When the Red Stick Ramblers started making a name for themselves in 2001, the band received invitations to appear at the Festival Acadiens and the Festival International de Louisiane. Thanks to fine performances, invitations poured in from the New Orleans Jazz & Heritage Festival, France's Deferlantes Francophones Festival, the Rhythm & Roots Festival in Rhode Island, the Cajun/Zydeco Festival in Florida, and the Tropical Heatwave Festival, also in the Sunshine State. Louisiana Radio Records issued the band's self-titled debut in 2002. Bring It on Down appeared a year later in 2003, followed by Right Key, Wrong Keyhole in 2005. The band made the leap to Sugar Hill Records for 2007's Made in the Shade.
Talents : Chas : Guitar - Eric : Bass - Linzay : Fiddle, Vocals - Kevin : Fiddle - Glenn : Drums
Style musical : Zydeco, Traditional Cajun, Old Timey, Creole, Americana, Western Swing

https://youtu.be/o-V8BWyZX9U
Years in activity :
| | | | | | | | | | |
| --- | --- | --- | --- | --- | --- | --- | --- | --- | --- |
| 1910 | 20 | 30 | 40 | 50 | 60 | 70 | 80 | 90 | 2000 |
Albums
| | | | |
| --- | --- | --- | --- |
| 01/2002 | CD LOUISIANA RADIO 5883 (US) | | RED STICK RAMBLERS - Nagasaki / Valse De Balfa / Tchavalo Swing / I've Been Alone Before / Danse Carrée / Alabama Jubilee / All My Life / One Step De McGee / Tears / Take Me Back To Tulsa / Grand Tasso / Pumpkin's Fancy |
| 09/2003 | CD MEMPHIS INT'L 620008 (US) | | BRING IT ON DOWN - Bring It On Down To My House / Main Street Blues / What Do I Do? / Stay All Night / Belle / Two Step Des Condanmes / Rattle My Cage / Blue Drag / Dinah / Parting Waltz / 16 Tons / When The Sugar Cane's Tall |
| 04/2005 | CD MEMPHIS INT'L 620011 (US) | | RIGHT KEY, WRONG KEYHOLE - That's What I Like About The South / It Ain't Right / Valse De Chaoui / It's Too Late / It's Hard To Love Someone / Sweet And Slow / My Ramblin' Heart / Sentimental / You've Got The Right Key, But The Wrong Keyhole / Closing Time Blues / Grand Texas / Devil With The Devil |
| 09/2007 | CD SUGAR HILL SUG-CD-4038 (US) | | MADE IN THE SHADE - Made In The Shade / Evenin' / Oiseaux Vont Chanter / Cowboy Song / Katrina / Don't Cry, Baby / Laisse Les Cajuns Danser / Hot Tamale Baby / Some Of These Days / Tes Parents Ne Veulent Plus Me Voir [Your Parents Don't Want To See Me / Unsentimental / Smeckled Suite |
| 05/2009 | CD SUGAR HILL SUG-CD-4053 (US) | | My Suitcase Is Always Packed - Je T'Aime Pas Mieux / Drinkin' To You / Bloodshot Eyes / My Suitcase Is Always Packed / Lay Down In The Grass / Nonc' Yorick (La Bataille De 1916) / Doggone My Time / Goodbye To The Blues / Why, Now Baby? / Old Fashioned Two-Step / La Valse De Meche / Morning Blues / Barnyard Bachelor |
© Rocky Productions 2/08/2017