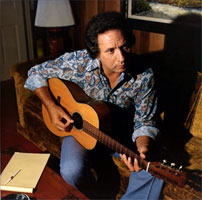 Compositeur et chanteur Country US né le 20 Novembre 1930 à Princeton (Alabama). Curly Putman est décédé le 30 Octobre 2016 à Lebanon (Tennessee).

Curly Putman was one of country music's greatest songwriters. The son of a sawmill worker, he completed his education and spent four years in the U.S. Navy, before he himself worked in a sawmill. After completing a commercial course, he became a shoe salesman. He wrote songs and played steel guitar with various bands and in 1960, recording for the small Cherokee label, scored a number 23 country chart hit with his recording of "The Prison Song." In 1963, he relocated to Nashville, where, initially, he became a staff writer with Tree Publishing. In 1965, Porter Wagoner's recording of Putman's "Green Green Grass of Home" went to number four in the country charts. In 1966, two more of Putman's songs became country hits. "As Long as the Wind Blows" became Johnny Darrell's first hit and "The Last Laugh" was successfully recorded by Jim Ed Brown.
One year later, Putman's own recording of "My Elusive Dreams," a song he co-wrote with Billy Sherrill, reached number 41 country and crossed over to number 134 in the pop charts. However, his own success was easily surpassed by the duet of David Houston and Tammy Wynette, which topped the country chart and reached number 89 in pop. Apart from these versions, it was also charted the same year by Rusty Draper (number 70) and by Johnny Darrell (number 73), plus as a 1970 hit for Bobby Vinton (Top 30) and in 1975 by Charlie Rich (Top Three). Putman also charted "Set Me Free" in 1967, but never gained another chart entry as a singer. (The song became Rich's first country hit the following year and a hit for Ray Price in 1969.)
In 1967, Tom Jones' recording of "Green, Green Grass of Home" became a million-seller, earning a U.S. number 11 pop hit and a seven-week number one on the U.K. pop charts. The same year, Dolly Parton charted with "Dumb Blonde," Del Reeves with "The Private," the Statler Brothers with "You Can't Have Your Kate (And Edith Too)," and Bobby Wright with "That See Me Later Look." In 1968, "D.I.V.O.R.C.E.," a co-write with Bobby Braddock, hit number one for Tammy Wynette. In the U.S., Ferlin Husky scored a number four hit with "Just for You." Through the '70s, the hit songs continued: Tanya Tucker scored a number one with "Blood Red and Goin' Down," and Moe Bandy took the Putman and Sonny Throckmorton song "It's a Cheating Situation" to number two (the Academy of Country Music named the latter their 1979 Song of the Year).
In 1980, George Jones' recording of Putman and Braddock's "He Stopped Loving Her Today" became a number one. The song was subsequently voted CMA Single of the Year (1980) and Song of the Year (1980 and 1981), and led to Jones also being voted CMA Male Vocalist of the Year for both 1980 and 1981. In the '90s, Putman's successes continued with new country acts gaining chart hits with his songs. They included Sawyer Brown ("Cafe on the Corner"), Josh Logan and Aaron Tippin ("I Was Born with a Broken Heart"), Michael White ("She Likes to Dance"), and Pirates of the Mississippi ("A Street Man Named Desire"). Putman was elected into the Nashville Songwriters Association International Hall of Fame in 1976. He was never a prolific recording artist but he did record several albums, which mainly included his own songs. Curly Putman died in October 2016 at the age of 85.
https://en.wikipedia.org/wiki/Curly_Putman
Talents : Songwriter, Vocals, Guitar
Style musical : Contemporary Country, Country-Pop, Country Folk
GREEN GREEN GRASS OF HOME (1967)

HUMMIN' A HEARTACHE (1967)
Years in activity :
| | | | | | | | | | | | |
| --- | --- | --- | --- | --- | --- | --- | --- | --- | --- | --- | --- |
| 1910 | 20 | 30 | 40 | 50 | 60 | 70 | 80 | 90 | 2000 | 10 | 20 |
DISCOGRAPHY
Singles
| | | | |
| --- | --- | --- | --- |
| 02/1960 | SP CHEROKEE CR-504 (US) | . | Prison Song / Forsaken |
| 03/1960 | SP EVEREST 19334 (US) | . | The Prison Song / Forsaken |
| 06/1967 | SP ABC 45-10934 (US) | . | My Elusive Dreams / Hurtin' Like A Heartache |
| 08/1967 | SP ARTONE AP 25.614 (NL) | | My Elusive Dreams / Hurtin' Like A Heartache |
| 10/1967 | SP ABC 45-10984 (US) | . | Set Me Free / Hummin' A Heartache |
| 02/1968 | SP ABC 45-11050 (US) | . | Little Bitty Soldier Boys / Untouchable You |
| 06/1968 | SP ABC 45-11095 (US) | . | Happy Shoes / Take It All Off |
| 01/1969 | SP ABC 45-11179 (US) | . | San Francisco Sun / If I Ever Get That Close Again |
| 07/1969 | SP ABC 45-11238 (US) | . | Wild Streak / You Can Always Come Back |
| 05/1970 | SP RCA VICTOR 47-9850 (US) | . | Army Of Heartaches / Waiting For That Next Rainbow |
| 10/1970 | SP RCA VICTOR 47-9910 (US) | . | Country Dreams / Woke Up With A Stranger |
| 01/1971 | SP RCA VICTOR 47-9959 (US) | . | Danny The DJ / Goin' Home Blues |
| 07/1971 | SP RCA VICTOR 48-1004 (US) | . | Divorce Sale / One Time |
| 11/1971 | SP RCA VICTOR 74-0577 (US) | . | Old Ramblin' Alabama Me / You Love Me Into Staying |
Albums
10/1967
LP 12" ABC ABC 618 (mono) / ABCS-618 (stereo) (US)
LONESOME COUNTRY OF CURLY PUTMAN - I'm Not The Boy I Used To Be / Hummin' A Heartache / Green Green Grass Of Home / Hurtin' Like A Heartache / My Elusive Dreams / Right Straight In The Eye / Jailbirds Can't Fly / Untouchable You / Set Me Free / What I'd Give To Be The Wind
1969
LP 12" ABC ABC-686 (US)
WORLD OF COUNTRY MUSIC - San Francisco Sun / Just For You / You Can Always Come Back / Talking To The Grass / Take It All Off / If I Ever Set That Close Again / Happy Shoes / Who Loves Who / Love Of The Common People / D-I-V-O-R-C-E, Big Silver Wings
06/2013
CD

THE Omni

CORPORATION OMN 172 (US)

World of Country Music - I'm Not The Boy I Used To Be / Hummin' A Heartache / Green, Green Grass Of Home / Hurtin' Like A Heartache / My Elusive Dreams / Right Straight In The Eye / Jailbirds Can't Fly / Untouchable You / Set Me Free / What I'd Give To Be The Wind / San Francisco Sun / Just For You / You Can Always Come Back / Talking To The Grass / Take It All Off / If I Ever Get That Close Again / Happy Shoes / Who Loves Who / Love Of The Common People / D-I-V-O-R-C-E / Big Silver Wings / Little Bitty Soldier Boys
© Rocky Productions 12/06/2016