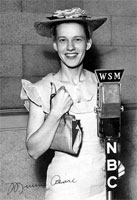 Chanteuse Country US née Sarah Ophelia Colley, le 25 Octobre 1912 à Centerville (Tennessee). Minnie Pearl est décédée le 4 Mars 1996. Elle a été élue au "Country Music Hall Of Fame" en 1975.

Minnie Pearl, a member of the Grand Ole Opry cast from 1940 until her death in 1996, was country music's preeminent comedian and one of the most widely recognized comic performers American culture has ever produced. With her straw hat and its dangling $1.98 price tag, her representation of herself as a man-chasing spinster in the small town of Grinder's Switch, TN, and her great-hearted holler of "How-DEE! I'm just so proud to be here" as she took to the Opry stage, Pearl became an icon of rural America even as she lovingly satirized its ways.
Cousin Minnie Pearl grew up among people quite different from the Uncle Nabob, Brother, and boyfriend Hezzie who populated her comic routines. Born Sarah Ophelia Colley, she was the daughter of a prosperous lumberman in Centerville, TN, and she attended tony Ward-Belmont College in Nashville as a theater major. As a young woman she favored classical music, not country. In college she focused especially on her dance classes, which would serve her well as she developed her top-notch stage presence, and after college she taught dance for several years. Then she took a job as a dramatic coach with a touring theater company based in Atlanta. As the group barnstormed through the Depression-era south, she would try to promote the group's shows by making brief appearances at local Lions' clubs and the like. She hit on a routine in which she delivered an impression of a small-town girl, Minnie Pearl, and then began to amplify the impression with traits she observed in people she met along the way. By 1939, the Minnie Pearl character was well developed, but Colley had to return to Centerville that year to help care for her ill mother.
In 1940 Colley appeared at a banking convention in Centerville at which some of the executives of the Opry's host station, WSM, happened to be in attendance. One suggested that she audition for the Opry, and despite the misgivings of Opry managers that she might be seen as ridiculing country people, she was accepted for a late-evening slot. Several hundred cards and letters addressed to Minnie Pearl arrived at the station over the following weeks, and her place in the cast was assured. "I don't think people think of her so much as a show business act as a friend," Colley would later observe.
During World War II, Pearl toured with the Camel Caravan, and she married Nashville pilot Henry Cannon in 1947. She authored a cookbook and became a prominent figure in Nashville social circles under the name of Sarah Cannon. But her greatest fame came from her Opry performances, some of which were broadcast nationally when the show hit prime time in the 1940s. In the late '40s and early '50s, Pearl often worked as part of a duo with comedian Rod Brasfield, and by 1957 she was famous enough to be featured on NBC television's This Is Your Life program.
Pearl went on to make many more television appearances in the '60s and '70s, eventually joining the cast of the hillbilly-themed variety show Hee Haw. That show made varied use of her comedic talents, featuring her in such segments as "Driving Miss Minnie" in addition to her usual Grinder's Switch settings. She was inducted into the Country Music Hall of Fame in 1975. Pearl was still a television fixture in the 1980s, when she appeared on TNN's Nashville Now. She also toured the country for much of her career and made a number of recordings. One of them, the recitation "Giddyup Go Answer," a rejoinder to Red Sovine's sentimental trucker number, became a Top Ten hit. Performing into the 1990s, Pearl suffered a stroke in 1991 and died five years later.
https://countrymusichalloffame.org/artist/minnie-pearl/
https://en.wikipedia.org/wiki/Minnie_Pearl
Talents : Comedy, Vocals, Piano
Style musical : Traditional Country, Country Comedy

https://youtu.be/jXGflnxSypE
Years in activity :
| | | | | | | | | | |
| --- | --- | --- | --- | --- | --- | --- | --- | --- | --- |
| 1910 | 20 | 30 | 40 | 50 | 60 | 70 | 80 | 90 | 2000 |
DISCOGRAPHY
78 t. & Singles
Albums
02/1960
LP 12" EVEREST LPBR 5073

(US)

MINNIE PEARL - (Comedy routine)
1963
LP 12" STARDAY

SLP-224 (US)

HOWDEE (COUSIN GAL FROM GRINDER'S SWITCH AT THE PARTY) -

A LIVE-ON-THE-SPOT HILARIOUS PERFORMANCE - (Comedy routine)
1964
LP 12" HILLTOP

JM-6014 (mono) / JS-6014 (stereo) (US)

LAUGH-A-LONG WITH MINNIE PEARL - (Country Comedy And Humorous Songs)
1966
LP 12" STARDAY

SLP-380 (mono) / S-SLP-380 (stereo) (US)

AMERICA'S BELOVED MINNIE PEARL -

GIDDYUP GO ANSWER - Y'all Come / Try To Live Some / Nobody's Business (with Red SOVINE) / Careless Love / What Is An American / Alabam (with Red SOVINE) / Giddy Up Go Answer / Are All The Children In / Know Thyself / Mother's Old Steel Thimble / What Would You Do / History Repeats Itself
1967
LP 12" STARDAY

SLP-397 (US)

The Country Music Story - (Comedy routine)

1967
LP 12" NASHVILLE NLP-2043 (US)

LOOKIN' FER A F

ELLER -

How To Catch A Man (song) / The Handsome Man From Nashville / Uncle Nabob / The Astronauts Of Grinder's Switch / Hawaii With Elvis / The Old Maid Of Grinder's Switch / Gossip From Grinder's Switch / The Tunnel Of Love / The Party Kissing Game / The Wedding / California Girls / My Feller (song)
1967
LP 12" SUNSET

SUM-1148 (mono) / SUS-5148 (stereo) (US)

HOWDY ! -

Howdy / I'm Jest So Proud / My Hometown / I Went Toa Weddin' / Big Party / Sumpin' Happened / Comin Into Town

11/1974
2 LP 12" RCA CAMDEN ADL2-0701 (US)
GRAND OLE OPRY STARS - Grandpa JONES & Minnie PEARL :

DISC 1 : Old Rattler (Grandpa JONES) / You Ain't Seen Nothin' Yet (Grandpa JONES) / You-All Come (Grandpa JONES) / Sass-A-Frass (Grandpa JONES) / Old Rattler's Son (Grandpa JONES) / How To Catch A Man (On The Minnie Pearl Plan) (Minnie PEARL) / (And) That's Good Enough For Me (Minnie PEARL) / Never Been Kissed (Minnie PEARL) / Man (Uh-Huh) (Minnie PEARL) / Papa Loves Mambo (Grandpa JONES & Minnie PEARL)
DISC 2 : Jealous Hearted Me (Minnie PEARL) / I Wonder Where That Man Of Mine Has Went (Minnie PEARL) / I Wisht They Would! (Minnie PEARL) / Kissin' Games ((Minnie PEARL & Grandpa JONES) / Pap's Corn Likker Still (Grandpa JONES) / Some More Mountain Dew (Grandpa JONES) / My Heart Is Like A Train (Grandpa JONES) / Standing In The Depot (Grandpa JONES)

07/1994
CD LEGACY 377 (US)
QUEEN OF THE GRAND OLE OPRY - Looking At Fellers / My Hometown / I Went To A Wedding / The Big Party / Scared To Death / A Little Trouble In Town
03/1998
3 CD STARDAY 3509 (US)
STARDAY YEARS :

CD 1 : Introduction : Train Whistle - The Tunnel - The Train Robber - Funny Look - Try To Live Some (Song) / The Women In My Life- Goldfish In The Bathtub - Uncle Nabob's Jug - Brother Going Swimming / Double Parking - New Perfune- Low Cut Dresses - Fish For Christmas - Hessy's Christmas Gift / I'm Gonna Kiss You Or Die Trying - Taking Me To Dinner - Lucifer Huckelhead - Grandfather Clock / Bedellia Busbustle - The New Mason - Dixon Line - The Cup Of Coffee - The Picture - Brother's New Job
CD 2 : Greeting- Scared - Looks- Breath Of Spring - Two-Faced - Uncle Nabob Ain't A Failure - A Little Nip / The Picture Show - The Diet - Hot Water - The Boxing Match - 4th Of July - Giddy-Up-Go Answer (Song) / Elvis In Hawaii- Hula Dancing- The Twist - Ernie Ford Show - Nobody's Business (Song) / Kissing Games - Rod Brasfield's Car - The Fancy Wedding - Monogram Pajamas - Know Thyself (Song) / The New Dress - The Hatchery And The Dairy - Getting Thin - Fire Department - How To Catch A Man (Song)
CD 3 : Roy ACUFF Intro - Minnie's Intro - It Sure Is Hot Tonight - Minnie And Red FOLEY - Summer Clothes / Intro - Income Tax Day - Red FOLEY And Minnie - Question Time - Brother's Dog Careless / Intro - Spring - Girls With A Lisp - Minnie And Red FOLEY - I Want A Beau - He Was Bragging - Perfume / Intro - Christmas At Grinder's Switch - Poor Memory - The Rusty Shotgun - Brother's Encyclopedia / Courtin At The Graveyard - Women Of California - Good Morning This Morning - That's Good Enough For Me

05/1998
CD KING 1480 (US)

LOOKIN' FER A F

ELLER -

How To Catch A Man (Song) / The Handsome Man From Nashville / Gossip From Grinder's Switch / The Astronauts Of Grinder's Switch / Hawaii with Elvis / The Old Maid Of Grinder's Switch / Uncle Nabob / The Tunnel Of Love / The Party Kissing Game / The Wedding / California Girls / Me Feller (Song)
03/1999
CD KING KSCD-3808 (US)
COUNTRY MUSIC HALL OF FAME 1975 - First Grand Ole Opry Appearance / Giddy-Go-Go Answer (song) / California Girls / Y'all Come (song) / Gossip From Grinder's Switch / Alabam (song) / Tunnel Of Love / How To Catch A Man / Colombus Stockade Blues / Old Maid From Grinder's Switch / Nobody's Business (song) / Uncle Nabob / History Repeats Itself / On Top Of Old Smokey (song)
03/2008
CD Gusto 0918 (US)

Live from Grinder's Switch -

First Grand Ole Opry Appearance / Giddy-Up-Go Answer / California Girls / Y'all Come / Gossip From Grinder's Switch / Alabam / Tunnel Of Love / Columbus Stockade Blues / Old Maid From Grinder's Switch / Nobody's Business / Uncle Nabob / On Top Of Old Smokey
© Rocky Productions 1/01/2017