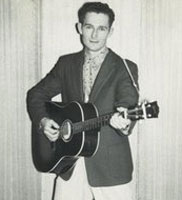 Chanteur Rockabilly US, né Kenneth Parchman, le 15 Janvier 1932 près de Jackson (Tennessee). En 1955, après son service militaire, il prit un boulot pour la Wells Fargo et commença à se produire dans les clubs locaux où il rencontra Jerry Lee "Smoochy" Smith. Un contrat avec le label Sun fut signé en août 1956 et une session organisée qui donna "Love Crazy Baby

/ I Feel Like Rockin'" qui resteront inédits. Rien ne se matérialisant chez "Sun", l'année suivante il enregistrera pour le label "Jaxon" puis, en 1958, pour le label "Lu", deux labels de Jackson. Une dernière session pour "Sun" en 1959 ne donnera rien. Il continuera à se produire régulièrement dans les clubs de Jackson avec Carl Mann et Rayburn Anthony. Après une longue maladie, Kenny Parchman est décédé le 2 Juin 1999.

Kenny Parchman had the misfortune to be an also-ran in the history of Sun Records, but not for lack of talent, as the surviving evidence demonstrates. While Elvis Presley, Carl Perkins, Jerry Lee Lewis, and Johnny Cash carved out the beginnings of national (and international) followings on the Memphis-based label, Parchman never got any further than a record number assigned to his single of "Love Crazy Baby" b/w "I Feel Like Rockin'," which was thereupon canceled, for reasons lost to time. Born on January 15, 1932 near Jackson, TN, he was drawn to the music he heard on the radio, and his parents bought him a guitar while he was still a boy. He learned to play from his mother, and it seemed like he might find a future, at least part of the time, in music. He later made a living driving a truck for Wells Fargo, but spent a lot of his spare time hanging around the clubs in Memphis, taking in the music. He finally formed his own band in 1955. The outfit, heavily influenced by Carl Perkins' band of the same period, busied themselves playing local dances and record hops. The core of the band, known as the High-Hats, featured Jerry Lee Smith on piano while Parchman sang and played lead guitar. By mid-1956, they'd made some demos for Sam Phillips at Sun Records, and they were signed in August of that year, with a planned debut of "Love Crazy Baby," which was subsequently canceled. He recorded other sides, including several originals, for Sun, none of which ever got released. Finally, in the summer of 1957, he received an offer of a contract from the newly founded Jaxon label, based in Jackson, TN, and cut sides for them, making his belated debut as a commercial recording artist with "Treat Me Right" b/w "Don't You Know."
Ironically, it was after that release that Parchman cut what is usually thought of as his best classic track, "Tennessee Zip," for Sun Records, and again, it sat on the shelf for a quarter century. Although they continued to play some hillbilly-style country numbers, the band had pumped up their drum sound and pushed the tempos and slid easily into the booming rock & roll groove of the era, and their music morphed directly into a hot rockabilly sound -- just as effective on their records -- that audiences 25 years later devoured as fast as it poured off the grooves of their singles. He was later signed to the LU label, also based in Jackson, which issued his second single, "Get It Off Your Mind" b/w "Satellite Hop," in 1958. He and the band were still getting lots of work locally, playing a mix of hillbilly-style country music and rock & roll. He later left the music business to start a very successful home construction company in Jackson; he was amazed to learn in the '70s and '80s of the discovery of his unissued Sun sides, and the degree to which his classic recordings of the '50s were idolized, especially in Europe. His health began failing in the early '90s, however, and he passed away in 1999 at the age of 67 after a long illness.
Kenny Parchman died on June 2, 1999.
Talents : Vocals, Guitar
Style musical : Rockabilly
Years in activity :
| | | | | | | | | | | | |
| --- | --- | --- | --- | --- | --- | --- | --- | --- | --- | --- | --- |
| 1910 | 20 | 30 | 40 | 50 | 60 | 70 | 80 | 90 | 2000 | 10 | 20 |
DISCOGRAPHY
Singles
Unissued Tracks
| | | |
| --- | --- | --- |
| 1956 | SUN unissued - (AVI CD 5004 (#22) / Charly CD 8236 (#4) / Disky CD 05 (#11) / Disky CD 5203 (#11) / Hydra CD 27125 (#2) / SAAR CD (#14) / SAAR CD 41006 (#4) / Smith & Co. CD 1145 (#8) / Sun (England) CD 6 (#2)) | I Feel Like Rockin' [vers. 1] |
| 1956 | SUN unissued - (AVI CD 5019 (#9) / Bear Family CD 16311 (#25) / Charly CD 8274 (#21) / Disky CD 04 (#14) / Hydra CD 27125 (#3) / Music Club CD 024 (#10) / Smith & Co. CD 2440 (#65) / Sun CD 024 (#10) / Sun (England) CD 6 (#1)) | Love Crazy Baby [vers. 1] |
| 1957 | SUN unissued - (Hydra CD 27125 (#19) / Sun (England) LP 1036 (#4)) | Don't You Know (What's The Reason) |
| 1957 | SUN unissued - (Charly CD 8317 (#4) / Disky CD 04 (#41) / Hydra CD 27125 (#5) / Sun (England) LP 1025 (#10)) | Get It Off Your Mind [alt. vers. 1] |
| 1957 | SUN unissued - (Rockhouse LP 8503 (#3)) | Get It Off Your Mind [alt. vers. 2] |
| 1957 | SUN unissued - (Sun (England) LP 1038 (#6)) | I Feel Like Rockin' [vers. 2] |
| 1957 | SUN unissued | I Feel Like Rockin' [vers. 3]) |
| 1957 | SUN unissued - (Charly CD 8137 (#5) / Hydra CD 27125 (#9) / Sun (England) LP 1025 (#5)) | Love Crazy Baby [vers. 2] |
| 1957 | SUN unissued - (Hydra CD 27125 (#20) / Sun (England) LP 1038 (#12)) | Love Crazy Baby [vers. 3] |
| 1957 | SUN unissued - (Bear Family CD 16210 (#9) / Big Mike's CD (#6) / Charly CD 8118 (#15) / Hydra CD 27125 (#4) / Sun 10 802 (#9) / Sun (England) LP 1025 (#4)) | Treat Me Right [alt. vers. 1] |
| 1957 | SUN unissued - (Charly CD 8137 (#6) / Hydra CD 27125 (#18) / Sun (England) LP 1036 (#5)) | Treat Me Right [alt. vers. 2] |
| 1957 | SUN unissued - (Sun (England) LP 1038 (#14)) | Treat Me Right [alt. vers. 3] |
| 1957 | SUN unissued - (Bear Family CD 16311 (#3) / Boot 10 706/2 (#4) / Charly CD 8352 (#25) / Emusic/Charly MP 11312766 (#25)) | What's The Reason |
| 1957 | SUN unissued - (Blend LP 82004 (#2) / Charly CD 8352 (#1) / Club LP 017 (#3) / Emusic/Charly MP 11312766 (#1) / Hydra CD 27125 (#1) / Rockhouse LP 8411 (#14) / Rockhouse CD 9319 (#15) / Sun (England) LP 1025 (#8)) | You Call Everybody Darlin' [vers. 1] |
| 1957 | SUN unissued - (Hydra CD 27125 (#16) / Sun (England) LP 1038 (#13)) | You Call Everybody Darlin' [vers. 2] |
| 1958 | SUN unissued - (AVI CD 5004 (#21) / Bear Family CD 16311 (#14) / Charly CD 8099 (#4) / Charly CD 8274 (#43) / Disky CD 03 (#18) / Dressed To Kill/BMG CD 66 (#10) / Hydra CD 27125 (#8) / SAAR CD [1] (#16) / Smith & Co. CD 1145 (#56) / Sun 10 801 (#4) / Sun (England) LP 1038 (#7) | Tennessee Zip |
| 1959 | SUN unissued | Treat Me Right [alt. vers. 4] |
| 1959 | SUN unissued | You Call Everybody Darlin' [vers. 3] |
Album
| | | | |
| --- | --- | --- | --- |
| 02/2005 | CD HYDRA 27125 (GER) | | I FEEL LIKE... ROCKIN' - You Call Everybody Darling / I Feel Like Rockin' / Love Crazy Baby / Treat Me Right / Get It Off Your Mind / Don't You Know / Treat Me Right / Tennessee Zip / Love Crazy Baby / Satelite Hop [instr.] / Get It Off Your Mind / Honky Tonk [instr.] / I'm Sorry I'm Not Sorry / Your Cheating Heart / In The Mood [instr.] / You Call Everybody Darling / Always Thinking / Treat Me Right / Don't You Know / Love Crazy Baby / One Night / Memphis, TN / Johnny B. Goode / When The Saints Go Marching In / Brown Eyed Handsome Man / Arkansas Twist / Shake, Rattle Roll / I'm Gonna Be A Wheel Someday |
© Rocky Productions 26/10/2016