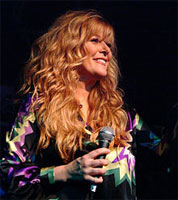 Chanteuse Country Australienne née Jamie Murphy, le 3 Juin 1968 à Sydney, New South Wales.

Jamie O'Neal first struck Music City gold as a sought-after songwriter; it was only later that her own singing career blossomed. O'Neal was born Jamie Murphy in Australia to professional musician parents who eventually moved to Las Vegas and a casino gig via Hawaii. Eventually, Jamie and her sister Samantha began to perform with their parents. This led to a vagabond childhood spent traveling across America in an RV, performing at state fairs, conventions, and as an opening act for touring country stars. The family then moved to Nashville, where it recorded three self-released albums. But the divorce of O'Neal's mom and dad broke up the band, and she moved to Los Angeles with her father.
Regular high school wasn't for her however, and soon O'Neal had dropped out in order to try and make in Music City all on her own. She found some work as a demo performer for a Nashville song factory but soon left America altogether to visit her mother in Australia. There she began performing in clubs and on street corners and landed a gig as a backup singer for pop tart Kylie Minogue. But O'Neal was still writing her own songs and still thought that Nashville might be her ticket. A demo tape sent by her mother to old contacts in Nashville generated interest, and in 1996 O'Neal was offered a songwriting contract under producer Harold Shedd.
This exposure led to a sweeter songwriter/artist-development deal with EMI Music. While O'Neal sang backup for established country acts like Clay Davidson and Ronnie Milsap, her songs were covered by the likes of LeAnn Rimes and Chely Wright. But despite this success, O'Neal still felt stifled, as she still wasn't performing her own material.
That changed in 1998, when an audition with Mercury Nashville's Keith Stegall led to a recording contract with the label. Her country-pop debut, Shiver, was released in early 2000; it was nominated for three Grammy awards. A self-titled effort followed almost immediately, and 2003 saw another LP. After taking a break to start a family, O'Neal returned in 2005 with Brave.
https://en.wikipedia.org/wiki/Jamie_O%27Neal
Talents : Vocals
Style musical : Contemporary Country

https://youtu.be/v6Oov1YY9MQ
Years in activity :
| | | | | | | | | | | | |
| --- | --- | --- | --- | --- | --- | --- | --- | --- | --- | --- | --- |
| 1910 | 20 | 30 | 40 | 50 | 60 | 70 | 80 | 90 | 2000 | 10 | 20 |
DISCOGRAPHY
Singles
06/2000
SP MERCURY 088-172177-7 (US)

There Is No Arizona / Frantic

01/2001
SP MERCURY 088-172199-7 (US)

Frantic / She Hasn't Heard It Yet

03/2001
SP MERCURY 088-172202-7 (US)

When I Think About Angels / Only Thing Wrong

08/2001
SP MERCURY 088-172216-7 (US)

Shiver / She Hasn't Heard It Yet

2006
SP CAPITOL / EMI DOL.7003 (US) (Jukebox)
Settle For A Slowdown (Dierks

Bentley

) / I Love My Life (Jamie O'N

eal

)
Albums
| | | | |
| --- | --- | --- | --- |
| 10/2000 | CD MERCURY 088 170 132-2 (US) | | SHIVER - When I Think About Angels / There Is No Arizona / Where We Belong (with Rodney GOOD) / No More Protecting My Heart / She Hasn't Heard It Yet / You Rescued Me / Shiver / The Only Thing Wrong / I'm Still Waiting / I'm Not Gonna Do Anything Without You (with Mark WILLS) / Sanctuary / Frantic / To Be With You |
| 10/2000 | CD MERCURY 02074 (AUS) | | JAMIE O'NEAL - When I Think About Angels / There Is No Arizona / Where We Belong (with Rodney GOOD) / No More Protecting My Heart / She Hasn't Heard It Yet / You Rescued Me / Shiver / The Only Thing Wrong / I'm Still Waiting / I'm Not Gonna Do Anything Without You (with Mark WILLS) / Sanctuary / Frantic / To Be With You |
| 03/2005 | CD EMI 79894 (US) | | BRAVE - Trying To Find Atlantis / Naïve / Somebody's Hero / When Did You Know / Devil On The Left / On My Way To You / Follow Me Home / Girlfriends / Ready When It Comes / Brave / I Love My Life |
| 05/2014 | CD Shanachie 6208 (US) | | Eternal - Born To Run / Don't Come Home A Drinkin' (With Lovin' On Your Mind) / Golden Ring / Help Me Make It Through The Night / I've Done Enough Dyin' Today / Just One Time / Leavin' On Your Mind / One Day I Walk / Rock Me / Sweetest Thing / Wide Awake |
© Rocky Productions 27/07/2016