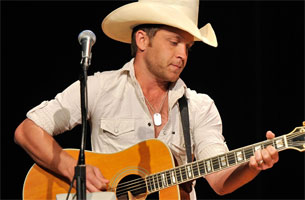 Chanteur Country US né le 30 Mars 1984 à Poyen (Arkansas).

One of the first signings to the Big Machine Records subsidiary Valory Music Group, Justin Moore aimed for the sweet spot dividing straight-ahead mainstream country and bro-country swagger.
A native of Poyen, Arkansas, Justin Moore picked up music as a high school student. Upon his graduation, he played with his uncle's band for a bit before heading to Nashville to take a stab at the country music business. Eventually, he met producer Jeremy Stover, who had connections with Scott Borchetta, the head of Big Machine. Borchetta signed Moore to Big Machine's fledgling Valory Music Group imprint in November 2007.
After releasing the digital single "I Could Kick Your Ass" in 2008, Big Machine issued "Back That Thing Up" to radio; it climbed to 38 on Billboard's Hot Country Songs in the second half of 08. Over the next year, Big Machine continued to set the stage for Moore's debut, pushing the singer on the internet, releasing a digital EP called The "You Asked For It" EP in June 2009 and working the single "Small Town USA," getting it to number one on Billboard's Country Airplay prior to the August 11, 2009 release of the full-length Justin Moore. The eponymous record debuted at three and generated a subsequent hit with "Backwoods," which peaked at six. "How I Got This Way" completed the album's run by reaching 17 in 2010.
Moore returned in 2011 with his second album, Outlaws Like Me. Debuting at number one upon its June release, Outlaws Like Me generated two number one Country Airplay hits with "If Heaven Wasn't So Far Away" and "Til My Last Day." The two number ones were separated by "Bait A Hook," which went to 17. At the end of 2011, Moore released a seasonal cover of Chuck Berry's "Run Rudolph Run," which wound up hitting 58 on Billboard's Country Airplay. The entire year was successful enough to earn Moore an American Country Awards nomination for Breakthrough Artist in 2012.
Released in March 2013, "Point at You" was the first single from Moore's third LP, Off the Beaten Path. The single reached number two on Country Airplay, setting the album up for a number one debut upon its September 17, 2013 release. Its subsequent single "Lettin' the Night Roll" reached number one Country Airplay. During the summer of 2014, Moore was on the radio thanks to two collaborations: he sang on "Small Town Throwdown," a Top Ten hit from fellow Valory artist Brantley Gilbert, then duetted with Vince Neil on a country cover of Mötley Crüe's "Home Sweet Home." After these two hits, "This Kind of Town" was pulled from Off the Beaten Path, and it topped out at number 44 Country Airplay. All of the hits surrounding Off the Beaten Path led the Academy of Country Music Awards to name Justin Moore New Artist of the Year in 2014, just five years after Valory released his debut record.
Kinda Don't Care, Moore's fourth album, debuted at number one after its August 2016 release, and generated two number one Country Airplay hits: "You Look Like I Need a Drink" and "Somebody Else Will." He returned in July 2019 with his fifth album, Late Nights and Longnecks. Its lead single, "The Ones That Didn't Make It Back Home," became a number one Country Airplay hit. 2020 marked the arrival of the rootsy nostalgia track "We Didn't Have Much," which appeared on his sixth long-player, 2021's Straight Outta the Country.
https://www.justinmooremusic.com/
https://fr.wikipedia.org/wiki/Justin_Moore
Talents : Vocals, Guitar
Style musical : Contemporary Country

http://youtu.be/uYdlUP91ohQ
Years in activity :
| | | | | | | | | | | | |
| --- | --- | --- | --- | --- | --- | --- | --- | --- | --- | --- | --- |
| 1910 | 20 | 30 | 40 | 50 | 60 | 70 | 80 | 90 | 2000 | 10 | 20 |
DISCOGRAPHY
Singles & EP
2008
CD VALORY ? (US) (promo)

Back That Thing Up

02/2009
CD VALORY ? (US) (promo)

Small Town USA

10/2009
CD VALORY ? (US) (promo)

Backwoods

2009
CD VALORY VMCJM0104 (US)
Blackwoods / Blackwoods / Blackwoods
2009
CD VALORY ? (US)

You Asked For It - Small Town USA / Back That Thing Up / I Could Kick Your Ass / How I Got to Be This Way / Hank It

6/2010
CD VALORY ? (US) (promo)

How I Got To Be This Way

2010
CD VALORY ? (US)
How I Got To Be This Way / How I Got To Be This Way / How I Got To Be This Way
2013
CD Big Machine 1062477 (US)

Point Of You And Four More Hits - Point At You / Small Town USA / If Heaven Wasn't So Far Away / Til My Last Day / I Ain't Livin' Long Like This

2014
CD Big Machine BMRMC0101 (US)
JUSTIN MOORE FEATURING VINCE NEIL - NASHVILLE OUTLAWS - A TRIBUTE TO MÖTLEY GRÜE -

Home Sweet Home

- intro / Radio Edit /

Radio Edit

/

Album Version
Albums
08/2009
CD VALORY VMCDJM 0100 (US)
JUSTIN MOORE - How I Got To Be This Way / Small Town USA / Backwoods / Like There's No Tomorrow / Good Ole American Way / I Could Kick Your Ass / Back That Thing Up / The Only Place That I Call Home / Grandpa / Hank It / Back That Thing Up ["Too Hotfor TV" version!] / Small Town USA

[music video]

06/2011
CD VALORY VMCDJM 0200 (US)
OUTLAWS LIKE ME - Redneck Side / My Kind Of Woman / If Heaven Wasn't So Far Away / Run Out Of Honky Tonks / Beer Time / Bait A Hook / Flyin' Down A Back Road / If You Don't Like My Twang / Guns / Sunshine Babies / Til My Last Day / Bed Of My Chevy / Outlaws Like Me
2011
CD Sidearm Entertainment SE 004 (US)

Four Letter Blues - Only You / Bound To Lose / 20 Years / John / Role Model / Switching Sides / Don't Like It / Lela Star / Take Me Away / The Luckiest Man Alive

09/2013
CD VALORY VMCDJM 0300 (US)

Off the Beaten Path - Old Back In The New School / Lettin' The Night Roll / Old Habits / Point At You / I'd Want It To Be Yours / This Kind Of Town / Country Radio / That's How I Know You Love Me / Off The Beaten Path / One Dirt Road / For Some Ol' Redneck Reason (Justin MOORE feat. Charlie DANIELS)

08/2016
CD VALORY 400 (US)

Kinda Don't Care -

Robbin' Trains / Put Me In A Box / Kinda Don't Care / Hell On A Highway / Goodbye Back / You Look Like I Need A Drink / Somebody Else Will / Between You And Me / Got It Good / Rebel Kids / More Middle Fingers / Life In The Livin'
07/2019
CD VALORY 0500 (US)

Late Nights And Longnecks - Why We Drink / That's My Boy / The Ones That Didn't Make It Back Home / Jesus And Jack Daniels / Airport Bar / Small Town Street Cred / Never Gonna Drink Again / On The Rocks / Someday I Gotta Quit / Good Times Don't

09/2020
CD VALORY VMCJMo520A (US)

Live At The Ryman - Hank It / Backwoods / Flyin' Down A Back Road / You Look Like I Need A Drink / Somebody Else Will / Bait A Hook / Kinda Don't Care / Til My Last Day / If Heaven Wasn't So Far Away / Lettin' The Night Roll / Bed Of My Chevy / Country State Of Mind (featuring Chris Janson) / I Ain't Living Long Like This (featuring David Lee Murphy) / Honey (Open That Door) (featuring Ricky Skaggs, The Whites) / Small Town USA / I Could Kick Your Ass / Point At You

03/2022
CD Big Machine VMCJM0570A (US)

Greatest Hits - Small Town USA / Why We Drink / Til My Last Day / Lettin' The Night Roll / Bait-A Hook / If Heaven Wasn't So Far Away / Somebody Else Will / Point At You / You Look Like I Need A Drink / The Ones That Didn't Make It Back Home / Backwoods / We Didn't Have Much / Home Sweet Home (with Vince Neil)

05/2023
CD VALORY VMCJM0580A (US)

Stray Dog - Everybody Get Along (featuring - Riley Green) / That Wasn't Jack / With A Woman You Love / Better Slow / Stray Dog / Country On It / You, Me, And Whiskey (featuring - Priscilla Block) / Get Rich Or Drunk Trying
© Rocky Productions 6/05/2022