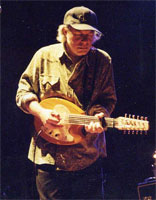 Chanteur Country US né le 6 Septembre 1952 à Fairborn (Ohio).

Soulful Americana songwriter, singer, and producer Buddy Miller began his career in the early '60s as an upright bassist is high-school bluegrass combos. Later, he traveled the backroads of America as an acoustic guitarist, eventually landing in New York City, where his Buddy Miller Band included a young Shawn Colvin on Vocals and guitar. He also forged an enduring relationship with country-rock iconoclast Jim Lauderdale. Miller eventually landed in Nashville, where he did session guitar and Vocals work on albums by Lauderdale, Victoria Williams, and Heather Myles, among others. He self-produced his criminally overlooked solo debut, Your Love and Other Lies (Hightone, 1995), and followed it with 1997's equally superb Poison Love.
By this point Miller was the lead guitarist in Emmylou Harris' road band (and also her side project Spyboy), and Harris returned the favor with backing Vocals throughout Poison Love. Released in 1999, Cruel Moon continued Miller's string of home-recorded masterpieces; this time around, Steve Earle dropped by for the sessions. Consistent highlights of Miller's recordings were the songwriting and harmonies of his wife, Julie Miller, whose work was often produced by her spouse. The 2001 duet album Buddy & Julie Miller brought her contributions to the front of the mix and delivered them with gritty, soulful country arrangements enhanced by the interplay of his scowl and her lilt. The year 2002 saw the release of Buddy's fifth album for Hightone, Midnight and Lonesome, which once again featured contributions from Julie, Harris, and Lauderdale as they mixed honky tonk with heartfelt balladry and the occasional soul cover. In 2004 Miller released the rootsy gospel album Universal United House of Prayer for New West; production assignments and studio gigs kept Miller well occupied until he could complete his next solo set, 2009's Written in Chalk.
Miller emerged as a recording artist again with 2011's The Majestic Silver Strings, a re-imagining of classic country songs with some originals tossed into the mix. To help realize the project, Miller enlisted guitarists Marc Ribot, Bill Frisell, and Greg Leisz, and a rhythm section comprising bassist Dennis Crouch and drummer Jay Bellerose. Produced by Miller, the guitar army was augmented by vocalists Julie Miller and Emmylou Harris as well as Patty Griffin, Shawn Colvin, Chocolate Genius, and Ann McCrary. Miller teamed with longtime friend and fellow singer and songwriter Lauderdale for 2012's Buddy & Jim, released by New West Records. In 2013, Miller added a new skill to his résumé when he became an executive music producer for the hit TV series Nashville, helping to coordinate the music featured each week in the show set in the country music capital. In 2016, Miller released Cayamo Sessions at Sea, featuring material recorded with Miller and a host of guest artists (among them Lucinda Williams, Lee Ann Womack, Kacey Musgraves, Richard Thompson, and Kris Kristofferson) during the annual roots music cruise.
https://en.wikipedia.org/wiki/Buddy_Miller
Talents : Vocals, Guitar, Songwriter, Producer
Style musical : Contemporary Country, Traditional Country, Americana, Country-Rock, Country-Folk

http://www.youtube.com/watch?v=xcxAxoxjXFE
Years in activity :
| | | | | | | | | | | | |
| --- | --- | --- | --- | --- | --- | --- | --- | --- | --- | --- | --- |
| 1910 | 20 | 30 | 40 | 50 | 60 | 70 | 80 | 90 | 2000 | 10 | 20 |
DISCOGRAPHY
EP
| | | | |
| --- | --- | --- | --- |
| 2002 | CD HIGHTONE HCD 8149 bonus disc (US) | | Midnight And Lonesome / When It Comes To You / My Love Will Follow You / Hole In My Head |
Albums
06/1995
CD HIGHTONE 8063 (US)
YOUR LOVE AND OTHER LIES - You Wrecked Up My Heart / Don't Listen To The Wind / That's How I Got To Memphis / I'm Pretending / Through The Eyes Of A Broken Heart / I Don't Mean Maybe / Hold On My Love / Hole In My Head / Watching Amy Dance / I Can't Slow Down / My Love Will Follow You / You're Running Wild / A Girl Like You
08/1997
CD HIGHTONE 8084 (US)
POISON LOVE - Nothing Can Stop Me / 100 Million Little Bombs / Don't Tell Me / Poison Love / Baby Don't Let Me Down / Love Grows Wild / Love In The Ruins / Draggin' The River / Help Wanted / Thats How Strong My Love Is / Lonesome For You / I Can't Help It / Love Snuck Up
10/1999
CD HIGHTONE 8111 (US)
CRUEL MOON - Does My Ring Burn Your Finger / Love Match / I'm Gonna Be Strong / Looking For A Heartache Like You / Cruel Moon / Somewhere Trouble Don't Go / In Memory Of My Heart / Sometimes I Cry / Too Used To Loving You / I'm Not Getting Any Better At Goodbye / It's Been A Change
09/2001
CD HIGHTONE 8135 (US)
BUDDY & JULIE MILLER - Keep Your Distance / The River's Gonna Run / You Make My Heart Beat Too Fast / Forever Has Come To An End / Little Darlin / Rock Salt And Nails / Dirty Water / Rachel / That's Just How She Cries / Wallflower / Holding Up The Sky
10/2002
CD HIGHTONE 8149 (US)
MIDNIGHT AND LONESOME - The Price Of Love / Wild Card / I Can't Get Over You / Midnight And Lonesome / When It Comes To You / Water When The Well Is Dry / A Showman's Life / Little Bitty Kiss / Please Send Me Someone To Love / Oh Fait Pitii D'Amour / Quecreek
05/2004
CD HIGHTONE 8170 (US)
LOVE SNUCK UP - BUDDY & JULIE MILLER - You Make My Heart Beat Too Fast / Wallflower / Little Darlin' / You're Running Wild / Dirty Water / Draggin' The River / Keep Your Distance / In Memory Of My Heart / Love Snuck Up / Out In The Rain / Forever Has Come To An End / Quecreek / Take Me Back / It's Been A Change
09/2004
CD NEW WEST 6063 (US)
UNIVERSAL UNITED HOUSE OF PRAYER - Worry Too Much / There's A Higher Power / Shelter Me / With God On Our Side / Wide River To Cross / Fire And Water / Don't Wait / This Old World / Is That You / Returning To The Living Water / Fall On The Rock
10/2007
CD SHOUT! FACTORY 8266631097 (US)

THE BEST OF THE HIGHTONE YEARS -

The River's Gonna Run (Buddy & Julie MILLER) / My Love Will Follow You / I Can't Get Over You / Does My Ring Burn Your Finger / Cruel Moon / Little Darlin (Buddy & Julie MILLER) / Keep Your Distance (Buddy & Julie MILLER) / Don't Tell Me / That's How I Got To Memphis / Midnight And Lonesome / When It Comes To You / Somewhere Trouble Don't Go / Rock Salt And Nails (Buddy & Julie MILLER) / That's How Strong My Love Is / Don't Listen To The Wind / Hole In My Head
03/2009
CD NEW WEST 61582 (US)
WRITTEN IN CHALK - BUDDY & JULIE MILLER - Ellis County / Gasoline And Matches / Don't Say Goodbye (with Patty GRIFFIN) / What You Gonna Do Leroy (with Robert PLANT) / Long Time / One Part, Two Part (with Regina & Ann McCRARY) / Chalk (with Patty GRIFFIN) / Everytime We Say Goodbye / Hush, Sorrow (with Regina McCRARY) / Memphis Jane / June / The Selfishness In Man (with Emmylou HARRIS)
03/2011
2 CD NEW WEST 6188 (US)
THE MAJESTIC SILVER STRINGS :

CD 1 : Cattle Call / No Good Lover / I Want To Be With You Always / Barres De La Prison / Meds / Dang Me / Bury Me Not On The Lone Prairie / That's The Way Love Goes / Freight Train / Why I'm Walkin' / Why Baby Why / Return To Me / God's Wing'ed Horse
CD 2 : Unraveled (The Making Of TheMajestic Silver Strings) / Why Baby Why

09/2011
LP 12" VINYL PASSION 1888557 (EUR)

Live In Germany 2000 - Emmylou Harris with Spyboy FEATURING Buddy Miller - Pearl / I Ain't Living Long Like This / Raise The Dead / Red Dirt Girl / Love Hurts / Hour Of Gold / Deeper Well / Michaelangelo / Boy From Tupelo / Wheels / Born To Run / Hickory Wind

04/2012
2 CD Floating World LOATM 6132 (UK)

Your Love and Other Lies & Poison Love :

CD 1 : You Wrecked Up My Heart / Don't Listen To The Wind / That's How I Got To Memphis / I'm Pretending / Through The Eyes Of A Broken Heart / I Don't Mean Maybe / Hold On My Love / Hole In My Head / Watching Amy Dance / I Can't Slow Down / My Love Will Follow You / You're Running Wild / A Girl Like You
CD 2 : Nothing Can Stop Me / 100 Million Little Bombs / Don't Tell Me / Poison Love / Baby Don't Let Me Down / Love Grows Wild / Love In The Ruins / Draggin' The River / Help Wanted / That's How Strong My Love Is / Lonesome For You / I Can't Help It / Love Snuck Up

08/2012
2 CD Floating World FLOATM 6160 (UK)

Cruel Moon & Midnight & Lonesome :

CD 1 : Does My Ring Burn Your Finger / Love Match / I'm Gonna Be Strong / Looking For A Heartache Like You / Cruel Moon / Somewhere Trouble Don't Go / In Memory Of My Heart / Sometimes I Cry / Too Used To Loving You / I'm Not Getting Any Better At Goodbye / It's Been A Change
CD 2 : The Price Of Love / Wild Card / I Can't Get Over You / Midnight And Lonesome / When It Comes To You / Water When The Well Is Dry / A Showman's Life / Little Bitty Kiss / Please Send Me Someone To Love / Oh Fait Pitii D'Amour / Quecreek

12/2012
CD NEW WEST NW 6268 (US)
BUDDY & JIM - BUDDY MILLER / JIM LAUDERDALE - We're Alright Now / Bite Marks / It All Comes Back Someday / Wood Chipper / My Business / I Just Don't Know What To Say / I Know How To Lose You / You're All The Reason I Need / One Of Them Damn Days / No Wicked Grin / Give It Up / Blues Can't Even Find Me
01/2016
CD NEW WEST NW 6316 (US)
Cayamo Sessions at Sea -

Buddy Miller & Friends -

After The Fire Is Gone (Buddy

Miller

feat: Lee Ann

Womack

) / Love's Gonna Live Here (Buddy

Miller

feat: Kacey

Musgraves

) / Sunday Morning Coming Down (Buddy

Miller

feat: Kris

Kristofferson

) / Just Someone I Used To Know (Buddy

Miller

feat: Nikki

Lane

) / Hickory Wind (Buddy

Miller

feat: Lucinda

Williams

) / Wedding Bells (Buddy

Miller

feat: Richard

Thompson

) / If Teardops Were Pennies (Buddy

Miller

feat: Elizabeth

Cook

) / Wild Horses (Buddy

Miller

feat: Shawn

Colvin

) / Come Early Mornin' (Buddy

Miller

feat: Jill

Andrews

) / Take The Hand Of Jesus (Buddy

Miller

feat: Doug

Seegers

) / Angel From Montogomery (Buddy

Miller

feat: The

Lone Bellow

/ Brandi

Carlile

)
06/2019
CD NEW WEST NW 6464CD (US)

Breakdown on 20th Ave. South - BUDDY & JULIE MILLER - Breakdown On 20th Ave. South / Feast Of The Dead / Everything Is Your Fault / Unused Heart / I'm Gonna Make You Love Me / Till The Stardust Comes Apart / Underneath The Sky / Spittin' On Fire / Secret / War Child / Thoughts At 2 Am / Storm Of Kisses

09/2023
CD NEW WEST CDNW 6552 (US)

In the Throes - BUDDY & JULIE MILLER - You're My Thrill / In The Throes / Don't Make Her Cry / Niccolo / I Love You / The Last Bridge You Will Cross / The Painkillers Ain't Workin' / Tattooed Tear / I Been Around / I'll Never Live It Down / We're Leavin' / Oh Shout
© Rocky Productions 23/09/2023