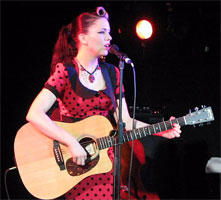 Chanteuse Rockabilly Irlandaise Imelda Mary Clabby, née le 10 Juillet 1974 à Dublin. Imelda May a grandi avec ses cinq frères et sœurs au sein d'une famille ouvrière du quartier des Liberties à Dublin. A la maison, il n'y a qu'un seul tourne-disque et Imelda découvre donc la musique à travers ce qu'écoutent ses parents et ses grands frères. Grande admiratrice de la voix de Marilyn Monroe, elle commence dès l'adolescence à chanter dans des clubs de sa ville sur un registre qui passe du blues à la country en passant par le bluegrass et le rockabilly.

Born in Dublin, Ireland, Imelda May is a unique vocal talent, one whose gift lies outside the normal order of pop culture time and trends. Inspired by vocal jazz à la Billie Holiday and the sound and look of rockabilly, May began performing with the swing outfit Blue Harlem, and released a handful of independent CDs before scoring attention in 2007 with her nomination for an award as Best Burlesque Singer as well as the release of her more official debut, Love Tattoo. The album featured her strong backing band including her husband, guitarist/co-songwriter Darrel Higham, along with trumpeter/multi-instrumentalist Dave Priseman, bassist Al Gare, and drummer Steve Rushton. Critically and commercially well-received, it garnered May some high-profile live gigs, including hitting the road with Jools Holland. It was released in the U.S. by Decca in 2009, followed by two singles, and scored a mid-level success.
Her third studio effort, Mayhem, arrived in September of 2010, preceded by the single "Psycho." Also featured on the album was a rockabilly-tinged cover of Gloria Jones' single "Tainted Love," previously made famous by Soft Cell in 1981. Buoyed by the success of Love Tattoo, Mayhem performed similarly well, landing at number one in Ireland and number seven in the U.K. Two years after the release of the album, May announced she was pregnant with her and Higham's first child. In August, 2012, she gave birth to her daughter.
In 2014 May released her fourth album, the Mike Crossey-produced Tribal, featuring the singles "It's Good to Be Alive" and "Wild Woman." The album hit number one in Ireland and reached number three on the U.K. albums chart. During promotional duties for Tribal in 2015, May announced she had separated from husband and longtime guitarist/collaborator Higham. They ultimately divorced and Higham launched a solo career.
May returned in 2017 with Life. Love. Flesh. Blood, her first album not to feature Higham. The record was more stripped-down than previous efforts, with an accompanying shift in her image that found her eschewing her trademark blonde-accented pompadour in favor of a dark brunette shag. Produced by T-Bone Burnett, it also featured guest performances from friends and collaborators Jeff Beck and Jools Holland.
https://en.wikipedia.org/wiki/Imelda_May
Talents : Vocals, Guitar
Style musical : Rockabilly, Blues, Jazz, Pop Rock

http://youtu.be/OhogVvwbwkw
Years in activity :
| | | | | | | | | | | |
| --- | --- | --- | --- | --- | --- | --- | --- | --- | --- | --- |
| 1910 | 20 | 30 | 40 | 50 | 60 | 70 | 80 | 90 | 2000 | 10 |
Singles
2009
CD UNIVERSAL MUSIC ? (UK) (promo)
.

Big Bad Handsome Man (radio edit)

2009
CD DECCA ? (EUR)
.

Johnny Got A Boom Boom

06/2010
SP DECCA 2741939 (EUR)

Psycho / My Baby Left Me

09/2010
SP DECCA 2749661 (EUR)

Mayhem / Proud And Humble

11/2010
SP DECCA 2755882 (UK)

Kentish Town Waltz / Eternity

2010
CD UNIVERSAL MUSIC UMUSIC 1686 (NL)

Mayhem

01/2011
SP DECCA 2759433 (EUR)

Imelda May Vs Blue Jay Gonzalez - REMIX- Inside Out (latin mix) / Inside Out (album version)

05/2011
SP DECCA 2766424 (UK)

Sneaky Freak (radio mix) / Sneaky Freak (album version)

10/2011
SP DECCA 2781907 (UK) (limited edition)

Road Runner / Train Kept A Rollin'

03/2013
SP 3ú TUCDS 027 (UK)
Mary

Black

with Imelda

May -

Mountains To The Sea

04/2013
SP 10" MERCURY ? (F)

Clint (Silence On Tourne) -

Clint (Silence On Tourne) (

Sésame (

04/2014
SP DECCA 3778648 (UK)
Tribal / Zombie Girl
2014
CD DECCA ? (UK) (promo)

Wild Woman (Steve Mason mix)

2014
CD DECCA ? (UK) (promo)

It's Good To Be Alive
Albums
2003
CD FOOT TAPPING 008 (UK)
NO TURNING BACK - IMELDA CLABBY -

Dealing With The Devil / Flame Of Love / Cry For Me Baby / Till I Kissed You / What Am I Gonna Do / Once More / Wild About My Lovin' / No Turning Back / End Of The World / Y'hoo / Don't Do Me No Wrong / Forever You And Me / Bring My Cadillac Back / Lovey Dovey Lovely One / Let Us Sing

2005
CD BLUE HARLEM 007 (UK)

BLUE HARLEM -

5-10-15 Hours / Hallelujah! I Love Him So / My Daddy Rocks Me / He May Be Yours / 'Til My Baby Comes Back To Me / Talk To Me Baby / Bear Wallow / Nobody But Me / Now Baby Or Never / That's How I Feel About You / Every Time I Hear That Mellow Saxophone / I Just Want To Make Love To You / Drown In My Own Tears / I Can't Stop Now / Gone Walkin'.
2006
CD BLUE HARLEM ? (UK)
JUMP JACK JUMP - BLUE HARLEM - Jump Jack Jump / Teardrops From My Eyes / Act Right / Fever / Blues For Dudes / For You My Love / 'Til The Well Runs Dry / Stormy Weather / Hats Off To Mr Lee / I Don't Hurt Anymore / My Baby Just Care For Me / What Good'll It Do Me / Birthdays Blues / The Jeep Is Jumpin
2007
CD FOOT TAPPING FT008 (UK)
NO TURNING BACK -

Dealing With The Devil / Flame Of Love / Cry For Me Baby / Till I Kissed You / What Am I Gonna Do / Once More / Wild About My Lovin' / No Turning Back / End Of The World / Y'hoo / Don't Do Me No Wrong / Forever You And Me / Bring My Cadillac Back / Lovey Dovey Lovely One / Let Us Sing

2008
CD UNIVERSAL MUSIC 1790561 (EUR)
LOVE TATTOO -

Johnny Got A Boom Boom / Feel Me / Knock 123 / Wild About My Lovin' / Big Bad Handsome Man / Love Tattoo / Meet You At The Moon / Smokers' Song / Smotherin' Me / Falling In Love With You Again / It's Your Voodoo Working /

Watcha Gonna Do

2009
2 CD DECCA 2709348 (UK)
LOVE TATTOO :

CD 1 : Johnny Got A Boom Boom / Feel Me / Knock 123 / Wild About My Lovin' / Big Bad Handsome Man / Love Tattoo / Meet You At The Moon / Smokers' Song / Smotherin' Me / Falling In Love With You Again / It's Your Voodoo Working / Watcha Gonna Do
CD 2 : My Babe / Don't Do Me No Wrong / Big Bad Handsome Man / Wild About My Lovin / Falling In Love With You Again / Watcha Gonna Do / Johnny Got A Boom Boom / Rollin' And Tumblin'

10/2010
CD DECCA 2749140 (UK)
MAYHEM - Pulling The Rug / Psycho / Mayhem / Kentish Town Waltz / All For You / Eternity / Inside Out / Proud And Humble / Sneaky Freak / Bury My Troubles / Too Sad To Cry / I'm Alive / Let Me Out / Tainted Love
09/2011
CD DECCA 2778155 (UK)
MORE MAYHEM - Pulling The Rug / Psycho / Mayhem / Kentish Town Waltz / All For You / Eternity / Inside Out / Proud And Humble / Sneaky Freak / Bury My Troubles / Too Sad To Cry / I'm Alive / Let Me Out / Tainted Love / Johnny Got A Boom Boom / Bonus Tracks : Road Runner / Gypsy / Blues Calling / Walking After Midnight / Inside Out (remix) / Proud And Humble (remix)
05/2014
CD DECCA 3763558 (UK)
TRIBAL - Tribal / Wild Woman / It's Good To Be Alive / Gypsy In Me / Little Pixie / Hellfire Club / Five Good Men / Ghost Of Love / Wicked Way / Round The Bend / I Wanna Dance / Right Amount Of Wrong
05/2014
CD DECCA 4707992 (UK) (deluxe edition)
TRIBAL - Tribal / Wild Woman / It's Good To Be Alive / Gypsy In Me / Little Pixie / Hellfire Club / Five Good Men / Ghost Of Love / Wicked Way / Round The Bend / I Wanna Dance / Right Amount Of Wrong / Tears Of Clew Bay / Get Ready / Zombie Girl / Amber Eyes / Dreaming / Beautiful Day
04/2017
CD DECCA / Verve 5728829 (UK)

Life. Love. Flesh. Blood -

Call Me / Black Tears / Should've Been You / Sixth Sense / Human / How Bad Can A Good Girl Be / Bad Habit / Levitate / When It's My Time / Leave Me Lonely / The Girl I Used To Be
10/2020
LP 10" DECCA 0898649 (EUR) (limited edition)

Slip Of The Tongue - Home / Gbh / Elephant / Becoming / Liberty Belle / Roses / The Word Is Out / Stay / Stargazer

10/2020
2 LP 10" DECCA 748918 (EUR) (limited edition)

Slip of The Tongue / 11 Past The Hour :

DISC 1 : Home / Gbh / Elephant / Becoming / Liberty Belle / Roses / The Word Is Out / Stay / Stargazer
DISC 2 : 11 Past The Hour / Never Look Back
© Rocky Productions 21/02/2021