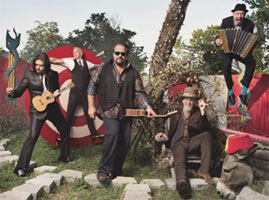 Groupe Country US de Floride formé en 1989. Le Mavericks se composent de Raul Malo (né le 7 Août 1965 à Miami (Floride)), Robert Reynolds (né le 30 Avril 1962 à Kansas City (Missouri)), Paul Deakin (né le 2 Septembre 1959 à Miami (Floride)), David L. Holt, Nick Kane et Ben Peeler.

Fusing traditional country with traditional rock & roll, the Mavericks became one of the most critically acclaimed and commercially successful groups of the early '90s. Led by singer/songwriter Raul Malo (born August 7, 1965, Miami, FL), the band was formed in Florida in the late '80s. Malo had previously played in several different bands while he was in high school, as did bassist Robert Reynolds (born Robert Earl Reynolds, April 30, 1962, Kansas City, MO). The pair met at school and discovered they had similar musical tastes — they both enjoyed the music of Roy Orbison, Patsy Cline, Elvis Presley, Hank Williams, and Johnny Cash — and decided to form a band. Reynolds persuaded his best friend, Paul Deakin (born Paul Wylie Deakin, September 2, 1959, Miami, FL) — who had been a drummer in progressive rock bands before and had done some session work — to join the fledgling country band.
Taking the name the Mavericks, the band began playing rock clubs around the Miami area and built up a solid local following. The group chose to play rock clubs because the country bars only wanted to book bands that played covers and the Mavericks preferred to concentrate on original material. In the fall of 1990, the band released an eponymous independent album. The record worked its way onto play lists across Florida and made its way to Nashville, where it gained the attention of nearly every major record label.
In May of 1991, the group went to Nashville to play a showcase gig. Scouts from all of the town's major labels were in attendance, but the band decided to sign with MCA Records. Later that year, the Mavericks set about recording their first major-label album; before the sessions began, they added lead guitarist David Lee Holt, who had previously played with Joe Ely, Rosie Flores, and Carlene Carter. Titled From Hell to Paradise, the record primarily consisted of Malo's original songs and was released in 1992. Although it was critically acclaimed, the album wasn't a commercial success; only a cover of Hank Williams' standard "Hey Good Lookin'" made the charts and that peaked at number 74.
The Mavericks' commercial fortunes turned around with their second major-label album, What a Crying Shame. Produced by Don Cook (Brooks & Dunn, Mark Collie), the album was more streamlined and focused. It became a hit upon its release early in 1994, with the title track becoming a Top 40 hit. Shortly after the release of What a Crying Shame, the group replaced Holt with Nick Kane (born Nicholas James Kane, August 21, 1954, Jerusalem, GA).
Throughout 1994, the band racked up Top 40 hit singles. "O What a Thrill" went to number 18 in the summer, with "There Goes My Heart" reaching number 20 in the fall. By the spring of 1995, What a Crying Shame had gone platinum. During the first half of 1995, the Mavericks recorded their fourth album, Music for All Occasions, which appeared in the fall of the year. Like its predecessor, it was critically acclaimed and a commercial success. By the spring of 1996, the album had gone gold. Trampoline followed in 1998; easily the group's most musically ambitious set to date, Trampoline's blend of pop and Latin textures didn't connect with the mainstream country audience in the United States, though the album (and it's first single, "Dance The Night Away") proved to be a major success in the United Kingdom. The Mavericks soon found themselves at loggerheads with their record company, and they parted ways with MCA. The group went on hiatus for several years, with Malo releasing a solo album in 2001 and recording with the Latino supergroup Los Super Seven, while Robert Reynolds played on sessions with the group Swag. In 2003, the group re-assembled- — with guitarist Eddie Perez replacing Nick Kane — and recorded a self-titled set for Sanctuary Records; a live album and DVD, recorded in Austin, Texas on the album's promotional tour, and released in the fall of 2004. The members went their own way, most of them continuing to perform in various music projects, while Raul Malo continued his successful solo career, recording five more albums.
The Mavericks reunited again in 2011, and expanded their lineup to a quintet with pianist Jerry Dale McFadden, a longtime sideman, bumped up to full membership alongside Malo, Deakin, Perez, and Reynolds. The band signed a deal with Valory Music, an imprint of Big Machine Records, and in early 2012 they charted with the digital EP Suited Up and Ready... and the single "Born to Be Blue." Their seventh full-length studio album, In Time, followed in February 2013 via Valory. The Mavericks toured in support, but fans noticed that Reynolds was playing acoustic guitar during the shows rather than bass, and was barely audible in the mix. In December 2014, the Mavericks made the surprising announcement that Reynolds had been fired from the band after it was discovered he had developed an opiate addiction (the group said they had financed several unsuccessful stays in rehab for him) and was accused of soliciting money from fans under false pretenses. Despite the drama, the Mavericks were determined not to let down their fans, and completed an eclectic new album, Mono, which was released in February 2015. In 2016, the Mavericks asserted their independence by launching their own label, Mono Mundo Recordings, distributed by the successful indie outfit Thirty Tigers. Their first release on the new label was a concert recording, All Night Live, Vol. 1, made during the Mono tour. A studio album, Brand New Day, followed in March 2017. The Mavericks rounded out the year with the release of a holiday single in November 2017, Christmas Time Is ... A full Christmas album, Hey! Merry Christmas!, followed in October 2018. Twelve months later, the Mavericks gave their fans Play the Hits, a collection of covers of rock and country favorites. It found the group interpreting classics made famous by the likes of Bruce Springsteen, Elvis Presley, Waylon Jennings, and Patsy Cline. Given the group's strong Latin musical influences and Raul Malo's Cuban heritage, it seemed a good bet that they would one day record an album in Spanish, and they did just that on 2020's En Español.
https://en.wikipedia.org/wiki/The_Mavericks
Talents : Raul Malo : Vocals, Guitar, Songwriter - Robert Reynolds : Bass - Eddie Deakin : Drums - David Lee Holt puis Nick Kane : Lead Guitar
Style musical : Pop/Rock / Country-Rock / Contemporary Country / New Traditionalist / Neo-Traditionalist Country / Americana / Progressive Country

http://www.youtube.com/watch?v=TGx7VTOoTaI
Years in activity :
| | | | | | | | | | | | |
| --- | --- | --- | --- | --- | --- | --- | --- | --- | --- | --- | --- |
| 1910 | 20 | 30 | 40 | 50 | 60 | 70 | 80 | 90 | 2000 | 10 | 20 |
DISCOGRAPHY
Singles & EP
08/1992
SP MCA S7-54464 (US)
.
Excuse Me / This Broken Heart
12/1992
SP MCA S7-54529 (US)
.
Better Way / I Got You
11/1993
SP MCA S7-54748 (US)
.
What A Crying Shame / Things You Said To Me
04/1994
SP MCA S7-54780 (US)
.
Oh What A Thrill / Ain't Found Nobody
09/1994
SP MCA S7-54909 (US)
.
There Goes My Heart / Just A Memory
01/1995
SP MCA S7-54975 (US)
.
I Should Have Been True / Losing Side Of Me
1995
CD MCA MCD 32865 (EUR)

I Should Have Been True - I Should Have Been True / What A Crying Shame / All That Heaven Will Allow

1995
CD MCA MCD 49007 (EUR)

I Should Have Been True /

What A Crying Shame

03/1995
SP MCA S7-55021 (US)
.
Missing You / Foolish Heart
05/1995
SP MCA S7-55026 (US)
.
All That Heaven Will Allow / Pretend
08/1995
SP MCA S7-55080 (US)
.
Here Comes The Rain / I'm Not Gonna Cry
1995
CD MCA MCD 33192 (EUR)

Here Comes The Rain -

Here Comes The Rain / What A Crying Shame / The Things You Said To Me
1995
CD MCA MCD33392 (GER)

Blue Moon -

Blue Moon / The Losing Side Of Me / Pretend
01/1996
SP MCA S7-55154 (US)
.
All You Ever Do Is Bring Me Down / Volver Volver
1996
CD MCA MCD 48000 (US)

All You Ever Do Is Bring Me Down / Missing You / All That Heaven Will Allow

05/1996
SP MCA S7-55201 (US)
.
Missing You / Foolish Hearts
11/1996
SP MCA S7-55247 (US)
.
I Don't Care If You Love Me Anymore / Somethin' Stupid
08/1997
SP MCA S7-90247 (US)
.
All You Ever Do Is Bring Me Down / Volver Volver
01/1998
SP MCA S7-72035 (US)
.
To Be With You / Panatella
05/1998
SP MCA S7-72056 (US)
.
Dance The Night Away / Save A Prayer
1998
CD MCA MCSTD 48081 (UK)

Dance The Night Away - Dance The Night Away / All I Get / Panatella / Dance The Night Away (Enhanced Track) (video)

1998
SP 12" 33t. MCA MCSTD 48081 (I)

Dance The Night Away -

Dance The Night Away / All I Get / Panatella
1998
CD MCA MCD ‎49029 (EUR)

I Don't Care If You Love Me Anymore -

I Don't Care If You Love Me Anymore / All You Ever Do Is Bring Me Down / Something Stupid / Children
1998
CD MCA MCD 49050 (EUR)

Dance The Night Away - Dance The Night Away / All I Get / Panatella

1998
CD MCA MCD 49062 (EUR)

Dance The Night Away -

Dance The Night Away / All I Get
1998
CD MCA MCD 49074 (EUR)

I've Got This Feeling -

I've Got This Feeling / I've Got This Feeling (live) / Save A Prayer
10/1999
SP MCA 172137-7 (US)
.
Here Comes My Baby / Things I Cannot Change
1999
CD Mercury ‎172 136-2 (EUR)
Here Comes My Baby / Things I Cannot Change
1999
EP ISLAND MCSTD 55567 (UK)
.

Someone Should Tell Her / Dance The Night Away (live) / The Lion Sleeps Tonight

09/2003
CD SANCTUARY SANXD206 (UK)

Would You Believe / Touch A Lonely Heart

11/2003
CD SANCTUARY SANPX235 (UK) (promo)
I Want To Know /

Air That I Breathe

2003
CD SANCTUARY SANDJ-85598-2 (US) (promo)

Blue Christmas

02/2004
CD SANCTUARY 253 (US)
.
Shine Your Light
2015
CD BIG MACHINE ? (UK)

All Night Long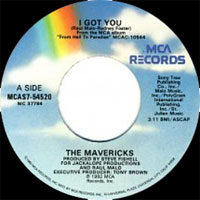 Albums
12/1990
CD YT MUSIC Y&T-1 (US)
THE MAVERICKS - You'll Never Know / End Of The Line / This Broken Heart / Mr Jones / Tomorrow Never Comes / Lonely Waltz / Watch Over Me / Better Way / Another Lonely Life / I Don't Care / Keep Moving On / I'll Give You Back / Strength To Say Goodbye
1991
CD YT MUSIC Y&T-1 (US)
THE MAVERICKS - You'll Never Know / End Of The Line / This Broken Heart / Mr Jones / Tomorrow Never Comes / Lonely Waltz / Watch Over Me / Better Way / Another Lonely Life / I Don't Care / Keep Moving On / I'll Give You Back / Strength To Say Goodbye
05/1992
CD MCA MCAD-10544 (US)
FROM HELL TO PARADISE - Mr Jones / End Of The Line / Excuse Me / This Broken Heart / I Got You / From Hell To Paradise / Better Way / Forever Blue / Hey Good Lookin' / Children
02/1994
CD MCA MCAD-10961 (US)
WHAT A CRYING SHAME - There Goes My Heart / What A Crying Shame / Pretend / I Should Have Been True / Things You Said To Me / Just A Memory / All That Heaven Will Allow / Neon Blue / O What A Thrill / Ain't Found Nobody / Losing Side Of Me
10/1995
CD MCA MCAD-11257 (US)
MUSIC FOR ALL OCCASIONS - Foolish Heart / One Step Away / Here Comes The Rain / Missing You / All You Ever Do Is Bring Me Down / My Sweet Flame / Writing On The Wall / Loving You / If You Only Knew / I'm Not Gonna Cry For You / Something Stupid
1997
CD MCA MCAD-70027 (CAN)

It's Now, It's Live! - All You Ever Do Is Bring Me Down / Bottle Let Me Down / There Goes My Heart / From Hell To Paradise - Guantanamera / Rancho Grande / What A Crying Shame / I Don't Care If You Love Me Anymore

03/1998
CD MCA MCAD-70018 (US)
TRAMPOLINE - Dance The Night Away / Tell Me Why / I Should Know / Someone Should Tell Her / To Be With You / I've Got This Feeling / Fool No 1 / I Don't Even Know Your Name / I Hope You Want Me Too / Melbourne Mambo / Dolores / Save A Prayer / Dream River / All I Get / La Mucara
05/1998
CD MCA 70026 (US)
IT'S NOW IT'S LIVE - All You Ever Do Is Bring Me Down / Bottle Let Me Down / There Goes My Heart / From Hell To Paradise - Guantanamera / Rancho Grande / What A Crying Shame / I Don't Care If You Love Me Anymore
11/1999
CD Mercury ‎088 170 112-2 (US)

Super Colossal Smash Hits Of The 90's -

The Best Of The Mavericks - Things I Cannot Change / Pizzirico / Here Comes My Baby / Think Of Me / Dance The Night Away / All You Ever Do Is Bring Me Down / Here Comes The Rain / I Should Have Been True / There Goes My Heart / What A Crying Shame / This Broken Heart / From Hell To Paradise
11/1999
CD MCA 088 170 120-2 (US)
The Best Of The Mavericks - Things I Cannot Change / Pizzirico / Here Comes My Baby / Think Of Me / Dance The Night Away / All You Ever Do Is Bring Me Down / Here Comes The Rain / I Should Have Been True / There Goes My Heart / What A Crying Shame / This Broken Heart / From Hell To Paradise
09/2000
2 CD MCA 1701632 (US)
MUSIC FOR ALL OCCASIONS / TRAMPOLINE :

CD 1 : Foolish Heart / One Step Away / Here Comes The Rain / Missing You / All You Ever Do Is Bring Me Down / My Sweet Flame / Writing On The Wall / Loving You / If You Only Knew / I'm Not Gonna Cry For You / Something Stupid
CD 2 : Dance The Night Away / Tell Me Why / I Should Know / Someone Should Tell Her / To Be With You / I've Got This Feeling / Fool No 1 / I Don't Even Know Your Name / I Hope You Want Me Too / Melbourne Mambo / Dolores / Save A Prayer / Dream River / All I Get / La Mucara

05/2001
CD MCA 1940 (US)
O WHAT A THRILL - AN INTRODUCTION TO THE MAVERICKS - Oh What A Thrill / I Don't Care / Missing You / Something Stupid / All That Heaven Will Allow / Hey Good Lookin' / Children / Things You Said To Me / Pretend / Mr Jones / End Of The Line / Foolish Heart / All I Get / I Don't Even Know Your Name / Blue Moon
08/2001
CD MCA 088 170 229-2 (US)
THE MILLENNIUM COLLECTION - What A Crying Shame / I Should Have Been True / There Goes My Heart / This Broken Heart / All That Heaven Will Allow / Here Comes The Rain / All You Ever Do Is Bring Me Down / Blue Moon / Dance The Night Away / Dream River
01/2003
CD SPECTRUM 170 329-2 (UK)
THE MAVERICKS COLLECTION - Dance The Night Away / All That Heaven Will Allow / Hey Good Lookin' / You'll Never Know / All You Ever Do Is Bring Me Down / I've Got This Feeling / Better Way / From Hell To Paradise / Something Stupid / There Goes My Heart / Things I Cannot Change / What A Crying Shame / I Don't Care If You Don't Love Me Anymore / Volver Volver / Panatella / She Does / La Murcara
09/2003
CD SILVERLINE 288213 (US)
THE MAVERICKS - I Want To Know / In My Dreams / Shine Your Light / I'm Wondering / By The Time / Would You Believe / Too Lonely / Time Goes By / San Jose / Because Of You / Air That I Breathe
09/2003
CD MCA 7674401132 (US)
THE MAVERICKS - You'll Never Know / End Of The Line / This Broken Heart / Mr Jones / Tomorrow Never Comes / Lonely Waltz / Watch Over Me / Better Way / Another Lonely Life / I Don't Care / Keep Moving On / I'll Give You Back / Strength To Say Goodbye
06/2004
CD MCA B0002501-02 (US)
THE DEFINITIVE COLLECTION - This Broken Heart / From Hell To Paradise / Hey Good Lookin' / What A Crying Shame / I Should Have Been True / There Goes My Heart / O What A Thrill / All That Heaven Would Allow / Missing You / Here Comes The Rain / All You Ever Do Is Bring Me Down (with Flaco JIMENEZ) / The Writing On The Wall / Blue Moon / I Don't Care (If You Don't Love Me Anymore) / Dance The Night Away / Dream River / To Be With You / Rancho Grande / Think Of Me (When You're Lonely) / Here Comes My Baby
09/2004
CD SANCTUARY 06076 84715-2 (US)
LIVE IN AUSTIN TEXAS - Dance The Night Away / Because Of You / Think Of Me (When You're Lonely) / Things You Said To Me / Here Comes The Rain / San Jose / I Want To Know / What A Crying Shame / There Goes My Heart / Shine Your Light / Save A Prayer / Siboney / I Said I Love You / Every Little Thing About You / Volver Volver / All You Ever Do Is Bring Me Down
12/2005
2 CD SPECTRUM 99833226 (UK)
THE MAVERICKS COLLECTION :

CD 1 : Mr. Jones / The End Of The Line / Excuse Me (I Think I've Got A Heartache) / This Broken Heart / I Got You / From Hell To Paradise / A Better Way / Forever Blue / Hey Good Lookin' / Children / There Goes My Heart / What A Crying Shame / Pretend / I Should Have Been True / The Things You Said To Me / Just A Memory / All That Heaven Will Allow / Neon Blue / O What A Thrill / Ain't Found Nobody / The Losing Side Of Me
CD 2 : Here Comes The Rain / Missing You / All You Ever Do Is Bring Me Down / The Writing On The Wall / Loving You / I'm Not Gonna Cry For You / Something Stupid (with Trisha YEARWOOD) / I Don't Care If You Don't Love Me Anymore / Dance The Night Away / Someone Should Tell Her / I've Got This Feeling / Dolores / Dream River / La Mucara / Blue Moon / She Does / Panatella / The Lion Sleeps Tonight / Here Comes My Baby / Think Of Me (When You're Lonely)

08/2006
2 CD MCA B0006361 (US)
GOLD :

CD 1 : The End Of The Line / Mr. Jones / This Broken Heart / Excuse Me (I Think I've Got A Heartache) / I Got You / From Hell To Paradise / Hey Good Lookin' / I Should Have Been True / There Goes My Heart / Pretend / What A Crying Shame / All That Heaven Would Allow / The Things You Said To Me / O What A Thrill / Foolish Heart / Here Comes The Rain / Missing You / I'm Not Gonna Cry For You / The Writing On The Wall / Loving You / All You Ever Do Is Bring Me Down (with Flaco JIMENEZ)
CD 2 : Blue Moon / I Don't Care (If You Don't Love Me Anymore) / La Mucara / Dance The Night Away / Panatella / Someone Should Tell Her / To Be With You / I've Got This Feeling / She Does / Fool #1 / Save A Prayer / Dream River / All I Get / (Tonight) The Bottle Let Me Down / Rancho Grande / Hot Burrito #1 / Think Of Me (When You're Lonely) / Pizziricco / A World Without Love / Here Comes My Baby

2006
CD UNIVERSAL ? (US)
CLASSIC - What A Crying Shame / I Should Have Been True / There Goes My Heart / This Broken Heart / All That Heaven Will Allow / Here Comes The Rain / All You Ever Do Is Bring Me Down / Blue Moon / Dance The Night Away / Dream River / Hey Good Lookin' / You'll Never Know / I've Got This Feeling / A Better Way / From Hell To Paradise / Things I Cannot Change
01/2008
CD UNIVERSAL 982 693-2 (US)
COVERS - THE MAVERICKS AND RAUL MALO - Down On The Corner / Something Stupid (with Trisha YEARWOOD) / Blue Bayou (with Dave POMEROY & Pat FLYNN) / Here Comes My Baby / Are You Lonesome Tonight / Blue Moon / Call Me The Breeze / All That Heaven Will Allow / World Withouth Love / Air That I Breathe / You're Gonna Make Me Lonesome When You Go (with Dave POMEROY & Rob ICKE) / Excuse Me (I Think I've Got A Heartache) / Hey Good Lookin' / (Tonight) The Bottle Let Me Down / I Guess Things Happen That Way / Bright Side Of The Road (with Dave POMEROY, Rob ICKE & Pat FLYNN) / New York, New York / From Hell To Paradise - Guantanamera / La Mucara
03/2011
CD MCA B0015273-02 (US)
ICON - THE MAVERICKS - Hey Good Lookin' / What A Crying Shame / I Should Have Been True / There Goes My Heart / O What A Thrill / All That Heaven Will Allow / Missing You / Here Comes The Rain / All You Ever Do Is Bring Me Down / Dance The Night Away / To Be With You / Here Comes My Baby
02/2013
CD VALORY VMCMV0100A (US)
IN TIME -

Back In Your Arms Again / Lies / Born To Be Blue / Come Unto Me / In Another's Arms / Fall Apart / All Over Again / Forgive Me / Amsterdam Moon / That's Not My Name / As Long As There's Loving Tonight / Dance In The Moonlight / (Call Me) When You Get To Heaven / Ven Hacia Mi [Come Unto Me]

02/2013
CD VALORY 060253726666 (US)
IN TIME -

Back In Your Arms Again / Lies / Born To Be Blue / Come Unto Me / In Another's Arms / Fall Apart / All Over Again / Forgive Me / Amsterdam Moon / That's Not My Name / As Long As There's Loving Tonight / Dance In The Moonlight / (Call Me) When You Get To Heaven / Ven Hacia Mi [Come Unto Me]

02/2015
CD VALORY VMCMV0200A (US)
MONO - All Night Long / Summertime (When I'm With You) / Pardon Me / What Am I Supposed To Do / Stories We Could Tell / What You Do To Me / Let It Rain (On Me) / The Only Question Is / Out The Door / (Waiting For) The World To End / Fascinate Me / Nitty Gritty
10/2016
CD Mono Mundo MMR 001 (US)

All Night Live - Volume 1 -

All Night Long / All Over Again / Stories We Could Tell / What You Do To Me / Fall Apart / Do You Want Me To / Back In Your Arms Again / As Long As There's Lovin' Tonight / Pardon Me / Summertime / Every Little Thing About You / I Said I Love You / Harvest Moon / Dance In The Moonlight / Come Unto Me / Waiting For The World To End
03/2017
CD Mono Mundo / Thirty Tigers MMR 002 (US)

Brand New Day -

Rolling Along / Brand New Day / Easy As It Seems / I Think Of You / Goodnight Waltz / Damned (If You Do) / I Will Be Yours / Ride With Me / I Wish You Well / For The Ages
11/2018
CD Mono Mundo MMR 004 (US)

Hey! Merry Christmas! - Christmas Time Is (Coming 'round Again) / Santa Does / I Have Wanted You (For Christmas) / Christmas For Me (Is You) / Santa Wants To Take You For A Ride / It's Christmas Without You / Christmas (Baby Please Come Home) / Hey! Merry Christmas! / One More Christmas / Happy Holiday

11/2019
CD Mono Mundo MMR 005CD (US)

Play the Hits - Swingin' / Are You Sure Hank Done It This Way / Blame It On Your Heart / Don't You Ever Get Tired (Of Hurting Me) / Before The Next Teardrop Falls / Hungry Heart / Why Can't She Be You / Once Upon A Time / Don't Be Cruel / Blue Eyes Crying In The Rain / I'm Leaving It Up To You

08/2020
CD Mono Mundo MMR 007CD (US)

The Mavericks En Español - La Sitiera / Recuerdos / No Vale La Pena / Poder Vivir / Sombras Nada Más / Mujer / Me Olvidé de Vivir / Pensando En Ti / Sabor A Mí / Suspiro Azul / Cuando Me Enamoro / Me Voy A Pinar Del Río
© Rocky Productions 22/08/2020