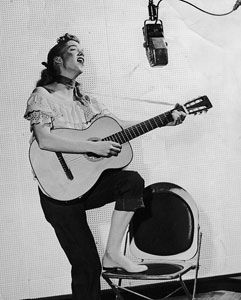 Chanteuse Rockabilly US née Janis Darlene Martin, le 27 Mars 1940 à Southerlin (Virginie). Janis Martin a débuté en 1956 chez RCA Records. Surnommée "The Girl With Elvis Presley Voice" ou "The Female Elvis" , elle n'a pas connu le succès qu'elle méritait et après 2 singles chez Palette en 1690, elle se retire du Show-Business. Elle fut une chanteuse régulière au Old Dominion Barn Dance (WRVA, Richmond, Virginie) en 1956-57. Janis est décédée le 3 Septembre 2007.

Janis Martin was a unique figure in the history of rockabilly — there were other women working in that male-dominated field (Lorrie Collins for one), but Martin was the one dubbed "the Female Elvis Presley" by RCA, reportedly with the approval of Colonel Tom Parker. This was probably the kiss of death, evoking images so contradictory that no one could really hold it properly in their mind. The fact that she was signed to RCA probably didn't hurt, but as a hot-rocking female in a field where men's libidinal gyrations weren't approved, she had too many strikes against her for a lasting career. She was good, though, and she left behind the records to prove it.
Martin was born in Sutherlin, VA, in 1940 and had a stage mother on one side and a father and uncle who were amateur musicians on the other, a mix that practically made her predestined for a performing career. She was playing and singing before age five. By six, she'd mastered chords on her junior-sized guitar and was singing in a style influenced by Eddy Arnold and Hank Williams. She became a fixture in local talent contests and won all of them. Martin was playing and singing on the WDVA Barndance out of Virginia by age 11. By her mid-teens, she'd appeared alongside the likes of Ernest Tubb, the Carter Family, Sonny James, and Jean Shepard.
Her amazing amount of experience for one so young helped push her into rock & roll. It turned out that Martin had tired of country music by her mid-teens, especially the slow ballads, having been doing them for a decade. Her timing was perfect, for she discovered R&B in the mid-'50s and was soon bringing that material into her own song lists. RCA A&R chief Steve Sholes heard one of her demos and Martin was signed to the label at age 15, only two months after Elvis was signed up.
"Drugstore Rock 'n Roll," a Martin original, was her debut record and her biggest hit, selling some 750,000 copies. By the middle of 1956, she was making the rounds of the Today Show, The Tonight Show, and other variety programs, as well as appearing on the Grand Ole Opry, and was voted Most Promising Female vocalist in Billboard, the record industry's bible.
Some of the "Female Elvis" publicity rebounded fairly early, as fans felt she was hooking herself and her style of singing to him as a means of exploitation. Ironically, for all of the publicity that seemed to link them, and her recording of the single "My Boy Elvis" at the insistence of her management, plus the fact that they used the same session musicians and shared the same country-cum-R&B interests, Martin never saw the Memphis Flash perform until he made it to national television. By that time her own performing style — amazingly similar to his, but developed independently — was established and locked down. Additionally, she only met Elvis twice, both times very briefly, with hardly a word exchanged. The two found themselves converging on a similar point.
For all of her early success, Martin was never able to sustain a rock & roll career, mostly because of her gender and the changing times. Her stage moves and lusty delivery appeared unseemly (or so people said, especially on the country circuit) in a girl, once the initial furor and enthusiasm for rock & roll quieted down. Additionally, the country shows on which she was booked usually put her on bills and in front of audiences that weren't overly enamored of rock & roll to begin with, and Martin found herself caught between conflicting currents. Her record company and management wanted her to keep pushing rockabilly in her stage act, while promoters doing the bookings preferred that she do straight country.
Martin might have finessed it all but for a personal situation that came up in 1958. She'd been secretly married since 1956, and her husband was stationed overseas in the army; she went on a European tour and got to see him in 1958. The result was that the 17-year-old rockabilly star became pregnant and was dropped by the label in short order.
Martin tried to keep a music career going and was courted by both King Records and Decca Records before signing with a Belgian-owned label called Palette, for which she cut four sides in 1960. She was on her second marriage by then, and husband number two (whom she later divorced) didn't take well to her career. She withdrew from music except for appearances near her home in Virginia and then in the 1970s, on her own again, formed her own band, the Variations, and toured Europe, where she encountered strikingly enthusiastic audiences, ready to embrace her as though it were still 1958.
She continued to figure in some Elvis-related Discographys, thanks to "My Boy Elvis" and also as a result of a 1959 South African album called Janis and Elvis, a 2,000 dollar collectible that was heavily bootlegged in the late '70s. Martin's RCA records, however, were forgotten and neglected by the company (which, in those days, could hardly reissue an Elvis recording without screwing it up in some way). In the 1980s, Bear Family Records finally gathered together Martin's complete recorded history on one CD, entitled, appropriately enough, The Female Elvis, making her ultra-rare sides easily available for the first time in decades.
Janis died on September 3, 2007.
https://en.wikipedia.org/wiki/Janis_Martin
Talents : Vocals, Guitar
Style musical : Rockabilly, Rock 'n' Roll

https://youtu.be/kHSokcVNDp4
| | |
| --- | --- |
| Drugstore Rock 'n' Roll (1956) | |
Years in activity :
| | | | | | | | | | | | |
| --- | --- | --- | --- | --- | --- | --- | --- | --- | --- | --- | --- |
| 1910 | 20 | 30 | 40 | 50 | 60 | 70 | 80 | 90 | 2000 | 10 | 20 |
DISCOGRAPHY
Singles & EP
| | | | |
| --- | --- | --- | --- |
| 04/1956 | SP RCA VICTOR 47-6491 (US) | . | Drugstore Rock 'n' Roll / Will You, Willyum |
| 06/1956 | SP RCA VICTOR 47-6560 (US) | . | Ooby Dooby / One More Year To Go |
| 09/1956 | SP RCA VICTOR 47-6652 (US) | . | My Boy Elvis / Little Bit |
| 12/1956 | SP RCA VICTOR 47-6744 (US) | . | Barefoot Baby / Let's Elope Baby |
| 1956 | EP RCA VICTOR DJ-38 (US) | . | Janis MARTIN : Let's Elope Baby / Barefoot Baby / Otto BASH : All I Can Do Is Cry / St. James Infirmary |
| 03/1957 | SP RCA VICTOR 47-6832 (US) | . | Two Long Years / Love Me To Pieces |
| 1957 | EP RCA VICTOR DJ-76 (US) | . | Janis MARTIN : Love Me To Pieces / Two Long Years / Hank SNOW : Calypso Sweetheart / Marriage And Divorce |
| 07/1957 | SP RCA VICTOR 47-6983 (US) | . | Love And Kisses / I'll Never Be Free |
| 1957 | EP RCA VICTOR EPA-4093 (US) | | Just Squeeze Me / My Confession / I Don't Hurt Anymore / Half Loved |
| 12/1957 | SP RCA VICTOR 47-7104 (US) | . | All Right Baby / Billy Boy, My Billy Boy |
| 1957 | EP RCA VICTOR DJ-76 (US) (promo) | . | Janis MARTIN : Love Me To Pieces / Two Long Years / Hank SNOW : Calypso Sweetheart / Marriage And Divorce |
| 03/1958 | SP RCA VICTOR 47-7184 (US) | . | Cracker Jack / Good Love |
| 08/1958 | SP RCA VICTOR 47-7318 (US) | . | Janis MARTIN & Her BOYFRIENDS - Bang Bang / Please Be My Love |
| 07/1960 | SP PALETTE PZ 5058 (US) | . | Hard Times Ahead / Here Today And Gone Tomorrow |
| 01/1961 | SP PALETTE PZ 5071 (US) | . | Teen Street / Cry Guitar |
| 10/1977 | SP BIG DUTCH BD-2085 (GER) | . | I'm Movin' On / Beggin' To You |
| 12/1977 | SP BIG DUTCH BD-2086 (GER) | . | Rockin' All Over The World / Live And Let Live |
| 1978 | SP BIG DUTCH BD-501 (GER) | . | Janice MARTIN - Rockin' All Over The World / Live And Let Live |
| 1978 | SP RCA VICTOR PB 9211 (GER) | | My Boy Elvis / Billy Boy, Billy Boy |
| 06/1980 | EP RCA PE 9494 (UK) | | My Boy Elvis / Cracker Jack / Love Me Love / Good Love |
| 09/1995 | SP HIGHTONE HCD8067 (US) | | Blues Keep Callin' / Hard Times Ahead |
| 2011 | SP Sleazy SR30 (S) | | Barefoot Baby / Love And Kisses |
Live Performances
| | | |
| --- | --- | --- |
| 19?? | Live - (Dragon Street CD 70101 (#16)) | Cracker Jack [live vers.] |
| 19?? | Live | I'm Walkin' |
Unissued Tracks
| | | |
| --- | --- | --- |
| 1957 | RCA VICTOR unissued - (Bear Family LP 15032 (#7) / Bear Family CD 15406 (#24) / GVC CD 1007 (#24) / RCA (England) LP 43153 (#4)) | Blues Keep Calling |
| 1958 | RCA VICTOR unissued - (Bear Family LP 15032 (#14) / Bear Family LP 15046 (#2) / Bear Family CD 15406 (#15) / Bear Family CD 15406 (#30) / GVC CD 1007 (#23) / RCA (England) LP 43153 (#10)) | Love Me, Love |
| 1958 | RCA VICTOR unissued - (Bear Family LP 15043 (#2) / RCA (England) LP 43153 (#23)) | Love Me, Love (Cha-Cha) |
| 1958 | RCA VICTOR unissued - (Bear Family LP 15032 (#13) / Bear Family CD 16154 (#15) / GVC CD 1007 (#25) / RCA (England) LP 43153 (#19)) | William |
| 19?? | Unissued - (Bear Family CD 16154 (#20)) | All Right Baby [alt. vers. 2] |
| 19?? | Unissued - (Bear Family CD 16154 (#17)) | Billy Boy, My Billy Boy [alt. vers. 1] |
| 19?? | Unissued - (Bear Family CD 16154 (#18)) | Billy Boy, My Billy Boy [alt. vers. 3] |
| 19?? | Unissued - (Bear Family CD 16154 (#19)) | Cracker Jack [alt. vers. 1] |
| 19?? | Unissued - (Bear Family CD 16154 (#16)) | Good Love [alt. vers. 2] |
| 19?? | Unissued - (Bear Family CD 16154 (#28)) | Half Loved [alt. vers. 5] |
| 19?? | Unissued - (Bear Family CD 16154 (#26)) | I Don't Hurt Anymore [alt. vers. 1] |
| 19?? | Unissued - (Bear Family CD 16154 (#27)) | I Don't Hurt Anymore [alt. vers. 6] |
| 19?? | Unissued - (Bear Family CD 16154 (#23)) | I'll Never Be Free [alt. vers. 1] |
| 19?? | Unissued - (Bear Family CD 16154 (#24)) | Just Squeeze Me (But Don't Tease Me) [alt. vers. 2] |
| 19?? | Unissued - (Bear Family CD 16154 (#29) / El Toro CD 1015 (#23)) | Little Bit [alt. vers. 7] |
| 19?? | Unissued - (Bear Family CD 16154 (#21)) | Love And Kisses [alt. vers. 1] |
| 19?? | Unissued - (Country Music Foundation CD 014-D (#23) / Country Music Foundation LP 014-L (#23) / GVC CD 1007 (#26)) | Love Me To Pieces [alt. vers.] |
| 19?? | Unissued - (Bear Family CD 16154 (#25)) | My Confession [alt. vers. 4] |
| 19?? | Unissued - (Country Music Foundation CD 014-D (#24) / Country Music Foundation LP 014-L (#24)) | Two Long Years [alt. vers.] |
Albums
1956
LP 10" RCA ‎T31,077 (SA)
JANIS AND ELVIS - I'm Left,You're Right She's Gone (ELVIS PRESLEY) / Ooby-Dooby (Janis MARTIN) / Milk Cow Blues Boogy (ELVIS PRESLEY) / Let's Elope Baby (Janis MARTIN) / Baby, Let's Play The House (ELVIS PRESLEY) / One More Year To Go (Janis MARTIN) / You're Heartbreaker (ELVIS PRESLEY) / Barefoot Baby (Janis MARTIN)
1975
LP 12" Bella LP-1001 (GER)

That Rockin' Country Gal - Drugstore Rock And Roll / Will You, Willyum / Billy Boy, Billy Boy / All Right Baby / My Boy Elvis / Little Bit / Bang Bang / Please Be My Love / Let's Elope Baby / Barefoot Baby / Love And Kisses / I'll Never Be Free / Love Me To Pieces / Two Long Years / Ooby-Dooby / One More Year To Go / Here Today And Gone Tomorrow

11/1976
LP 12" CCL 1106 (NL)

Rockin' Rollin' Janis - Love And Kisses / Drugstore Rock'n'roll / Hard Times Ahead / Here Today And Gone Tomorrow Love / Will You Willyum / Let's Elope Baby / Caught Caught Ring-A-Leevio (One Two Three) (Three Jays) / Memory Of You (The Legend Of James Dean) (Three Jays) / Teen Street / Cry Guitar / Love Me To Pieces / Two Long Years / I Don't Hurt Anymore / Half Loved / Just Squeeze Me / My Confession

04/1977
LP 12" CCL 1128 (NL)

Rockin' Rollin' Janis - vol. 2 - Little Bit / Barefoot Baby / My Boy Elvis / Ooby-Dooby / I'll Never Be Free / Cracker Jack / Good Love / Bang Bang / Billy Boy, Billy Boy / All Right Baby / One More Year To Go / Please Be My Love

04/1979
LP 12" BEAR FAMILY BFX 15032 (GER)
THAT ROCKIN' GAL SINGS MY BOY ELVIS - Just Squeeze Me / Cracker Jack / Good Love / Drugstore Rock 'n' Roll / Bang Bang / Will You, Willyum / Blues Keep Calling / My Boy Elvis / Ooby Dooby / Love Me To Pièces / Barefoot Baby / Little Bit / William / Love Me, Love
06/1980
LP 12" BEAR FAMILY BFX 15046 (GER)
THAT ROCKIN' GAL ROCKS ON - Love And Kisses / Love Me, Love Cha Cha Cha / Two Long Years / All Right / Billy Boy, My Billy Boy / Let's Elope Baby / Please Be My Love / One More Year To Go / Here Today And Gone Tomorrow Love / Teen Street / Hard Times Ahead / Cry Guitar / I Don't Hurt Anymore / Half Loved / My Confession / I'll Never Be Free
12/1980
2 LP 12" RCA VICTOR PL-43153 (UK)

The Complete RCA Janis Martin :

DISC 1 : Drugstore Rock'n'roll / Bang Bang; My Boy Elvis / Blues Keep Calling / One More Year To Go / Will You Willyum / Love And Kisses / Billy Boy My Billy Boy / I'll Never Be Free / Love Me Love / Just Squeeze Me / I Don't Hurt Anymore / Ooby Dooby
DISC 2 : Let's Elope Baby / Love Me To Pieces / All Right Baby / Half Loved / Please Be My Baby / William / Barefoot Baby / Two Long Years / Cracker Jack / Love Me Love (Cha Cha Cha) / My Confession / Good Love / Little Bit

1985
LP 12" NCB PD 1085 (DK) (picture disc)
ELVIS - JANIS - Elvis PRESLEY : Long Tall Sally / Ready Teddy / Rip It Up / Tutti Frutti / I Got A Woman / Janis MARTIN : My Boy Elvis / Drugstore Rock 'n' Roll / Will You Willyum / Billy Boy, Billy Boy / All Right Baby / Love And Kisses
11/1986
LP 12" Rockhouse RHLP-8604 (NL)

Live At The Rockhouse - Dave Travis / Eddie BOND / Janis MARTIN - Hot Potatoe (Dave Travis) / Let's Flat Get It (Dave Travis) / Everybody's Movin' (Dave Travis) / Rock Baby Rock It (Dave Travis) / I Got A Woman (Eddie BOND) / Flip Floppin' Mama (Eddie BOND) / Talking Of The Wall (Eddie BOND) / Monkey And The Baboon (Eddie BOND) / Slippin' In (Eddie BOND) / Rockin' Daddy (Eddie BOND) / Oobie Doobie (Janis MARTIN) / Hardrockin' Mama (Janis MARTIN) / My Boy Elvis (Janis MARTIN) / Bang Bang (Janis MARTIN) / Great Balls Of Fire (Janis MARTIN) / Let's Elope Baby (Janis MARTIN) / Barefoot Baby (Janis MARTIN)

06/1987
CD BEAR FAMILY BCD 15406 (GER)
THE FEMALE ELVIS - COMPLETE RECORDINGS 1955-60 - Drugstore Rock 'n Roll / Will You Willyum / Love And Kisses / My Boy Elvis / Cracker Jack / Bang Bang / Ooby Dooby / Barefoot Baby / Good Love / Little Bit / Two Long Years / All Right, Baby / Billy Boy, My Billy Boy / Let's Elope Baby / Love Me Love / Love Me To Pieces / William / Here Today And Gone Tomorrow / Teen Street / Hard Times Ahead / Cry Guitar / Just Squeeze Me / One More Year To Go / Blues Keep Calling / Please Be My Love / I Don't Hurt Anymore / Half Loved / My Confession / I'll Never Be Free / Love Me Love
09/1993
CD HYDRA BCK-27101 (GER)
HERE I AM - Drugstore Rock And Roll / Good Love / All Right Baby / Billy Boy, My Billy Boy / Mama He Treats Your Daughter Mean / I'll Never Be Free / Ooby Dooby / Dumas Walker / Bang Bang / Here I Am / Barefoot Baby / Love And Kisses / Cracker Jack / My Boy Elvis / Hard Rocking Mama / Old Time Rock And Roll / Medley : My Baby Left Me - C.C. Rider - That's Allright Mama / Love Me To Pieces / Two Long Years
10/2003
LP 12" BEAR FAMILY BAF 18001 (GER)
LOVE AND KISSES - Drugstore Rock And Roll / My Boy Elvis / Barefoot Baby / Let's Elope Baby / Love And Kisses / Good Love / Will You, Wilyum / Bang Bang / Ooby Dooby / All Right Baby / Cracker Jack / Billy Boy, Billy Boy
01/2006
CD BEAR FAMILY BCD-16154 (GER)

Masters & Studio Outtakes - Drugstore Rock And Roll / Will You, Willyum / Love And Kisses / My Boy Elvis / Cracker Jack / Bang Bang / Ooby Dooby / Barefoot Baby / Good Love / Little Bit / Two Long Years / All Right Baby / Billy Boy, My Billy Boy / Let's Elope Baby / William / Good Love / Billy Boy, My Billy Boy / Billy Boy, My Billy Boy / Cracker Jack / All Right Baby / Love And Kisses / Love And Kisses / I'll Never Be Free / Just Squeeze Me (But Don't Tease Me) / My Confession / I Don't Hurt Anymore / I Don't Hurt Anymore / Half Loved / Little Bit

2007
CD EL TORO ETCD 1015 (S)

Janis And Elvis -

I'm Left, You're Right, She's Gone

(Elvis PRESLEY) /

Ooby - Dooby

(Janis MARTIN) /

Milk Cow Blues Boogy (

Elvis PRESLEY

) / Let's Elope Baby

(Janis MARTIN) /

Baby Let's Play House

(Elvis PRESLEY) /

One More Year To Go

(Janis MARTIN) /

You're A Heartbreaker

(Elvis PRESLEY) /

Barefoot Baby

(Janis MARTIN) /

Mystery Train

(Elvis PRESLEY) /

Good Rockin' Tonight

(Elvis PRESLEY) /

Will You Willyum

(Janis MARTIN) /

Trying To Get To You

(Elvis PRESLEY) /

I'll Never Let You Go, Little Darlin'

(Elvis PRESLEY) /

Little Bit

(Janis MARTIN) /

How Do You Think I Feel

(Elvis PRESLEY) /

Any Way You Want Me (That's How I Will Be)

(Elvis PRESLEY) /

Drugstore Rock And Roll

(Janis MARTIN) /

Paralysed

(Elvis PRESLEY) /

I'm Counting On You

(Elvis PRESLEY) /

My Boy Elvis

(Janis MARTIN) /

Anyplace Is Paradise

(Elvis PRESLEY) /

Playing For Keeps

(Elvis PRESLEY)

Little Bit (alternate)

(Janis MARTIN) /

My Baby's Gone (I'm Left, You're Right, She's Gone) (alt. take)

(Elvis PRESLEY) /

First In Line

(Elvis PRESLEY) /

How's The World Treating You

(Elvis PRESLEY

)

2009
CD GVC 1007 (US)

My Girl Janis -

Will You, Willyum / Drugstore Rock And Roll / Ooby-Dooby / One More Year To Go / My Boy Elvis / Little Bit / Barefoot Baby / Let's Elope Baby / Love Me To Pieces / Two Long Years / Love And Kisses / I'll Never Be Free / Just Squeeze Me (But Don't Squeeze Me) / My Confession / I Don't Hurt Anymore / Half Loved / All Right Baby / Billy Boy, Billy Boy / Cracker Jack / Good Love / Bang Bang / Please Be My Love / Love Me, Love / Blues Keep Calling / William / Love Me To Pieces [alt. vers.]
10/2009
CD COMPLETE ROCK 'N' ROLL SROLLCD 825 (EUR)

Cracker Jack -

Drugstore Rock And Roll / Will You, Willyum / Ooby Dooby / One More Year To Go / My Boy Elvis / Little Bit / Barefoot Baby / Let's Elope Baby / Two Long Years / Love Me To Pieces / Love And Kisses / I'll Never Be Free / Just Squeeze Me (But Don't Tease Me) / My Confession / I Don't Hurt Anymore / Half Loved / All Right, Baby / Billy Boy, Billy Boy / Cracker Jack / Good Love / Bang Bang / Please Be My Love
09/2012
CD COW ISLAND MUSIC CIM 020 (US)
THE BLANCO SESSIONS - As Long As I'm Movin' / Wham Bam Jam / Long White Cadillac / Wild One (Real Wild Child) / It'll Be Me / Sweet Dreams / Find Out What's Happening / I Believe What You Say / Roll Around Rockin' / Oh Lonesome Me / Walk Softly On This Heart Of Mine
01/2014
CD JASMINE JASCD 289 (UK)

My Boy Elvis - Will You, Willyum / Drugstore Rock 'n' Roll / Ooby Dooby / One More Year To Go / My Boy Elvis / Little Bit / Barefoot Baby / Let's Elope Baby / Love Me To Pieces / Two Long Years / Love Me, Love / Blues Keep Calling / Love And Kisses / I'll Never Be Free / Just Squeeze Me (Don't Tease Me) / My Confession / I Don't Hurt Anymore / Half Loved / All Right, Baby / Billy Boy, Billy Boy / Crackerjack / Good Love / Bang Bang / Please Be My Love / William / Love Me, Love (alt take) / Hard Times Ahead / Here Today And Gone Tomorrow / Teen Street / Cry Guitar / Love Me To Pieces (live) / Two Long Years (live) / Crackerjack (live)

2014
LP 10" Vee-Tone VTRLP 2033 (UK)

Janis AND

Elvis

‎–

The RCA Victor Singles 1956-1958 -

Money Honey (Elvis PRESLEY) / Will You, Willyum (Janis MARTIN) / One-Sided Love Affair (Elvis PRESLEY) / Little Bit (Janis MARTIN) / One Night (Elvis PRESLEY) / Drugstore Rock And Roll (Janis MARTIN) / My Boy Elvis (Janis MARTIN) / I Got Stung (Elvis PRESLEY) / Good Love (Janis MARTIN) / Wear My Ring Around Your Neck (Elvis PRESLEY) / Cracker Jack (Janis MARTIN) / Doncha' Think It's Time (Elvis PRESLEY)
© Rocky Productions 8/10/2015